Last updated on June 4th, 2023 at 07:56 am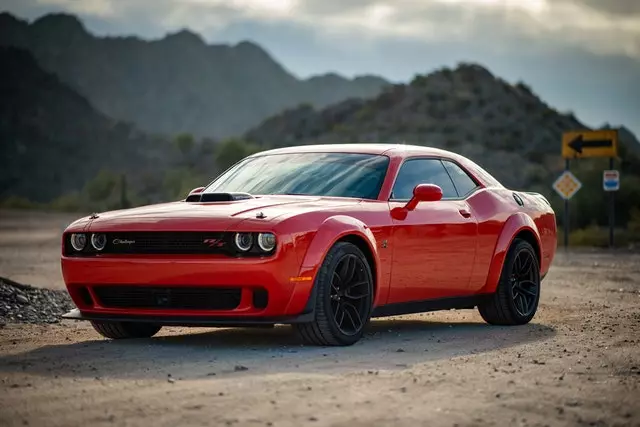 ---
Table of Contents
Dodge Challenger, also known as an affordable and classical-looking sports car/pony car is good for everyday driving. It was launched back in 1970. Since then, Dodge is continuously upgrading the features and drive of a challenger to give the most value to its customers. The company paused the manufacturing of the challenger due to some reasons back in 1982. After that, they continued in 2008, and from then every year, Dodge Challenger came with some modifications and upgrades every year, recently they launched a 2023 model with additional features. 
The tires that most of the time work with Dodge Challenger are summer tires, all-season touring tires, and winter tires. That is why we gathered some of the best tires available in the market, which can be used with any model of your Dodge Challenger. Still, it's up to you to decide what are your expectation and in what terrains you drive the most; only then you'd be able to find the best tires for your Dodge Challenger.
Performance tires
Michelin Pilot Sport 4s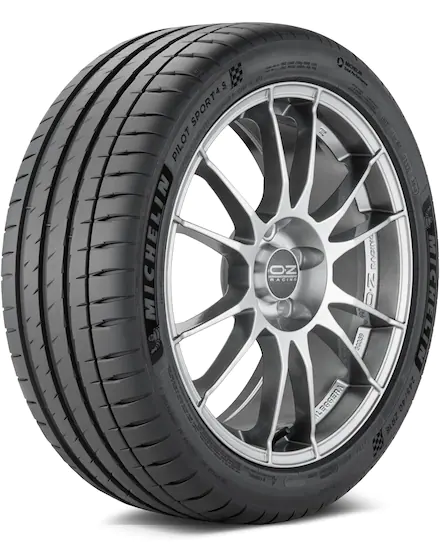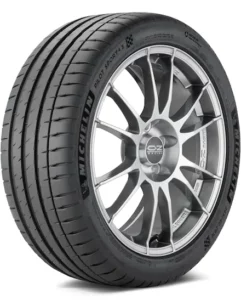 The best max performance tire that you can find in the market for your Dodge Challenger. Michelin pilot sport 4s is a very famous tire made with BMW and other big car manufacturers' assistance to compete in a le mans for a whole day drive. It is also an OEM tire for some of the big car brands due to its all-year-round performance. The high-quality rubber, advanced treadwear, and latest technology make it a tire that you always wanted to achieve maximum performance on summer roads.
It delivers an excellent summer season ride on wet and dry conditions along with exceptional cornering, starring control, and comfortable drive all year round. The noise reduction technology, along with low-weight materials, makes it a quiet and fast tire that also provides quick brakes for proper and confident tacks race. Quick grip, and traction on dry roads for a safe and responsive drive, so that you enjoy the type of drive you always wanted with your Dodge Challenger.
---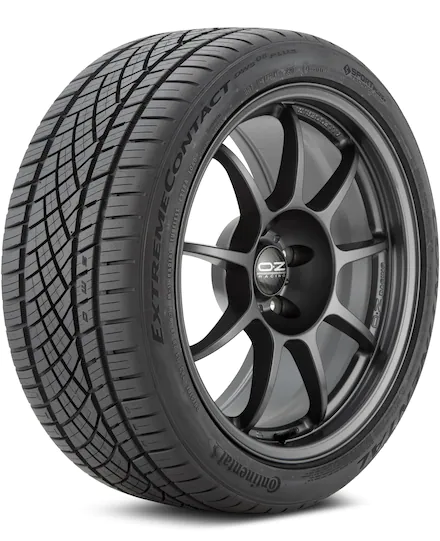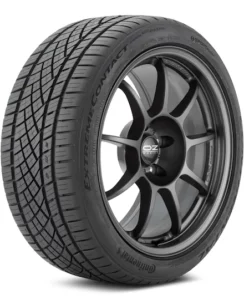 The Continental ExtremeContact DWS 06 plus is an all-season ultra high-performance tire for an excellent ride in different conditions of the terrain. The tire gives superb support with traction and grip on wet, dry, and light snow conditions, so whether you drive your car in the summer season, winter season, or on highways with these tires on, you all get the finest performance with your Dodge Challenger.
The 3D sipes, with Circumferential grooves, improve wet and snow rides of the terrain while also adding stability and confident handling in all-season conditions. Treadwear indicators and alignment verification system indicate the misalignment of the tire and the remaining treadwear performance of a tire so that you can enjoy a safe and secure ride all year round. All of that comes with durable treadwear and shoulders with a manufacturer's warranty of 50k miles.
---
Firestone Firehawk Indy 500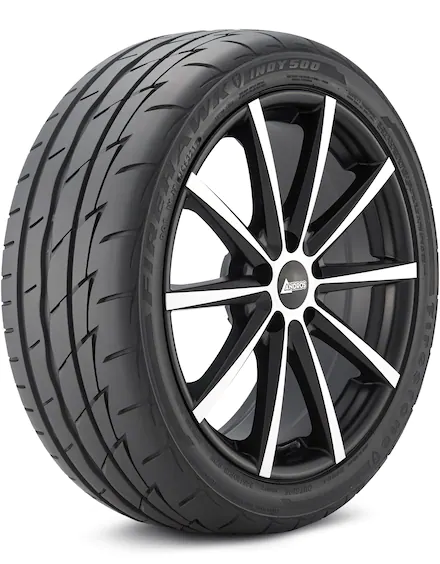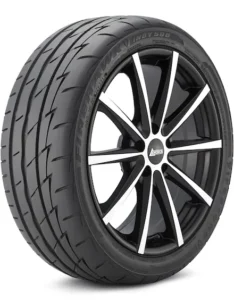 Not really into the all-season tire and looking for a summer tire that gives superb cornering at high speed; this Firestone Firehawk Indy 500 is one of those tires that will provide excellent traction grip and stable handling on wet and dry conditions of the summer. With a stable and confident ride, the lightweight tire will improve your Dodge Challenger's acceleration and brakes on tracks and highways so that you enjoy a safe and secure ride all year round.
Although the tire has good treadwear that at least last for more than 30k miles. However, the tire is not backed by any manufacturer's warranty; which is not a good sign for that much expensive tire. Other than that, the tire is excellent for summer terrain rides which will improve your challenger performance by giving ultra-high performance all year round.
---
Touring tire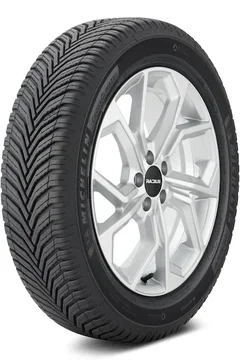 If you are not a fan of performance tires and want something more comfortable and durable; then take a look at this grand touring all-season tire for the most comfortable and quiet ride all year round. The Michelin CrossClimate 2 is one of the best tires in the touring tires category; which gives the most durable and confident ride for longer miles of city roads and highways. This new tire is made with advanced technology and tread patterns that give a stable ride by contacting all at once with the terrain and providing a durable ride in all seasons conditions.
The tire delivers excellent traction, grip, and cornering in wet-dry and snow conditions. With a 3PMSF certificate, the tire is good enough for winter terrain rides, so if you want one tire that solves all your weather problems, then this is the one that you should run with your Dodge Challenger.
---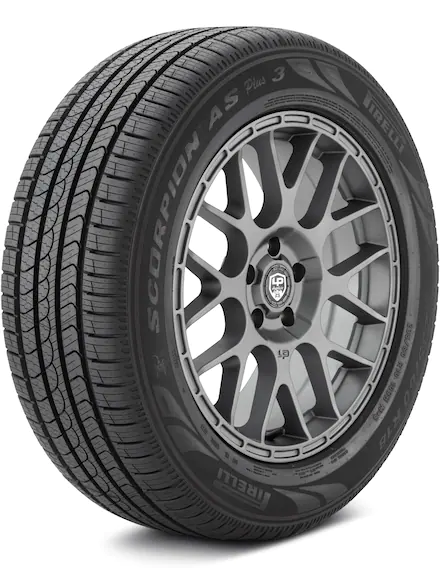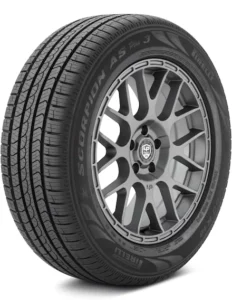 Want to save some bucks without compromising on performance? Then give a try to this Pirelli Scorpion AS Plus 3 tires. It is a standard touring all-season tire for a comfortable and quiet ride on all-season terrains and highways. The tire is the newest model in the touring tire category by Pirelli, which delivers the best dry and wet road performance while delivering superb performance in light snow and wintery conditions. With durable treadwear, the tire is a very good competitor of Michelin tires with some better features and some fewer metrics compared to crossclimate 2.
The Pirelli scorpion as plus 3 is an exceptional tire with incredible gripping ability with traction and cornering in wet, dry, and light snow conditions. The advanced treadwear and technology improve the stable ride on fast-speed tracks without compromising on stable handling and equal contact with the terrain; which improves the treadwear durability so that you enjoy the most comfortable, stable, and confident all-season ride with your Dodge Challenger.
---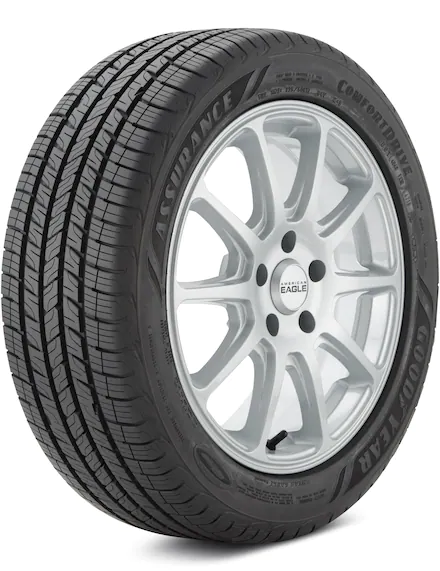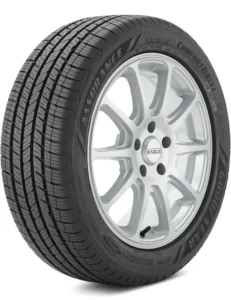 Another good option for grand touring all-season tire buyers, the Goodyear Assurance ComfortDrive is a relatively old technology tire compared to the top two tires. However, it is an excellent all-season tire if you prefer comfortability as your main point. Because of its quietest and most comfortable ride, even more, comfortable than CrossClimate 2; however, due to the old technology and treadwear design; it lacks in dry and wet terrain performance if you compare it with the other two tires mentioned above.
Assurance ComfortDrive is an excellent tire for wet, dry, and snow conditions due to its gripping ability and traction in these conditions. Also, it delivers a stable ride with confident handling by contacting the ground equally so that the tire runs for further miles without compromising on comfort and performance.
---
Winter tires
Pirelli scorpion winter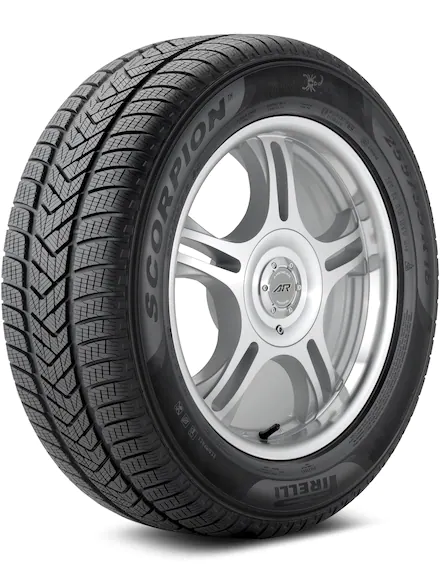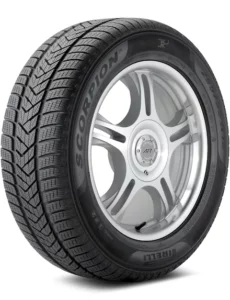 Want to drive your Dodge Challenger in the harsh snow of winter terrains? Then take a look at this Pirelli Scorpion Winter tire; a performance winter tire for sporty coupes and luxury vehicles to achieve maximum winter performance by enjoying excellent traction and gripping on ice and snow-covered roads. It is also an environmentally friendly tire with eco-impact technology that reduces fuel emissions and improves fuel mileage by reducing the air pollution of the world.
The tire is exceptional on winter terrain while providing extra biting edges for a grip; and due to its treadwear technology, the tire makes very little noise compared to other winter performance tires. So if you want a tire for excellent winter performance; then this Pirelli tire should be your first choice for your Dodge Challenger.
---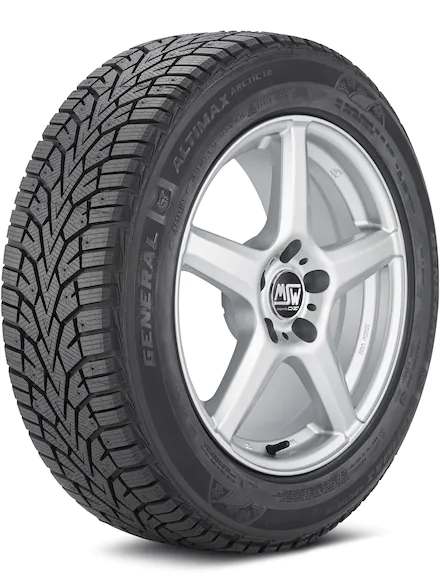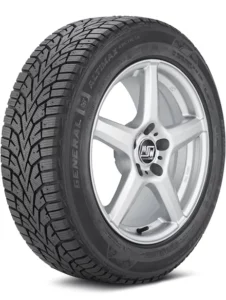 Studdable winter tires for extreme winter drivers; this General Altimax Arctic 12 is one of the best tires for the most difficult situation of snow and ice-covered terrain while providing smooth and confident handling in snow, dry, and wet conditions. The small pieces of studs are also attachable with this tire so that you get more aggressive performance on winter terrains.
The general Altimax Arctic 12 is a superb tire for all-year-round winter terrain rides; if you are someone driving your Dodge Challenger only in winter terrains or want a set of tires for extreme winter terrain; then this will do the job efficiently by providing you smooth and confident ride on snow conditions.
---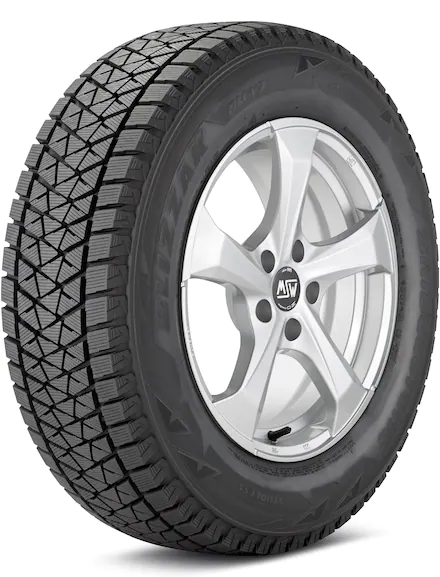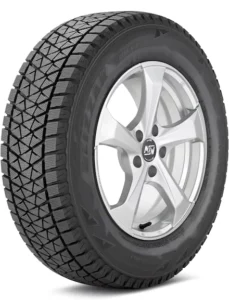 The studless winter tire is for comfortable winter performance along with dry and wet conditions smooth ride. The Bridgestone Blizzak DM-V2 is an excellent tire for severe winter conditions drive that will provide confident traction and grip on severe winter conditions without compromising on comfort and noise level. It is a quiet tire which is not very common in the winter terrain category; with deep circumferential grooves that resist hydroplaning for better wet and ice terrain rides.
This tire is one of the very few tires in the winter terrain category that have durable treadwear, which is also comfortable and quiet. Along with that; the tire provides stable handling and a confident ride due to the nanotech technology of Bridgestone; which is good for your Dodge Challenger if the comfort you are after.
---
Best tires for dodge challenger buyer's guide
After reading about these different types of tires; you might get confused about which tire should you pick for your Dodge Challenger. That is why in this section we will help you understand some insight and some important things which you should always look into tires before buying any new set of tires. It is important to understand the insight of the tire, so if at any time in the future, you can choose a tire just by looking at the tire's specs and features; you would be able to determine if this will be the tire according to your preference or not. 
Important things to notice when buying new tires
The first and foremost thing to look at when buying a new tire is the tire category. If the tire is a specific category of your driving style; then check for the available sizes of the tire once the tire matches your car's heel. Then it might be a good tire for your car. However, always read reviews and read about tire performance in the long run; that is why also take a look at the treadwear rating and warranty that a manufacturer is giving on that specific tire to make sure the tire is durable and will give you a durable ride for further miles. 
Which category is not suitable for the dodge challenger
The mud terrain and off-terrain tire are something we would not recommend our readers to use with their Dodge Challenger. As this car has low ground clearance; the car keeps on hitting the pavement and unbalanced road of the off terrains. That is why it is not a good idea to run this car off-terrain or even buy an off-terrain tire for your Dodge Challenger. However, if you like the drive of off-terrain tires, then you can go with it; but it won't be as good as all-season or summer on-road tires will be. 
Common tire sizes of dodge challenger
These are some of the sizes of tires that nearly all Dodge Challenger second-generation cars can be fitted with. Those sizes include 215/65R17, 225/60R18, 235/55R18, 315/40R18, 235/55R19, 245/45R20, 255/45R20, 275/40R20, 305/35R20. Most of the tires that we have mentioned above are available in all o these sizes. Still, you must check if the tire is available in that size before buying that tire according to the diameter of your heels.
The Best tire for the Dodge Challenger
After surveying customers of Dodge Challenger; most of the users recommend Michelin pilot sport 4s as the best tire for their challenger. Also, we would recommend the pilot sport 4s as the best tire due to its overall summer performance that helps you reach the maximum level of Dodge Challenger performance that you can not achieve with any other tire. There is no doubt about the Michelin tire's performance as it is one of the best max-performance tires available in 2023. However, all of these other tires are top-rated tires; so if you like any other tire, you can go with them anytime; we are sure that you won't regret your decision in the long run.
Conclusion
The Dodge Challenger is an extremely popular and versatile car that nearly all categories of tires can be fitted with it. All of these tires mentioned above are among the top-performing tires, and most of them are newly launched tires in 2023. However, it is totally your decision to decide after reading the buyer's guide on Dodge Challenger's best tires; what type of performance you are expecting to get from tires. And on the basis of that; you will be able to find the right fit according to your preference for your Dodge Challenger.