Last updated on April 19th, 2023 at 01:07 am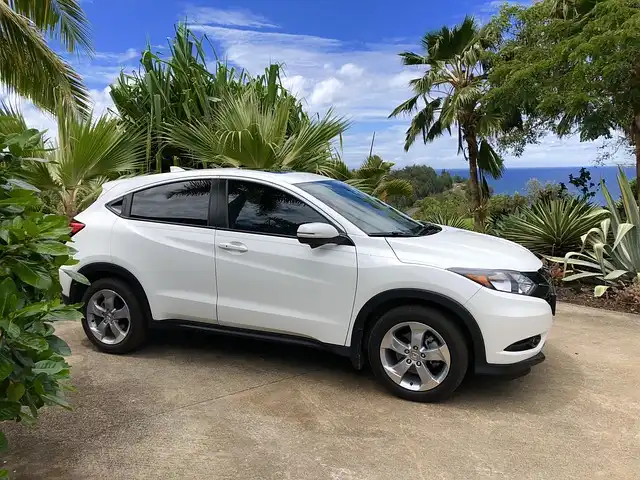 ---
To find the best tires for Honda HR-V you should know why these tires are best for you. For that, you have to have some information about tires, which is why, with the best tires listing we have also provided you with a buyer guide section that will help you identify the right tire for your car.
Honda HR-V is a very comfortable and robust subcompact SUV, which is also sold as the nameplate of Honda Vezel in japan. The passenger car platform and a high roof build make this car faster with more space compartments. That is why this car is so common with a big family who likes to travel together.
So the tires that usually run with this cat is touring tires. However, performance tires and winter tires are also purchased with Honda HR-V depending on the situation and desire of the driver. That is why in this article we will show you the best tires for Honda HR-V models from these three categories. The tire sizes of older HR-V models are different, this is the reason we have divided the listing based on tire sizes, so whichever tire size is of your car, choose the best tire from that part of this article.
Best tires for Honda HR-V in 215/60R17, 215/55R17, 225/50R18, 215/50R18 sizes
Grand touring all-season
Bridgestone WeatherPeak
If you are looking for a tire that can take you in any season with your honda HR-V then this Bridgestone WeatherPeak tire is perfect for you. This new tire delivers superb rides in wet, dry, and light snow conditions. Even if the temperature is far below the normal level, still this tire will keep your car moving without damaging its tread.
This is the best grand touring tire available in the market for any car, due to its versatility in any weather conditions you can achieve a comfortable ride with durable tread for a longer period. If the tire is not available in your preferred sizes, then there is another top tire that you can buy for a very similar performance that you can find down below in this article.
Pros
The symmetric tread pattern with all-season compound keeps it running in all-season conditions all year round
The evolving sipes on the tread and shoulder improve the steering response with cornering and grip on the road
Wide circumferential grooves improve wet traction while resisting hydroplaning
3PMSF-certified tire for bad winter conditions
Single-ply polyester casting with two steel belts makes it a durable tire, that comes with a 70K miles tread warranty
Cons
Puncturing issues
Not so good in dry conditions compared to Michelin CrossClimate2
---
Standard touring all season
Michelin Defender2
Now if you are after a more durable performance by compromising very little on comfort then this Michelin defender2 will be the right tire for your Honda HR-V. this tire is also great for any weather ride, whether it is dry, hot, rainy wet roads, or snow terrains, the tire will be smooth in all of these terrains. This tire might not be as comfortable and quiet as the previous tire, but it does have a more durable tread that keeps your car moving for many more miles.
Similar to Bridgestone, tire, this tire is also a new model of Michelin defender in the all-season touring tire category which is why it is perfect for new tire buyers, who require the best performance according to their conditions. The one catch is that it might not be available in all sizes of your Honda HR-V, for that we have recommended another tire down below that is also great for tackling all-season conditions.
Pros
The durable tire for a minimum 80k mile drive
The lateral and longitudinal sipes on the tread and shoulder for better handling with traction and grip in all-season conditions
Wide circumferential grooves channel the water through the tread to resist aquaplaning
Quiet and comfortable ride all year round
Cons
Not so good in winter due to the absence of 3PMSF
Not as comfortable as grand touring tires
---
High Performance all season
Coming out from the world of comfort and durable tread, now if you are someone who wants to achieve maximum performance from your Honda HR-V, then this Bridgestone Potenza RE980AS+ will satisfy your need. Whether you want fast track acceleration, brakes, cornering on turns, or steering response, this tire will deliver the finest of them all.
Even though most people don't go with the high-performance tire with Honda HR-V due to the low treadwear life, yet some enthusiast driver still wants to enjoy the ride of the car rather than, slowly driving their home to the office. There is another option for high-performer chasers if they don't find this tire in size or looking for a more affordable option, down below.
Pros
Noise-optimized asymmetric tread pattern for quiet and balanced rides
Chamfered edges and 3D full-depth sipes improve dry braking and traction while providing a stable and balanced ride
High sipe density with circumferential grooves for a proper ride in slippery wet and winter conditions
Durable treadwear with 50K miles treadwear warranty
Cons
Average performance on snow
Less durable compared to Sumitomo
---
Winter performance tire
Not every driver lives in the same situation and looking for all-season tires. If you are also one of these drivers and looking for winter tires, then this Bridgestone Blizzak WS90 will be an excellent tie for you. This tire is perfect to keep your Honda HR-V from the extreme winter conditions of the terrain.
With that the tire is also smooth in dry and wet conditions on-road so you do not have to change tires for a shorter period of time, this tire will keep you moving all year round. If there is a size issue with this or you are looking for a more durable option in winter tires then check out this Michelin tire.
Pros
Directional tread pattern for responsive handling and stable ride on slippery roads
Full-depth and interlocking sipes provide proper traction and grip all season and wintery conditions
15% block edges from its predecessors to improved brakes and traction on snow
Bite particles with multi-cell compound remove water and ice for a better grip on snow
3PMSF-certified tire for extreme winter terrain rides
Cons
Not a comfortable tire for luxury rides
Treadwear off early on dry and hot terrains and no treadwear warranty
---
Best tires for Honda HR-V in 225/55R18 size
Grand touring all season
One of the most popular and best performer tires in this category. This tire is available in almost every size of your Honda HR-V model. The reason for putting this tire below is that even though this tire is more comfortable, the Bridgestone tire is new and performs well in all seasons and winter conditions. If you prefer this tire, then there is nothing wrong with this tire, and you won't regret buying any of these two tires.
This Michelin CrossClimate2 also performs smoothly in all seasons and snow conditions. With its comfortable and quiet tread, you can even hear the sound of your electric car's engine, that how quiet these tires are. Also, the low rolling resistance may improve the MPG of your Honda HR-V
Pros
Thermal adaptive all-season compound for delivering smooth ride in different temperatures
Directional tread pattern with v-ramp chamfer for proper contact and responsive handling
Steep angle design on the tread channels the water and ice for proper grip on wet and snow conditions
3PMSF certified for harsh winter seasons
A durable and comfortable treadwear with a 60K miles treadwear warranty
Cons
Not for extreme winter conditions
---
Standard touring all season
Yokohama Avid Ascend LX
Another great option for in touring tires for Honda HR-V. if you prefer this tire more, then it is also an excellent tire for durable all-season rides. Even though it may lack a little bit in snow performance, its durable treadwear is better than any other tires. Also, this tire is more affordable than Michelin tire.
The tire delivers a comfortable and smooth ride in all-season conditions with proper gripping and traction in wet and dry conditions. For normal snow terrain rides, this tire is also good for providing confident brakes and handling without damaging the tread.
Pros
Blueearth tire for an ecologically friendly environment
A symmetrical tread pattern with five block pitch sequence provides a quiet and comfortable ride all season
More durable tire compared to Michelin defender 2 with 85K miles treadwear warranty
Grooves and sipes provide proper traction and grip on wet and slippery conditions of the terrain
Cons
Not so good for winter terrains
Early treadwear issues
---
High Performance all season
Sumitomo HTR A/S P03
An affordable option for Honda HR-V drivers who are looking for high-performance rides in all-season conditions. Although this tire is not as good a performer compared to Bridgestone tire, still it is good enough at this pierce range. Also, this tire has 15k miles more treadwear warranty than the previous performance tire.
It delivers the finest performance on a dry track, with confident traction and cornering with responsive brakes and handling. On wet tracks, the tire might not be as good as its performance on dry tracks, however, you can still enjoy the ride on wet and light snow terrains as well. Unlike grand touring tires, the performance tire is not as exorbitant with the low temperature, so don't go far below the recommended level, or the tread will wear off earlier.
Pros
An all-season compound in an asymmetrical tread pattern to handle different weather while delivering proper handling and brakes
Outboard intermediate ribs channel the water and resist hydroplaning
Sipes and grooves improve wet and snow-covered road drives
A durable performance tire with a 65K miles treadwear warranty
Cons
Early wear-off on wet and snow terrains
Lose grip and traction in the winter season
---
Winter performance tire
Michelin X-Ice Snow
In winter tires, if you are looking for more durable treadwear then this Michelin X-ice Snow tire will fulfill your need. With its Flex-ice compound, the tire handles extreme conditions on the snow without reducing the tread life. It delivers proper traction, grip, and brakes in winter as well as in dry and wet conditions of the terrain.
Compared to Bridgestone tire, this tire has far better durability, with more comfortable and quieter rides. The only reason for putting this tire as a second choice is that, once it is available for almost all models of Honda HR-V, and second, the performance on winter terrains compared to the previous snow tire is not as good.
Pros
The inclusion technology of Michelin improves grip and traction on hard ice and high snow
Deep grooves also improve the wet and ice terrain grip
Full-depth sipes provide biting edges to tackle the harsh conditions of the winter
40K miles treadwear warranty
3PMSF certified for extreme winter terrain rides
Cons
Not so grippy on dry and hot terrain
Low performance in extreme winter compared to Bridgestone's tire
---
Best tires for Honda HR-V Buying Guide
Depending on others' recommendations is not always a feasible thing that is why in this part of the article we will guide you to make a better decision about your Honda HR-V tire purchase so you can make a better decision based on your preference and driving style. Not only that, but you will also learn what things you should avoid to not regret your decision in the future.
How to pick the best tire
The best tire for your Honda HR-V will surely be the one that satisfies your need and fits your driving style and conditions. The best tire for winter terrain won't be even considered for you if you drive on summer fast tracks, that is why you should always see what is the most important thing that you want from tires to deliver, and based on that pick the tire
Dont buy used or cheap tires
For saving some bucks, never go with used tires. Because after a few miles, you will realize that rather than saving some money this decision is more costly. Cheap tires and used tires, first of all, won't give you the performance any close to the new premium tires and secondly, the tread of these tires will be ruined after 5-10K miles, after that, you will have to forcefully move these tires as long as you can to take some value out of it. That is why choose new tires from reputed brands.
Things to do to improve tire life
Once you purchase new tires, you must keep good care of them to keep their performance intact and take complete value out of them. For that you should always check the air pressure, TPMS is the best thing to keep the air pressure checked. Second always rotate your tire after 6-7 months to prevent your tires from wearing off unevenly. Other than that, properly fixing punctured areas, cleaning your tires, and other basic things will improve the tire's durability and keep providing you a smooth ride.
Tire size and category
Buying a tire in the proper size from a desired category is more important than buying a cheap and premium tire because cheap tires might work for a few miles, however, the wrong tire size won't even fit at your Honda, and if the category is not your preferred by your driving conditions, the tire will get damaged after few miles as well. So before starting research on any tire, check the size and if the tire category is the one that will suit your driving conditions, to save you time and money from wasting.
Tire sizes for Honda HR-V
| | | |
| --- | --- | --- |
| Year Launched | Honda HR-V Models | Tire Sizes |
| 2016 | EX, EX-L, LX | 215/55-17 |
| | | |
| 2017 | EX, EX-L, LX | 215/55-17 |
| | | |
| 2018 | EX, EX-L, LX | 215/55-17 |
| | | |
| 2019 | Sport | 225/50-18 |
| | EX, EX-L, LX | 215/55-17, 215/50-18 |
| | | |
| 2020 | Sport | 225/50-18 |
| | EX, EX-L, LX | 215/55-17, 215/50-18 |
| | | |
| 2021 | Sport | 225/50-18 |
| | EX, EX-L, LX | 215/55-17, 215/50-18 |
| | | |
| 2022 | Sport | 225/50-18 |
| | EX, EX-L, LX | 215/55-17, 215/50-18 |
| | | |
| 2023 | Sport | 225/55-18 |
| | EX, EX-L, LX | 215/60-17 |
Conclusion
As we explained in the buying guide, the tire must be chosen by the driver according to their driving conditions, that is you must choose the tire for your Honda HR-V based on your driving conditions. And we hope that after reading this article, you will be able to make the right decision for yourself. The above list of best tires for Honda HR-V will help you choose the best tire, however, the final decision should be yours according to your driving needs.