Last updated on June 17th, 2023 at 11:31 am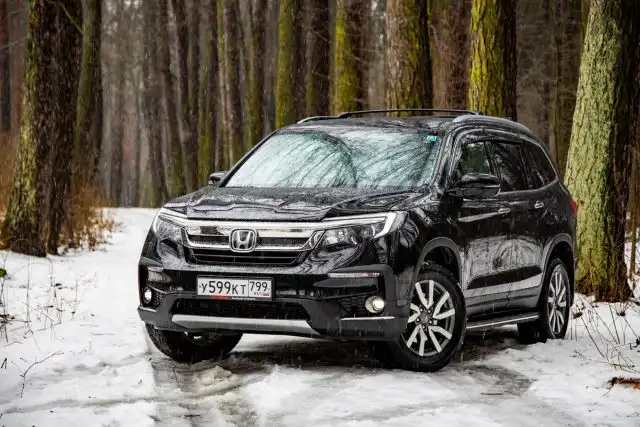 ---
There are several best tires for honda Pilot depending on the preference of buyers. As this SUV comes in different models for different drivers, there can be more than one best tire for the Honda Pilot based on the car model, driving style, and condition of the terrain.
The Honda Pilot is one of the biggest cars Honda produces in their manufacturing plant. With its strong build and huge inside space, this car be used for many purposes. A large family can enjoy their trip to the farm, or an off-road enthusiast wants to challenge this car in extreme conditions.
However, all of this is possible if there is the top tires are attached to this car. The world's greatest car won't give you great performance if the tires are not right on the mark. That is why choosing a tire is very important, picking the right tire for your car not only improves the performance it also satisfies you with a safe and smooth ride.
The Honda Pilot drivers usually buy Touring or All-terrain tires, however, there are also a few drivers who look for different categories of tires for their cars. That is why we have covered every category in this article based on tire sizes. With that, you can also read the buyer's guide section which will help you understand your car and tires so that you can make a better decision while buying new tires for your Honda Pilot. 
Table of Contents
Best Tires For Honda Pilot in 235/60R18, 245/60R18, 255/50R20, 245/50R20 Sizes.
Touring Tire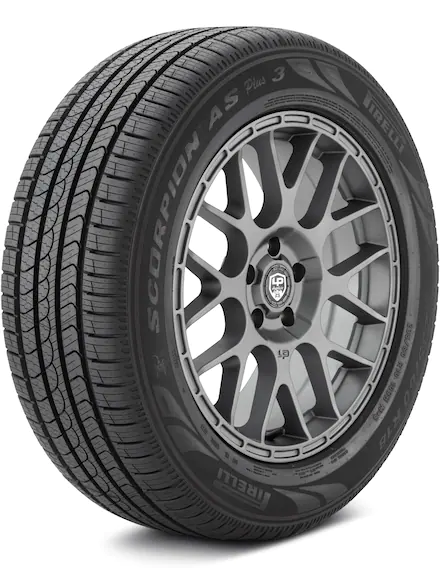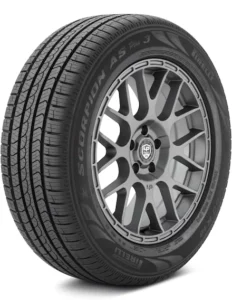 If you are looking for a durable comfortable tire for your Honda Pilot, then this Pirelli Scorpion AS Plus 3 will be perfect for you. This all-season tire is great for crossover/ SUVs to achieve a smooth and quiet ride in all-season conditions, whether it is dry, wet, or light snow conditions you can take this tire anywhere all year round.
This tire is specially made for drivers who face different conditions in a year, so they don't have to change the tires with the season change. With its confident handling, traction, and grip in all-season conditions with long-lasting durable treadwear, this is one of the best touring tires in 2023 for your Honda Pilot. As this tire is not available in every size of this car, as a substitute for this tire, the Michelin tire is also great and as good as this tire.
Pros
Asymmetric tread patterns involve the balance of sipes and grooves for even wear and smooth contact with the terrain
Functionalized polymer makes it a durable tire for all year-round rides, with 70k miles treadwear warranty
3Dsipes and Zigzag deep sipes with circumferential grooves provide stable handling, traction, and grip in all-season conditions
Large and sequence-tuned shoulder improves dry traction, and handling while providing a comfortable ride
Cons
Sometimes gets noisy on highways
Not a 3PMSF certified as Michelin CrossClimate2
---
High-Performance Tire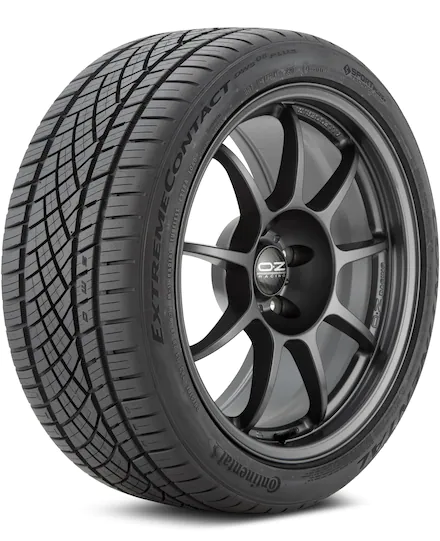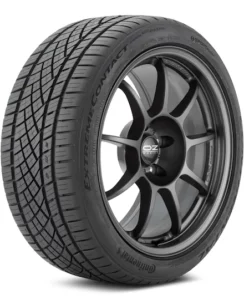 So if you are not someone who wants the most luxurious and comfortable ride, and looking for performance/sporty rides, then this Continental ExtremeContact DWS06 Plus will be a better option for your Honda Pilot. This is one of the top tires in the Performance tires category, with its responsive handling, quick brakes, and acceleration this tire is a beast for performance tracks and fast road rides.
Other than this its all-season compound is helpful in all kinds of rides in any weather and season conditions, from dry to winter snow, it is capable to handle any road conditions without breaking its tread. With moderate comfort and quiet ride, this tire is a perfect tire for performance-oriented drivers looking for a high-performance tire for their sporty Pilot models. There is another option below if you are looking for an affordable p[erformance tire or if you can't find this tire in your model's size.
Pros
All-season compound molded into the asymmetric tread for proper traction, grip, and handling in wet, dry, and light snow conditions
Macro and chamfered blocks improve dry road performance while delivering performance cornering at a fast speed
3D sipes and circumferential grooves improve grip on wet, and snow terrain while allowing aquaplaning resistance
The durable compound with SportPlus technology of continentals makes it a durable tire with a 50kmiles treadwear warranty
Cons
Not so good in winter terrains
Less durable than the Sumitomo tire
---
All-Terrain Tire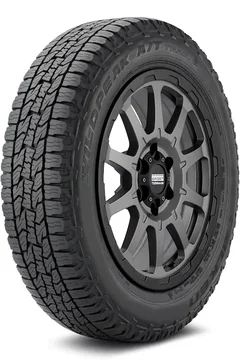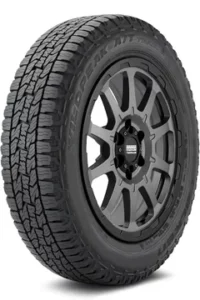 For those who want their Honda Pilot to be left out of nothing, this Falken WildPeak A/T Trail is an all-terrain tire for the drivers of Honda Pilot, who drive through every condition all year around. With this all-terrain tire, you can achieve every desire of driving this car through pavements, mud terrain, and snow terrains. So whatever condition you face, with this tire, you won't have to worry about damaging your tires.
It delivers rigid and strong performance in off terrains, due to its strong build, with a smooth and confident ride in dry, wet, and snow conditions. Also with its quick brakes, responsive handling, and durable tread, this tire is one of the best options for any type of Honda Pilot driver. also, not everyone will find this tire in their desired sizes, which is why we have given another extremely competitive option for the remaining tire sizes of Honda Pilot models.
Pros
Silica-enriched tread compound with a symmetric tread pattern to tackle dry, wet, snow, and mud terrains difficulties
Durable tire of 65k miles treadwear warranty with chip wear resistance for off-road extreme durable rides
Support ramps and aggressive upper sidewalls prevent rocks and mud from sticking on the tread while protecting its tread from puncturing by the sharp material off-road
With extreme mud terrains, the tire is also 3PMSF certified for extreme winter terrain rides
Cons
Not so good on slippery surfaces like wet and winter conditions
Expensive tires
---
Winter Terrain Tire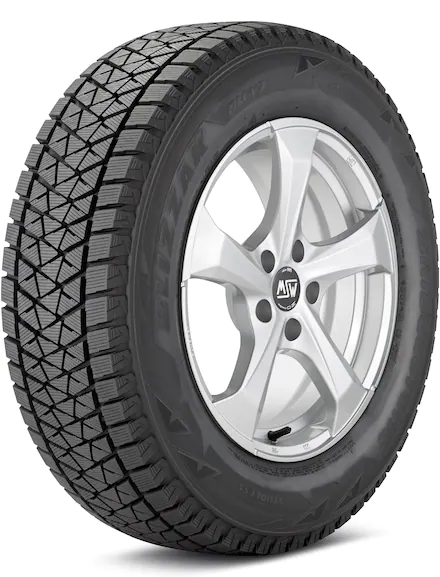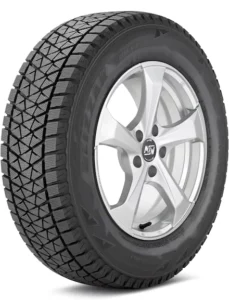 Unlike most drivers, some Honda Pilot drivers have to deal with extreme winter terrains, for that, this Bridgestone Blizzak DM-V2 tire will be the best option. Its ability to handle the harshest conditions of the winter, while delivering a confident and comfortable ride is not something every other winter tire can deliver.
With that, this winter tire is also fair in all-season conditions, it performs better in wet conditions compared to dry roads, however, for longer periods these tires are not suitable for dry track rides. Also, don't drive these winter tires for longer periods on hot summer tracks, and always keep an eye on tire temperature otherwise the durability will affect, and the tire may wear off earlier. Just like other tires, if the tire is not fit for your Honda Pilot models, then check out the competitive tire which is more durable than this tire as well.
Pros
Adaptive NanoPro tech multicell compound with microscopic bite particles that favors drivers in winter and wet conditions
The directional tread pattern with aggressive block edges that providing smooth handling while wearing off evenly
Lateral and circumferential grooves with 3D sipes, all provide confident snow terrain rides while resisting hydroplaning
All these things make this tire a smooth and comfortable ride on winter terrains
Cons
No treadwear warranty
Not so good on dry tracks
---
Best Tires For Honda Pilot in 235/60R17, 265/60R18, 255/60R18. Sizes.
Touring Tire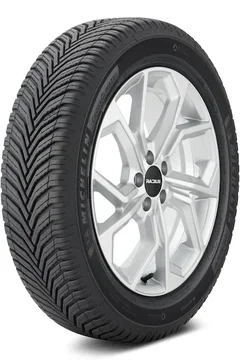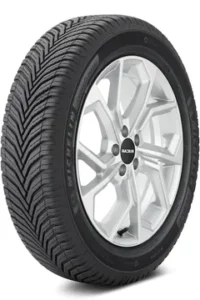 Compared to the previous Touring tire, this Michelin crossclimate2 is more comfortable and quieter and also a better performer on snow terrain. However, the all-season performance, durability, and fuel mileage are better than Pirelli Scorpion AS Plus 3. So you should decide on your own based on these facts, whichever feature is more important to your Honda Pilot rides.
This Michelin CrossClimate2 is one of the best tires in 2023, due to its variety in tire sizes, from the drivers of sedans to light trucks, everyone prefers this tire for smooth and comfortable all-season rides. With that, the tire is superb in winter terrains, which is why it is considered as an overall excellent tire for any driver looking for one tire solution for their vehicle.
Pros
Thermal adaptive all-season compound with V-formation tread pattern for confident dry, wet, and light snow handling, traction, and grip
Piano nouse reduction tunning for noiseless comfortable rides all season
V-Ramp chamfer on the tread area makes it a proper tire for carrying weight while driving on highways
3D sipe lock with 3PMSF certificates assures that this is a good tire for even winter perfromance
The durability of this tire is also great with 60k miles treadwear warranty
Cons
Not the most winter-friendly tire
Low treadwear durability than Pirelli Scorpion AS Plus 3
---
High-Performance Tire
Sumitomo HTR A/S P03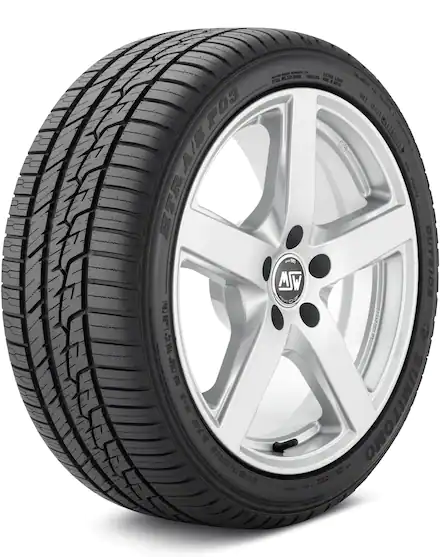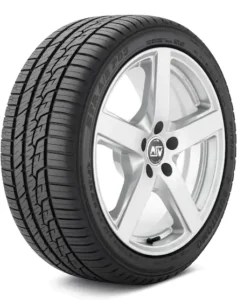 Unlike continental tire, this Sumitomo HTR A/S P03 is not an expensive tire and is also not as good a performer as the previous tire. However, if you want to save some bucks and want moderate all-season performance then this tire is also a good option for your Honda Pilot. So if you are looking for a sportier ride then you should prefer ExtremeContact DWS06 Plus, otherwise, choose this tire to save some bucks while compromising on performance.
This tire is superb on dry traction and grip with cornering, stable ride, and confident handling, however, the performance on wet lacks a little bit. With its high-rated treadwear, you can achieve sporty rides all year round in all-season conditions.
Pros
A silica-enhanced compound in asymmetric tread pattern or all-season smooth handling, cornering, and grip
Outboard intermediate ribs channel the water to resist hydroplaning
Miura-Ori sipes and cross-design sipes improve traction and grip in dry and slippery conditions
Durable tread with 65k miles treadwear warranty
Single-ply polyester casting with two steel belts makes it a durable tire, that comes with a 70K miles tread warranty
Cons
Bad winter performance
Not a 3PMSF-certified tire
Wear faster than continental tire
---
All-Terrain Tire
Toyo open country A/T3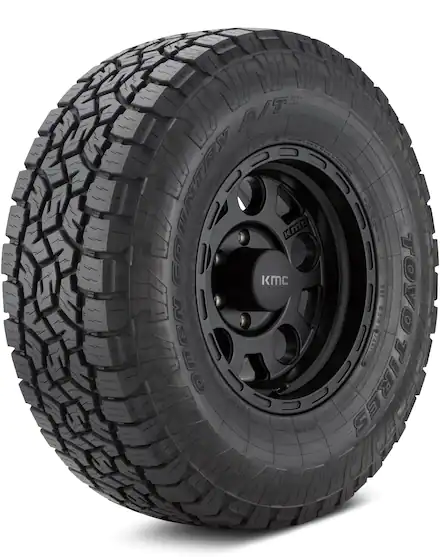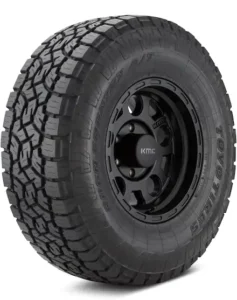 This is also a good tire for on and off-road Honda Pilot drivers. Although this tire is not as good as Falken WildPeak, it can still give you a smooth and confident ride in all terrain all year round. With similar durability and price, this tire can also be a good choice for your car, if the size matches your model.
This rigid and stiff tire provides smooth performance in all-season conditions, with a comfortable quiet ride. With that its strong build is capable of handling the harsh conditions of the terrains whether it is winter bad terrains, or muddy extreme conditions, with this tire you will be able to drive through any conditions with your Honda Pilot.
Pros
Cut and chip-resistant tread compound with a symmetric tread design for durable and smooth all-terrain rides
3D multi waves sipes and lateral grooves are designed to provide better grip and traction on wet and snow-covered roads
3PMSF certified for extreme winter terrain driving for longer period
With strong sidewalls and rigid build, this durable tire is backed by 65k miles treadwear warranty on and off terrains
Cons
Not the most comfortable in off terrains
Early wear off on gravel roads
---
Winter Terrain Tire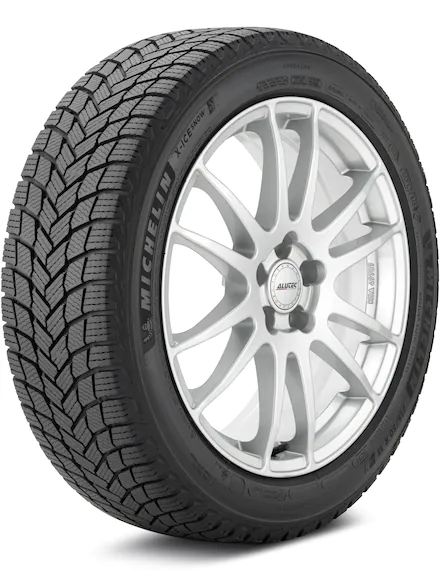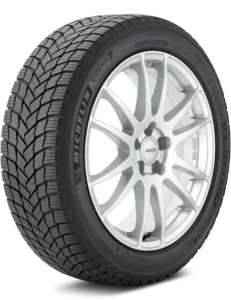 This winter tire compared to previous snow tires is more toward durable treadwear rather than that much extreme winter performance. The treadwear of this tire is better however for harsh winter terrain rides, Bridgestone Blizzak DM-V2 will perform better.
This tire is also great for winter terrains, its quiet and comfortable ride gives the pleasure of a smooth ride even in harsh winter conditions. The traction, grip, and braking on ice, wet, and dry terrain are also good. That is why this tire is among the top winter tires for SUVs and light trucks to drive with on ice and snow terrains.
Pros
Flex-Ice 2.0 compound which brings roughness to tread so that it grips better on snow and slippery ice and wet surfaces
V-shape tread pattern with circumferential grooves provides hydroplaning resistance on wet and channels the ice and snow from its tread in winter
Full-depth sipes provide biting edges on snow terrain for proper traction and grip on ice
Comes with a 40k miles treadwear warranty unlike Bridgestone's tire
For extreme and harsh winter terrains, the tire is 3PMSF certified, which means this is the tire for winter rides
Cons
Puncturing issues
Not as good braking and gripping g on ice as Bridgestone tire
---
Best tires for Honda Pilot Buyer's Guide
There is no one who could tell you online, which tire is best for your Honda Pilot unless they don't know which type of conditions your drive, and what type of performance you desire from your tires. That is why rather than picking the best tires from articles like these, you should make your own decision. For that, we will help you identify what makes the best tires for Honda Pilot, best for you as well.
Features to look at when buying new tires
If you want fast-track rides, check the speed rating of the tire, similarly, if you want to tow some weight with your Honda Pilot, then choose the tire variation with the highest load index. If you find a low-rated tire, then the tire could get damaged no matter how good the tire is. Also, if you have a preference like more steering response or a comfortable and quiet ride, then pick the tire that delivers those features, so you can enjoy the ride with your Pilot.
The right size and category
Before picking any tire, first check out if the tire is available in your preferred size and if it is from the category of tires, that you want based on your driving conditions. Because both of these things are most important, if you get the wrong size or the wrong category of the tire, then your car won't work properly, and these tires might get broken after a few miles. That is why check both of these things, to get the proper ride all year long.
Different categories for different models
There are different models available in Honda Pilot, especially the new generation, and the 2022, and 2023 Pilot have more models than the previous one. Commonly, for EX, LX, and EX-L models, touring and performance tires are preferred, and for elite, trail sport, and special editions, all-terrain tires are driven. However it's up to your driving style and condition, due to the versatility of this car, any model of this car can be driven under any conditions of the terrain if attached with the right tires. So choose tires so carefully depending on your driving conditions.
Cheap Tires with Honda Pilot
Cheap tires are not helpful with any car, and we are not talking about price, we are talking about the cheap tires that are made with cheap materials, that do not last for 10k miles if they go above that, they do not perform like any other tires at all. That is why rather than changing tires every year or so, invest one time in premium brand tires to keep your car moving with the same tires for more than 5-7 years.
Tire Sizes of Honda Pilot Models
| | | |
| --- | --- | --- |
| Year Launched | Honda Pilot Models | Tire Sizes |
| 2012 | LX | 235/60R17 |
| | EX, EX-L, Touring | 235/60R18 |
| | | |
| 2013 | LX | 235/60R17 |
| | EX, EX-L, Touring | 235/60R18 |
| | | |
| 2014 | LX | 235/60R17 |
| | EX, EX-L, Touring | 235/60R18 |
| | | |
| 2015 | LX | 235/60R17 |
| | EX, EX-L, Touring, SE | 235/60R18 |
| | | |
| 2016 | LX, EX, EX-L | 245/60R18 |
| | Touring, Elite | 245/50R20 |
| | | |
| 2017 | LX, EX, EX-L | 245/60R18 |
| | Touring, Elite | 245/50R20 |
| | | |
| 2018 | LX, EX, EX-L | 245/60R18 |
| | Touring, Elite | 245/50R20 |
| | | |
| 2019 | LX, EX, EX-L | 245/60R18 |
| | Touring, Elite | 245/50R20 |
| | | |
| 2020 | LX, EX, EX-L | 245/60R18 |
| | Touring, Elite, Black Edition | 245/50R20 |
| | | |
| 2021 | LX, EX, EX-L | 245/60R18 |
| | Touring, Special Edition black edition | 245/50R20 |
| | | |
| 2022 | EX, EX-L | 245/60R18 |
| | Sport, Special Edition, Touring | 245/50R20 |
| | Trail Sport, Elite, Black Edition | 245/50R20 |
| | | |
| 2023 | EX-L | 255/60-18 |
| | Elite | 255/50-20 |
| | Trail Sport | 265/60-18 |
Conclusion
All the tires that are mentioned in this article are one of the top tires in their category, and there is no better tire other than these that you can find for your Honda Pilot in 2023. Also, by reading the buyer's guide section you will be able to properly choose the best tires for your Honda Pilot on your own without listening to any other seller, which is better because no one else can understand better than you, the type of performance you desired from your tires.