Last updated on June 6th, 2023 at 08:16 am
---
Buying an expensive and luxurious car like a Nissan Maxima and not using the right tires won't serve your best interests because tires are one of the most important elements that allow vehicles to achieve their maximum performance. Choosing the best tires for Nissan Maxima is just as important as choosing other important parts of the car.
Nissan Maxima is known for its performance and luxurious ride for everyday drivers. The sporty-looking car is best for drivers looking for a comfortable ride with sports performance all year long. The OEM tires that come with the new Nissan Maxima are not as good for reaching the max level of Maxima performance, that is why if you want to get the top performance or your tires are getting worn off, then these are good reasons to change your tires as early.
Mostly Nissan Maxima drivers use performance and touring tires with their vehicle as per the season of their area. That is why you can only choose the best tires for Nissan Maxima according to your driving style and conditions. For your ease, we have chosen the best tires from different categories so that you can pick the right tire to improve the performance of your Nissan Maxima.
Table of Contents
Good Points
Most comfortable ride
Good rolling resistance
Good looking sidewalls/shoulders
Bad Points
Low traction
Low track performance
Less handling response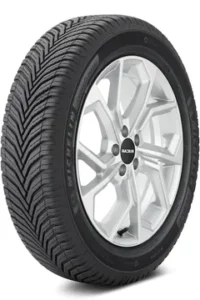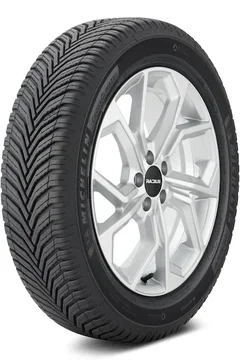 The best grand touring tire if you are after a comfortable drive in all seasons and snow conditions. It is a one-tire solution for all different conditions driving problems. Whether you drive it on dry terrains or take it into the deep snow, the tire will provide a comfortable ride with excellent traction, grip, and brakes without making any noise.
Along with dry, wet, and snow condition performance, the directional treadwear contact evenly with the ground to increase the durability of the tire. This Michelin crossclimate 2 is backed with 60k miles treadwear warranty, however, you can easily drive with it for more than 90K miles if you keep the tire well maintained.
The reason for calling this tire the best of 2023 in this category is due to its overall performance in nearly every terrain condition. It delivers a comfortable and quietest ride with proper handling, brakes, confident traction, and grip, and runs for thousands of miles for many years. When combined with your Nissan Maxima, you will feel a lot bigger difference in drive compared to your previous tire.
---
Good Points
Best overall performance.
Quick brakes and acceleration.
Low rolling resistance and hydroplaning.
Best dry and wet track performance
Bad Points
Non-durable treadwear.
Less sporty handling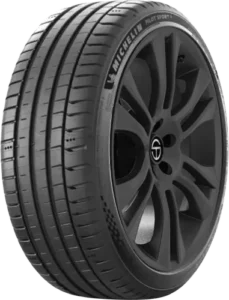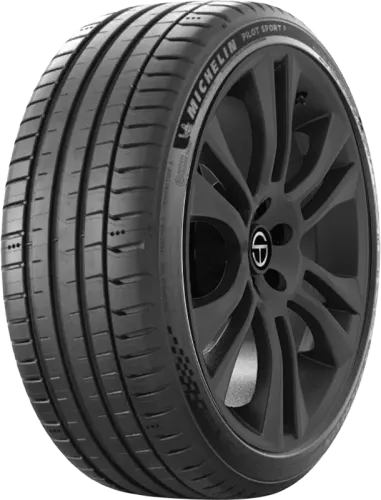 Michelin Pilot Sport 5 is a replacement tire for Pilot Sport 4. It has improved a lot from its predecessor. So if you are running Pilot Sport 4 with your Nissan Maxima, it is the right time to upgrade your car performance with these pilot sport 5 tires.
It is the best max-performance summer tire in 2023 without a doubt. It delivers the best overall performance in tracks without compromising on comfort and noise. Although the treadwear rating is not sufficiently high enough, still it will provide your Maxima with a stable and durable performance for more than 50K miles.
The brakes, speed, handling, contact, traction, grip, and cornering with every factor that matters in sports performance this tire is perfect at that. Even none other tires in this category are as stylish as this tire. Performance, aside, it is one of the most comfortable and durable max performance summer tires that you can fit with your Nissan Maxima for smooth and aggressive rides.
---
Good Points
Excellent track performance.
Good on-road performance.
Good winter performance
Bad Points
Noisy treadwear.
Non-sporty handling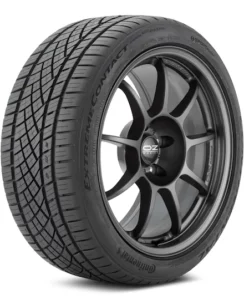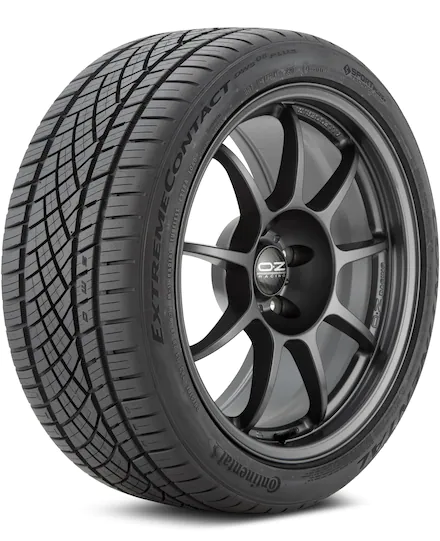 This continental ExtremeContact DWS 06 plus is one of the finest all-season UHP tires available in 2023. It will provide your Nissan Maxima with an all-year-round track performance with comfortable and quiet all-season rides.
This tire is made for drivers who want a maximum performance of tracks with all-season compatibility to drive in any weather conditions. This tire provides excellent traction, grip, and cornering in wet and dry conditions along with moderate performance on winter terrains. Due to its quality treadwear, the tire connects with the ground evenly to promote durability and decrease tread noise.
So if you want a tire that gives fast rides on tracks with comfortable rides on terrains, then this continental tire is the perfect choice for your Nissan Maxima.
---
Firestone Firehawk Indy 500
Ultra high-performance summer
Good Points
Wet and dry sporty performance.
Responsive handling and brakes.
Affordable rates.
Bad Points
No winter performance.
Noisy treadwear.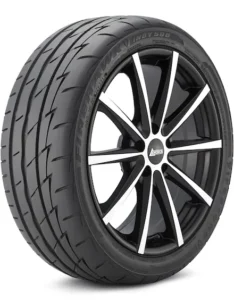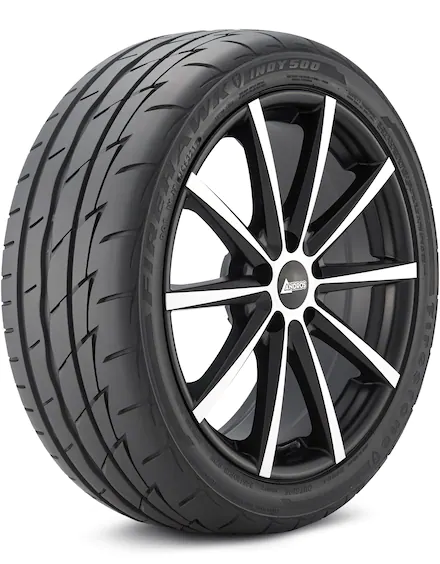 Firestone Firehawk Indy 500 is a UHP summer tire for performance-oriented vehicles like Nissan Maxima. It delivers the sportiest drive in dry conditions of the tracks. It is one of the tires that provide the sport feel through steering with confident cornering at high speed. Due to its summer internal structure, the tire is not driveable in winter conditions.
It delivers excellent grip, traction, and cornering in dry conditions of summer with a little low performance in wet conditions. A tire does not have that good of a hydroplaning resistance yet, you will be able to achieve good grip and brakes in wet conditions, without compromising on comfort.
So if you want the best tires for Nissan Maxima that outperform other competitors in on-track races, then these Firestone tires will surely serve the purpose.
---
Pirelli cinturato p7 all season plus
Performance all season
Good Points
Fuel efficiency.
Durable tread life.
Comfort and quiet performance.
For snow rides.
Bad Points
Expensive rates.
Low wet traction.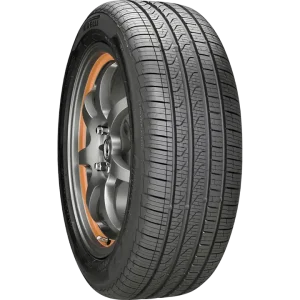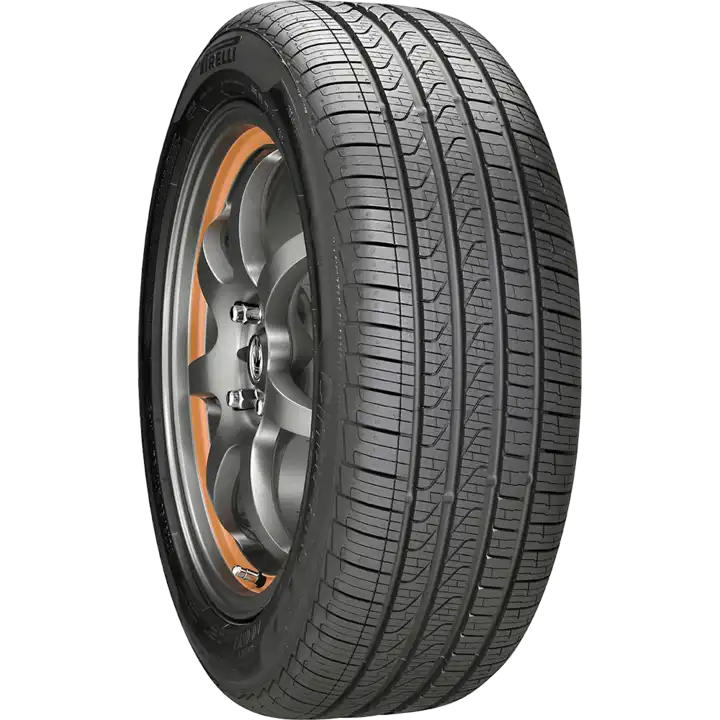 Pirelli Cinturato p7 Sll Season Plus is a combination of touring and performance tires for both comfortable and fast rides. It will provide your Maxima with a smooth ride with even contact along with cornering and gripping on fast tracks for performance rides. This low rolling resistance tire will also save your gas by giving you more economical all-season rides.
It delivers excellent traction, grip, and cornering on wet, dry, and even snow terrains. Due to its circumferential grooves, it resists hydroplaning for better wet and snow road performance. All of that comes with durable treadwear to keep your car moving for more than 100k miles. So if you are someone who wants comfortable and quietest all-season rides with performance tire vibes then this Pirelli tire is a good option for the Nissan Maxima.
Although this model is replaced by the Pirelli Cinturato p7 All Season Plus 2, due to the size difference you can not fit with the OEM wheel of Maxima. However, if you find the right size in plus 2 then that tire is better to be obtained for a little better performance.
---
Bridgestone DriveGuard run-flat
Performance all season
Good Points
Safe rides.
Durable treadwear.
OEM tire.
Bad Points
Bad in snow.
Low tread life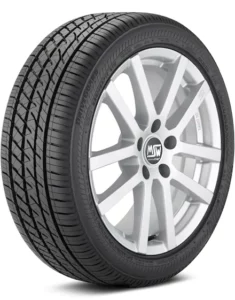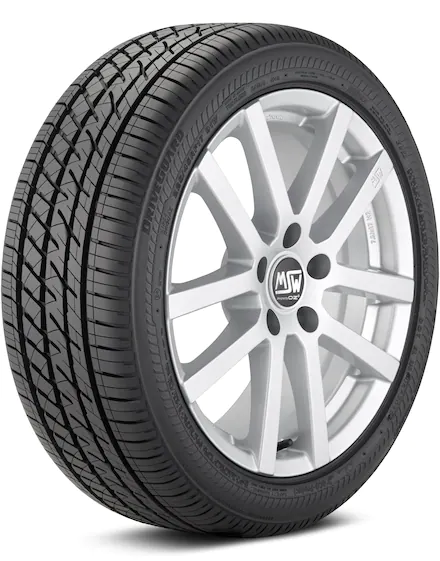 This OEM tire is another option if you like the performance that comes with your new car. The Bridgestone DriveGuard is a touring all-season tire for comfortable rides in wet, dry, and snow conditions. However, the snow performance of this tire is not as significant to getting the smoothest rides in the snow. The tire is built with run-flat sidewalls that keep your car moving even after a puncture for at least 50K miles.
If you want a run-flat tire, then this tire is among the best tires for Nissan Maxima, however, the performance of this tire is not as good as other touring tires. Also, the tread life is not as durable to be driven after 40k miles. Still, you will get a nice moderate performance in all-season conditions with safe and secure rides on highways and other long routes.
So if you are someone who is a fan of the run-flat tire only then we would recommend this tire, because the touring tires mentioned above are more advanced, have better performance, and comes at lower rates than this tire.
---
Vredestein wintrac pro
Winter performance tire
Good Points
Maximum grip and traction.
Quick brakes.
Responsive handling
Bad Points
Less comfortable tire.
Low tread life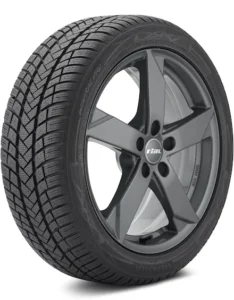 For harsh winter conditions, all-season tires are not good enough to get maximum performance. For that separate winter tires are a must-have to achieve the best results. Because all-season tires even with the 3PMSF symbol can not handle the snow above some level, while winter tires have the ability to achieve the greatest performance no matter how bad or high the snow is above the ground.
This Vredestein Wintrac Pro is a winter performance tire that delivers the best possible performance in snow and winter conditions. It delivers excellent traction and grip on high snow along with proper handling and brakes. with performance, the tire has the most durable treadwear in the winter tire category for longer drive miles on winter terrains.
Vredestein tires are known for their affordable rates with high-quality tires, and this Wintrac Pro is one example of that. The tire grips firmly on high snow while balancing the car on the same level due to its even contact on the road. If you want a performance tire for winter terrains, then Vredestein Wintrac Pro is among the best tires for Nissan Maxima for winter roads.
---
Best Tires For Nissan Maxima Buying Guides
There are some important things that new tire buyers should understand before buying new tires. In this section, we will try to give some guidance on which tire is best and what makes it that superior tire. Also, you will be able to learn how to choose the best tires for Nissan Maxima based on your preferences and driving conditions. So if you have less knowledge about these things then read this section to find the best tires for Nissan Maxima.
The difference between Touring and Performance tires
Performance tires are more toward performance on tracks and terrains, they deliver better grip, cornering, and traction than touring tires. On the other hand, touring tires are more toward durability, comfort, and noise, touring tires cover more miles and consider good for everyday work rides to get a comfortable and smooth ride.
Both of these categories have their flows, like performance tires have low treadwear life but provide better gripping and control of the car. In contrast, touring tires have better road contact but provide less responsive handling when it comes to fast tracks. It is your decision to choose which category is most suitable for you based on your preferences.
The Best Tire For Nissan Maxima
The best tire that we would recommend out of these top tires and that can also fit with the Nissan Maxima is Michelin CrossClimae 2. It is the best grand touring tire that is available in 2023 due to its durable treadwear and most comfortable rides. Due to the advanced technology, the tire keeps good contact with the ground while utilizing less power for better fuel mileage and durable wear. The main reason for choosing this tire as best amongst others is due to its all-season rides, with durable treadwear that no other tire can match in the market.
Important things to notice while buying tires
The most important thing that matters is the right size of the tire that fits at your wheel. If the tire has a matching size of your wheel then only you should consider that tire as a good option for you, because misaligned tires are not worth buying and driving with them in the long run. 
Another important thing is to choose the right category of a tire based on your preference and driving conditions. If the tire matches both of these things then look at its performance and durability by reading reviews or taking advice from someone before buying any tire. If you follow all these steps then you will end up with the best tires for Nissan Maxima that will last long and keep providing you the ride you always wanted. 
Final words
Nissan Maxima require high-quality tires whether that is touring or performance tires to achieve their maximum ability to drive. OEM tires are not as good as these advanced tires that improvise the drive of Maxima while also improving the fuel mileage of the car. All of these tires mentioned above are the best tires for Nissan Maxima that are available in 2023 in their own category, so if you have an understanding of which category will best work for you then you can easily decide; which tire will give the most satisfaction to you while driving your Nissan Maxima.