Last updated on June 9th, 2023 at 01:47 pm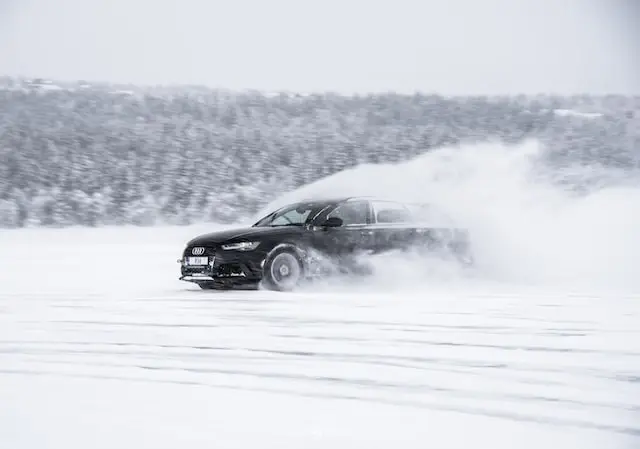 ---
As winter is around the corner, you must prepare yourself to drive in harsh snow with the perfect winter tires. Although all-season tires are sometimes good for snow rides, however the ride with winter tires is very fine on snow. Also, winter tires can perform well in harsh conditions of snow, unlike all-season tires.
Winter tires are designed to only deal with snow terrains, which is why the treadwear life of these tires is comparatively low. They are a safer choice to drive in winter due to their better gripping, brakes, and handling in snow and wet conditions.
There are different categories of winter tires including studless winter tires, studded winter tires, and performance winter tires. Different tires lie in these categories and perform well under different conditions. Performance tires have maximum performance rides similar to the performance of summer tires on tracks. Studless winter tires have more quiet and comfortable rides, while studded winter tires are considered for better grip in extreme conditions of snow terrains.
Table of Contents
Winter tires for car
Performance winter tire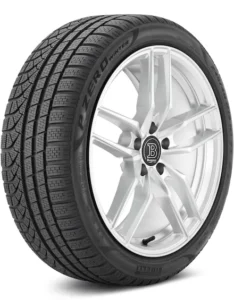 This new Pirelli P Zero Winter tire is developed for achieving sporty rides on snow. As Pirelli is very popular in the performance tires category, this winter performance tire delivers the best handling response than any other winter tire in 2023. The tire grips well on snow and provides confident cornering and traction in wet and snow conditions. 
The tire features an asymmetric tread pattern with a zig-zag inboard shoulder for better gripping and snow-to-snow traction. The circumferential grooves also play an important role in achieving better gripping by channeling water and slush away from the tire's tread. High-density lateral sipes and brickwork pattern sipes on the outboard tread improve the tire's stability while providing sporty rides all year round.
The tire is a certified 3PMSF, which means it is tested to drive in extreme conditions of the winter. You can achieve sporty rides with smooth handling, quick brakes, and confident traction in any condition of the winter season.
---
Vredestein Wintrac Pro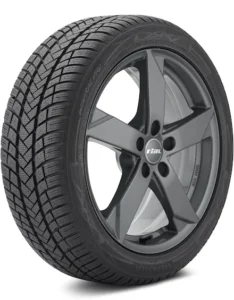 Another excellent tire for sports-oriented vehicles for winter terrains. This Vredestein Wintrac Pro might not be as popular as the Pirelli's tire, however, it is very competitive when it comes to high performance on snow. Compared to Pirelli, this tire has better performance in dry conditions with a more durable treadwear
This tire has a directional tread pattern that features winter friendly rubber compound, that adapts to snow very well. The tire has high-angle sipes on shoulder blocks and horizontal sipes on central blocks that contact with the ground evenly to promote stability, proper braking, and acceleration in snow and wet conditions. The broad shoulder design and footprint shape provide confident traction, gripping, and cornering even at high speed on snow.
This Vredestein tire is also 3PMSF certified for extreme winter performance. So if the money is not an issue, then this tire is also a good option for driving in harsh winter conditions to achieve maximum performance with your sporty vehicles.
---
Studless winter tire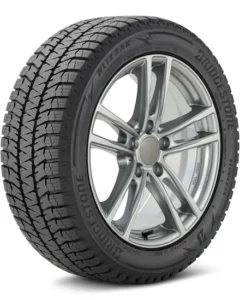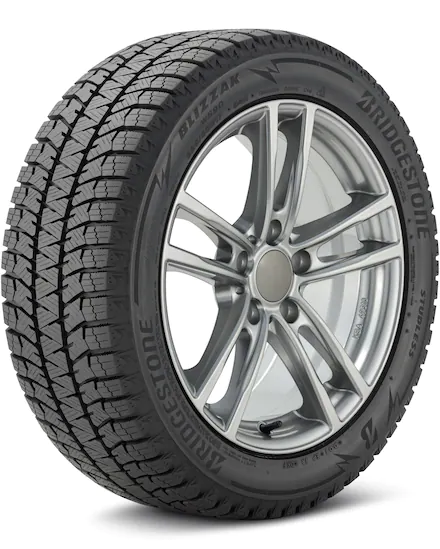 The Bridgestone Blizzak WS90 is a winter tire for drivers looking for confident and comfortable snow terrain rides. It is good to drive in extreme winter conditions and enjoy the smooth handling and responsive ride all year round.
The tire features Bridgestone's edge performance technology that delivers perfect traction and grips on wet, dry, and snow-covered road. Full-depth tread, interlocking sipes, and circumferential grooves resist hydroplaning and provide quick braking distance acceleration, and proper grip even on heavy snowfall.
The 3PMSF-certified tire is perfect for driving in high-density snow while enjoying a smooth and comfortable ride in the winter season. If you are looking for a more durable tire that provides safe and quiet rides, then this tire will be the right option for your car.
---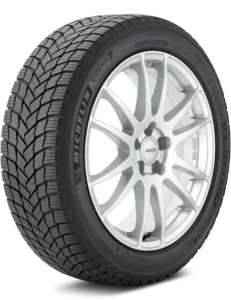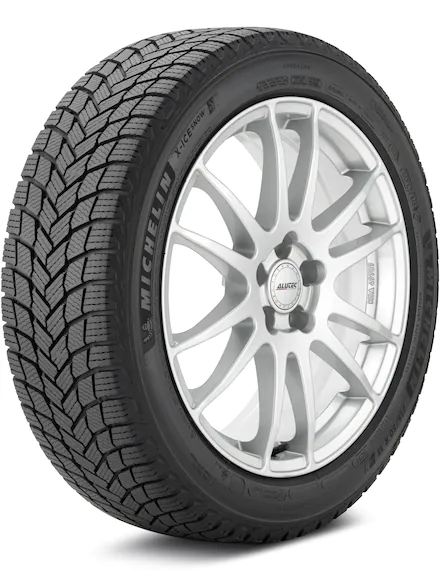 This new Michelin tire is developed for achieving superb performance in any winter road conditions. Whether it is melting snow or it is high snow, the tire adopts based on the road conditions, the tire delivers comfortable and confident rides in dry, wet, and wintery conditions.
The tire has a v-shaped directional tread pattern which delivers smooth and responsive rides. The high silica compound is essential for performing in extreme winter conditions, along with that the full-depth sipes improve the balance while providing confident traction and grip on snow.
Unlike other tires, this Michelin tire comes with a treadwear warranty, which is not very common in this tire category. The 3PMSF-certified tire is perfect for driving in dry and wet situations with a comfortable ride all year round. So if you don't care about dry season rides, and want more comfortable winter rides then this tire would be a better option compared to Bridgestone.
---
Studdable winter tire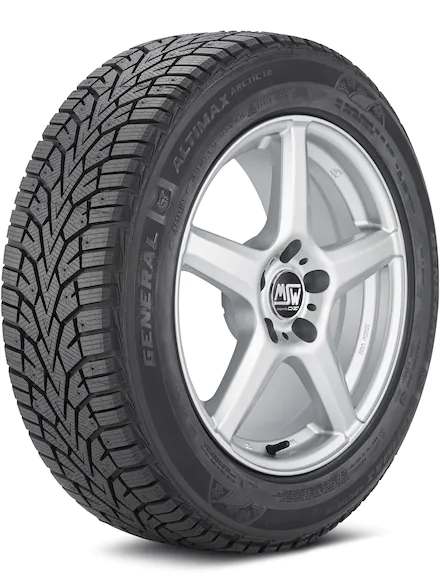 The General Altimax Arctic 12 is one of the most popular studdable winter tires in 2023. This studded tire is perfect for achieving maximum performance in the heaviest winter fall. Studs dig into the snow and lock with the ground which provides improved traction and grip that no other studless tire can provide.
This is a directional tread tire that features arrow-shaped central ribs that improves contact and provide proper handling response in any weather conditions. Along with that the high void grooves and serrated sipes improve the traction and cornering while resisting hydroplaning for better gripping in wet and snow conditions.
The 3PMSF-certified tire is good for driving in extreme conditions of snow terrains even without studs. The studs add more confidence and proper performance that you can not get with any other tire. So if the snow is so heavy and you don't care about comfort, then this tire is the perfect choice for your vehicle.
---
Winter tires for Light Truck And SUV
Performance winter tire
Pirelli Scorpion Winter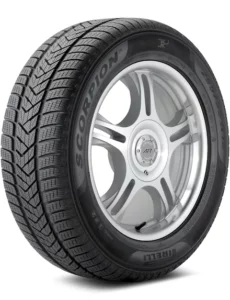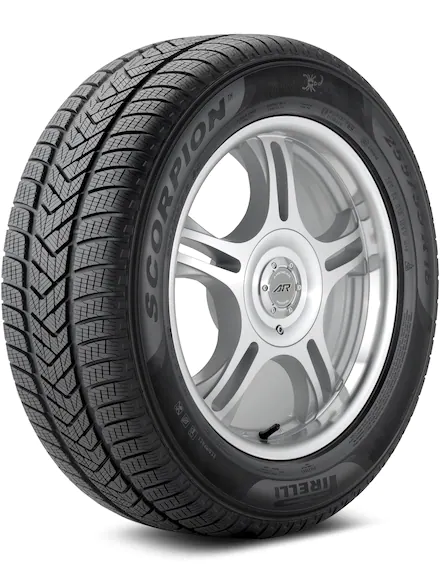 Little old but still a popular tire for Luxury SUVs and light trucks to achieve maximum performance on winter terrains. This Pirelli Scorpion Winter tire is perfect for achieving the sporty vibes of summer tracks on winter terrains due to its tread compound and tread design.
The tire features a directional tread pattern with modular center blocks and stable shoulders to achieve a confident ride on dry, wet, and snow terrains, the multi-direction sipes improve traction and stability on-road while two circumferential grooves channel the water and ice away from its tread for proper gripping and quick brakes at high snow roads.
The 3PMSF tire is good for performance-oriented drivers looking for extreme performance of winter terrains. If you are looking for max performance on winter terrains and comfort is not your problem then this tire will be the right fit for your vehicle.
---
Michelin Pilot Alpin 5 SUV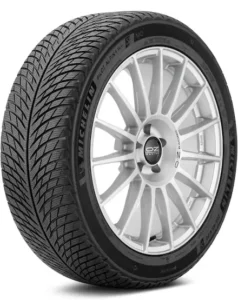 Another performance tire for trucks and SUVs. this Michelin Pilot Alpin 5 SUVS tire is designed to deliver high-performance rides in winter conditions. The performance of this tire compared to Pirelli's tire is not as sporty, still, you get the very best performance on winter terrain along with more durable treadwear than Pirelli Scorpion Winter.
The direction tread pattern tire features shoulder sipes for proper traction and cornering in any weather conditions. Less energy disruption improves the rolling resistance which increases the fuel efficiency of the car. The wide central grooves improve the confidence on snow by channeling water and ice away from the tread for better gripping and brakes all year round.
Although it is an old tire, this 3PMSF-certified tire is perfect for sporty trucks and SUVs to achieve maximum performance even on snow. If you are looking for a little comfort with more treadwear durability then this tire might be the better choice for you compared to the Pirelli tire.
---
Studless winter tire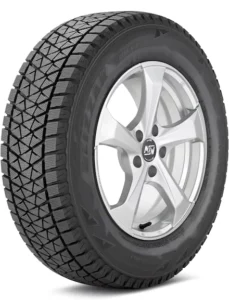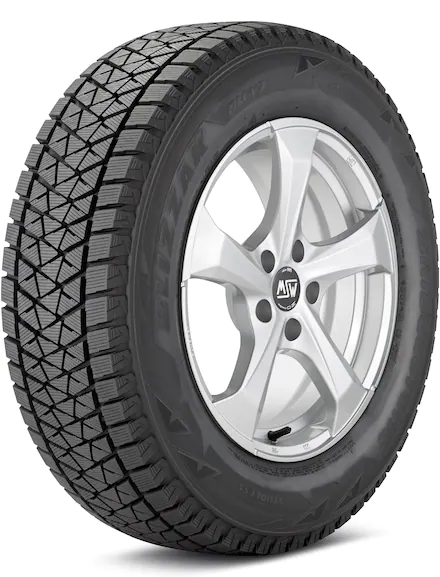 The Bridgestone Blizzak DM V2 is a studless winter tire for trucks and SUVs for a smooth ride in extreme winter conditions. The tire is perfect for drivers who want a comfortable ride with proper handling response and quick brakes on snow.
It is a directional pattern tread tire that features an adaptive nanotech multicell compound for confident performance on snow. The aggressive tread block edges with 3D zigzag sipes improve the contact with the ground for a stable ride and provide confident traction in dry and wet conditions. The lateral and circumferential grooves resist hydroplaning which improves grip and brakes on wet and snow-covered roads.
The tire is certified 3PMSF, which means it is also a good tire to drive in harsh winter conditions. So if you are driving a big-sized vehicle and want to achieve a smooth and comfortable ride in the bad conditions of winter, then it is the right tire for you.
---
Yokohama Iceguard IG51v
Yokohama Iceguard IG51v is a little old tire that is still in demand for SUVs and light truck drivers. The tire is great for achieving a smooth ride in the winter season with proper handling and stability under your budget.
The directional tread pattern features a variable angle central rib that provides even contact for more durable and stable rides. The central zigzag sipes improve traction and brakes on snow terrains, along with that the circumferential grooves resist aquaplaning by channeling water and ice away from the tread for a better gripping and safer ride all year round.
The 3PMSF-certified tire is good to achieve durable and comfortable rides all year round. If you are someone driving an SUV or truck and looking for cheap tires that performs like expensive tire, then this Yokohama tire will be a great fit for you.
---
Studdable winter tire
General Grabber Arctic LT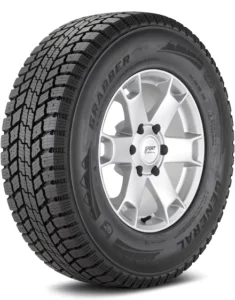 This studdable winter tire is made for light trucks and SUVs that desire extreme performance on harsh winter terrain even when carrying the load. The tire has a great loading capacity that can carry weight on winter terrains without sacrificing performance on snow. Studs bring better performance when attached to the tire.
The general Grabber Arctic LT features a symmetrical tread pattern and robust cut and chip-resistant winter compound to deliver a safe and more durable ride all year round. The shoulder blocks feature reinforcing buttresses which improve cornering and traction on snow terrains. Angled interlocking sipes improve contact and handling while circumferential grooves improve the gripping and braking on wet and snow terrains.
This studded tire is also 3PMSf certified, which means it can handle the worst conditions of the snow terrains by providing a confident and safe ride all year round. So if the money is not a problem and you can compromise with the less comfortable drive, then this general tire will be the best fit for your vehicle this fall.
---
Best Winter Tires Buyer's Guide
To buy the best winter tire, other than these tires you must also know how to identify which tire is best for yourself. By reading this part of the section you will learn how to pick the right tire based on your need so you don't have to be depended on any other person to pick new winter tires.
Features to consider when buying new winter tires
The most important thing in winter tires is their durability and performance. If the tire has good performance but has a very low treadwear life, then it won't be a good choice for your car. These two things are the major part that makes a tire the best tire. You can read reviews, and buyers' opinions to identify if the tire is worth buying. If these reviews are not accessible then you can check some points like if the tire has a good treadwear rating, if it has 3PMSF if it is manufactured in a good country and if it is a big brand tire. If these things are available in the tire then it will possibly be the right tire that you can buy in 2023 for your winter terrain requirements.
Are all-season tires for winter good?
All-season tires can be a good substitute for winter tires, as long as there is snow below 3 inches. Anything above that, all-season tires might struggle to drive and could also lose their treadwear. That is why all-season tires are great for low-snow terrain rides, but for high-snow terrain, you should buy new winter tires for the safety of your life and of your car.
Tread durability of winter tires
Most of the well-known winter tires are average to drive for 25-35k miles. Sometimes it depends on the situation too. The reason why winter tires have so low durability is that snow required more tread engagement which causes the tire to lose its tread quickly. It is also one of the reasons why most of the brands do not provide any tread warranty with their winter tires.
Which category of winter tires is best?
It totally depends on the situation and the driver. If you are someone who wants fast rides on snow with strong gripping and cornering then a performance winter tire will be the best option for you. If you are someone who prefers more comfortable rides and wants to save some money, then studless winter tires will be the best option for you. And if you are thrilled to drive in very high snow-covered areas and looking for a strong grip, then studded winter tires will give the most value to you.
The Best winter tire
In our opinion, Bridgestone Blizzak WS90 is the best option for every driver. The reason for that is that it has durable treadwear, it is not as expensive, and it provides a comfortable and smooth ride in any condition of winter. Other than winter, the tire is good to drive on dry and wet terrains, so if you have a quick season change in your area then this tire will work with your car as well. And this tire is available in sizes that can fit cars and some SUVs, which is why any person can buy this tire for their winter rides.
When to replace winter tires?
As we mentioned above, the average life of winter tires is around 25-35k miles. However, if your tires have still some tread left over them, you can run these tires. Just make sure that the tire is in good driving condition because compared to other terrains, winter terrains are more slippery and dangerous to drive if the tire is not in the right condition.
Final words
Buying winter tires is a little complicated process and you have to do some research before getting the best winter tire for your vehicle. That is why we have done deep research and brought the top winter tires for your assistance so that you can pick the right tire for your car according to your driving desires. All of these tires for cars, SUVs, and Light trucks are excellent tires made by some known brands which will give you the satisfaction that you need and deliver a safe ride in this upcoming fall of 2023.