Last updated on May 30th, 2023 at 01:21 pm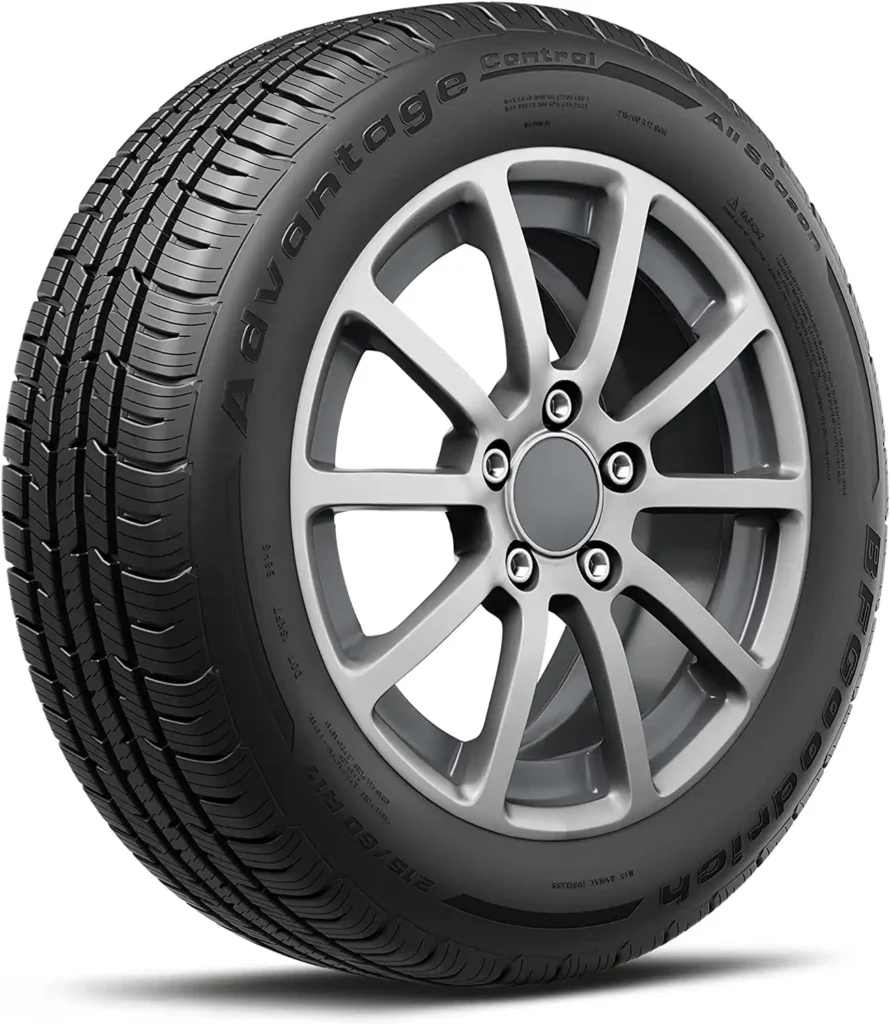 Advantage Control
All-season Tire
Conquer all seasons with this BFGoodrich Advantage Control tire which is made for driving in any weather situation. It provides comfortable rides, and proper all-season performance, with durable treadwear for achieving smooth and reliable rides all year round.
Handling & Road Feedback
70%
---
Table of Contents
Quick highlights
| | |
| --- | --- |
| Tire type | Grand Touring All-Season Tire |
| Price range | $113-$246 |
| Tread Warranty | 75000 Miles |
| Run-flat | No |
| Vehicles type | Coupes, Sedans, Crossovers, and SUVs |
| Driving conditions | Dry, Wet, and Snow |
BFGoodrich Advantage Control is an improved version of BFGoodrich Advantage T/A Sport with better all-season performance and more durable treadwear. BFGoodrich has been innovating in the grand touring tires category and slowly coming closer to competing with Michelin and Continental touring tires. 
This BFGoodrich Advantage Control is an example of greatness in touring tires. The tire performs perfectly in all seasons, it is a great tire for everyday drivers looking for comfortable and quiet rides, on pavements, street roads, and pitted roads.
It is not only a great tire in wet and dry road conditions, but it also performs relatively well in snow conditions. The tread design, sipes, and compound play an important role in achieving performance in changing situations.
With that, this tire is known to provide a stable ride with proper handling response in dry and wet conditions. With proper brakes, it can also satisfy sporty drivers looking for occasional spirited rides on fast tracks and city roads.
Overall it is a good tire for any family sedans to SUV drivers looking for reliable and durable treadwear, with a quiet and comfortable ride all year round.
Pros
Confident traction, grip, and cornering in dry, wet, and light snow conditions
Smooth brakes, and stable ride on highways, with responsive steering for a safe and enjoyable ride in all weather
Optimized tread for quieter rides on a fast and slow pace, with a comfortable ride in all-season conditions
Hydroplaning resistance, proper grip, smooth turns in the rain and wet conditions
Driveable through any road and weather situations without wearing off unevenly, due to optimized contact.
Cons
Not a 3PMSF tire, so performance on extreme winter terrains is not as good
Not a low rolling resistance tire, might increase the fuel consumption of a vehicle
---
Tread design and improvements
High silica content in all-season tread compound for handling different situations and performing well, especially in wet conditions.
The optimized footprint for stable rides, uniform wear, and low tread noise, by contacting properly on the road.
G-wedge sidewalls with open shoulder blocks improve cornering and handling without losing grip on wet and dry conditions.
Aqua Flumne technology with wide circumferential and lateral grooves channels water through contact area for resisting hydroplaning and provides proper traction and grip on wet roads.
Active sipes technology and full-depth tread blocks provide biting edges on snow for better winter terrain rides, along with responsive handling on dry roads.
Specifications & Features
| | |
| --- | --- |
| Speed rating | H-W(130-168)MPH |
| Load Index | 84(1102 lbs) – 103(1929 lbs) |
| Manufactured in | Indonesia |
| Wheel diameter | 14-20" |
| Ply rating | 4 ply rated |
| Treadwear, Traction, Temperature | 700, B, A |
| Noise Reduction | Yes |
All the specs of this tire are great considering it is an all-season tire. Usually, grand touring tires do not come with W-rated speed, however, with this tire, you can go above and beyond your speed limits.
Also, the load indexing is fine, as it is not made for light truck tires, vehicles with this tire equipped won't require heavy tires to carry a load on highways.
This Indonesian tire has a good treadwear rating which states its durability, however, the traction is graded B for some reason, however, it provides better traction and grip compared to A-rated tires in different situations.
Performance of BFGoodrich Advantage Control
Dry City Roads, Pitted Roads, and Pavements
Whatever dry road conditions and weather you face, this tire delivers a very smooth ride on all dry roads. The stable contact is one of the reasons for its great performance. We tested it in all situations and it impresses us in every situation.
On city roads, there is no sound and the most comfortable and quiet ride at a slow and fast pace. As we drove where the road is balanced and clean, the tire impresses us even more on city roads even at a faster pace.
On highways and paved roads, the tire also provides very stable rides with responsive handling as well. At the start and slow pace, the tire make very little noise but after we reach high speed, the noise was gone and the experience was also great on highways and pavements, or even on gravel roads.
Overall in dry conditions, this tire is perfect, even on potholes and imbalanced country roads, the tire with the good car suspension provides a very comfortable experience by dealing with pitted roads properly in dry conditions.
Wet and Rain Experience
In wet conditions, it is also a great tire to drive with. It resists hydroplaning and provides proper traction and grip without disturbing the experience of comfortable rides.
In slow rain or heavy storm, this tire is something joyful to drive with. It is safe due to its performance in standing water and rainy situations.
With that, it provides a quiet and comfortable ride in wet conditions as well, due to optimized contact and noise reduction technology in the compound.
All of that is possible due to the high silica content and tread sipes that improve wet traction and performance without wearing off unevenly in rain.
Light Snow, Deep Snow, and Ice
As it is not a 3PMSF-certified tire, it won't perform as well as certified grand touring tires. However, compared to non-3PMSF-certified tires, it is far better on snow terrains.
The tire provides a perfect ride in light snow conditions, due to silica-enriched compounds. It provides a stable ride, comfortable experience, and safe brake on light snow conditions, and even drivable at a high pace.
On deep snow and ice, the tire loses a grip at a faster pace and sometime hydroplanes in slippery situations. The absence of 3D sipes might possibly improve its deep snow performance. On ice conditions, the tire performs similarly to deep snow and loses traction at a faster pace.
Unlike other touring tires that lack a snowflakes certificate, it is a far better tire to drive in deep snow, it delivers fair performance in ice and deep snow conditions without wearing off unevenly. Overall it is a smooth tire to drive in winter terrains, and perfect for drivers who face winter 1-2 months in a year.
Durability and road life
There are two variants of tire one comes with a 65K miles treadwear warranty and the other with a 75K miles warranty. So choose the right size for your tire rather than choosing the high warranty tire.
The treadwear performance of this tire is great, it does not wear off improperly due to the optimized and stable contact area of this tire, which also helps in reducing noise.
Unlike other tires, driving on highways and winter terrains, the tread wears off uniformly without reducing the performance over time. It is a great tire to drive for more than 5 years of easy drive on roads and highways.
With durability, fair price, and all-season performance, overall it is a perfect grand touring all-season tire to buy in 2023 for a proper drive in the future.
Comfort and Responsiveness
The comfort of this tire as we mentioned several times above is great. However, the steering response is something that is not discussed by other reviewers, especially with touring tires.
The handling response is fair of this tire, you can not achieve great road feedback with this tire, and the reason for that is its deep tread blocks, which might improve tread durability but, reduces the road feedback while driving.
Also, the deep treads also make it a low-rolling tire, which consumes more energy and gas with noisy rides, based on the vehicle. Nothing else is bad about this tire other than these things, so keep it in mind before buying this tire.
Comparison with General Altimax RT45
| | |
| --- | --- |
| Dry Conditions | General Altimax RT45 |
| Steering Response & Feedback | 14.67% |
| Cornering Stability on Curves | 7.69% |
| Dry Traction & Grip | -4.26% |
| Shortest Dry Brakes | 12.00% |
| Results | 30.10% |
| | |
| Wet Conditions | |
| Steering Response & Feedback | 4.17% |
| Cornering Stability on Curves | 10.11% |
| Wet Traction & Grip | -2.22% |
| Shortest Wet Brakes | 20.83% |
| Results | 32.89% |
| | |
| Winter Conditions | |
| Deep Snow Traction | -8.14% |
| Light Snow Traction | -10.00% |
| Thick Ice Traction | -12.79% |
| Results | -30.93% |
| | |
| Ride Quality | |
| Cabin Comfort | 6.08% |
| Road Noise | 12.17% |
| Results | 18.25% |
| | |
| 175/65R15 (84H) | |
| Price | -9.73% |
The results are based on test results and subjective views, it could differ based on different cars, conditions, and driver's preferences.
As you can see in the test results, the General Altimax Rt45 is a very competitive tire compared to BFGoodrich Advantage Control. Also, General Tire comes at a lower price range, which is great for budget-oriented drivers.
The General Altimax RT45 is a great tire to achieve better dry and wet conditions performance when it comes to shorter brakes and steering response, however, when it comes to traction and grip, BFGoodrich Advantage Control performs well in these metrics.
Similarly, the general tire is more comfortable than the BFGoodrich tire. And on the other hand, the BFGoodrich tire is a far better tire when it comes to winter terrain performance.
So based on these results pick the tire out of these two which align with your conditions and requirement to get quality results in the future as well.
When BFGoodrich Advantage Control Is Not Prefered
This tire is not for spirited drive as it is cleared by looking at the above test results, so if you plan to visit tracks once a week, it will not a perfect choice for your vehicles. The max high-performance or ultra-performance summer or all-season tire will make more sense in these situations.
Similar to that, if you face extreme winter terrain for more than 3-4 months, then again this won't be the tire for you. You should go with winter terrain tires that are made for dealing with harsh winter conditions.
If you try to handle extreme winter terrains, with these tires, the tire will perform fair in this situation and there are chances of tread uneven wear off, which will be a waste of money, especially if it is a new tire.
That is why picking the right tire based on driving conditions is always a better option rather than picking tires based on some reviews and recommendations.
---
Final words
The BFGoodrich Advantage Control is an excellent grand touring all-season tire to achieve comfortable and durable rides all year round. It provides stable rides in wet, dry, and snow conditions while wearing off evenly and providing quiet rides at a fast and slow pace. After buying this tire you might drop 2-3 MPG due to low rolling tires, otherwise, there are not many other cons of this tire, and it will be a great option for your Sedans, Crossovers, and SUVs to drive in 2023.