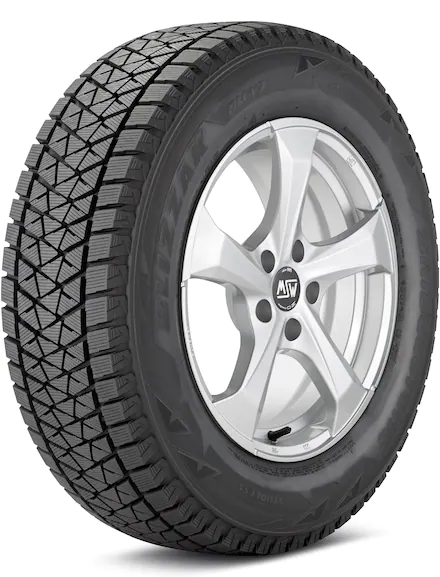 Blizzak DM-V2
Winter Terrain Tire
The winter won't confine you in your houses anymore with this Bridgestone Blizzak DM-V2 tire. This is the exemplary tire for future winter tires on how to achieve greatness in slippery slick ice and high snow terrains. No matter what winter conditions, this is the tire to trust in this winter season.
Slash, & Ice Conditions
90%
Comfort & Noise Level
80%
---
Table of Contents
Quick highlights
| | |
| --- | --- |
| Tire type | Winter/Snow Tire |
| Price range | $135-$323 |
| Run-flat | No |
| Vehicles type | Crossover, Pickup, and SUV |
| Driving conditions | Dry, Wet, and Snow |
The Bridgestone Blizzak DM-V2 is an old tire launched back in 2014 but it does not matter, because there is no better tire for SUVs and light trucks to drive in winter terrains than this tire.
It is one of the few tires compared to any other winter tires which are great in snow conditions, great in dry and wet conditions, and also provide a proper driving experience by delivering comfortable rides all year round.
It grips smoothly in snow and slush while providing proper traction as well. The tire feels safe to drive at a faster pace as well in extreme winter conditions.
Due to the winter terrain compound, it is capable to handle the lowest temperature of the terrain without wearing off unevenly or earlier than estimated.
Although this tire has no treadwear warranty, compared to other winter tires, it is a durable tire that keeps your car moving for many miles.
This Bridgestone tire is a replacement tire for the Bridgestone Blizzak DM-V1, and since its predecessor, this tire has improved massively from tread compound to its sipe designs. This is the reason why this tire has a huge increase in winter terrain performance.
Compared to new winter tires, the price range of this tire is very fair, due to the similar performance it provides compared to the new expensive tire.
The price is never the determinant of a tire's performance, the tire ratings and real-world performance describe the tire's worth, and surely this tire is the most prestigious tire to buy in 2023.
Pros
Confidence of ride in winter and snow conditions due to proper traction and grip in slippery conditions
Biting edges dig into the snow for a harsh winter terrain smooth ride
Multiple sipes and grooves reduce the chance of losing grip while resisting hydroplaning in wet conditions
With snow, the dry condition ride is fair as well, so you can drive with one tire in weather-changing situations
Open shoulder design to properly channels water and ice for confident handling and ride all year round
Cons
No treadwear warranty, still a durable tire though
Only 50% of tread compound consists of multicell
---
Tread design and improvements
This is a directional tire which means only directional rotation can use with these tires.
The directional pattern consists multicell tread compound featuring Bridgestone adaptive NanoPro tech which provides proper traction and grip in extreme winter conditions.
Hydrophilic coating and microscopic bite particles are key improvements that improve winter traction and brakes in snow and wet conditions.
Aggressive edges and open shoulders are designed to deal with heavy snow and channel ice and water out from the tire's tread.
With that, the wide circumferential grooves and lateral grooves also help in channeling slash, water, and snow to resist hydroplaning and improve predictability in slippery conditions
The optimized contact area, with dense 3D zigzag sipes, improves handling response and provides extra biting edges to properly handle the extreme winter conditions
Durability and road life
When this tire wears off 50%, the multicell compound also goes with it, and now the tire run on only winter compound, which does not provide excessive traction on heavy snow terrains. You can check tread depth from the molded indicator.
This tire is not backed by any treadwear warranty, which is very common in winter tire categories, except Michelin winter tires.
Even though this tire is not backed by warranty, it last longer than warranty-provided tires, however, the treadwear warranty provides assurance, if something bad happens with the tire, you can still save some money, unlike no treadwear warranty tires.
This tire can cover more than 40K to 50K miles with proper care, however, it usually depends on the situation as well.
Tires that are driven on only normal snow conditions and very rarely on extreme snow will last longer than tires that are driven in the hot summer season and rarely on winter terrains.
Specifications & Features
| | |
| --- | --- |
| Speed rating | R-T(106-118)MPH |
| Load Index | 95(1521 lbs) – 117(2833 lbs) |
| Manufactured in | Japan |
| Wheel diameter | 15-22" |
| Ply rating | 4 ply rated |
| Treadwear, Traction, Temperature | N/A |
| Noise Reduction | No |
The speed rating of this tire is very low, considering driving in winter conditions, the tire can not reach high speed anyways.
The load index is good, you can choose a high-load variant of the tire if you have a pickup tire, and this tire drives well with heavy load as well.
Still not sure why most winter tires are produced in Japan if it's the weather of Japan or something else, usually Pirelli, Michelin, and Bridgestone winter tires are produced in Japan for some reason.
Performance of Bridgestone Blizzak DM-V2
High Snow Terrains
This is a studless winter tire and usually studded winter tires are preferred for extreme winter seasons. However, this tire is great in extreme and deep snow conditions
The bite particles, extra biting edges, and 3D sipes are designed in a manner to deal with extreme situations
This is a 3PMSF-certified tire which provides assurance that it is made to drive in snowfall and harsh winter terrains
When driving with this, the tire grips properly on around 4 to 5 inches of snow which is great for any winter tires. Other than that, the brakes, handling, and speed all were great, although increasing speed creates a little unpredictable handling, other than it performs really well in heavy snow conditions.
Slash, & Ice Conditions
In slick thin melted ice, the grip was fine as well. These conditions are similar to wet conditions somehow.
The tire requires a tread that channels the substance off from its tread, and this tire's lateral grooves play an important role in channeling ice, and water away.
At a faster pace, the tire feels predictable as well, it does not lose traction or grip which is very impressive while driving on ice and snow.
With that, the handling response and cornering on ice are good as well, it performs better in these conditions compared to studdable winter tires, due to its tread design
Wet Conditions
In wet conditions, the tire grips properly, as we tested on heavy rainfall. It provides a proper driving experience like heavy rain is not a big thing at all.
The handling response was fine, it provide a comfortable ride compared to the summer tires that we tested.
The circumferential and lateral grooves play an important role in improving this tire's performance, they channel water away to resist hydroplaning which also reduces the tension of lost grip.
Even with weight, this tire performs very well, it delivers a stable ride to avoid uneven wear which other tires could while carrying weight.
Dry Conditions
With wet conditions, this tire is also great in dry and hot conditions. It provides confident cornering, traction, and brakes in dry road conditions.
This is not a tire to drive on summer tracks, due to its deep tread design and tread compound, which will wear off earlier if getting too much heat.
We drive this tire on highways with heavyweight, and it provides a smooth ride, although the comfort was not at its finest, still it does better considering it is a winter terrain tire.
Other than that, the tire temperature stays stable even after a year-long continuous ride, which is very good, because not many winter tires can handle that much heat.
Comfort & Noise Level
The comfort of this tire is fair if compared with all-season touring tires, however, compared to winter tires, it is excellent.
The tire provides a stable ride on extreme winter conditions, mostly winter terrains are unbalanced, and on unbalanced terrains, it just does not lose the complete balance which other tire does.
The noise sometimes gets annoying, if you have been driving the summer touring tires, but it won't bother you if you are a performance tire driver.
It makes a continuous sound, which every other winter tire creates. Other than that, the comfort level is great and the noise level is better as well compared to other snow tires.
Comparison with Michelin X-Ice Snow SUV
The Michelin X-ice Snow and Bridgestone Blizzak DM-V2 are made for light trucks, SUVs, and CUVs for winter terrain rides.
Both of these are studless ice and snow tires and both of these are top tires in this category nowadays.
However, there is a difference in each of these tires' performance, the Michelin X-Ice Snow SUV is a great tire for snow terrains comfortable rides, it is a far more comfortable tire than Blizzak DM-V2. Also, it is a better option to drive in dry conditions of the road.
The Michelin X-Ice Snow SUV is a recently launched tire which makes it a more advanced tire, however, the price difference is very big. The one Michelin tire will cost $80 more compared to the Bridgestone tire. You can save around $300-$350 on one set of tires, and with this money, you can buy other sets of tires to improve the durability of tires by replacing them as the season changes.
Although the Michelin tire is more comfortable and better in dry conditions, being far less expensive the Bridgestone Bliizzak DM-V2 is a better tire to achieve harsh conditions and smoother rides.
The tread compound and its unique design are the reason for that. Even though Michelin is a more popular brand, compared to Bridgestone's technology and innovations, the Michelin tire is far behind.
When Bridgestone Blizzak DM-V2 Is Not Prefered
If you are chasing comfort in winter terrains, rather than extreme terrain performance, the Michelin X-Ice Snow should be preferred rather than this tire.
Similarly, if you are looking to buy the most extreme winter terrain tires, and don't care anything about comfort, then studded winter tires will be a better option like General Altimax Arctic 12 or similar tire that fit.
The Bridgestone Blizzak DM-V2 comes in between both of these situations, you should go with this tire anytime, if you want harsh winter terrain rides, and also want a comfortable ride, then this Bridgestone tire will be a perfect option for you.
Anyways, choosing a tire should be based on your driving conditions and preferences rather than depending on someone else opinion. So use your thinking and pick the tire that best fits your desires.
Final words
The Bridgestone Blizzak DM-V2 is an excellent tire to achieve a comfortable and smooth ride in winter terrains. It has durable treadwear and a very good price, which wears off at the same time duration as new winter tires while being much less expensive. It is also a good tire to achieve a smoother ride in dry and wet conditions. Somehow, it is a great winter terrain tire that can also be used as an all-season tire. With a 3PMSF certificate, it is a proper tire to drive in extreme winter terrain situations.