Last updated on April 19th, 2023 at 01:46 am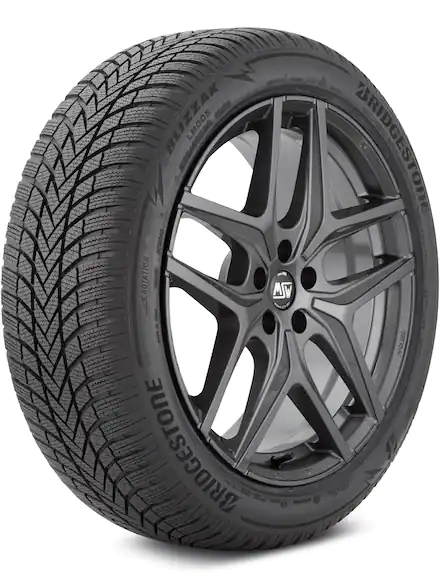 Blizzak LM005
Performance Winter Tire
Achieve maximum performance on snow with this Bridgestone Blizzak LM005 winter performance tire. It is a tire for the drivers of performance sedans and coupes looking for fast grip, confident traction, and sporty handling on winter terrain.
---
Table of Contents
Quick highlights
| | |
| --- | --- |
| Tire type | Performance winter tire |
| Price range | $151-$305 |
| Run-flat | No |
| Vehicles type | Performance, Sedans, Coupes, CUVs |
| Driving conditions | Dry, wet, and snow |
Bridgestone Blizzak LM005 is a performance winter tire for sports and luxury cars. The tire was launched in 2019 with few improvements on its predecessor tires. It is available in very specific sizes of 18 and 19 inches. That is why this tire is not very popular in the market, because it fits with a few cars.
This Bridgestone tire is perfect for achieving high-quality rides in harsh winter seasons without worrying about its durability. It is average to give more than 30K miles winter season rides, and if mixed with all-season terrains then the ranges could also go beyond that. Bridgestone's high-class equipment and advanced technology made this tire the best option to drive in 2023. 
This tire delivers the best sporty handling on snow with its aggressive wet and snow tracks grip and traction. It also has a very competitive stopping distance on snow compared to some of the best winter tires available in the market. Along with that, the tire has a very comfortable ride with the quietest road noise on snow terrains. Regarding affordability, the tire may look expensive however, with its low rolling resistance, you will save a lot on gas in the future.
---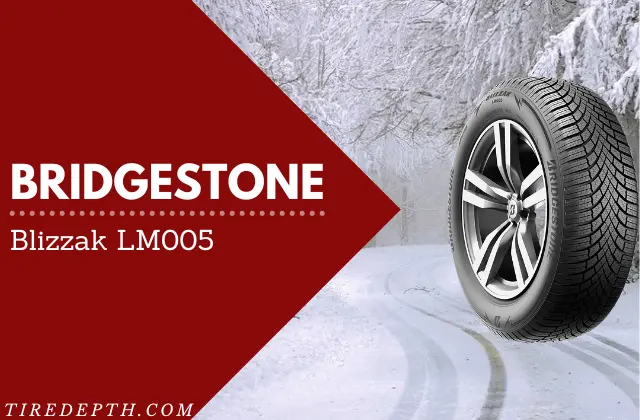 ---
Tread design and delivery
The Bridgestone Blizzak LM005 comes with a directional tread pattern, which is good for winter terrains. The tread moves in a singular sequence while channeling snow from the tire. The internal of this tire consists of an advanced rubber compound utilizing Bridgestone's high-silica nanoPro-tech technology, which keeps the tire driven at a very low temperature.
The 2D and 3D sipes on the tread and shoulder provide confident traction and grip while providing a stable and smooth ride in all-season conditions. Along with that, the lateral voids with the help of sipes configuration provide stable handling and quick brakes on snow terrains. Lastly, the zigzag grooves channel the water and snow away from the tire by resisting hydroplaning for better gripping and traction in wet and snow terrains.
Durability and road life
Winter tires always have low tread life just like mud terrain and track performance tires compared to all-season tires. The reason for that is these tires are made for specific situations and to drive at extreme levels. And for that much driving joy, the tread durability has to make a compromise. 
Besides that, this Bridgestone tire has a very durable tread compared to other winter tires. It will deliver more than 30k miles of winter terrain ride if driven moderately on snow and other seasons. The treadwear of this tire is evenly worn off due to the directional pattern which is another reason that this tire has a fine tread life that keeps your car running for many years.
Specifications & Features
The high silica nanoPro-tech technology of Bridgestone makes this tire a versatile tire to drive in the different conditions of winter. It keeps the tire tread warm depending on the situation of the weather. The low rolling resistance is another feature of this tire that saves fuel consumption while giving a quiet and comfortable ride.
Other than that, this Hungarian-manufactured tire comes in sizes of 18 and 19 inches, which is not enough but some of the sports sedans and coupes lie under this size range. The maximum load capacity of this tire is around 1389lbs and the maximum speed it can hit is around 149MPH. Instead of the tire sizes, there is nothing wrong with this tire, and it will be a good ride for you in winter.
Bridgestone Blizzak LM005 VS WS90
Both of these tires were launched nearly at the same time and in the same winter tires category. Yet however, there is a difference in each of these tires driving on snow. Most people prefer WS90 because it is available in a lot of different sizes and has a little more durable treadwear compared to Bridgestone Blizzak LM005. 
The Bridgestone Blizzak WS90 is a studless winter tire that is more suitable for attaining comfortable and smooth rides in winter and other seasons. It has better driving results in dry conditions compared to Bridgestone Blizzak LM005. Also, WS90 has better tread durability and delivers more quiet rides all year round. 
On the other hand, Bridgestone Blizzak LM005 is a performance winter tire that is more suitable for enjoying maximum performance on winter terrains. It has better snow gripping on snow and wet with more responsive handling compared to WS90. in the end, both of these tires are great with some positive points over each other, so if you find the right size in any of these tires, we will recommend that both of these tires will give very satisfactory results to your winter rides. 
Performance of Pirelli P Zero Winter
Wet performance
When it comes to wet or rainy rides, this Bridgestone tire is excellent for these situations. Due to its zigzag groove and lateral voids, the tire resists hydroplaning and provides a strong grip and traction on wet terrains. Along with that, you can safely enjoy fast rides on wet terrains because the tire provides exceptional cornering and stability on fast wet tracks.
Dry performance
When it comes to dry terrains, the tire lacks a little compared to other winter tires. The LM005 does not provide as good traction and grip on dry terrains. Also if you drive most of the time on dry terrains three are chances that the tire may lose its treadwear before the time. On top of that, the brakes on dry terrains are also not efficient which is why if you travel very rarely in dry and warm seasons only then this tire will be suitable for you.
Snow Performance
It is where this tire shines the most. On snow, this tire delivers confident traction and grip even at the high speed. With that, you can get a comfortable and quiet ride when you are not in the mood for sporty rides. With low rolling resistance, you can save money on fuel and smoothly cover the distance on snow.
Handling & Brakes
Another good thing about this tire is its very responsive and sporty handling which is why we have considered it a top-performance winter tire. The tire provides handling control and grip and it is really enjoyable to drive on winter tracks. Along with that, this tire has one of the quickest brakes in the winter tire category, the tire quickly locks with the ground and stops at a very short distance without slipping too much.
Final words
The Bridgestone Blizzak LM005 is a very sporty, comfortable, and enjoyable winter tire to drive in snow and wet conditions. Although it has some flows on dry terrains, for minimal dry driving, it won't bother you that much. Other than the lack of availability in different sizes, this tire has nothing bad about it.  It is wonderful to drive in winter conditions. So if you want a safe and high-performance ride on snow terrains in 2023, then this tire will be the best pick for you.