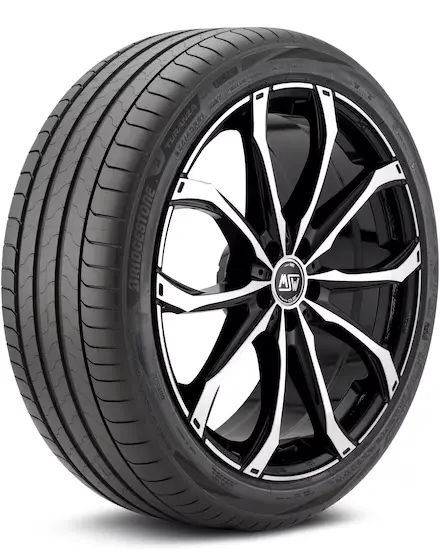 Turanza 6
Grand Touring Summer Tire
Looking for a performance ride with your performance sedans, check out this Bridgestone Turanza 6 tire, which will deliver sporty rides, with the comfort and durability of touring tires, which will keep your car moving for a longer period.
Fuel Mileage/Low Rolling Resistance
85%
Handling & Road Feedback
90%
---
Table of Contents
Quick highlights
| | |
| --- | --- |
| Tire type | Grand Touring Summer Tire |
| Price range | $446-$510 |
| Run-flat | No |
| Vehicles type | Luxury Sedans and Coupes |
| Driving conditions | Dry and Wet |
The Bridgestone Turanza 6 is a successor of the Bridgestone Turanza T005, the tire has improved in wet condition rides, handling, response, and comfort. Other than that, the dry performance has improved a lot which gives a more sportier ride to the spirited drivers, on streets and tracks as well. The tread design of the tire has changed as well which we will talk about later in the post.
This grand touring summer tire is excellent for driving on wet and dry conditions of the road, it delivers the most comfortable and quietest ride in the summer season. With that, the tire has a proper handling response and the ability to handle faster rides, which fulfills the desire of every sports-oriented driver. Due to its sporty performance, it comes as an OE tire with some luxury coupes and sedans.
The grip, cornering, and traction in wet and dry both conditions is great. The tire does not lose grip on fast speed cornering which sometimes, other summer tires do. With that, the durable treadwear of this summer tire is good enough to drive for many years, until the treadwear is off completely. The tread design also resists tires to wear off unevenly, which is great for proper rides until the last depth of tread.
Pros
Comfortable and smooth rides in dry and wet road conditions
Confident traction, grip, and cornering in the summer season
Sporty handling response and responsive road feedback to achieve sporty rides on dry roads and tracks
New tread design that improves the performance, stability, and comfort of this new tire
Softer sidewalls and slick design to handle fast rides without losing grip and traction, with quick brakes for safe rides
Cons
No treadwear warranty and a low tread life as well
Very expensive tire, and available in only a few sizes
---
Tread design and improvements
The symmetrical tread pattern features a summer compound to handle the hot temperature, while also providing a confident ride in wet conditions. The tread design includes wide center ribs which are great for a stable ride and handling response while wearing off evenly. The lateral notches on shoulder and tread grooves, improve wet traction and grip while resisting hydroplaning, which improves the wet terrain experience.
With that, the slick tread design is the reason why this tire is not the most durable and performs extremely well in dry conditions. Overall the tread design of this tire is fine, which is made for comfortable summer rides, with a proper handling response in wet and dry conditions as well.
Durability and road life
The treadwear durability of summer tires is low no matter in whichever category they lie, whether it is performance summer tires, track summer tires, or touring summer tires, they all have low treadwear life. However, the touring tire is the most durable among other summer tires.
This Bridgestone Turanza 6 has no treadwear warranty, however, the tire is capable to drive for more than 30-40K miles, by doing proper care and rotation. This tire has a fair treadwear rating which is the reason why this tire can achieve as many miles as performance all season tries, with better summer performance and more durable rides.
Specifications & Features
| | |
| --- | --- |
| Speed rating | Y(186)MPH |
| Load Index | 102(1874 lbs) – 108(2205 lbs) |
| Origin of | Hungary |
| Wheel diameter | 20-21" |
| Ply rating | 4 ply rated |
| Treadwear, Traction, Temperature | 320 A A |
| Noise Reduction | Yes |
The tire specs of this Bridgestone Turanza 6 related to speed and weight are great. The Y-rated tire can reach up to 186 miles and 300KM which is perfect for fast-track rides. With that, the sound-reducing technology improves the comfort of the tire. And the 320-rated treadwear rating with A in traction and temperature makes it not the most durable tire, still, it is fine, with great traction in wet and dry conditions.
Performance of Bridgestone Turanza 6
Dry Performance
On dry roads, the tire performs extremely well. It delivers proper traction, cornering, grip, and brakes without reducing any comfort or making noise. With that, the fast-speed tire is great to drive, even at turns, due to its shoulder design, the tire delivers proper cornering at a fast pace without losing grip.
Wet Performance
Drive in wet conditions with this Bridgestone Turanza 6 tire is also great. The tire delivers a straight and curve grip without hydroplaning, due to the wide grooves the tread has. With that, the standing water or high water ride is not so bad as well with this tire, you can drive at normal speed without feeling any loss of grip or brakes with this tire summer tire.
Cornering & Handling
The cornering on dry conditions is superb as we mentioned above as well. However, in wet conditions, it breaks a little when driving at high speed. Other than that, the handling response is great and lose handling, which provides a sporty experience with a comfortable ride in your luxury cars.
Noise & Comfort
The Bridgestone Turanza 6 tire feature noise reduction technology that helps this tire to achieve a comfortable and quiet ride on any summer road. The tire doesn't vibrate or get lousy on potholes or speed breakers, it keeps the comfort and improves the smooth ride of your luxury vehicles.
Comparison with Continental PremiumContact 7
Both of these are new tires launched by top tire brands, and also both of these tires have similar durability and come in the same price range. However, the performance differs in both of these tires. The Continental PremiumContact 7 has delivered better summer performance in wet and dry conditions, with better grip, traction, and cornering of wet and dry conditions.
With that, the tire is also better at providing shorter brakes and quick acceleration. The difference is not that big, still, it counts. On the other hand, the Bridgestone Turanza 6 is a better tire when the driver is looking for a more comfortable and quiet tire to drive with luxury vehicles. So choose your tire based on these things and based on your preferences.
When Bridgestone Turanza 6 Is Not Prefered
If you are looking for sportier summer terrain rides, then rather than buying this Bridgestone Turanza 6 tire, you should go with performance or UHP summer tires. The reason for that, is these tires will deliver more sporty performance and fulfill your desire. Similarly, if you are not a fan of comfortable rides, then performance tire is there to provide a sporty ride, by reducing the comfort and increasing the noise.
Other than that, if the driver wants to drive in dry, wet, and snow conditions as well, then rather than going with summer tires, they should choose all-season tires. The all-season tires also have different categories, so pick the category based on our driving style and the conditions of the terrain.
Final words
The Bridgestone Turanza 6 is a perfect tire for luxury car drivers looking for sporty and durable tires. This tire is very comfortable to drive, due to its quiet treads. With that, the low rolling resistance is also helpful in reducing fuel consumption. It is good in wet and dry conditions, due to its handling response, quick brakes, traction, grip, cornering, and high-speed ride, without destroying the comfort of the luxury car.