Last updated on August 4th, 2023 at 02:15 pm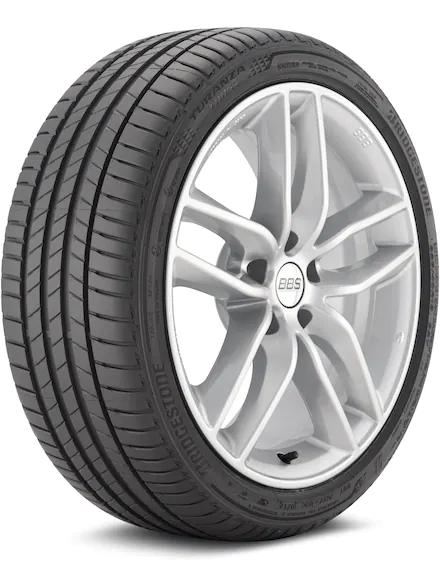 Turanza T005
Ultra-High-Performance Summer Tire
Excellent wet and dry brakes, with confident traction and grip along with the comfortable and quiet ride and many more you can achieve with these Bridgestone Turanza T005 tires. These UHP summer tires also come in a run-flat technology for a safe and secure ride all year round
---
Table of Contents
Quick highlights
| | |
| --- | --- |
| Tire type | Ultra-High-Performance Summer |
| Price range | $147-$471 |
| Run-flat | Yes |
| Ply rating | 4-ply rated |
| Vehicles type | Performance Sedans & Crossovers |
| Terrain support | Dry and wet |
The Bridgestone Turanza T005 is a UHP summer tire for track and roads; it is a replacement tire for the Turanza T001 Evo. some improvements have been made since T001 Evo related to the tire's brakes, wet and dry traction, comfort and noise, and other performance-related things to deliver the best ride in summer. 
This versatile tire is good for driving both on roads and on tracks; you will be able to achieve the best wet and dry handling and brakes on tracks with comfortable and quiet rides on the roads. This low-rolling resisting tire will save your fuel while giving better mileage per gallon to your performance car.
Bridgestone Turanza T005 is an excellent tire for everyday drivers who also enjoy rushing on tracks, with its responsive handling, brakes, and quick acceleration you will enjoy every moment of the track while also getting a comfortable ride back to work. With run-flat technology; it will be a safe journey for you to reach your destination without worrying about the deflation of tires.
---
Features of Bridgestone Turanza T005
The Bridgestone Turanza T005 features advanced technology like nano pro-technology and run-flat technology. Nano pro-tech improves ground contact of tires which improves stability and grip on wet roads while also reducing rolling resistance.
Run-flat tech as everyone knows keeps the tire over the wheel even after the deflation. This technology keeps your tire running for 50 miles even after the puncture. Along with that; the connected shoulder blocks improve tire performance on wet while making them more durable tires to ride for thousands of miles.
Treadwear and Durability
The optimized tread pattern design feature four grooves channel for better performance on wet roads. It delivers hydroplaning resistance in wet with better contact in wet and dry conditions. Hundreds of sipes for better traction and grip with proper handling on summer roads, also improve the comfort level of the tire by making less noise.
All of those features come at a very good price; however, this tire does not have that good of a treadwear rating which is a direct expression of any tire's durability. Compared to performance tires, it has good treadwear that has an average of 35k miles, which is good in the performance tires category. But if it is compared with touring tires; the tire is far behind because touring tires are able to achieve 100k miles with more comfortable and smooth rides.
Tire specifications
| | |
| --- | --- |
| Speed rating | H-Y/130-186Mph |
| Load index | 90-102/ 1323-1874 lbs |
| Origin | Poland |
| Max. PSI | 44-51 psi |
| Rim diameter inches | 16"-21" |
This European-manufactured tire has a good speed rating for fast tracks drivers with moderate load indexing which is not so crucial in the performance tires category. Along with these specs, the Bridgestone Turanza T005 is rated around 260-320 dispensing on the size in treadwear tests. Which is good in the performance tires category. It is rated A and A in traction and temperature tests which is also near perfect in both areas.
Tire internal Structure
Unlike external tires, most people don't think and notice too much about tires' internal design which is more important than the external of the tire. This Bridgestone Turanza T005 has optimized side construction inside the sidewall of tires with unique steel reinforcement inside treadwear and stiff polyester reinforcement in the crown; all of that combined provides better handling, lower rolling resistance, better contact, and makes a tire more durable to handle the difficult conditions of the tracks and roads.
Bridgestone Turanza T005 performance
Dry performance
Bridgestone Turanza T005 features tread block sipes and connected shoulder blocks that provide traction, grip, and cornering in dry conditions. They also impact on brakes and handling of the car; so you get a smooth, safe, and comfortable ride on dry terrains and tracks.
Wet performance
Along with the above features, for wet conditions, the tire has four deep grooves to channel the water when driving in rain and wet conditions which improves car stability, grip, and brakes in wet conditions. This tire has one of the best-wet terrain performances due to its treadwear blocks and internal structure.
Steering and cornering
The shoulder and sidewall tread blocks impact the cornering of the tire. They deliver confident cornering on fast tracks without losing a grip to promote a stable ride. Responsive handling and steering control are also achievable due to the tread blocks which improve overall performance on tracks and terrains.
Comfort and noise
Whether it is on-road rides or fast-track runs, the tire delivers a very comfortable and quiet ride. Because of its sipes, tread design, and internal structure, you get the most comfortable ride with proper handling and brakes with the quietest treadwear even at the maximum speed of the tire.
Why should and shouldn't you buy it
If you are someone who drives every day for work and also visits fast tracks usually then this Bridgestone tire will be a good fit for your car. Because it will provide the best performance on tracks by providing wet terrain brakes and cornering with comfortable and quiet rides with responsive handling on roads.
On the other hand, if you want tires completely for tracks and fast road rides; then this will still be a good option but might not be the best option in this situation. Tires like Michelin pilot sport 5 and Goodyear Eagle F1 Asymmetrical 6 will give better performance on tracks overall. As this Bridgestone tire is fairly known for its wet performance on tracks, if you are considering driving on wet roads, then it is the perfect tire for wet tracks and for rainy conditions.
Final words
Bridgestone Turanza T005 is an excellent tire for tracks and roads, with its extremely superb wet and dry performance you will get the best results in the rainy and dry season of summer. The tire features advanced technology with proper tread patterns that improve handling, rolling resistance, and dry and wet terrain brakes, with comfort and noise of the tire. All of that comes with durable treadwear that gives you long terrain and tracks to ride for thousands of miles to come.