Last updated on May 30th, 2023 at 12:25 pm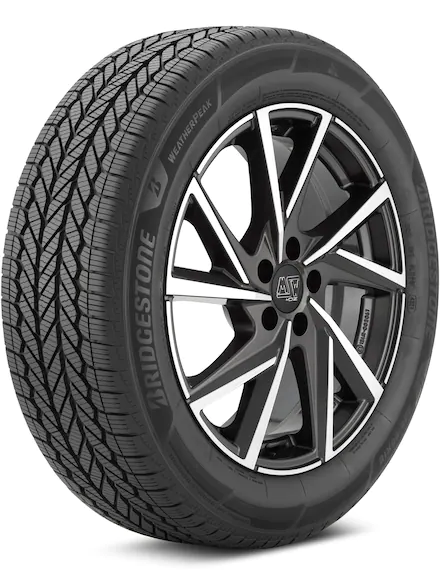 WeatherPeak
Grand Touring All-season Tire
Stop replacing tires every time the weather changes, this Bridgestone WeatherPeak tire will take your sedans and SUVs out of any weather or season conditions with no worries. With that, the tire will also deliver the most comfortable and quietest ride you have ever felt with your car.
Handling & Road Feedback
80%
---
Table of Contents
Quick highlights
| | |
| --- | --- |
| Tire type | Grand Touring All-Season Tire |
| Price range | $166-$267 |
| Run-flat | No |
| Vehicles type | Sedans, Crossovers, and SUVs |
| Driving conditions | Dry, Wet, and Snow |
This new Bridgestone WeatherPeak tire has nothing bad at all, it does everything so properly that every driver is desiring this tire. As it is not available in sizes above 20 inches diameters, light trucks, and luxury car drivers might not find the right size. But whoever finds the right size in this tire, will get a tire that will satisfy the driver and keep moving their car for longer periods with a smooth ride.
The tire provides strong traction and grip in dry and wet conditions, the main objective of touring tires is to have a proper ride and comfortable and quiet treadwear, and this tire is perfect for both of these things. The tire is so quiet that you will be able to hear the car noises that you have never heard in your lifetime. The reduced cabin noise also improves comfort, and the low vibration also impacts improving comfortable rides.
Other than that, if someone lives in the upper side of the United States or in Canada, the tire is also great in winter/ snow conditions. The tire provides a confident grip and traction on winter light snow and medium snow conditions, it delivers a similar ride as some non-studdable winter tires provide, and that is the reason why it gets a 3PMSF certificate. This tire will be the perfect choice for you if you have to tackle different weather and looking for a comfortable ride in all these seasons.
Pros
Confident handling, traction, grip, brakes, and cornering in wet, dry, and snow conditions
A quiet and comfortable ride in all-season conditions with a smooth ride in winter snow terrains
A durable tire due to an all-season compound backed by a 70K miles treadwear warranty, so you keep running this tire for longer periods
With all-season a superb ride in winter conditions, which makes it a 3PMSF-certified tire
Low rolling resistance tire to achieve high gas mileage all year round
Cons
Cornering in wet conditions at high speed sometimes feels less predictable
Not great in off-road/ mud terrains
---
Tread design and improvements
This tire is designed to deliver an all-season comfortable ride and a durable tread life that covers more miles. For that, the Bridgestone WeatherPeak has an all-season tread compound that can handle different weather and temperatures properly. With that, the symmetrical tread design features dense sipes which are very helpful in improving traction and grip in wet, dry, and snow conditions. 
The center ribs of the tread feature evolving sipes that improve handling response and tire contact with the ground. At the corner of the tread, the lateral notches and circumferential grooves between tread ribs, are essential to improve wet and snow traction and for resisting hydroplaning. Lastly, the snow vices improve the wet and snow conditions ride by cutting on ice and channeling ice off from the tire tread.
Durability and road life
Not many tires are there in all season categories which would show that their tires have treadwear life, however, in reality, they fade off very shortly. Unlikely that, the Bridgestone WeatherPeak tire has one of the most durable treadwear in the premium/grand touring category that covers sometimes more miles that the warranty. 
The tire is backed by a 70K miles treadwear warranty which is higher than its competitors including Michelin CrossClimate 2. We will compare both tires further below in this post. The point is this tire is the most durable tire in the grand touring tires category in 2023 and if you are after comfort and durable rides, then this tire is the perfect choice for your vehicle.
Specifications & Features
| | |
| --- | --- |
| Speed rating | H-V(130-149)MPH |
| Load Index | 82(1047 lbs) – 111(2403 lbs) |
| Origin of | United States, Costa Rica, Mexico |
| Wheel diameter | 15-20" |
| Ply rating | 4 ply rated |
| Treadwear, Traction, Temperature | 700, A, A |
| Noise Reduction | Yes |
Other than the size, there are no bad specs in this tire. The weight/load index is great considering it is a passenger car touring tire. Similarly, the speed, rating is fine as well. Other than that, the UTQG ratings of treadwear, traction, and temperature are excellent as well, this treadwear rating is comparable to standard touring tires which have higher treadwear ratings, due to their more durability with low comfort and low performance in all seasons. 
Performance of Bridgestone WeatherPeak
Dry Condition Performance
On dry, and wet pavements, roads, and terrains, the tire delivers excellent performance. The reason for that is its durable tread life which can run for many miles, with that, the proper handling response and a cornering grip at turn on the road. The tire provides confidence in traction and grip in dry conditions, the center rib sipes are the main reason for that smooth ride. With that, the tire delivers a comfortable and quiet ride all year round.
Wet Condition Performance
Similar to dry conditions, this Bridgestone WeatherPeak is great in wet and rainy conditions. The tire grip very well in heavy rain and standing water. The hydroplaning resistance on the turn, curves, and straight is great as well, which reduces unpredictability on wet roads. With that, the comfort and quiet ride in wet conditions is very impressive, a rain sound can be heard with these tires.
Snow & Winter Conditions
Most all-season tires are just for very light snow or ice conditions, however, this tire is great on ice, light snow, and somewhat heavy snow as well. The lateral notches and snow vices are designed to handle the winter conditions along with dry and wet conditions as well. Not only the tire delivers comfortable rides on snow terrains, but the tire also does not wear off unevenly or early, as other all-season tires do when driving for longer periods on winter terrains.
Handling Response & Fuel Mileage
With all these things, the tire has very responsive steering, which reduces unpredictability in dry and wet conditions. At the start, the steering might feel lost however after a short time, the handling gets grippier with time. With that, the low rolling resistance tires are great to achieve better fuel mileage and save some money on gas. Not only that, it also releases low gas emissions which is a need of the earth in this climate-changing time. 
Comparison with Michelin CrossClimate 2
| | |
| --- | --- |
| Dry Conditions | Michelin CrossClimate 2 |
| Steering Response & Feedback | 7.14% |
| Cornering Stability on Curves | 7.41% |
| Dry Traction & Grip | 1.06% |
| Shortest Dry Brakes | 13.54% |
| Results | 29.15% |
| | |
| Wet Conditions | |
| Steering Response & Feedback | 8.33% |
| Cornering Stability on Curves | 8.70% |
| Wet Traction & Grip | 2.15% |
| Shortest Wet Brakes | 10.50% |
| Results | 29.68% |
| | |
| Winter Conditions | |
| Deep Snow Traction | -4.35% |
| Light Snow Traction | -3.16% |
| Thick Ice Traction | -2.30% |
| Results | -9.80% |
| | |
| Ride Quality | |
| Cabin Comfort | 4.85% |
| Road Noise | -7.52% |
| Results | -2.67% |
| | |
| 175/65R15 (84H) | |
| Price | 3.45% |
The results are based on test results and subjective views, it could differ based on different cars, conditions, and driver's preferences.
Both of these tires are giants in the grand touring all-season tires category. The reason is not only because they are made by top manufacturers, the performance of both of these tires is exceptional compared to other tires. The Michelin CrossClimate 2 is also a new tire which is launched just a year before this tire Bridgestone WeatherPeak tire, and also the difference in price is not much, only a 6-10 dollar difference on each tire. 
Although Michelin CrossClimate 2 tire is more expensive and delivers better performance in dry and wet conditions, it is still not better than the Bridgestone WeatherPeak tire. The reason for that is the difference in wet and dry conditions performance is not that big, however the performance difference on winter terrain is very noticeable, and Bridgestone WeatherPeak is better at snow terrains. With that, the comfort and noise level of Bridgestone tire is better with more durable treadwear and treadwear rating as well.
After all that, both of these tires are exceptional and better at their game, so pick the tire based on your driving conditions and preferences, because both of these tires will satisfy you and move your car through any season all year round.
When Bridgestone WeatherPeak Is Not Prefered
Just like every other tire, no tire can be perfect to be driven with any car and with any driver's preferences. Similarly, the Bridgestone WeatherPeak cannot be bought before looking at your driving situation. There are better options than this tire for drivers looking to drive only in wet and dry conditions, especially if you have the priority of comfortable rides. The summer touring tire will be great in this situation because summer touring tires will have better comfortability which is why they have usually driven with luxury cars.
Similarly, if you want to drive both off-terrain and on-road, then this Bridgestone WeatherPeak will fail off terrains, in this situation, the off-road or all-terrain tires will perform better. That is why choose the tire based on your driving preferences and conditions, just like these, there can be many other situations where this tire won't be the perfect pick. Only pick this tire, if you face all weather and snow, and you want a comfortable and durable tire to drive all year round.
Final words
The Bridgestone WeatherPeak is an excellent tire that recently launched in the grand touring all-season tires category. It is perfect to achieve comfortable and quiet rides for many years due to its durable wear. With that, the tire is great in snow terrains, and the 3PMSF certificate assures that as well. It will be a great tire for luxury sedans, normal sedans, Crossovers, and SUVs to drive through any season or weather without compromising on tread life all year round.