Last updated on April 20th, 2023 at 01:46 am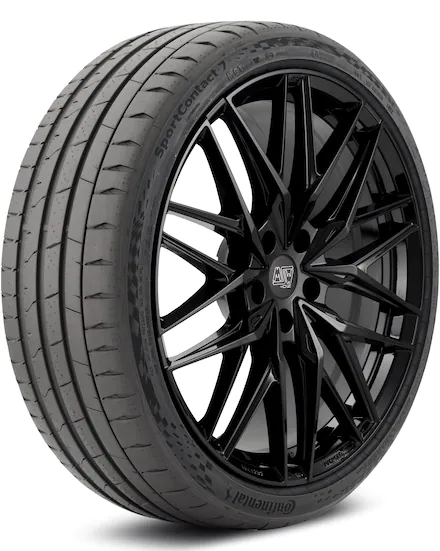 Sport Contact 7
Ultra-high performance Tire
The perfect tire for driving on tracks with the best dry and wet fast speed performance. This UHP Continental Sport Contact 7 will provide the joy of summer sports tracks by providing the most stable handling, responsive brakes, and comfort on high-speed tracks and roads.
Fuel mileage/rolling resistance
75%
---
Table of Contents
Quick Highlights
| | |
| --- | --- |
| Tire type | Ultra-high performance Summer |
| Price range | $280-$450 |
| Run-flat | No |
| Ply rating | 4-ply rated |
| Vehicles type | Performance Sedans & Crossovers |
| Terrain support | Dry and wet |
The Continental Sport Contact 7 is an ultra-high-performance summer tire for luxury and sports cars. It is also an original equipment tire for Maserati and Mercedez Benz's new models. This 7th generation of sport contact has replaced the previous model Sport Contact 6 by improving on brakes and handling with wet and dry performance. 
The Continental Sport Contact 7 is a perfect tire for track and fast road rides. With responsive brakes and stable handling; it provides the greatest joy of any track ride by delivering confident cornering, grip, and traction on summer terrains. With a maximum speed of 186/MPH; you can easily hit the height of the tracks with a safe and comfortable ride. 
This is a new tire launched in September 2021 the advanced technology and unique features make it an uncompetitive tire that is available in 2023. Although Michelin Pilot Sport 5 has a good name in the UHP tires category. But when it comes to sporty drive, this is the tire you would be wanted for your car in 2023. Get complete control of your car with these Continental Sport Contact 7 tires by enjoying a comfortable and sporty ride all year round. 
Improvements compared to sport contact 6
The Sport Contact 6 was already one of the best tires at the time it was launched, with the greater competitors and improving technology; Continental came up with the sport contact 7 with improved treadwear performance and more durable treadwear. 
Sport contact 6 has issues with low rolling resistance and aquaplaning, however, the improvement in sport contact 7 in these areas is not as significant yet still, it made a great difference. Similarly, the handling response and comfort were not at best in Sport Contact 6, which has also improved a lot. And finally, they improved wet and dry road and track performance which is phenomenal, the Sport Contact 7 provides the best handling and grip on wet and dry conditions at high speed.
Comparison with Michelin pilot sport 5
Just like Continental Sport Contact 7, the Michelin pilot sport 5 is a newly launched tire of 2023. The Michelin and Continental have been in a very narrow competition in the ultra-high-performance tires category. However, both of them have some performance advantages and some disadvantages that differentiate them from each other. 
The Michelin pilot sport 5 is an overall perfect tire for the most comfortable and quiet ride on tracks and roads. It has better fuel mileage, is more comfortable, and has better wear. On the other hand Continental Sport, Contact 7 is more of a sporty tire with very responsive handling to control fast track situations with the best dry and wet conditions grip and brakes, which makes it a strong tire for any track fast rides. 
Treadwear design and durability
The tread design of Continental Sport Contact 7 is quite identical to Sport Contact 6 with some internal improvements to improvise the contact of the tire with more durability. The adaptive tread pattern with soft black chili provides versatile performance in different conditions of the terrains. Although the tire has low-rated treadwear, compared to other performance tires it is good enough to enjoy your rides for nearly more than 40K miles which are enough for performance tires. 
Tire specifications
| | |
| --- | --- |
| Speed rating | Y/186Mph |
| Load index | 90-107/ 1323-2150 lbs |
| Origin | Germany |
| Max. PSI | 50-51 psi |
| Rim diameter inches | 18"-23" |
The Continental Sport Contact 7 is a good tire for fast tracks with huge speed limits. It will give your car quick acceleration to utilize the horsepower of your sporty cars. The tire is rated 240 on treadwear, which is not good compared to touring tires but it is good in the performance tires category. It is rated AA and A in traction and temperature tests which is perfect for driving at different temperatures with the finest traction possible. 
Continental sport contact 7 Performance
Dry performance
The tire has the best dry road performance compared to other tires in this category. It delivers responsive handling grip and cornering on fast tracks with quick brakes for a safe and secure ride. with a comfortable and quiet ride, you get the best dry-condition performance with Continental Sport Contact 7.
Wet performance
Most of the time it happens to the tire which is good in dry lack in wet conditions. However, it is not the case with this tire; It delivers the best-wet conditions performance with a confident grip and hydroplaning to get the best performance in wet conditions. 
Handling and cornering
Whether it is on-road wet conditions or tracks dry road this Continental tire provides a very stable ride that you can feel on your hands through responsive handling. Along with handling the tire delivers excellent cornering on fast tracks for a proper feel of sporty rides. 
Comfort and noise
This tire does not have the best comfort in this category still it is good enough to enjoy your track rides with the most joyful ride. Similarly, the tire has moderate treadwear noise due to the absence of noise reduction technology which provides peaceful and quiet rides even on fast tracks. 
Hydroplaning and rolling resistance
In wet conditions, it has a good hydroplaning resistance but compared to other competitive tires, it lacks a little behind. Similarly, the Continental Sport Contact 7 does not have good fuel mileage due to the high rolling resistance. So if you are not that bothered by these things then you will enjoy every moment that you drive with these tires. 
Should you buy this tire
If you are someone who wants performance tires just for a tracks ride or you want to have total control of your car then this is the best choice for you. Responsive handling makes you feel like you are in charge of proper grip and cornering in wet and dry conditions. With durable treadwear and a comfortable ride, you will get the best track performance that you could imagine. 
On the other hand; if you are someone who wants the most comfortable ride with better fuel mileage; then this tire should not be on top of your list. Tires like Bridgestone Turanza t005 and Michelin pilot sport 5 will give you the most comfortable track and on-road ride with better rolling resistance for good fuel mileage. 
Final words
The Continental Sport Contact 7 is the best tire to get the most sporty drive on tracks. This OE tire provides excellent wet and dry conditions traction, grip, cornering, and braking with proper handling and a comfortable ride. The tire does not have that effective hydroplaning yet still, you can achieve great grip on wet conditions even at high speed. With high-quality rubber and advanced technology; this is the perfect tire in 2023 to fully enjoy the rides of fast tracks.