Last updated on April 20th, 2023 at 01:25 am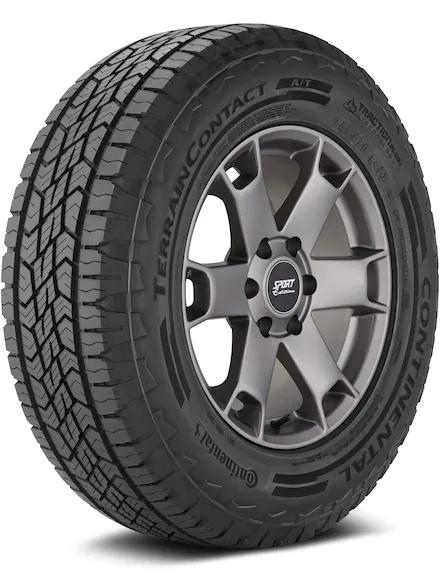 TERRAIN CONTACT A/T
All-Terrain Tire
Don't look around anymore for an on-road comfortable, quiet ride along with moderate off-road performance because this Continental TERRAIN CONTACT A/T is the answer to all your requirement. Now drive your SUVs and light trucks on-road or off-road; one thing is certain you will enjoy both terrain rides.
On-Road traction/Grip
90%
Off-Road Traction/Grip
90%
---
Table of Contents
Continental TERRAIN CONTACT A/T quick highlights
| | |
| --- | --- |
| Tire category | All-terrain tire |
| Price range | $196-$360 |
| Ply rating | 10 ply |
| Run-flat tire | No |
| Terrain support | All-Terrain & All-Season |
Continental tires have a well-reputed name in the market due to their durable and long-life tires. Also, the globally famous brand offer tires at a very good price range, so that everyone can buy their desired tires for their vehicles.
Similarly, this Continental TERRAIN CONTACT A/T tire is great for an all-season on-road drive along with off-road compatibility. So, if you are a daily driver who wants a comfortable and smooth ride on highways and cities and you can also take your car to the harsh debris roads; then this tire will provide you with the comfort of both roads.
Continental TERRAIN CONTACT A/T pros & cons
---
Continental TERRAIN CONTACT A/T Features
The feature that attracts buyers the most about this tire is that it is driveable on both terrains. The drivers who visit off terrain roads often now don't have to change tires before hitting off roads. You can freely roam around any place or any road conditions terrain without compromising on the treads and performance of your tires. 
Although this tire performs better on roads, it still provides a comfortable and quiet ride in off terrain conditions. It may not be as good as it is on roads, but you will surely be satisfied with the performance it delivers in off-road conditions too.
Basic characteristics of the tire
Different tires come with different traits and characteristics. Some of them are good at comfortable on-road rides, and some of them give you confident traction and handling at off terrain roads. But if you want to have all of these things in one tire, then Continental TERRAIN CONTACT A/T will be the perfect match for your SUVs and light trucks.
Not only because it is an all-season and all-terrain tire for all-year-round performance. But because it is also a durable tire, you can drive for longer miles without compromising on the performance of the tire.
Tread pattern and design
The reason all tires have different tread designs and patterns is that because these are the essential elements that determine the performance of the tire. If the tread pattern is not versatile, then the good locks and strong material won't be enough to satisfy the buyers; that is why it is so important to have a quality tread design on the tire. 
With that being said, the plus silane enhanced all-season compound merges with an all-terrain tread pattern; that provides an all-season straight even drive with all-terrain comfort and support. The open pattern blocks and full-depth sipes improve their performance in wet and dry conditions by providing proper traction and grip even in light snow conditions.
Assurance and warranty
Every tire should have some sort of warranty with them because someone investing that much money desires some assurance that their money is well served. That is why top tire manufacturers backed their tires with a tread miles warranty which is a guarantee from the manufacturer that you can depend on that tire for that many miles. This Continental TERRAIN CONTACT A/T is backed by 6 years and 60000 miles treadwear warranty which is good for all-terrain tires due to the uncertainty of the off terrain conditions. 
Continental TERRAIN CONTACT A/T Specification
Depending on the size
| | |
| --- | --- |
| Speed rating | S-T / 112-118 |
| Load index | 112-122/ 2484lbs – 3368lbs |
| Tread depth | 12-16 |
| Max. PSI | 44-80 psi |
| Tire inch | 16"-22" |
Tire's specs play an important role when you have certain ranges that you want to achieve regarding speed and weight a tire can carry. Also, these numbers indicate the tire's capabilities and how well it will perform. This Continental TERRAIN CONTACT A/T tire has a very good weight carrying limit; but due to the off terrain tread patterns, it is not as fast tire as other performance tires are. Other than that, it has a very good score of 680 in treadwear life, with A, B rated in traction and temperature.
Continental TERRAIN CONTACT A/T Performance
Different category tires perform in different terrain by providing different support. Because Continental TERRAIN CONTACT A/T is an all-season and all-terrain tire, it should be good in both conditions.
When it comes to all-season on-road drive; the tire delivers great traction, grip at wet and dry conditions, along with confident handling and a comfortable ride. Not only is it good in all-season conditions, but it also performs in a light snow road, so you can have one tire for all the places you want to visit.
With on-road compatibility, it performs in off terrains too. The silane enhanced formula with off terrain contact patch performs in harsh and broken debris roads and also protects tires from damaging materials and rocks.
Why not to buy Continental TERRAIN CONTACT A/T
Not every tire is according to the demand of all buyers, so if you do not visit off terrains that usually and want maximum comfortable performance then; this tire will not be good in your conditions. You should either buy touring or performance all-season tire which is more comfortable and give a smooth ride on roads. 
As this tire is not as good in winter conditions; so if you often drive on snow; then it would be best for you to go with winter or all-season tires that have better winter support. Because this tire will not be as good on snow as winter tires will, and winter tires will also provide better performance with durable tire life. 
Final words
The Continental TERRAIN CONTACT A/T tire is a great tire for the comfortable ride of both off and on terrain roads. Also, it is a durable tire that will last for longer miles; so that you can enjoy every moment of your ride.
That is it from our side; if you want to share your experience with this tire; then feel free to join the conversion through the comment section. Also, if you want to learn more about tires and related stuff, then visit our homepage for more insights about different tires.