Last updated on May 2nd, 2023 at 06:18 pm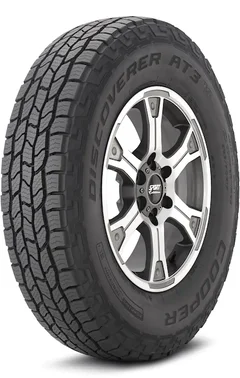 Discoverer AT3 4S
All-Terrain Tire
Cooper Discoverer AT3 4S tire was launched back in 2018 along with two other models of Discoverer AT3. Since then, the tire has been flawless; with its advanced technology and stunning design, it has gained immense revenue for the company. It covers all aspects of driving conditions, from seasons to terrains.
On-Road traction/Grip
95%
Off-Road Traction/Grip
90%
---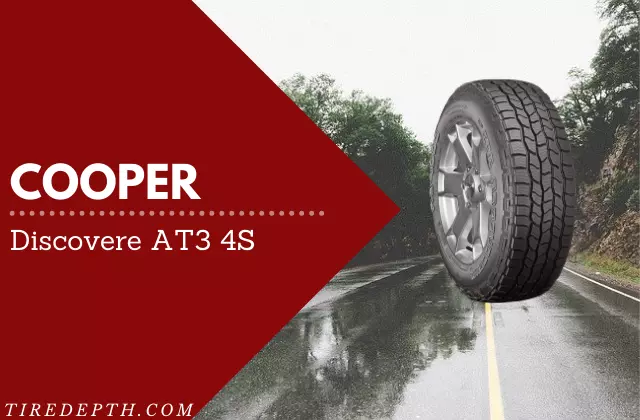 ---
Whenever there is talk about all-season and off-road tires, you will hear a brand called Cooper Tires. Because of their investment and involvement in the category, they are one of the biggest tire manufacturers with over 100 years of experience. By continuously improving tire quality and technology, they gain more appreciation from car brands and their customers.
The American brand mainly focuses on road safety and improving their tire durability to give their valued customers the best tires with safety assurance. Not only do they care about their customer's safety, but they also invest in plants to recycle rubber to make the environment safe and prosperous for future generations. Their customer service and care have a good reputation which is why they are still assisting mankind after the century.
Let's move on from the introduction phase to the primary information of Cooper Discoverer AT3 4S. In this review, we will take you through the pros of Cooper Discoverer AT3 4S along with its cons. Also, we will try to reveal details to give a clear picture of whether you should buy it or not.
Table of Contents
Pro's & Cons
---
There may be a few complaints about Cooper Discoverer AT3 4S premature wear off of tread but other than that, there is nothing that anyone ever complained about. The issue has been resolved by backing the tire with 65000 miles of treadwear warranty. If it does not fulfill your needs, you can return it without costing any money. The tire is worth every buck spent due to its durable design and comfortable drive that provide continuous satisfaction.
Design and technology of Cooper Discoverer AT3 4S
Advanced technology and tread design patterns differentiate premium-quality tires from low-quality tires. Sidewalls and tubes play a role too, but these are essential for building any premium tire. Cooper Discoverer AT3 4S tire is manufactured by experienced engineers after following every procedure to make it a comfortable and safe tire to run on any conditions of the roads. 3PMSF is a tag mostly winter tires missed to gain sometimes; with patented saw-tooth technology, it runs phenomenally on snow terrains; that is why it has the tag issued on this tire.
The small sipes give excellent control and stability on all terrain with the help of zigzag sipes which also protect the tire from stone retention and drilling by giving optimal traction on drylands. The tire also features aqua-vac channels from deep grooves to resist hydroplaning and deliver a safer drive in the rain.
There are many other deep features involved in the tire that is hard to understand by a regular person. These are some of the main features that every other buyer wants to find in their tires. The rubber and material used to manufacture this tire are also world-class. That is why it runs longer than other all-terrain tires.
Competitors analysis
Many other brands compete in this category. But the two competitors that we choose are based on comparable prices and features. "Hankook Dynapro AT-M" "Firestone Destination A/T2" and the Cooper Discoverer AT3 4S have little ups/downs in prices. Still, the main difference is each of their performance. First of all, both competitors give 10000Miles less treadwear warranty which raises a question about their tire durability. The Firestone destination comes with a 3PMSF certificate, but Hankook Dynapro lacks it. We are not criticizing any tire brand, just creating a difference that gives the most value. Each of these brands is well known and has excellent quality tires in their product line. 
Performance Analysis
On road ride
This versatile tire provides confident traction and grip in wet and dry on road conditions. The tire tread blocks and sipes contact with the ground properly which stabilizes the ride while allowing proper performance in all-season conditions. Also, the shoulder blocks are helpful on fast tracks for smooth cornering even at high speed. Four circumferential grooves allow the tire to resist hydroplaning and deliver proper grip and smooth ride in wet and rainy conditions.
Off terrain performance
This all-terrain tire provides smooth performance on off-terrains as well. The individual tread blocks improve the tire grip in mud terrain with proper traction. Also, the tread blocks clear the mud from its tread for proper performance and a smooth ride in mud terrains. As this tire is 3PMSF certified, it delivers confident performance in the winter seasons. The zigzag sipes on tread blocks provide extra biting edges which improves tire grips and brakes in light and heavy snow conditions.
Comfort and noise
The tire is one of the most comfortable tires in the all-terrain tires category. It delivers a quiet and smooth ride in any condition of the road. Along with quiet treads, this tire tread contacts evenly with the ground which also improves comfort whether it is on road dry conditions or snow terrain rides, the tire delivers a comfortable ride all year round.
Handling and brakes
This Cooper tire delivers a normal feel on handling, unlike the performance tires which provide an extreme feel on steering. Other than that, the handling is proper and stable, so no need to worry about losing a grip. Along with that, the tire has good brakes, even on highways at high speed with the heavyweight, the tire quickly stops and delivers confident and safe rides all year round.
Reason not to buy Cooper Discoverer AT3 4S
Every product that produces has a different market to hit with the different needs of buyers. Same with Cooper Discoverer AT3 4S tire, it is built to fulfill the desire of buyers looking for a tire that will all year round whatever you hit on-road or off. But suppose you are a driver of a heavy truck looking for higher-weight lifting tires. In that case, you should avoid it, because, for that purpose, Cooper has introduced the other two models, which will carry weight more effortlessly by also giving you a more comfortable drive.
Another reason for avoiding Cooper Discoverer AT3 4S is that it is not replacing your season-specific tires. So, if you only drive in mud terrains and gravel roads; consider buying tires made for only tackling these terrains because they will perform exceptionally well compared to this tire. On the other hand, it can tackle severe snow conditions due to saw tooth technology.
conclusion
So here you read all the essential information about Cooper Discoverer AT3 4S tire. The tire is quite expensive but compared to other brands' tires, it has a reasonable price. Because every tire does not have the potential to drive in any condition of weather or terrain. Once you invest in this type of tire, you can quickly and safely drive on any land in the world. Also, the tire built is solid making it a durable tire that will perform longer than other low-quality tires.
That is it from our side; if you enjoy reading the article or gain some information about this tire then, comment below to share your thoughts with us. Also, if you would like to share your experience with this tire, feel free to share it with us; it will be helpful for us.