Last updated on May 6th, 2023 at 12:56 pm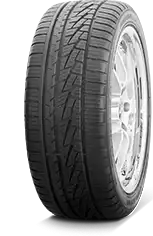 Pro-G4 A/S
High-Performance All-Season Tire
With stunning design and high performance in all-season conditions within a reasonable price, This Falken Pro-G4 A/S comes with these and many more features that will provide every joy that performance car drivers demand. Nonstop ride in any weather or conditions with these all-season tires.
---
Table of Contents
Falken Pro-G4 A/S quick highlights
| | |
| --- | --- |
| Tire category | All-Season Tire |
| Price range | $72-$100 |
| Ply rating | 4 ply |
| Run-flat tire | No |
| Terrain support | Wet, Dry, and Light Snow |
The G4 series of Falken has been replaced with the G5 series. With a slight improvement in tread design and by using modern technologies, Falken's G5 series is proving to be appreciated. But still, G4 series tires like Falken Pro-G4 A/S have a different market to target. Performance-driven sports vehicle drivers still prefer this tire due to its performance at a very reasonable price in all-season conditions. The quality of Thailand-manufactured tires is different from Chinese tires; they are more durable and comfortable with better traction and grip. That is why Falken Pro-G4 A/S is still manufacturing and delivering the ride buyers want. 
---
Falken Pro-G4 A/S Features
High speed, quick brakes, cornering, traction, grip, and comfortable drive all of these features make the performance tires worth considering buying, and Falken Pro-G4 A/S lives up to all of these attributes. It is great in all-season conditions with moderate performance in winter and mud terrains, and also a durable tire for longer performance. 
Basic characteristics of Falken Pro-G4 A/S 
If you are after great cornering and highway drives, Falken Pro-G4 A/S will be perfect for you at a reasonable price. Due to its hydroplaning resistance and deep treads, it will not stop in any conditions, whether wet, dry, or snow. 
It is also a durable tire with great treadwear and a replacement warranty; however, it is not a run-flat tire, but due to the strong shoulders and sidewalls, it does not easily burst by the harshness of the terrains. Also, it is a 4-ply rated tire to carry weights and drive faster at 130Mph maximum speed on highways without damaging treadwear. 
Tread pattern and design
The only thing that separates different category tires from each other is tread patterns and their design. The unique design and advanced technology make the tires tread more durable and better than other tires in performance and fuel mileage; that is why each tire brand's research department invests most of its time in tread pattern advancement.
The Falken Pro-G4 A/S has an asymmetrical tread design that works like both symmetrical and directional tires. The inside and outside of the tire improve car handling and stability at speed driving on highways, while the center tread area provides traction, grip, and cornering in all-season conditions. 
The tread design is built in a way to make the tires noiseless and avoid any bubbling when driving at the maximum speed. Also, the 3D sipes on the shoulder make it a solid tire for drive-in lighter snow without damaging the tire or its treads. 
Assurance and warranty
Tires without a warranty do not consider reliable enough; that is why most highly reputed brands sell their tires with some sort of warranty. Falken pro-G4 A/S comes with a 65000 miles tread warranty that is more than enough for any performance tires. Due to its strong body and rubber, it most of the time completed its warranty, and sometimes, if not driven roughly, it could reach up to 100K miles. It is an excellent investment in the long run that will provide great performance and quality drive for your performance-oriented cars. 
Falken Pro-G4 A/S Specification
Every tire has to go through some tests and trials before making it to the market. Those tests are designed by government and auto departments to rank the tire on a specific index. This Falken pro-G4 A/S has a 91 load index with an SL/4 ply load range, and it reaches up to 130 Mph of speed, which is the maximum number that this tire has tested. The tire has great sidewalls with 2 plies and polyester built to make it stronger in all seasons and in rough terrains.  
Falken Pro-G4 A/S Performance
It is a great all-season tire for performance-oriented sports vehicles due to its performance in all seasons, highways, and low snow conditions; it is one of the great tires in this price range. Also, its asymmetrical tread design makes it quiet and comfortable in any road situation.
Hydroplaning resistance and quick brakes on wet surfaces, along with smooth handling and traction in all-season conditions, make it a performance tire for every passenger car. Also, 3D sipes on the shoulder of the tires provide smooth, comfortable driving on highways along with great cornering and traction on dry surfaces. It is a high-performance tire for all sports utility vehicles that demand speed with a relaxing drive for any situation.  
Is Falken Pro-G4 A/S For You?
You have to choose the tires according to your needs; not any tires can fulfill the demand of each category driver. Just like that, you can not drive Falken Pro-G4 A/S in rough or off-road terrains; it won't perform the way it would in on-road terrain due to its tread design. In this situation, you should buy off-terrain or all-terrain tires that will provide an excellent ride in those conditions. 
Also, if you face heavy snow most of the time in your year-round journey, then you should also avoid this tire because it can only handle light snow if it comes across rarely on snow. For tackling snow conditions, you should buy snow-driven tires that are winter tires and sometimes all-season tires with the 3PMSF symbol that is a symbol to tackle heavy snow without damaging the tire's treads.
Final words
The Falken Pro-G4 A/S is a relatively strong and more durable tire than other tires in this price range. There are several other tires that can provide a better performance, but their prices are way higher than this tire, and tires with low prices are not worthy of mentioning; they would only perform till 20000 miles drive.