Last updated on June 21st, 2023 at 11:03 am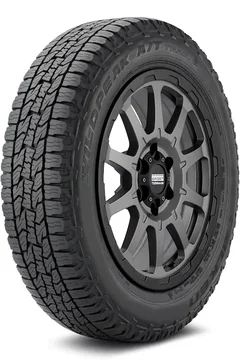 Wildpeak A/T Trail
All-terrain Tire
If you can get all-terrain and all-weather support with one tire then why would you search for a specific terrain tire? This Falken Wildpeak A/T Trail tire will not confine you to a single-terrain drive. No matter which terrain you want to ride and in whichever weather; you will get all-year-round performance in any road condition.
On-Road traction/Grip
90%
Off-Road Traction/Grip
95%
---
Table of Contents
Falken Wildpeak A/T Trail quick highlights
| | |
| --- | --- |
| Tire category | All-terrain touring tire |
| Price range | $136-$230 |
| Ply rating | 4 ply |
| Run-flat tire | No |
| Terrain support | All-Terrain & All-Season |
There are many options in tire categories from which you can choose the tire that you require. But if you want to have every terrain support and an all-weather comfortable ride then this Falken Wildpeak A/T Trail tire will be the best choice for CUVs and SUVs. because this tire gives all-year-round performance along with all-season, all-terrain, and winter harsh conditions comfortable ride.
There are other hybrid tires that you can buy from top tire manufacturers but; compared to them, the price of Falken Wildpeak A/T Trail tire is pretty low with similar and better performance. Also, the tire provides smooth handling and brakes due to the strong sidewalls which also make it a durable tire for long-run performance.
Falken Wildpeak A/T Trail pros & cons
---
Falken Wildpeak A/T Trail Features
The best thing about this Falken Wildpeak A/T Trail tire is that it is unstoppable in any road conditions either if it's unbalanced broken off-road conditions or severe icy roads. It will give you the best performance you desired from any tire. 
Another good thing you get after installing this tire with your car is that it provides you relief from the fuss of changing tires every time the weather changes. So no matter whatever area or continent of the world you are driving in, this tire will make you feel everything normal.
Basic characteristics of the tire
Every tire has different traits and characteristics, some are more comfortable some give a smooth ride and better grip and some are good with all-terrain and all-season drive, and when we combine all of these traits in one tire then we get this Falken Wildpeak A/T Trail tire. It has everything you ever expect from any touring tire. 
Either if it's on-road or off-road it will give you great wet and dry road performance along with confident off-road and snow roads traction and grip. No wonder why this tire is so popular till now after many years of its launch.
Tread pattern and design
For making a tire as unique as Falken Wildpeak A/T Trail, the tread pattern and design of the tire should also be unique so that it can compete with other tires in the market. That is why it has a very advanced and creative tread pattern that provides all-year-round performance without affecting the tread of the tire. 
This symmetrical tread design with silica-enriched compound delivers comfort and a straight contact with the ground for even wear. Also, the deep tread blocks with wide circumferential grooves improve its performance in dry and wet conditions by providing hydroplaning resistance and grip; with confident steering support. Also, the upper sidewall's rugged construction along with 3D canyon sipes makes this tire a strong enemy of tire-damaging sharp material and provides extra biting edges to deal with the harsh winter conditions. 
Assurance and warranty
A tire with a manufacturer's treadwear warranty attracts buyers that this tire will at least work for that many miles. Other all-terrain tires still come without a warranty but this Falken Wildpeak A/T Trail tire is backed by 5 years and 65000 miles tread warranty. It will support your car for a longer period so that you can fully enjoy every moment of its ride. There is not any bad review about its treadwear early wear off, so you can make yourself assure that it will last for a longer period. 
Falken Wildpeak A/T Trail Specification
Depending on the size
| | |
| --- | --- |
| Speed rating | H-V/ 130-149 |
| Load index | 96-111/ 1565lbs – 2403lbs |
| Tread depth | 10-11 |
| Max. PSI | 50-51 psi |
| Tire inch | 16"-20" |
The specs of the tire play an important role in deciding either if it is the right tire for your requirement or not. Because these speed ratings and load range are the indicators that this tire could go a maximum of that speed and carry at least that much of a load. Other than speed and load rating, it has scored 680 in treadwear which is good, and A, A-rated in temperature and traction. 
Falken Wildpeak A/T Trail Performance
Every tire performs differently at their specific terrains because this Falken Wildpeak A/T Trail tire is an all-terrain tire, it should perform in both on and off-terrains. And that is exactly the case, this tire performs phenomenally in both of these terrains with a durable long-life ride. 
When it comes to on-road riding; the symmetrical tread design with silica-enriched compound, contacts with the ground evenly which increases the traction control with a proper steering control too. The wide circumferential grooves improve the wet road and rain performance by resisting hydroplaning and delivering excellent grip and traction on wet roads. 
When it comes to off-road drive, the shoulder blocks and strong sidewalls play an important role in protecting the tire from debris and sharp off-road rocks. Also, the 3D sipes and extra biting edge improve its performance in winter and icy roads. So no matter where you drive this tire will give you a comfortable and smooth ride all day long.
Why not to buy Falken Wildpeak A/T Trail
If it is driveable at all-terrain conditions it does not mean that everyone should buy this tire before analyzing their needs. Like if you don't visit off-terrain that often and desire a more comfortable and quiet ride then this tire won't do justice to your demands. You should go toward all-season touring tires which will be driveable in all-season conditions and snow.
Another reason for avoiding this tire is that if you only want to drive your car on icy roads then we would prefer you to go with winter tires. Because winter tires provide better traction and grip on icy roads without damaging the treads of the tire. Buying a winter tire for the winter season is an obvious and better decision you should make. 
Final words
After analyzing this tire's performance and reading and contacting their users we can assure you that if you desire the all-terrain and all-season performance together; then this tire will be the best choice for CUVs. Because it gives the performance along with the warranty of that many miles which is good for long-term driving.
That is it from our side now if you want to ask us anything or want to share your experience with this tire then feel free to leave your thought in the comment. It will be beneficial for our readers to decide either they should buy it or not.