Last updated on March 19th, 2023 at 01:59 pm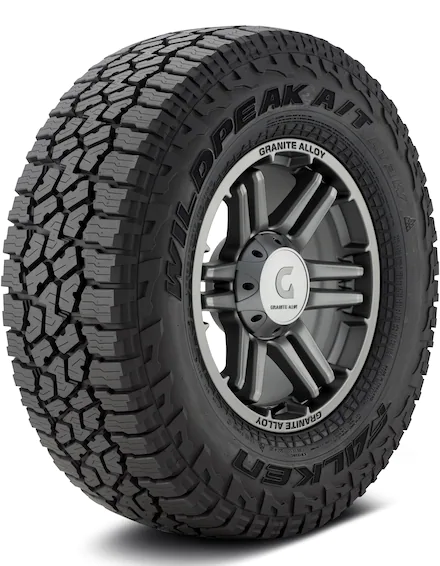 WildPeak A/T3W
All-Terrain Tire
Excellent tire for everyday all-season drivers who also want to enjoy the ruggedness of Mud terrains and off terrains. Undeniably, one of the best all-terrain tires that you can put with your vehicle in 2023, which will provide a quiet and confident ride all year round.
On-Road traction/Grip
90%
Off-Road Traction/Grip
95%
---
Falken Wildpeak A/T3W quick highlights
| | |
| --- | --- |
| Tire type | All-terrain and All-season tire |
| Price range | $165-$503 |
| Run-flat | no |
| Ply rating | 4-10 ply rated |
| Vehicles type | Light/pickup trucks, Vans, and SUVs |
| Terrain support | All-terrain, mud terrain, snow terrain |
Falken Wildpeak A/T3W is an all-terrain and all-season tire for trucks, vans, and full-size SUVs. It is an updated model of Wildpeak A/T with some improvements and changes. The tire is launched in 2021 by using the latest technology in treadwear to achieve maximum performance on pavements and off terrains. Also, the tire is excellent in wet and dry conditions on-road, along with a great performance on snow terrains. It is one tire solution for heavy vehicle drivers who are looking to get a drive that could be driveable in any weather and terrain without compromising on the treadwear life and comfortability of the car.
Falken Wildpeak A/T3W pros & cons
---
Falken Wildpeak A/T3W Features
The versatility of Falken Wildpeak A/T3W is exceptional; it delivers excellent off and on-road performance with the most comfortable and quietest ride all year round. Along with that, the tire is certified by the 3PMSF certificate which is a very important thing if you want to drive in harsh conditions of winter and snow. Also, the tire has durable treadwear sidewalls which will keep giving you a smooth and confident ride in bad and harsh conditions of the debris and mud terrains.
Tread pattern and design
Falken Wildpeak A/T3W has the deepest circumferential grooves that evacuate the water and snow and give a stable ride at the icy and wet conditions of the road by providing hydroplaning resistance. 3D sipes a shoulder block improves cornering and resists wear from high torque while providing stable handling on turns. Along with that; the internal cooling protection and outer apex sidewalls keep the insight of the tire cool from getting heated up when driving in hot and warm weather. All of that comes with rigid treadwear blocks that contact the ground equally to improve the life of treadwear and give a stable and confident all-terrain ride.
Tire specification
| | |
| --- | --- |
| Speed rating | S-T/106-118Mph |
| Load index | 109-126/ 2271-3748 lbs |
| Origin of | Thailand |
| Max. PSI | 50-65 psi |
| Tire inch | 15"-22" |
These are some of the specs that you need to look into when buying new tires because these are a type of thing that makes the tire viable according to the buyer's need. This Falken Wildpeak A/T3W has a 660 rating of treadwear with A, B rated on traction and temperature. This is a good option if you want an all-terrain tire that has durable treadwear with excellent all-year-round performance.
Assurance and warranty
The Falken backed their Wildpeak A/T3W tire with 55000 miles treadwear warranty. Most of the all-terrain tires are backed by around 25k to 30k miles treadwear warranty and sometimes they don't even come with a warranty. Getting a 55k miles warranty, customers really appreciate the durability of the tire with the performance it delivers in any road conditions. The reason for that much assurance is the high-quality rubber and materials that Falken uses with this tire because it improves the performance of the tire along with its life of it.
Falken Wildpeak A/T3W Performance
Dry Performance
Whether it is dry pavement or summer tracks; this Falken Wildpeak A/T3W will provide brilliant traction and grip on either situation. The rigid tread blocks improve the stability of the tire at dry season while providing stable and confident handling on high speed and dry road conditions. Also, the brakes and acceleration are on a great level when it comes to dry and warm terrain rides.
Wet Performance
The deep tread grooves and sipes give tire hydroplaning resistance in wet conditions which improves the break of the tire with the gripping ability in wet and rainy seasons. Also, the tire has tread block sipes that add stability to the tire and improve brakes on wet roads.
Winter Drive
It is a 3PMSF certified tire which means it is a good tire for rushing into the severe winter conditions of the terrain. However, it is not a good option for full-time winter driving. Because the tire is excellent for mud terrain and warm season due to the cooling technology but; if it will run in winter for too long it could get colder.
Mud Terrian ride
Along with the on-road ride, it is an excellent off terrain performer; it delivers one of the best traction on mud terrain with cornering and stability at speed. Also, the tire has rigid tread blocks that contact with the terrain in a way that improves the stability of the tire that also remove the rocks and wet mud from sticking into the grooves which keeps the ride comfortable and smooth throughout the journey.
Highway/Fast track ride
The Wildpeak A/T3W has high torque support which improves fast ride handling and brakes with giving a stable and confident ride on highways and fast tracks. Also, the tire has good speeding capabilities which are good for driving on highways and tracks to reach the maximum speed with the confidence of fast brakes.
When should not consider buying Falken Wildpeak A/T3W
One situation could be in which you should never consider Falken Wildpeak AT3w tire is if you want tires just for harsh winter driving. Because it won't give you like good performance as winter or snow tires could provide. Another situation is when you needed tires just for summer fast track driving; again Wildpeak A/T3W won't be a good tire specifically for that terrain, high-performance tires will be better if you consider them for a summer ride.
Final words
Falken Wildpeak is an excellent all-season and all-terrain hybrid tire that gives a confident and smooth ride with durable treadwear that runs for thousands of miles. With its rigid treadwear block, sipes, and sidewalls; the tire is perfect for severe off-road conditions with snow and on-season rides. So if you have a light truck, SUV, or Minivans, then this tire will be an excellent choice for your vehicle.
That is it from our side; we hope that you have learned something from our post. Still, if you have any questions you can ask them in the comment section and we will answer you as quickly as possible so that you can make the right decision for your car.