Last updated on August 7th, 2023 at 11:11 am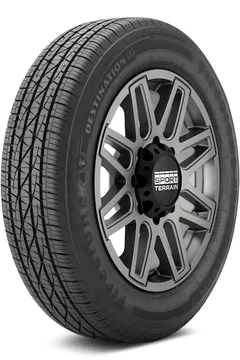 Destination LE3
Touring All-season Tire
The season change is not a problem for the Firestone Destination LE3 tires; this all-season tire can confidently drive on wet, dry, and even in light snow. So, if you are after proper traction, grip, handling, and a confident ride all year round check out this all-season highway tire.
---
Table of Contents
Firestone Destination LE3 quick highlights
| | |
| --- | --- |
| Tire type | Touring tire |
| Price range | $136-$255 |
| Run-flat | no |
| Ply rating | 4 ply rated |
| Vehicles type | Crossovers, SUVs, light truck |
| Terrain support | Wet, dry, light snow |
Firestone tire never disappoints when it comes to comfort and quality; with advanced technology and customer service, they have gained quite a fame in the US market. Not only do they deliver quality and customer satisfaction, but they also charge less for their tires compared to other competitive brands for similar and, sometimes, better quality tires.
Firestone Destination LE3 is an all-season highway tire for SUV and light truck drivers looking all year round performance without changing tires. With great features and long-life durability, it is among the best all-season tires of 2021, along with Michelin Defender T+H. Similar to defender T+H, it gives excellent performance in all-season conditions with a comfortable and smooth ride on highways.
Firestone Destination LE3 pros & cons
---
Firestone Destination LE3 Features
This Firestone Destination LE3 is an updated version of Firestone Destination LE2; with some proper advancements and features updates, LE3 performs 10-20% better in every area of the drive. From dry traction to wet terrain grip; it outclasses its old companion LE2. Not only is there an improvement in features, but it has also improved in its look design, and tread pattern. Because of that many improvements, it has improved a lot and is able to stand with the other competitive tire brands.
Basic characteristics of the tire
When it comes to all-season tires, there are certain characteristics and traits must have to get a perfect ride in dry and wet conditions. Including noise reduction technology, strong sidewalls for cornering and grip, along hydroplaning resistance in wet conditions. If the tire lacks any of these traits; it won't give the performance the driver demands, and this Firestone Destination LE3 has that and many features that just not fulfill the desire of the buyers but also delight them so that they buy Firestone tires when they need tires for their vehicles.
Tread pattern and design
Unlike specific category tires, the all-season tire does not design in a manner to only drive in a specific terrain. So to be driveable in all-season terrains, the tire must have to be adaptable no matter what the outside weather is.
The Firestone Destination LE3 has a better and improved tread pattern with deeper sipes and extra biting edges to tackle the snow and channel the water to resist hydroplaning. The symmetrical tread design is rotatable at the axle of the tire, and it also improves comfortability and confident handling on highways. Open shoulders and full-depth tread provide proper traction, grip, and cornering in wet and dry conditions.
Assurance and warranty
The Firestone Destination LE3, compare to Firestone Destination LE2, has improved in its performance as well as in its durability and warranty. The LE3 is backed with 70000 miles treadwear warranty which is 10000 more miles than the LE2 model. One thing is really certain; there is no benefit of buying the older version when the newer version of that tire has more features and runs for longer miles than that. Along with treadwear warranty, firestone has made their reputation by spreading positivity and helping their buyers, so now, if they launch their new tires, buyers don't even look at the warranty they offer.
Firestone Destination LE3 Specification
Every tire is ranked on the indexing and ranges created by the auto department; to analyze buyers which tire scores better on different metrics. Just like that, Firestone Destination LE3 has a speed rating of H which means it can reach a maximum of up to 130 Mph.
As mentioned above that this tire is 4-ply rated, and it can carry a weight of 1929lbs on each tire which is good for loading some stuff on a pickup truck. Along with speed and load indexing, the tire is also graded on traction and temperature metrics; the Firestone Destination LE3 is rated A for traction and B for temperature. It is not the best, but it is good for an all-season tire.
Firestone Destination LE3 Performance
The purpose of all-season tires is that they have to give an excellent ride on wet, dry highways and light snow conditions. If the tire is able to achieve its finest foam with durability combined, then it is considered the best all-season tire.
Being the best all-season tire, Firestone Destination LE3 has to be good in all-season conditions; with its symmetrical tread design, it gives excellent traction, grip, and cornering dry roads and highways. Along with that, the full-depth tread improves its wet performance by providing hydroplaning resistance when in contact with the water.
The sidewall and shoulder blocks also play an essential role in the tire's wet and dry performance; and also improve its durability. Not only that, due to extra biting edges, it can handle light snow conditions without damaging the tire or its treads.
Why not to buy Firestone Destination LE3
No matter how good the tire is; if the terrain doesn't support the tire, then it isn't good for you. Similarly, if you are an off-road and winter-season driver; then there is no sense in buying this tire because Firestone Destination LE3 is an all-season tire. It won't perform anywhere near as an off-road tire would perform there. That is why it is better for you to go with the off-road tire that would perform better and longer in all-terrain conditions.
Another reason for avoiding this tire is that; it is not a performance tire. However, touring tires are better in durability and comfort but when it comes to speed and cornering; performance tires provide better results. So if you are after a performance tire for your sports cars then performance tires could be a better choice for you.
Final words
Firestone Destination LE3 is perfect for SUVs and light trucks that require comfortable rides even at the highway's high speeds. Along with that; there is no doubt about its confident traction, grip, and handling on wet, dry, and light snow.
One last thing that might be in your interest is that; this tire provides all of the basic and advanced features that improve your car's performance. Along with that, this tire also improves the gas mileage of your vehicle due to the lighter and less power-consuming material; it decreases the fuel economy of cars.