Last updated on November 22nd, 2023 at 07:54 am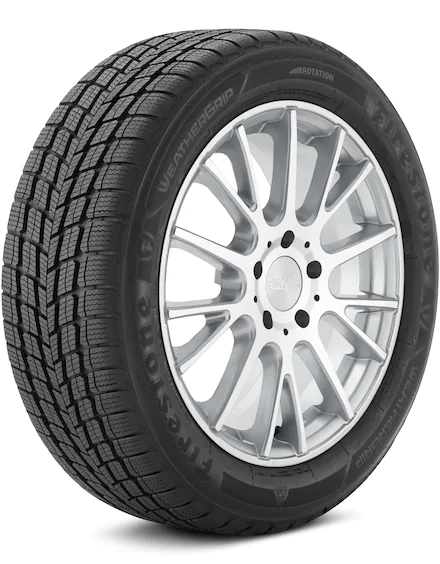 WeatherGrip
All-season Tire
The drivers of sedans, coupes, and crossovers, with this Firestone WeatherGrip tire, can now achieve smooth performance in all-season conditions, no need to change these tires when the season changes and achieve comfortable and durable rides for longer periods.
Handling & Road Feedback
80%
---
Table of Contents
Quick highlights
| | |
| --- | --- |
| Tire type | Grand Touring All-Season Tire |
| Price range | $136-$233 |
| Tread Warranty | 65000 Miles |
| Run-flat | No |
| Vehicles type | Coupes, Sedans, and Crossovers |
| Driving conditions | Dry, Wet, and Snow |
The Firestone is a subsidiary brand of Bridgestone, and although you might not find this brand known, this brand has been producing outclass tires in the market. An example of this is the Firestone Destination LE3, this tire, and many other tires.
The Firestone WeatherGrip is a grand touring all-season tire that is great in dry, wet, and snow conditions, it provides smooth and comfortable performance all year round.
The 3PMSF certificate also assures that it is not only an excellent tire for all seasons dry and wet conditions, but it is also a smooth tire to drive on snow and winter terrains.
It will deliver a proper driving experience to family sedan and crossover drivers, who are looking for a comfortable tire that provides all-season performance and runs for many years.
With proper traction, grip, brakes, and handling response, the drivers of the Honda Civic and Toyota Prius Prime can enjoy this tire ride and durable treadwear for a confident ride for many years.
This is not a very old tire, it was launched in 2019, and at the early stages of its launch, it get so much attention due to its performance, however, with time, new tires come and now this tire is not in demand, however, if someone wants to save some money and acquire the same benefits as premium brand tires, then this Firestone WeatherGrip is still a relevant tire to drive in 2023.
Pros
Comfortable and quiet ride in wet and dry conditions
3PMSF-certified tire for dealing with the extreme winter terrains
A durable treadwear design to cover thousands of miles, backed by a 65K miles treadwear warranty
Proper traction and grip control in wet, dry, and snow terrains
Responsive handling, brakes, and contact for stable and enjoyable rides in all season
Cons
Early wear off, especially on winter terrains
Lacks all-season performance compared to new grand touring tires
---
Tread design and improvements
The all-season tread compound features a directional tread pattern for allowing this tire to handle changing conditions while providing stable contact and wear all year round.
Hydro grip technology improves standing water performance with the help of deep grooves and open shoulder design, that channels the water and ice to resist hydroplaning
Snow traction claw technology with the help of 3D zigzag sipes and interlocking grooves provide confident traction and grip in light snow, with extra biting edges on snow for deep snow performance
Chamfered shoulder blocks and center edgy blocks improves the traction and cornering in dry conditions, with proper brakes in all season as well.
Sequenced optimized tread blocks for low cabin noise, less vibration, and uniform wear in different conditions of different seasons.
Specifications & Features
| | |
| --- | --- |
| Speed rating | T-V(113-149)MPH |
| Load Index | 82(1047 lbs) – 106(2094 lbs) |
| Manufactured in | Mexico |
| Wheel diameter | 15-19" |
| Ply rating | 4 ply rated |
| Treadwear, Traction, Temperature | 640, A, A |
| Noise Reduction | Yes |
The Mexican-produced tire has a great speed rating, which will be great in all-season conditions. The V-rated tires are great for normal drivers, as it is not a performance tire, no driver would prefer to take it into the max speed levels.
The load index could be better, as I have an Audi A6, it can carry more weight over its body, however, due to the low rated load index I can not put too much load over it or it wears off unevenly.
Other than that, the treadwear rating and other UTQG ratings are fine, overall the tire is great for all-season drivers.
Performance of Firestone WeatherGrip
Dry Road Experience
This Firestone WeatherGrip tire is great on dry roads, whether, it is on everyday roads, normal pavements, or highways, it performs well in these conditions.
The traction and grip are always felt whenever we drive on any dry roads, also the cornering and curve grip was great, however at higher pace turns and during cornering, the tire loses grip, it is not like high-performance tries.
Similarly, the steering response is not as good as performance tires, it is still responsive thought. It delivers a proper feeling when driving at high speed, however, someone coming from driving performance tires might not like this tire response.
Other than that, the comfort and stability are all great. The noise-reduction tread and low cabin vibration are something that is really impressive compared to the low price range.
Wet and Rain Experience
On standing water, this Firestone WeatherGrip tire is great due to the HydroGrip technology, it drives through high water at a good pace without losing response or grip on the brakes.
In storms and rains, the tire is also great, it provides traction, grip, and hydroplaning residence all day long, which makes it a safe tire to drive in wet conditions, and we experience that too.
It never loses grip on wet conditions at normal to high paces, very rarely on fast tracks it loses grip and steering response because of the max speed the car was moving.
The comfort is fine as well on wet roads, the low noise and stable ride improve the experience even more in the beautiful rainy seasons.
Light Snow and Deep Snow Performance
This is a proper tire to drive on snow terrains. At light snow conditions, the tire is near the best in this category, it provides confident traction, grip, and quick brakes, at a faster pace as well.
The deep grooves and sipes play an important role in improving this tire's performance on snow terrains. The optimized contact area also reduces cabin noise and vibration, which improves comfort and delivers stable rides.
On ice and deep snow, the tire is excellent as well, however, the tread wears off faster, and after some time, you won't get as great performance in extreme conditions as you did with the new tire.
Durability and road life
The treadwear this tire has is always in question. Although it works perfectly with some drivers, however, just like us many other feel that it wear off far earlier than its warranty.
This tire is backed by a 65K miles treadwear warranty, and as it is an all-season tire, there is no restriction to drive in winter terrains.
The tire performs great at the start of its tread life however, after 10-20K miles, the treadwear might lose up to more than half of its depth, and the tire is left with 5/32 tread depth.
And as time passes the speed of wearing off increases with the time. It starts losing traction and grip, has no comfort at all, and below average snow performance.
The maximum range of this tire based on surveys and estimation is around 45-50K miles, it rarely reaches higher than that, although the tire runs till the whole tread wear off completely, however, the performance after the estimated miles will effect very badly.
Comfort and Responsiveness
The steering response and road feedback of this tire as we mentioned are not as good as performance tires, it is not as accurate and provides soft steering in few conditions.
Other than that, the cornering on faster roads is fine, especially on highways, however on tracks, where is speed is very high, it loses grip on curves, avoiding this tire to drive on tracks is recommended as well.
The comfort and noise of this tire are the best features, on highways, dry, road, wet, or snow conditions, the tire provides stable rides, with very less vibration and low noise even at high speed, with proper brakes for safe and confident rides all day long.
Comparison with Yokohama Avid Ascend GT
| | |
| --- | --- |
| Dry Conditions | Yokohama Avid Ascend GT |
| Steering Response & Feedback | 11.79% |
| Cornering Stability on Curves | 13.29% |
| Dry Traction & Grip | 1.09% |
| Shortest Dry Brakes | 11.51% |
| Results | 35.52% |
| | |
| Wet Conditions | |
| Steering Response & Feedback | 18.99% |
| Cornering Stability on Curves | 29.12% |
| Wet Traction & Grip | 0.00% |
| Shortest Wet Brakes | 23.03% |
| Results | 71.13% |
| | |
| Winter Conditions | |
| Deep Snow Traction | -8.89% |
| Light Snow Traction | -13.10% |
| Thick Ice Traction | -13.58% |
| Results | -35.56% |
| | |
| Ride Quality | |
| Cabin Comfort | 10.12% |
| Road Noise | 10.95% |
| Results | 21.08% |
| | |
| 175/65R15 (84H) | |
| Price | -15.44% |
The results are based on test results and subjective views, it could differ based on different cars, conditions, and driver's preferences.
Both of these are grand touring all-season tires and have been in the market for a few years. Even though the Yokohama Avid Ascend GT is a lot cheaper in price, it performs fairly well in most situations.
As this Yokohama tire lacks 3PMSF certification, and as this test results suggest, it is not a great tire to drive on snow, compared to Firestone WeatherGrip it lacks in almost every winter terrain conditions.
However, on a dry road, comfortable rides, and wet road drive, this Yokohama tire provides a far better performance, with a low price range. So this Yokohama Avid Ascend GT will save you some money, provide, better performance, and has more durable treadwear.
On the other hand, Firestone WeatherGrip is fine in all seasons, perfect on winter and snow terrains, with low treadwear life and higher price. So pick your tires based on your driving preferences and conditions to avoid regretting your decision in the future.
When Firestone WeatherGrip Is Not Prefered
It depends on your driving conditions, your preferences, and your cars. This Firestone WeatherGrip tire won't be a great choice for the driver of sports sedans looking for a high-performance ride on tracks.
In this situation, the max performance or UHP tires will make more sense, due to their sporty rides on tracks and roads.
Another situation where this tire might not make sense would be summer terrains, especially if you never drive on winter terrains. This tire won't make sense when you only drive in wet and dry conditions.
In this situation, summer touring tires will make more sense due to their more comfortable rides, more sporty handling, and temperature performance in hot dry, and wet situations.
Final words
The Firestone WeatherGrip is a great all-season grand touring tire. It is an expensive tire however its performance in all seasons and snow terrains is really worth it. The unfair point of this tire is that it sometimes wears off very quickly, especially if driven in extreme conditions, and for that reason, this tire did not get as much recognition. Otherwise, it would be just as good as other premium tires with proper rides all year round.