Last updated on March 17th, 2023 at 07:51 pm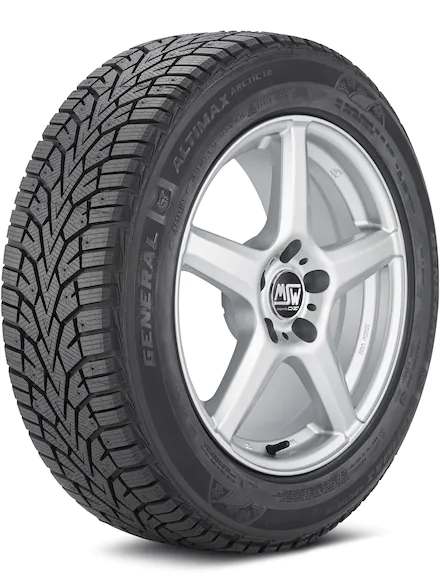 Altimax arctic 12
Studdable Winter Tire
It feels impossible to drive in heavy snow conditions. Don't worry, just stud these General ALTIMAX ARCTIC 12 tires and then tell. No matter how harsh or severe the snow conditions on the road, this tire will provide excellent traction and grip along with the most comfortable winter ride.
---
General ALTIMAX ARCTIC 12 quick highlights
| | |
| --- | --- |
| Tire type | Studdable winter tires |
| Price range | $97-$203 |
| Run-flat | no |
| Ply rating | 4 ply rated |
| Vehicles type | Coupes, Sedans, SUVs |
| Terrain support | Dry, Wet, Snow |
General tires are known for their quality tires and similar features as pricey brands at very low prices. Not because there is a difference in quality or features but because of their big advanced tire manufacturing plants and cheap labor with years of experience. 
This General ALTIMAX ARCTIC 12 tire is originated from Germany, and after passing several tests, it comes out in the market with the best tire for crossovers and sedans, which performs smoothly if you stud it or not. However, the stud has a positive impact when it comes to harsh and heavy winter conditions. In normal conditions, the tire will perform exceptionally even without the studs. 
General ALTIMAX ARCTIC 12 pros & cons
---
General ALTIMAX ARCTIC 12 Features
The very creative feature of this tire is that it can be driven with or without studs; it will be beneficial for you to buy studdable tires instead of studless tires because if the condition of snow worsens, then you have a backup plan for studded tires. 
Being the best tire in winter and snow icy conditions, it also performs in dry and wet conditions of all seasons. It provides great traction and grip in dry and wet conditions of the spring and summer with a comfortable and smooth ride.
Basic characteristics of the tire
The main trait of this General ALTIMAX ARCTIC 12 tire is that it can be driven with studs or without them. Due to its adopting direction tread design and shoulder blocks, it can handle the harsh conditions of the winter. Other than that, it channels the water and ice away from the tire's treads and creates hydroplaning resistance in wet and snowy conditions. 
Unlike other winter tires, it performs in dry and warm conditions; although it is not the best dry-performance tire, it still manages to give great traction and grip along with confident handling on city roads or on the highways. 
Tread pattern and design
Winter tires should have deeper grooves and 3D sipes to perform in heavy snow conditions. Without them, the tire won't be able to perform in winter conditions because it won't be able to make a path and grip heavy high snow-covered roads. That is why this General ALTIMAX ARCTIC 12 tire has both of these features along with angled grooves and lateral notches that channel the water and ice away from the tire to create hydroplaning resistance in wet conditions. 
The arrow-shaped tread design and directional pattern contact with the ground in a way that the tread does not wear off unevenly and maintains stability for proper handling and steering control in dry and wet conditions. And the serrated sipes play an important role when you drive on the slippery surface by providing proper traction on snowy and wet roads.
Assurance and warranty
It is the category where providing a tread warranty is not common. Even the Michelin and Continental tires are not backed by the manufacturer's warranty due to the winter terrain uncertainty. Similarly to that, the general ALTIMAX ARCTIC 12 is not backed by any treadwear warranty, but the average life of this tire is more than 40000 Miles in winter and dry mix conditions. If you have doubts about its early wear-off, then there is nothing to worry about it because this tire has very positive reviews regarding its wear and performance in winter and icy road conditions. 
General ALTIMAX ARCTIC 12 Specification
| | |
| --- | --- |
| Speed rating | T/ 118Mph |
| Load Index | 86-108/ 1168 lbs – 2206lbs |
| Origin of | Germany |
| Max. PSI | 51 psi |
| Tire inch | 14"-19" |
These specs are very important if you have something in mind regarding the tire's speed and load range. Although winter tires buyers are not so worried about the speed, load, or ratings of the tires, if you still want to differentiate better tires from other ordinary winter tires, then you must have an opinion about the specs of the tires. 
General ALTIMAX ARCTIC 12 Performance
If the tire stands in the winter category, it does not mean that it should only perform in winter conditions. It is good if the tire performs in winter conditions, but it should also be able to give a moderate performance in dry and wet conditions.
On that note, this General ALTIMAX ARCTIC 12 tire performs in winter as well as in dry and wet conditions of all seasons. Due to its directions, tread design, and V-shaped grooves; it provides a comfortable ride in dry conditions along with confident handling, traction, and grip in dry and wet conditions.
The angled grooves and wide notches channel the water and snow away from the tire for excellent traction and grip at snow and water, and they also resist aquaplaning for confident snow and wet conditions ride. And as you know that the studds improve their performance in the heaviest snow condition of the winter.
Why not to buy General ALTIMAX ARCTIC 12
If you are an enthusiast and passionate off-road driver; then no one would recommend you this tire if you want a tire for off-road and all-terrain conditions. Because all-terrain tires require strong tires that can handle the damaging material of that terrain which can easily burst the winter tires. If you go for off-road driving with this General ALTIMAX ARCTIC 12 tire; then your tire could wear off earlier than expected, and also, you will not get as smooth a ride as off-terrain tires could provide. 
Also, if you drive mostly in all-season conditions and face a little snow in a year, then we would recommend you not buy this tire. Instead, you can go with all-season tires that have a better ability to handle light and harsh snow conditions. The 3PMSF-certified all-season tires will be perfect for you. 
Final words
The General ALTIMAX ARCTIC 12 is a great winter tire for winter driving and wet or dry road driving. Due to its studdable tread feature, you get a lot better severe snow performance without damaging your tires' treads. 
That is it from our side, now. If any of you ever ride on these tires, then please share your experience in the comment section, which will be very helpful for other readers who are looking to buy this tire.