Last updated on March 17th, 2023 at 07:35 pm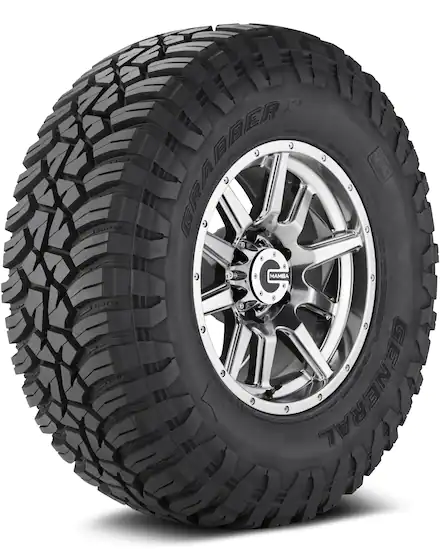 Grabber X3
Off-Terrain Tire
Looking for off-road confident traction and grip, try this general grabber X3 tire for the best off-road performance, either if it is mud or snow. No matter how harsh the terrain you face, this tire will handle the worst off-road condition by giving you a quiet and comfortable off-terrain ride.
On-Road traction/Grip
85%
Off-Road Traction/Grip
95%
---
General Grabber X3 quick highlights
| | |
| --- | --- |
| Tire category | Off-Road Tire |
| Price range | $238-$595 |
| Ply rating | 10 ply |
| Run-flat tire | No |
| Terrain support | Dry, Wet, Mud, and Snow |
If you are an enthusiast off-road driver who usually visits off terrains to enjoy the ride that you are so passionate about. And that is only possible if you have the right set of tires attached to your vehicle. This general grabber X3 is one of the most aggressive tires to deal with the off terrain harsh and severe conditions. Don't mind if it is snow, mud, or debris-covered road; it will deliver the best performance that you have never experienced with any other off terrain tires. 
With its aggressive design and sidewalls, it tackles the worst mud and snow conditions by cleaning up its tread and keeping the tire safe from damaging materials like sharp rocks and stones. That is the reason it is being as good performing tire with a durable tire too.
General Grabber X3 pros & cons
---
General Grabber X3 Features
Leave all your worries behind and enjoy the off terrain ride without compromising with the tire's tread. Due to its strong sidewalls and polyester casing, it won't easily burst no matter how sharp and unbalanced the road your drive.
Along with safety and assurance, it delivers excellent off-road and on-road traction and grip that can match your desired performance. So that you enjoy every moment you drive on these tires. With excellent on and off-road performance, it is the finest tire to install with your off terrain oriented vehicles.
Basic characteristics of the tire
The thing is that it is an excellent off-road tire that provides comfortable and smoothes off and on-road performance; along with that, it is also a durable tire that will last longer than any other off-road tire. It has red lettering indigestion that notifies the driver that the tire is damaged from which position, which is very useful and protects them from bigger accidents.
Due to its longer even contact, it gives a stable ride and keeps the treadwear even on all sides of the tire. The 10 ply rated tire is strong enough to keep the weight over it and still provide an excellent ride on and off roads.
Tread pattern and design
The main differential point between other category tires and an off-road tire is that it has a deeper and bigger tread pattern that exhausts the mud and snow out of the tire's tread. The general grabber X3 has a robust tread compound molded into a symmetrical tread pattern that delivers the off-road proper traction and grip. With evacuation channel and full-depth sipes that deliver the wet and snow roads traction and grip.
Along with all that, it has deeper tread blocks with sidewall protection lugs and deflection ribs that protect the tire and its sidewalls from sharp rocks and damaging materials. For an on-road noiseless and comfortable ride, it has a multi-pitch tread design that also provides smooth and confident handling.
Assurance and warranty
Just like other winter and off-road tires, this general grabber X3 is not backed by any manufacturer's warranty. Because off terrain and winter, conditions are uncertain, and even though how strong the tire is, something more damaging could come across and hit the tire. Still, it is a very durable tire with an average of 30000 to 40000 on and off-road miles. 
General Grabber X3 Specification
depending on size
| | |
| --- | --- |
| Speed rating | Q / 100 Mph |
| Load index | 108-129/ 2205lbs – 4079lbs |
| Tread depth | 18-21 |
| Max. PSI | 35-80 psi |
| Tire inch | 15"-20" |
Specs of the tire play an important role in deciding whether that tire will be good enough for your required operation. Like this tire has a great loading index, and it can carry a massive amount of weight over it. So if you have a pickup truck; then this tire will be a good choice for you. On the other hand, if you want a fast tire; then it is not the case with this tire because the maximum speed that it can reach is about 100.
General Grabber X3 Performance
Any tire should be judged based on the performance it delivers on its specific terrain and conditions. No one can judge a summer tire on snow and call it the worst summer tire. This general Grabber X3 is an off-road tire that should give an excellent performance on off terrain to be considered as a great tire.
It delivers excellent off terrain performance due to its massive size and deep tread blocks, which clean up the mess out of its tread so that it keeps on running on mud and harsh snow-covered roads. That is also the reason for excellent traction and grip at severe off-road conditions.
Along with off terrain conditions, this tire is also a good tire to drive on roads; due to multi patch tread design, it delivers quiet and comfortable on-road rides along with great traction and grip. But still, you won't get the on-road performance as close to all-season tires' performance.
Why not to buy General Grabber X3
As it is an off terrain tire, it won't be good in other terrain and road conditions, like if you want to drive this tire on the fast track of summer, then this tire will not be a good tire in your conditions. The performance will be cheaper and give you far better performance than this general tire.
Also, if you don't visit off-road and want a tire that gives comfortable and quiet highways and city road daily drive, then again, it is not the tire that you should consider. In this case, touring or grand touring tires will be a perfect choice for your vehicle.
Final words
The General Grabber X3 is an excellent tire with off-road confident traction and grip that will last longer than other off terrain tires. Also, it performs really well in wet and dry on-road conditions; so, if you have a habit of hitting off terrain conditions, then we would recommend you to consider this tire on top of your wishlist.