Last updated on May 8th, 2023 at 11:55 am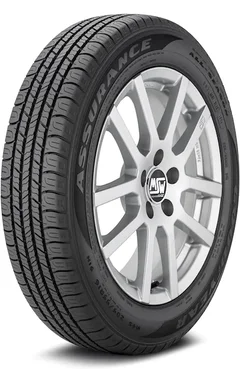 Assurance All Season
Touring All-season Tire
An All-season touring tire for passenger cars that provides quiet and comfortable drive in wet, dry, and snow conditions. The entry-level tire of the assurance family, Goodyear Assurance All Season, is an excellent tire with dry traction, handling, and hydroplaning resistance, along with 65000 miles tread warranty for durable and long-lasting performance.
---
Table of Contents
Goodyear Assurance All Season quick highlights
| | |
| --- | --- |
| Tire category | Touring tire |
| Price range | $91-$217 |
| Product of | United States |
| Ply rating | 4 ply |
| Run-flat tire | No |
| Terrain support | Wet, dry, and snow |
Goodyear tires are well known for their quality and comfort at a very reasonable price due to their tire production base in the united states. With their excellent products and customer care, they have spread worldwide within a very short period. Goodyear Assurance All Season is a great touring tire for all-year performance. With a very quiet and comfortable drive in any on-road condition, it is perfect. The tire and sidewall structure provides great handling with smooth brakes and acceleration even in wet conditions. It comes with the company's surety and is backed by 65000 miles treadwear warranty of excellence and long life performance.  
---
Goodyear Assurance All Season Features
Goodyear Assurance All Season has all the features and functions that other premium brands like Michelin and Continental offer with their tires. Although being similar in features, it also costs less than premium brands with long-life durability and customer support. Goodyear Assurance All Season is one of the top tires of Goodyear in the all-season category due to its smooth performance.
Basic characteristics of Goodyear Assurance All-Season
Goodyear Tires never disappoint regarding tire durability and quality in whichever category they launch their tire. They have become one of the most demanded tires in the united states. Similarly, Goodyear's Assurance All Season since its launch gained so much attention due to its price, handling, traction, and all-season comfort.
Other than price and style, there are many other features that put an impact on tire performance and durability. Because of the polyester cord body and twin steel belts, its performance enhances along with its life. 
Tread pattern and design
Goodyear has a classical tread design which they often use with all of their tires with some changes and improvements. The Goodyear Assurance All Season has wide tread grooves and optimized tread patterns to deal with the water, slush, and ice and bring excellent traction in these conditions. It also improves tire noise and makes it nearly a quiet tire.
The multiple biting edges and wide shoulder blocks improve tire traction, grip, and handling in all-season conditions and deliver a comfortable and smooth driving experience for all passenger cars. The tread pattern plays an important role when it comes to traction and gripping, and Goodyear always delivers more than the buyer's expectations.
Assurance and warranty
When it comes to features and style, you will find many tires that will look like best at a very low price, but their tires will burst with your expectations after some time. So before buying any tire, always check how much warranty the brand is offering on that tire. Because the tire's warranty shows the brand's confidence in that tire, it also gives buyers the satisfaction that the tires will at least work for that many miles. 
The Goodyear Assurance All Season tire comes with 65000 miles/105000 KM treadwear warranty which is comparatively good for this price range. It may lose some of its act after 40000-50000 miles, but it will still be good enough to carry on with. 
Goodyear Assurance All Season Specification
Before reaching the market, any tire has to go through some tests specified by the government and motor departments to make sure that the tire is safe. And on that basis, the tire is ranked with ratings and indexing to let the buyers know how effective this tire is.
Although Goodyear Assurance All Season is not a run-flat tire due to the strong sidewall structure, it can handle any puncture and be able to run for a few miles. Rated A in traction and B in temperature makes it above average tire with a good speed and load index of 84-V. The unique tread design makes it versatile by assisting the performance of the tire in all-season conditions. 
Goodyear Assurance All Season Performance
The purpose of all-season tires is to provide excellent performance in wet, dry, light snow, and highway terrains. Goodyear Assurance is absolutely accomplishing these tasks by providing the best traction in all seasons along with durable and long-lasting tire performance.  
The wide grooves inside the tire treads help Goodyear Assurance to slush the water and provide traction and grip in winter conditions by avoiding hydroplaning. Also, the biting edges deliver traction in light snow without even hurting a tread. It has powerful sidewall shoulder blocks that make the tire stronger, and more durable and provide smooth handling and braking in wet and dry conditions.  
Why not Goodyear Assurance All Season Tire
Some people would think that if this tire fits my vehicle, I should buy it; because it is an all-season tire, and it will work in every condition. That is not the case; you should always buy tires according to your requirement.
If you are full-time snow or mud-terrain driver, you should go with all-terrain or winter tires; because they provide the best value in their specific terrain. Goodyear assurance will not be suitable for your drive preferences. Choosing a tire according to your interest is only depended on you. No one can tell you which tire would be the best for you before listening to your words. 
Similarly, if you want tires with more gripping and cornering for your sports car; then you should also not buy these tires. Instead, you should buy performance tires; because performance tires are made for sports and fast cars to get smooth handling and grip.
Final words
Goodyear Assurance All Season is one of the finest tires in the all-season category; due to its performance quality and affordable price. The name Goodyear increases its assurance and reputation among the old Goodyear's customers. The reason to write this review on Goodyear assurance all season is its popularity in the market; also to give information to someone who is not aware of this tire. 
We hope you like reading our post; and if you learned something or want to ask anything, you can always write to us in the comment section; we will reach you as soon as possible. Also, if any of you using these tires and want to input your opinion; write it down in the comments that will help other buyers in deciding whether they should buy it or not.