Last updated on May 30th, 2023 at 12:55 pm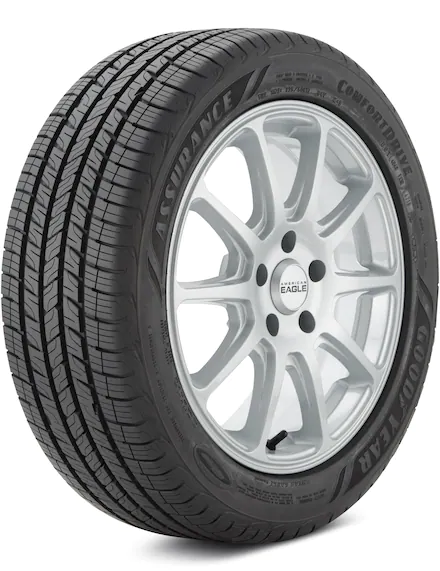 Assurance Comfortdrive
Grand Touring All-season
Improve your ride on bumps and unbalanced terrains with this Goodyear Assurance ComfortDrive tire. It will provide the most comfortable and quietest ride in all-season conditions with proper handling and durable ride for a long-running smooth driving experience.
---
Table of Contents
Quick Highlights
| | |
| --- | --- |
| Tire type | Grand Touring |
| Price range | $152-$239 |
| Run-flat | No |
| Ply rating | 4-ply rated |
| Vehicles type | Sedans, Coupes, CUVs, SUVs |
| Terrain support | Dry, wet, and snow |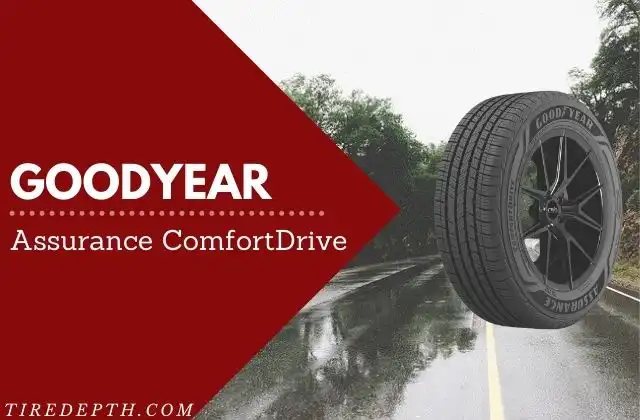 ---
This new grand touring all-season tire from Goodyear is one of the best tires that you can find in 2023 for your luxury sedan and SUV. This tire has replaced the older model of Goodyear Assurance ComfortTred which did not get that much praise due to its performance. By implying changes and improvising its tread and internal structure; this Goodyear assurance ComfortDrive has put its mark when it comes to the most comfortable ride in all-season conditions. 
It is a new tire launched recently for drivers who love the comfort of luxurious rides with the quietness of treadwear. By utilizing sound-blocking technology with soybean oil; this tire proves to give the most comfortable ride even on highways, with dry and wet road confident traction. You will also get responsive handling with quick brakes while driving on highways, wet roads, and even on ice with consistent contact for a smoother ride.
All of this performance and comfort of Goodyear Assurance ComfortDrive comes with durable treadwear that will keep your car moving for about 100K miles. So if you want a consistent performance of wet, dry, and snow with proper handling and brakes; then this tire will give you the most luxurious ride that you can not compare with your OEM tires.
---
Feature of Goodyear Assurance ComfortDrive
This new Goodyear tire features advanced technology for newer models of cars for quality performance in the long run. It utilizes the TreadLock and ComfortFlex technology of Goodyear to provide a better grip with responsive handling in dry, wet, and snow conditions. If your tire is getting worn off; the tire has an indicator on its treadwear to identify when is the right time to change these tires. Once it reaches 3/32, the treadwear will reach the point where that indicator is located.
Internally the tire utilizes soybean oil for better wet, snow terrain traction and grip. Its all-season rubber compound has a two-ply casing along with a reinforced cap ply for proper performance on fast tracks with a comfortable ride for everyday drivers. All of that comes with durable treadwear for a smooth comfortable ride all year round.
Difference between Goodyear assurance ComfortDrive and WeatherReady
Goodyear Assurance WeatherReady is a little older tire launched back in 2016. It was launched in the grand touring all-season tires category that provides the most comfortable ride in any weather and road conditions. And it had somewhat served the purpose for what it has promised. It is still among the best grand touring tires when it comes to all-weather excellent performance. However, it has a problem with its treadwear, which gets noisy after several miles. 
On the other hand, Goodyear Assurance ComfortDrive is a new tire with more advanced technology compared to WeatherReady. It might lack a little bit in snow performance compared to its companion. Other than that it is better in every other feature and provides better performance than Assurance WeatherReady.
So if you want a tire that provides better snow performance with a 3PMSF certificate and if you can live with a little treadwear noise then Goodyear Assurance WeatherReady could be your choice. However, if you want a more comfortable ride with better treadwear performance and a little low performance in the snow; then you should definitely go with this new Goodyear tire.
Tread design and durability
This Goodyear Assurance ComfortDrive has a symmetrical tread design that features separate tread blocks for better contact and provides a balanced and comfortable ride over unbalanced terrains. Each tread block has sipes over it for better traction and grip in wet, dry, and snow conditions. Along with that; the tire has four circumferential grooves for evacuating water and snow from its tread; which provides better hydroplaning resistance on water and a better grip on snow.
All of that is consolidated into a quality material that increases the tire performance and the miles it will cover. This durable tire is backed by Goodyear's 30 days test drive and after that period a warranty of 60k miles. So no matter whichever weather your drive; you will achieve the most comfortable ride due to its unique tread design and durable ride with its long-lasting treadwear.
Tire specifications
This Chilean-originated tire comes with an excellent treadwear rating of 700 along with A and A-rated in traction and temperature. It means that this tire has near-perfect treadwear along with excellent traction and good capability to handle different temperatures. Along with that; it has a moderate speed and loads index rating. Because it is neither a track performance tire nor a load-lifting tire it has a speed rating of H to V (130-149) depending on the size with a load index of 87 to 109 (1202-2271). The tire is available in 16 to 20-inch sizes so that most sedans, crossover, and SUVs drivers can enjoy the ride of this Goodyear Assurance ComfortDrive tire.
Performance in different conditions
Snow and ice performance
Although it is not a 3PMSF-certified tire, it still provides good performance in light snow and icy conditions. Due to its soybean oil and separate sipes on each tread block; the tire contact the snow in a way that provides better traction and grip. The circumferential grooves channel the snow away from its tread for better cornering and comfort in light snow conditions.
Dry road performance
The tire delivers excellent traction, grip, and cornering on dry terrains along with proper handling, brakes, and a comfortable ride even on high-speed highways. Due to its two-ply casing; the tire provides good performance for everyday drivers along with a fast ride comfort for track drivers. With rated A in temperature, the tire doesn't get that warm while driving on hot sunny days to work.
Wet condition performance
Tread block, sipe, shoulder block, and sidewall combine together to bring the best performance in wet and dry road conditions of the terrain. The center circumferential grooves channel the water away from the tire for resisting hydroplaning and provide a better grip on wet roads. Along with that; it's sipes and symmetrical tread block improve the handling and brakes in the rain for a safe and quality ride.
| | |
| --- | --- |
| Dry Conditions | Bridgestone DriveGuard Plus |
| Steering Response & Feedback | -4.93% |
| Cornering Stability on Curves | -3.45% |
| Dry Traction & Grip | -1.08% |
| Shortest Dry Brakes | -3.57% |
| Results | -13.03% |
| | |
| Wet Conditions | |
| Steering Response & Feedback | 0.00% |
| Cornering Stability on Curves | -5.52% |
| Wet Traction & Grip | 1.11% |
| Shortest Wet Brakes | 6.29% |
| Results | 1.88% |
| | |
| Winter Conditions | |
| Deep Snow Traction | -18.07% |
| Light Snow Traction | -10.34% |
| Thick Ice Traction | -15.19% |
| Results | -43.61% |
| | |
| Ride Quality | |
| Cabin Comfort | -6.25% |
| Road Noise | -11.17% |
| Results | -17.42% |
| | |
| 175/65R15 (84H) | |
| Price | 34.59% |
The results are based on test results and subjective views, it could differ based on different cars, conditions, and driver's preferences.
When should you buy this tire?
If you are an everyday driver who is looking for a luxurious, quiet, and comfortable ride all season; then this tire is without a doubt perfect for your car. Because you won't only get that good of a performance, but also you will be able to keep having that comfortable ride for thousands of miles. With this tire, if you like to visit tracks rarely; you can achieve a fair performance and enjoy the ride without compromising on its treads.
On the other hand, if you visit tracks daily, while also needing a tire that provides good performance on road; then this tire might not be the best choice for you. You can still drive with these Goodyear tires. However, you won't get that good of a performance that other max performance or UHP tires can give. In your situation; Michelin pilot sport 5 or pilot sport 4 all season will be a better option for you to achieve both comfort and aggressive rides on the road and tracks. 
Final words
Goodyear Assurance ComfortDrive is an excellent all-season tire for the most comfortable and quiet ride in wet, dry, and light snow conditions. This new tire is made by involving advanced technology and high-quality materials for better performance; which is also a reason that this tire is so durable to run for more than 100k miles. It might drop the miles covered per gallon but it will give you the comfort that you have always wanted with your luxurious vehicle. So if you are someone who can accept a little lower gas mileage and looking for the quietest and smoothest rides on bumpy and unbalanced roads; then this Goodyear tire will fulfill your desires by delivering quality performance all year round.