Last updated on June 21st, 2023 at 11:08 am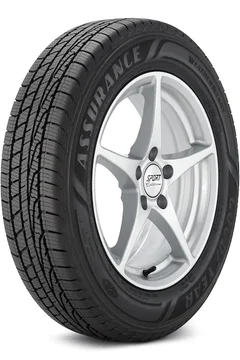 Assurance WeatherReady
Grand Touring Tire
Break every barrier of bad weather that comes between you and your driving time with these Goodyear Assurance WeatherReady tires. This grand touring all-season tire will let you enjoy every moment of spring rains to the winter severe snow conditions.
---
Table of Contents
quick highlights
| | |
| --- | --- |
| Tire type | Grand Touring tire |
| Price range | $138 $272 |
| Run-flat | No |
| Ply rating | 4 ply rated |
| Vehicles type | Sedans, Crossovers, SUVs |
| Terrain support | Dry, Wet, Snow |
The American brand Goodyear Tire is known for its durable and high-value tires with good customer support. And that is the reason they have earned people's trust in a short period of time. With their high-quality tires and advanced material, they not only fulfill the desire of the buyer but also delighted them by giving them more than they ever expected. 
The Goodyear Assurance WeatherReady is considered one of the best tires in the all-season category with Michelin and Pirelli tires. Although it is not the newest tire, still in 2023 people consider this tire over other new all-season tires. Not because it is an American tire but because it provides the best performance in all-season conditions with a comfortable and smooth ride. 
---
Goodyear Assurance WeatherReady Features
If you have past experience with all-season tires, then you must have known that all-season tires struggle in harsh snow conditions. But this Goodyear Assurance WeatherReady is excellent in both all-season ad snow conditions. It delivers confident traction and grip long with smooth handling and a comfortable ride. The soybean is included in the rubber of this tire, which is the main factor that keeps it running smoothly in any snow and icy conditions.
Another thing that is good about this tire is unlike other all-season and winter tires, it is not a noisy tire. Due to voice canceling technology, you will not hear the sound of the tire contact that you might listen to on other all-season tires. 
Basic characteristics of the tire
The very best trait of this tire is that it provides excellent all-season performance as other competitive brands do, by also saving you more than $100 on pair of tires. That is the reason that after 3 years, it is one of the trending all-season grand touring tires in the market. 
Another edge that this tire has over its competitors is that it performs really well in harsh winter conditions due to the 3PMSF certificate, which its competitors, especially in this price range, can not provide.
Tread pattern and design
The whole performance of tires depends upon their tread design, blocks, and patterns. So if these things are taken into consideration, the tire delivers the best performance as it was expected to. Because that is the only part of your car that contact with the ground and if there is something wrong with it the whole driving experience disturbs.
The Goodyear Assurance WeatherReady has an asymmetrical tread design with soy-based compounds that merge together and provide excellent traction, grip, and confident handling in dry, wet, and snow conditions. The weather reactive and 3D tread block technology improves the tire cornering at high speed along with its handling and grip. Also, the evolving traction grooves and zigzag biting edges provide hydroplaning resistance and traction, and grip in wet and severe snow conditions.
Assurance and warranty
Goodyear Tires have a name in the market for its durable tires and customer assurance, and after-sales service. That is why most of their previous users don't look up to the warranty before buying their new tires. Still, this Goodyear Assurance WeatherReady tire comes with 6 year and 60000 miles treadwear warranty which is enough for five to seven years of a comfortable and smooth all-season drive. Along with all the features and quality performance, this Goodyear tire is also a durable tire for long-term all-around driving. 
Goodyear Assurance WeatherReady Specification
depending on size
| | |
| --- | --- |
| Speed rating | H-V/ 130-149 Mph |
| Load Index | 87-111/ 1201 lbs – 2402 lbs |
| Origin of | chile |
| Max. PSI | 51 psi |
| Tire inch | 15"-20" |
Specs of the tire have a direct relation with the performance that you desire with your tires because speed ratings and load index plays an important role when you need a tire strong and fast. This Goodyear Assurance WeatherReady tire has good specs and ratings as compared to other models of this series. It has a high rating of 700 in treadwear with an A grade in both traction and temperature.
Goodyear Assurance WeatherReady Performance
Being an all-season tire, the Goodyear Assurance WeatherReady has to be good at any season of nature. And that's what it is so good at. It gives perfect drive-in all-season conditions along with durable and long-serving tire life. 
When it comes to dry traction and grip, due to its asymmetrical tread design and shoulder block, it achieves the finest traction and grip, and with the help of evolving traction grooves and sweeping tread grooves, it give excellent traction and grip in wet conditions along with hydroplaning resistance. So no matter what season you are driving at, you can achieve maximum performance from this tire.
Not only in all-season conditions, but it also performs well in heavy snow conditions due to its zigzag sipes and 3PMSF symbol, which assures that your tire won't get hurt in harsh snow conditions. So get a comfortable and smooth ride on whatever path you face in your journey.
When this tire is not a good fit
As you all know, all-season tires are not built to deal with off-terrain conditions, so if you frequently drive in off-terrain conditions, then we would recommend you to never buy these tires. Because the tread and sidewall of this tire are not as strong as all-terrain tires have and also you won't get as good performance in off roads as off-terrain tires would provide. 
Another reason for not buying this tire is that it is not a performance tire and the speed of this tire is not as good as max performance tires have. So if you have a sports car or performance-oriented vehicle, then you should be better looking at all-season or summer performance tires because performance tires provide better performance at high speed and at cornering-related stuff than grand touring tires. 
Final words
So that is it about this tire, now if you'd like to drive it on city roads, highways, or snow terrains it is up to you, you will get a comfortable and quiet ride in all of these situations. That is the guarantee of Goodyear tires.
That is it from our side now. If anyone of you has any experience with this tire and wants to give your input, then you are most welcome to share it with us. It will provide better insights to new buyers who are looking to buy the set of Goodyear Assurance WeatherReady tires.