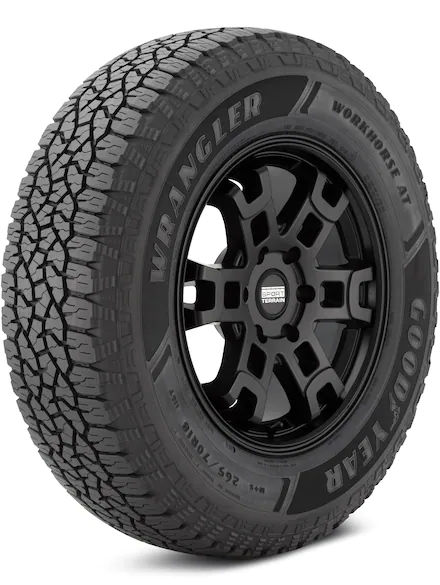 Wrangler Workhorse AT
All-Terrain Tire
Try this Goodyear Wrangler Workhorse AT tire to forget all your changing conditions worries, with this tire you can reach your destination whether it is ahead of extreme snow conditions or harsh mud terrains, the tire will fulfill its job.
On-Road traction/Grip
90%
Off-Road Traction/Grip
80%
Fuel mileage/rolling resistance
75%
---
Table of Contents
Quick highlights
| | |
| --- | --- |
| Tire type | All-Terrain Tire |
| Price range | $175-$341 |
| Run-flat | No |
| Vehicles type | SUVs, CUVs, Jeeps, And Trucks |
| Driving conditions | Dry, Wet, Mud, and Snow |
Goodyear's Wrangler series is one of the top series in the tire market. Innovation, advancement, and improve performance are the reasons behind its success. Similarly, this Goodyear Wrangler WorkHorse AT is the result of the Goodyear tire's research and improvements in the all-terrain tires category, compared to its predecessor this tire has improved a lot in most conditions.
The Goodyear Wrangler WorkHose AT is an excellent tire for the driver of Big size passenger cars and vehicles looking for a tire that can run over thousands of miles in different conditions of the terrain. This tire justifies its price and its treadwear satisfies the drivers about their return on investment in tires.
The tire delivers a smooth and comfortable ride in all-season conditions with that, the traction and grip in wet and dry conditions are superb as well. Along with that, the tire is great in off-road conditions as well, the tire delivers confidence in snow conditions and proper rugged performance in mud terrain extreme conditions. This Goodyear Wrangler Workhorse AT is one tire for all types of situations and conditions, while keep moving for more than half a decade.
Pros
A quiet and comfortable ride in dry and wet all-season conditions
3PMSF-certified tire for extreme winter conditions
A durable treadwear with rugged shoulder backed by 50K miles treadwear warranty
Confident brakes and handling response in all terrains
An 8-ply tire, good for carrying weight while driving in different conditions
Cons
Not the quietest and most comfortable tires
Not the best tires for extreme snow conditions, loses grip in harsh conditions
---
Tread design and improvements
The all-terrain tires have a tread design not too slick and not too deep which reduces the performance or comfort of the tire. Similarly, this Goodyear Wrangler WorkHorse AT has many tread pitches, with a somewhat deep tread block that improves confident traction and grip, while improving tire contact, even wear and handling response all year around.
The advanced compound technology with chip-resistant tread blocks also makes this tire great to drive on mud terrains. Along with that, the circumferential grooves and a symmetrical tread design allow this tire to resist hydroplaning while delivering a smooth ride in wet conditions. And lastly, the rugged shoulder and sipes on it, make this tire driveable in harsh winter conditions, while delivering quiet rides and fast brakes for safe and peaceful rides.
Durability and Road Life
If you look into off-terrain tires, they have a very low tread life and usually come with no manufacturer's warranty. On the other hand, the all-terrain tires have good tread life with a warranty as well. The reason for that, is the all-terrain tires are not so robust to deal with the extreme conditions, that is why they have narrow tread blocks and shallow ribs, which makes them great for both terrains.
Similarly, this Goodyear Wrangler WorkHorse AT tire has durable treadwear which is backed by a 50K miles treadwear warranty. And just like all other all-terrain tires, it is not as good as off-terrain tires. To achieve a durable tread, drivers have to compromise a little bit on aggressive rides.
Specifications & Features
| | |
| --- | --- |
| Speed rating | T-H(118-130)MPH |
| Load Index | 102(1874 lbs) – 126(3748 lbs) |
| Manufactured in | Mexico |
| Wheel diameter | 16-22" |
| Ply rating | 8 ply rated |
| Treadwear, Traction, Temperature | 580, B, B |
| Noise Reduction | Yes |
The load index is great of this Goodyear Wrangler WorkHorse AT tire is for someone who is looking to buy this tire for their pickup trucks, also the speed rating is fine considering it is an all-terrain tire that does not require that much speed. However, the traction and temperature rating is a disappointment, which is the reason why this tire loses traction in winter and wet conditions sometimes.
Performance of Goodyear Wrangler WorkHorse AT
Dry Road Performance
When it comes to dry seasons, this Goodyear Wrangler WorkHorse AT shines the most. It delivers proper handling response, confident grip, and cornering, without losing comfort. The tire also has quick brakes and a weight-carrying ability, so if someone wants to drive on fast highways while carrying weight on their light trucks or pickup trucks, then this tire is the best thing to have.
Wet Road Performance
Overall the tire is also great in wet conditions, it delivers quick brakes, handling response comfortable and quiet rides, however sometimes in standing water, the tire loses grip. If the weather is so bad like a storm situation, then try to drive this tire at a slower pace, due to the uncertainty of this tire in slippery conditions.
Mudd Terrain Rides
The deep and wide tread blocks help this tire to achieve great performance in mud and rally situations, the tire grip properly, and for climbing on a mountain or something, the contact area really helps while providing stability and proper grip. also, the chip-resistant tread makes it a durable and safe tire to drive in damaging conditions
Snow Conditions Rides
This 3PMSF-certified tire is great for achieving smooth snow rides. The quick brakes, handling response, proper traction, and grip are some things that can be accessed in winter situations. Similar to wet conditions, the tire sometimes loses grip in extreme conditions, so drive at a slow pace when contacting harsh winter conditions.
Comparison with Falken WildPeak A/T Trail
Both of these tires are new tires and were launched recently in the all-terrain tires category. Even though Goodyear is a more popular company and has a more expensive tire compared to this Falken tire, however, in every aspect, the Falken Wildpeak A/T Trail is ahead of this Goodyear Wrangler WorkHorse AT tire.
Whether it is snow, mud, comfortable ride, durable treadwear, or all-season comfortable rides, this Falken all-terrain tire is better compared to the Goodyear tire. If you find your size in Falken Wildpeak AT Trail, then you should go with this tire, otherwise, Goodyear is the 2nd best tire in the all-terrain tires category, which surely won't be a disappointment for you.
When Goodyear Wrangler WorkHorse AT Is Not Prefered
This Goodyaear Wrangler WorkHorse AT tire won't be a great substitute for dedicated winter tires. If you are looking to drive on winter terrain for more than 4 to 5 months in extreme conditions, then it will be a better thing if you would go with winter terrain tires. Because this Goodyear Wrangler WorkHorse AT will wear off early in harsh winter conditions and won't even deliver the performance.
Similarly, if you are looking for a more comfortable and smooth ride in all-season conditions, and rarely visit off-terrains, then grand touring all-season tires will be a better option for your car. Because all-season tires are the best for comfortable and quiet rides, and with that, they are great in snow conditions, as some tires come with a 3PMSF certificate as well. Also, you will get more durability from your tire tread.
Final words
The Goodyear Wrangler WorkHorse AT is a great tire for all-terrain drivers looking for versatile and durable tires. This tire is great in wet, dry, mud, snow, and hot highway conditions, the only con is that, it loses grip sometimes on extremely slippery situations other than that, the tire delivers a smooth and comfortable ride all year round. So pick this tire if you want to handle different conditions with one tire.