Last updated on March 4th, 2023 at 08:36 am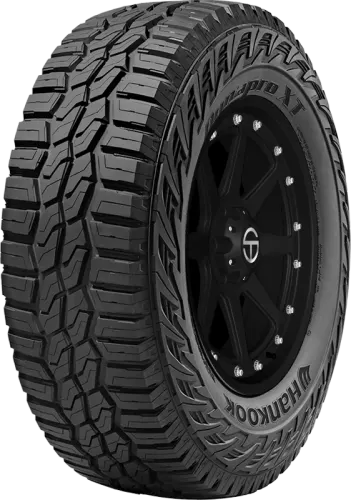 Dynapro XT
All-Terrain And Mud-Terrain Tire
Need a blend of mud terrain rugged drive and an all-terrain comfortable and smooth drive, then this brand new Hankook Dynapro XT will give your desired results. Put them into your light trucks and SUVs to get excellent performance both off and on the roads.
On-Road traction/Grip
90%
Off-Road Traction/Grip
95%
---
Hankook Dynapro XT quick highlights
| | |
| --- | --- |
| Tire type | All-terrain and mud-terrain tire |
| Price range | $300-$640 |
| Run-flat | no |
| Ply rating | 10-12 ply rated |
| Vehicles type | Light trucks and SUVs |
| Terrain support | All-terrain, mud terrain, snow terrain |
If you are an enthusiast off-road driver and want tires that fulfill the purpose of both off-road mud terrain driving and on-road comfortable and noiseless driving, then this Hankook tire should be your first choice in 2023. It is one of the finest and most advanced tires that merge the AT tire's features with the MT tire's features of Hankook to make a hybrid tire for all seasons and off-terrain conditions. 
With excellent traction, grip, and handling on both on roads and off, it is also a good tire for snow and mud terrains. This means that it is one tire solution for all conditions to drive with your light trucks and SUVs.
Hankook Dynapro XT pros & cons
---
Hankook Dynapro XT Features
The number one and optimal feature of this tire is that it can be driven into any road terrain and conditions without losing its performance points. It is included in some of the very few tires that are able to give as good performance and versatility to SUVs and light trucks. However, it is a relatively new tire, so there is not any researched and experienced customer review available that can elaborate on how this tire performs after 50000 to 60000 miles. But there is nothing to worry about when the tire is backed by that reputed brand that puts customer satisfaction above any other thing. 
Basic characteristics of the tire
The trait that makes this tire more desirable is that it is a very strong-looking and working tire that improves the look and performance of your new SUVs and crossovers, with 3 peak mountain snowflakes certificate that certifies it to be driven in harsh winter conditions without breaking its tread and sidewalls.
With that, it delivers excellent all-season traction and grip at wet conditions with hydroplaning resistance in wet and snow conditions of the road. The 10-12 ply rating makes it an attractive tire for heavy load carriage and for pickup trucks.  
Tread pattern and design
The tread of the tire and its pattern is one of the most important things when looking for tires, especially for all-terrain tires. Because all-terrain tires have to adapt to both on-road and off-road situations, and their tread should be in that direction. Thing Hankook tire has an adoptive tread pattern that delivers in any road condition related to the situation.
The Hankook Dynapro XT has polygonal center and shoulder blocks with zigzag grooves that enable off-road confident traction and handling by cleaning the stones, mud, and snow away from the tread. The lateral grooves and sawtoothed sidewalls protect the tire's tread while providing excellent all-season and all-terrain grip and stability. For an all-season comfortable and quiet ride, the tire has a shoulder block cushion with optimized tread blocks so that you can enjoy a smooth, quiet all-season ride. 
Assurance and warranty
There is a common custom in the market that off-terrain tires are not backed by any treadwear warranty, and that is the reason most customers don't go after off-terrain and all-terrain tires. Similarly, this tire is not backed by any manufacturer's warranty; the main reason for not giving any treadwear warranty is due to the uncertain situations of the off-road conditions. Whether it's a mud tire or a winter snow tire, you hardly find a tire that comes with a treadwear warranty nowadays. 
Hankook Dynapro XT Specification
depending on the size
| | |
| --- | --- |
| Speed rating | R/106Mph |
| Load index | 111-129/ 2402- 4079 lbs |
| Origin of | N/A |
| Max. PSI | 70 psi |
| Tire inch | 16"-22" |
Specs and configurations of tires are a must to look at before buying any tires because every tire has different specs that might not match your desired performance. Take an example of this tire. It has a great load index, and it can carry a lot of weight when installed on pickup trucks, but what if you are looking for high-speed tires, which in this is not very acceptable. That is why it is better to look at the specs before buying new tires.
Hankook Dynapro XT Performance
This Hankook tire is a versatile tire that performs in every road and terrain condition. You can determine its performance just by the quality it delivers in each terrain with durable tread wears. Along with the quality performance and durable tire, it is also a good-looking and strong tire that improves the look of your car.
The Hankook Dynapro XT provides excellent off and on-road traction and grip with a comfortable and quiet ride. It does not matter if you even drive in dry and wet conditions or on mud and snow terrains. It will keep its contact even and deliver a stable and smooth ride.
Along with off and on terrains performance, it also performs on highways and debris or pavement terrains; due to its larger and deep tread blocks, it avoids rocks and other particles sticking in the tread to provide a confident and stable ride.
Why not to buy Hankook Dynapro XT
As it is obvious that no matter how good one tire is, it can not substitute every other category tire. Like, if you want to have an all-season comfortable and quiet ride and you don't visit off terrain that often, then this tire is not a good substitute for grand touring tires. Because grand touring tires deliver the very best on-road all-season performance with a better tread life and lower price.
Also, if you want to buy tires just for high-speed racing and for tracks, then, in this case, you should go after a performance or max-performance tires. Because these tires will deliver the best track and city street performance that Dynapro would never achieve.  
Final words
The Hankook Dynapro XT is a one-tire solution for all your terrain drives. Due to its versatile tread blocks, you can get all-season to off-terrain performance with a comfortable and quiet ride. Due to its earlier launch, it is also an advanced feature tire that is unique and more durable than older-generation tires. So if you want to take your light truck and SUVs to any terrain you can possibly reach, then the tire will be the hand of help to let you reach your target destination.