Last updated on April 11th, 2023 at 01:34 pm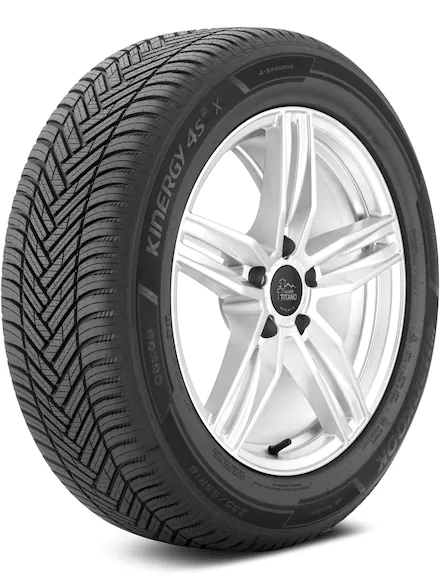 Kinergy 4S2 X
Touring All-season Tire
Looking for new touring all-season tires for your crossovers or SUVs, then take a look at this brand new Hankook Kinergy 4S2 X tire for all-season confident traction, grip, and control. It is good for both, with excellent all-season performance with a severe snow and ice terrain confident drive.
---
Table of Contents
Hankook Kinergy 4S2 X quick highlights
| | |
| --- | --- |
| Tire type | Touring all-season tire |
| Price range | $110-$278 |
| Run-flat | no |
| Ply rating | 4 ply rated |
| Vehicles type | Crossovers, Vans, and SUVs |
| Terrain support | Wet, dry, and snow |
If you ever wonder how to get a comfortable ride with your expensive vehicles with all-season and snow terrain confident traction and grip. This Hankook Kinergy 4S2 X tire is an answer for all your problems; with excellent all-season traction and handling, it delivers a confident snow grip and traction with noiseless and a comfortable ride.
Hankook Kinergy 4S2 X is a new tire of Hankook that launched in the 4th quarter of 2020 in America. It is a perfect choice for drivers who are looking for everyday city and highway rides with a priority on comfort and quality ride. The strong and advanced tread blocks also improve the life of the tire so that you can enjoy all-year-round performance in the long run. 
Hankook kinergy 4S2 X pros & cons
---
Hankook kinergy 4S2 X Features
The features that are so desirable about this tire are that it is a good tire for an all-season comfortable and quiet ride along with severe snow conditions, confident traction, and grip. These features make this tire one tire for all-year-round performers for any weather and season situation. Along with that, it is a very durable tire for long-run confident driving with better fuel mileage and rolling resistance for even wear. 
Basic characteristics of the tire
The best trait that this tire has, which attracts buyers, is that being an all-season tire, it is also a good tire for snow driving because of the 3PMSF certificate. With that, you can take your crossovers and SUVs to any weather and season without compromising on the life of your treadwear. 
Along with that, it delivers excellent all-season traction and grip in dry conditions with better fuel mileage and cornering. Also, it delivers hydroplaning resistance and aqua planning whenever you drive your vehicle in the rain or on watery roads. Due to the 3D sipes, it gives extra biting edges on snow for confident snow and ice ride. 
Tread pattern and design
The main difference point of any tire is its tread design and its blocks; that is why manufacturers put so much time into designing unique and quality tread patterns that deliver the very best performance. This Kinergy 4S2 X tire has an advanced pattern with an aqua pine tread compound that delivers a higher level of traction in any road condition. 
Along with that, Concave tie-bars and two-step aqua slant technology make this tire stable tire while providing hydroplaning resistance during the wet and winter season. The lateral tread blocks and lateral grooves on the tread improve dry road cornering and acceleration in wet conditions. By increasing the tread pattern pitch count and variation, minimize the noise of its tread and make it a quiet and comfortable all-season tire. 
Assurance and warranty
If the tire is that much new; the only thing that motivates new buyers to take a risk is the tire's warranty. Because there is not any driver available anywhere in the market who could drive the newly launched tire for 30000-40000 miles as quickly. That is why Hankook offered 6 year and a 60000 miles treadwear warranty that ensures new buyers that it will at least last for that many miles in the future. 
Hankook Kinergy 4S2 X Specification
depending on the size
| | |
| --- | --- |
| Speed rating | H-V/ 130-149 Mph |
| Load index | 102-108/ 1874-2205 lbs |
| Origin of | Republic of Korea |
| Max. PSI | 51 psi |
| Tire inch | 16"-20" |
The spec of the tire is an important part of the tire that every buyer should look after when buying new tires. Because these are the numbers that will put so much impact on your desired performance if you have an expected performance related to its speed and weight. This tire has a 500 indexing in treadwear which is an average number with a great A and A-rated in traction and temperature.
Hankook Kinergy 4S2 X Performance
The purpose of the all-season tire is to give an excellent ride in wet, dry, and snow weather conditions. And based on these situations, we can elaborate if the tire is worthy of being driven on all season conditions of the terrains.
It delivers excellent traction and cornering on dry city roads and highways with smooth and confident handling and acceleration. Also, it delivers perfect hydroplaning resistance for wet conditions with confident traction and grip without making any slippage. 
Along with wet and dry conditions, it also performs in winter and snow conditions; due to 3D sipes, it contacts with the ice in a way that gives controllability with traction and grip on ice and snow-covered roads. All of that and a smooth, comfortable, and quiet ride you will get if you install this tire with your SUVs or light trucks.
Why not to buy Hankook Kinergy 4S2 X
As it is so obvious that one tire can not be good enough to deal with every terrain and situation or give the best performance on all terrain. Similarly, this Hankook Kinergy 4S2 X tire is not a perfect tire for all situations. For example, if you want to drive on off-road or mud terrain; then this tire should not be on your buying list. Because it will not match the performance an all-terrain tire would give. 
Similarly, if you want to get the maximum speed and don't care about comfort, then again; this tire will not give you as good performance as a performance or max performance tire would provide. That is why it is important to have knowledge about which tire would work perfectly according to your driving desire. 
Final words
The Hankook Kinergy 4S2 X is an excellent all-season tire that is also a new tire in the market. Due to its early launch, it has the most advanced feature that delivers better performance than older tires. Also, it will be more durable than previous-generation tires. So if you want comfort and a quiet ride along with all-season excellent performance; then keep this tire in mind when looking for new tires for your expensive SUVs, light trucks, and crossovers.