Last updated on May 4th, 2023 at 02:47 pm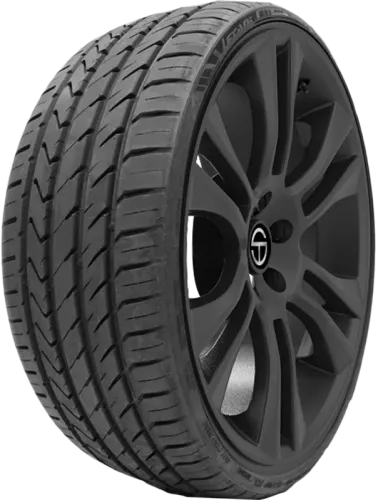 LX-Twenty
High-Performance Tire
The high-performance and affordable tire for performance-oriented sedans and sports cars. Lexani LX-Twenty provides excellent handling and cornering at fast speed in both wet and dry conditions. The tread pattern, comfortability, and durability at this price make this tire a great resource for economical speed racers.
---
Table of Contents
Lexani LX-Twenty quick highlights
| | |
| --- | --- |
| Tire category | Performance Tire |
| Price range | $90-$215 |
| Product of | China |
| Ply rating | 6 ply |
| Run-flat tire | No |
| Terrain support | Wet and Dry |
The performance tires are built for luxury and sports cars to give the best traction, cornering, handling, and brakes in both wet and dry conditions. The recommended temperature to drive performance tires is 45 degrees Fahrenheit which means they are not built for the winter season. When other brands in this category sell tires for more than $200, the Lexani introduced LX-Twenty with all similar features comes in the price range of $90. The tire fulfills the demand of customers looking for durable and affordable tires for their performance cars. 
---
Lexani LX-Twenty features
If we don't consider the price range and performance of the Lexani LX-Twenty, there are still many other features in the tire. The features and design of tires are a little complicated thing to discuss due to the professional engineering involved in manufacturing a tire. We will discuss each feature in detail heading; if you know about a tire's inside, it will help you make the right decision. 
Basic characteristics of Lexani LX-Twenty
There are many other tires that consider themselves low-price tires with high-quality performance, and only some of them stand by their words. Most of them are just cheap tires that blow after 4-5K Miles. The LX-Twenty is among the most performance-delivered tires with thousands of satisfied customers around the world.
Although it is not a run-flat tire, due to the strong sidewall, it tackles the harshness of the surface quite easily. The 6-ply coating makes other parts of the tires strong and also provides better handling in wet and dry conditions. The tire provides excellent grip and stops at maximum speed without causing any heat on the tires. 
Tread pattern and design
The tread pattern and design matter a lot when it comes to performance tires. Because tread patterns are the provider of traction, grip, handling, stopping, and all other different types of performance-related features.
Lexani LX-Twenty is a multi-tread pattern tire; the pattern is designed to work and perform like an asymmetrical tire but rotates in a single direction, making it a directional tire. The small deep grooves and independent tread blocks make performance more appealing by clearing the water on wet roads and providing traction on dry terrains.  
Assurance and warranty
The price may not convince you about its durability and life, but if you ask any user about this tire, it will change your opinion too. Lexani LX-Twenty may not be as durable as expensive premium tires are, but it will perform superbly till the last date of its warranty.
The manufacturer provides 30000 Miles of treadwear warranty, but it does not mean that it will blow out after that number; it will just stop performing as well as when it was new. If you normally drive in the city at low speed, then there are chances that your tires will work far more, but if you have lost the treadwear, then it is better to change your tires after the warranty period. 
Lexani LX-Twenty specification
It is a performance tire for passenger-type vehicles: hatchbacks, sedans, crossovers, and some SUVs. LX-Twenty has an amazing design and black sidewalls with a load range of XL and a load index of 82, which means it can carry 1047lbs of weight on each tire. All of these factors are measured through the guidelines of the government and then rated on the basis. The tire can hit a maximum speed of 168 Mph with the A rating at treadwear and temperature.
Lexani LX-Twenty performance
LX-twenty is by far the best-performing tire on wet and dry lands compared to other tires in this price range. Other performance tires would be far better in performance, but their prices are also extremely high. The tread pattern, including grooves, controls water and provides hydroplaning resistance with superb brakes, acceleration, and traction on wet surfaces. It feels like normal road driving, even though there is 2-3 inch water above the roads. 
When it comes to dry terrain driving, the tire also surpasses expectations. The asymmetrical and directional patterns combination provides comfortable and smooth driving at normal speed and controlled handling, stopping, and cornering at maximum speed without causing any damage to the treadwear.
When you should avoid Lexani LX-Twenty
We shared every reason to buy this tire in the earlier sections, but when you should avoid buying Lexani LX-Twenty.
If you live in a city where the temperature doesn't get so cold that it starts to snow, then you can use these tires as your year-round tires. But if there is snow in your town, then you should avoid these tires at any cost. Because the tire has a very low capability to handle the snow, they might not even move and hurt treadwear. The best option for you is to switch to the all-season tires or winter tires which will perform great on snow terrains. To read about all-season tires that perform great in the snow, check out our article.
Another reason to avoid these tires is if you are a habitual off-road driver. First, the tire won't be able to clear the mud and snow off the tread, and second, it might get damaged and blow out right on the spot. It would be best to buy all-terrain or all-season tires in both conditions, which will deliver better value, durability, and fuel economy.
Final words
Lexani LX-Twenty is the most suitable tire for budget drag racing and performance driving in wet and dry conditions. The tire has been appreciated by critics and buyers on Amazon and other websites. And we would highly recommend if you met the conditions, you should buy this tire for a premium quality drive.
We try to cover every aspect of the Lexani LX-Twenty tire's performance and features. So if you enjoy reading this review, share your thoughts with us about this tire and tell us about your experience if you're using them in your vehicle.