Last updated on March 20th, 2023 at 02:18 pm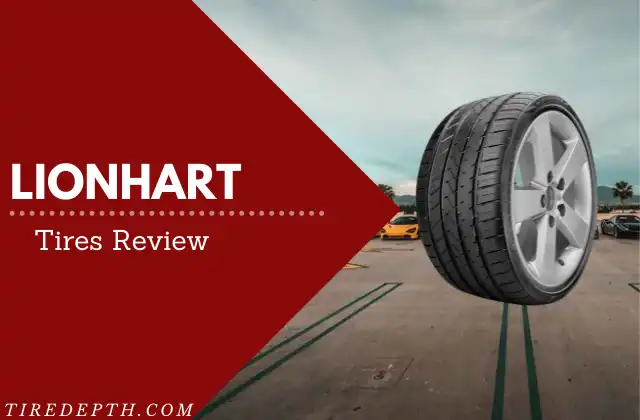 The American brand that has been serving its customers since 2013, the Lionhart tires, is A relatively new tire manufacturer that attracted buyers in a very short period of time due to its unique tire design with a reasonable price. They have a wide range of tire portfolios in which they manufacture passenger car tires, light truck tires, and UHP Trailer tires. Lionhart tires being the fast grower in the tire industry adopts new technology and comes up with high-quality tires to compete with the premium tire brands and satisfy their customers with new and cheap pricing tires.  
Lionhart Tires Quick Highlights
| | |
| --- | --- |
| Origin of Lionhart tires | United States |
| Started operations | In 2013 |
| Type of tire manufacture | Passenger cars, light trucks, Trailer tires  |
| Tire categories | All-season, all-terrain, high-performance tires |
| Price range | $60 – $731 |
| Ply ratings | 2-10 ply |
| Average distance covers | 30000-40000 Miles |
| Online retailers | Amazon, priority tires, And Walmart |
Lionhart tires gained some pace after launching their off-road category tires in the market, and after that, their tires made a fortune in every category of tires that they have ever launched. Lionheart tires are mostly known for their good-looking and attractive tire design that looks exceptionally well with luxurious and sporty cars. However, there is a noticeable difference between their tire's performance compared to the expensive premium brand tire's when it comes to quick brakes and comfort. Other than that their tires are good for high-speed tracks to off terrain ride that has long-lasting treadwear and strong sidewalls for a safe and durable ride. 
Lionhart tires Price
The price range of their tires is lower than most of the tires that operate from the United States. One of the main reasons for that is that Lionhart manufactures its tires in china. However, there is a difference in quality between Chinese-manufactured tires and American-manufactured tires.
American tires are known to have better performance and reliability as compared to Chinese tires. But there is a big difference in manufacturing cost; sometimes, there are tires that have built-in china but have better treadwear than American tires and sell at a lower price. The reason for that is that China has low wages, labor, and low-cost utilities that lower the final product's total cost, which can be beneficial for the manufacturer who is targeting a cost-effective strategy with high-quality tires. Lionhart is one of those brands that use high-quality rubber and parts for manufacturing their tires by reducing the cost as low as possible.
Lionhart Tires Quality
The quality of these tires is one of the best compared to other low-price tires. Because their tires cover more miles with more comfortability and better braking distance. However, if you would compare their tire with cooper or Michelin tires quality, then there you will find a big difference when it comes to speed brakes and traction on and off-road.
Because premium brands use the best technology and materials to design their tires and their primary strategy is to deliver the best tire without worrying or very little thinking about its cost. So, if you are after affordable tires that give you a comfortable and confident ride with little fewer features than premium tires, then you will find Lionhart tire the best pick for your vehicles. 
Lionhart Tires Treadwear
Good treadwear not only improves the life of the tire it also improves the performance and traction of the tire. Lionhart uses impressive treadwear that will at least cover 25-30k Miles before wearing off, and if a tire is well treated and used as it is recommended, then there are chances that it might cross the limit of 40k Miles. However, you can not match the treadwear of Lionhart tires with Goodyear or Pirelli tires because Lionhart can not provide as good quality treadwear at that less of price.
But compared to other cheap brands, Lionhart has one of the best treadwear, and you can save a lot more on compromising on little comfort and tread life if you would go with their tires. 
Benefits OF Using Lionhart
Low prices
The Lionhart tires come at an affordable price range so that everyone can enjoy and afford the tires that they desire. It is better to buy mud-terrain tires for vacation and for short trips from Lionhart tires, which you are going to use only once, rather than buying expensive tires which will stay in your car trunk.
Quality tires
Along with the lowest market price, their tires come with quality treadwear and rubber that last longer than other cheap tires. However, the quality is not as fine as you can get with other german and french brands, but at this price, you will be more than satisfied with the quality and performance of the Lionhart tires.
Stylish design
One of the reasons for the Lionhart tire's success is its unique and stylish design that improves the car's look while pleasing others who see them. Lionhart is known to build modified tires and their sizes according to the demand of the buyers. So if you want to glow the elegant look of your car, then you can fulfill your desire with Lionhart tires.
Bad Points Of Lionhart
Bad snow traction
All-season and high-performance tires of Lionhart have complaints about bad snow and winter-season traction; that is why you have to compromise with this if you are willing to drive your car in icy and wintery seasons. Although you can drive them on snow you will not get any comfort and confidence from their tires.
Lower tread life
Compared to premium and expensive tires, Lionhart tires have lower treadwear life according to their customers. But if you would compare the price and life of the tire; their tires have a better average when it comes to Miles per $1000. That is why it is not a bad idea to go with Lionhart tire if you can change your tires every 3-5 years.
Slow brakes
There is a 3-5 seconds difference when it comes to brakes from 70Mph. This can be a big thing for speed and sports car drivers, and it is not that much of a deal for all-season daily drivers. So it depends on your driving style and whether you can live with that or not. These are some of the things that you need to keep in your head if you are willing to buy Lionhart tires. 
Top Lionhart Tires
There are dozens of good tires that Lionhart tires launched since 2013. However, we are going to show you some of the best tires that make the most fortune for Lionhart tire with very positive reviews; these are:
Lionhart LH-501
Tire specification
| | |
| --- | --- |
| Tire category | All-Season Touring tire |
| Speed and Load Range | V, SL |
| Run-flat | No |
| UTQG | 500AA |
The Lionhart LH-501 is a tire made for passenger cars like small to big-sized sedans, crossovers, and SUVs. This LH-501 is built explicitly for passenger car vehicles to fit well with them and allow you to achieve maximum performance. It is one of the finest tires that they have ever made. You can achieve excellent all-season and all-weather traction grip and hydroplaning resistance in wet, dry, and light snow conditions.
Along with that, you will enjoy smooth and confident handling on the highways and city roads with a noiseless comfortable ride. So, if you are looking for a budget tire for your passenger car; that gives you the comfort of premium brand tires with high-quality treadwear that runs for miles and miles; then this tire should be on top of your list. 
---
Lionhart LH-503
Tire specification
| | |
| --- | --- |
| Tire category | All-Season performance tire |
| Speed and Load Range | V, XL |
| Run-flat | No |
| UTQG | 500AA |
Relatively similar tire to LH 501, this Lionhart LH-503 is an all-season tire for light trucks to give you the maximum high-performance all-season comfort and quiet ride. It will provide all-weather traction, grip, cornering, and steering responsiveness in wet, dry, and light snow conditions. Also, it will resist hydroplaning so that you can drive safely and securely in wet and icy conditions. LH-503 is a touring all-season tire that you can get at a very reasonable price; along with strong and durable treadwear for longer miles. If you want a comfortable and quiet all-season ride at affordable rates; then this might be the best option for your light truck's highway rides. 
---
Lionhart Lionclaw ATX2
Tire specification
| | |
| --- | --- |
| Tire category | All-Season All-Terrain tire |
| Speed and Load Range | S, SL |
| Run-flat | No |
| UTQG | 600AA |
This is another extremely good tire made by Lionhart tires; this ATX2 is an all-season and all-terrain tire for light trucks and SUVs. It has one of the finest treadwear blocks and patterns that handle the harsh conditions of the off-terrain; with center ribs and biting edges for on and off-road traction and grip. In this price range, it provides really amazing all-terrain performance by cleaning the mud and snow from the tire's tread; and providing a comfortable and confident all-season and all-terrain durable ride; that covers more miles than other tires at this price range. So if you want a tire that handles both on and off-terrain situations at affordable rates, this tire could be a tire for you. 
On-Road traction/Grip
85%
Off-Road Traction/Grip
90%
---
Lionahart Tires Frequently Asked Questions
Are Lionhart Tires Good Or Bad?
It depends on what you are expecting from tres; if it is the most comfortable ride with 80000 miles of treadwear life, then Lionhart tires are not good. On the other hand, if you want affordable tires that last for 40k Miles with better than moderate comfort, then these are good tires for you.
Where do Lionhart tires manufacture?
Their tire manufacturing and packaging are operated from china which is one of the reasons their tire cost as low. People get confused that Lionhart tire is an American brand; so they also manufactured their tires in the USA, but that is not the case with them. 
Will they give a similar ride as premium brand tires?
No, premium brands like Michelin and Pirelli have the finest quality of tires that not only improves the treadwear of the tires; but also provide a comfortable and smooth ride for the long journey. However, Lionhart tires are not so bad that you won't feel comfortable at all; but there is a big difference between Michelin tire's ride and Lionhart tires ride. 
Do we Recommend buying these tires?
Yes, we would recommend these tires to all of those buyers who are looking for tires that are affordable and give you a high-quality ride in the long run. But if you have extra money and want something that gives your luxurious car a comfortable and confident ride for more than 5 years; then we would say you should go with Michelin CrossClimate 2 for all seasons and all year around the drive. 
Final Words
Lionhart tire is one of the best options if you have a tight budget and you want a high-quality tire that provides better mileage and longer life. Their good name and presence in the market speak for themselves about their reliability. Most of the buyers are unsatisfied with its treadwear; other than that, their tires are good to have to deal with any road conditions.
We hope that you might be able to learn something new from this review. If you are someone who is going to buy these tires in the future and still want to know something more about these tires; then you can ask us anything in the comment, and we will be so happy to assist you.