Want a comfortable tire, that last for more than a decade, then check out this latest Michelin Defender 2 tire. It is one of the top touring tires of 2023, that performs superbly in wet, dry, and light snow conditions, with proper brakes for a safe and sound ride all year around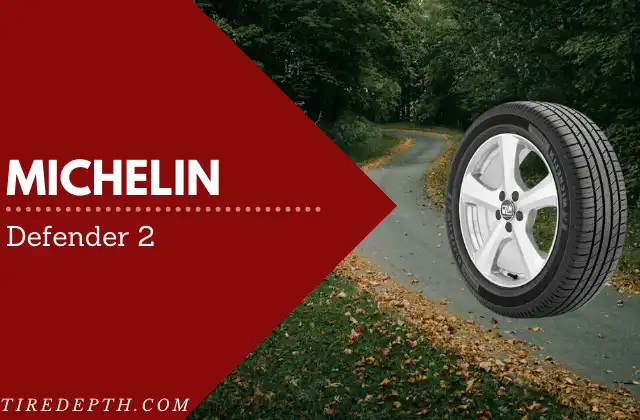 ---
Quick highlights
| | |
| --- | --- |
| Tire type | Touring All-Season Tire |
| Price range | $160-$256 |
| Run-flat | No |
| Vehicles type | Sedans, Coupes, and SUVs |
| Driving conditions | Dry, Wet, and Snow |
Table of Contents
This Michelin Defender 2 is a successor of the Michelin Defender T+H with more durable treadwear, advanced technology, and with stronger compound. All of these improvements were made to compete in the market and give the driver a newer version of the tire who drives and loves the performance of Michelin Defender T+H.
This michelin Defender 2 is an excellent tire for the driver of passenger cars, who are looking for the most durable tire that delivers performance in every weather and season, so they don't have the change the tires biannually. Not only that but with that, you can get a comfortable and quiet ride all year around.
Unlike other touring tires, this Michelin Defender 2 is not only a durable tire, but it is great in all-season conditions, with proper driving joy on light snow and winter conditions. The purpose of continuing this tire, with innovation is to improve the driver's road experience from their previous Defender T+H tire while also providing a joyful smooth ride in all-season and light snow conditions.
Pros
All-season touring tire that covers much more miles than other touring tires, while delivering a confident ride all year around.
A durable tire for the most reliable rides with an 80K miles treadwear warranty
Excellent traction, grip, and brakes with proper steering response and quick acceleration for highways and city roads.
Comfortable, quiet, and smooth ride in dry, wet, and icy conditions
Cons
Not the best performer on harsh winter terrains, due to the absentees of 3PMSF
Could wear off early in bad conditions
---
Tread design and improvements
The directional tread pattern is consistent in this tire just like its preceding tire, however, the compound and technology improve this tire's performance. The tire features IntelliSipe technology on a directional tread pattern, that contacts the ground evenly which improves tire durability. Also, the high silica compound, with four circumferential grooves provides proper handling and grip on wet terrains. And lastly, the interconnected tread, with lateral and longitudinal sipes combined provide confident traction while also delivering a quiet and comfortable ride all season.
Even after all these innovations, the impact has come on this Michelin Defender 2 traction which has reduced as compared to Defender T+H. Even though it is not as noticeable, still it can be felt with proper all-season drivers, however, compared to the improvements, this little drawback is not that bad of a tradeoff.
Durability and road life
The durability of the tread is the main reason why this tire series is so popular. This tire on average delivers more than 80-90K miles drive. The reason for this tire's long-lasting treadwear, is the utilization of high silica content in the compound, with properly distributed sipes and contact this Michelin Defender 2 makes with the ground.
While driving for hundreds of thousands of miles, the tread is also noiseless compared to other touring tires, while also improving the driving comfort and steering response. These are some of the reasons why this tire is considered a one-time purchase for a decade of rest, and a safe drive in all-season conditions.
Specifications & Features
| | |
| --- | --- |
| Speed rating | H(130)MPH |
| Load Index | 91(1356 lbs) – 107(2149 lbs) |
| Origin of | The United States |
| Wheel diameter | 16-20" |
| Ply rating | 4 ply rated |
| Treadwear, Traction, Temperature | 840, B, B |
| Noise Reduction | Yes |
Performance of Michelin Defender 2
Dry Road Performance
The dry condition traction and grip of this michelin Defender 2 are great, even at fast speed. Even if there is a weight on the tire, they perform properly on highways and city roads. With proper steering response and smooth ride, the performance of dry terrains is excellent to drive forever in summer and hot weather conditions. The sipes and tread design plays an important role in achieving these metrics,
Wet Road Performance
When there is rainy weather or water on the road, this tire properly channels the water away from its tread due to the deep circumferential grooves. Along with that the shoulder and tread rib sipes provide great traction and grip without ruining the comfort and smooth ride experience. The high silica content also improves the wet and light snow performance
Winter/ Light Snow Performance
In extreme winter conditions, this tire is not something that will totally satisfy you, however for light snow conditions, below 4 inches, the tire gives proper traction and grip in the winter season. The lateral sipes provide extra biting edges on snow terrains, which improvise its driving capability on snow-covered roads.
Comfort and Tread Performance
The tread of this tire is one of the quietest and most comfortable in the touring tire category, even on highway fast tracks, the tire performs smoothly with proper handling response and a shorter stopping distance for a safe and sound ride all year round.
Comparison with Michelin CrossClimate 2
The Michelin Defender 2 is a standard touring all-season tire, and the Michelin CrossClimate 2 is a grand touring tire. Both of these tires are new tires launched by michelin and both of them are performing really well in the market of 2023. However, both have some better features and low points compared to each other and are also preferred by different types of drivers based on their preferences.
The Michelin CrossClimate 2 is a more expensive tire, while also available in more variants and sizes. Along with that, this tire has more comfortable and quieter rides, with better performance on winter and snow terrains. On the other hand, the Michelin Defender 2 is a little cheaper in price, has more durable treadwear, and usually covers 20k more miles than the Michelin CrossClimate 2. So if you are after a more durable and affordable option then choose the Michelin Defender 2, and for more comfortable rides, go with CrossClimate 2.
When Michelin Defender 2 Is Not Prefered
As we mentioned for more comfortable rides, the grand touring tire category is a better option, however, for both comfort and durability, this tire is perfect. Other than that, if you want to drive just in one condition all day long, then try season-specific tires, like summer or winter tires, because no matter how good all-season tire performs, they can't compete with the designated summer or winter performance tires.
Final words
The Michelin Defender 2 is a perfect tire for durable and comfortable rides in all-season conditions. Not only that, but this successor tire of Michelin Defender T+H is also great with proper handling response, traction, and grip in dry, wet, and light snow conditions. So if you want a smooth tire for your Coupes, Sedans, or SUVs, then try the Michelin Defender 2 for many upcoming years' peace.