Last updated on August 7th, 2023 at 11:10 am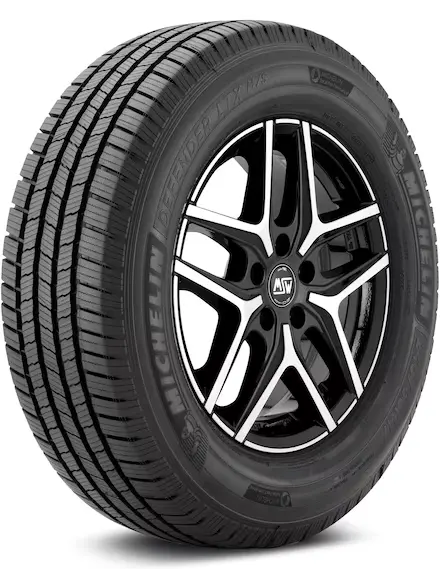 Defender LTX M/S
Touring/Highway All-season Tire
If you are looking for a tire that is driveable in all-season conditions, with snow terrains and mud terrains rides, then this Michelin Defender LTX M/S tire will be the best fit for your SUVs and light trucks. With a comfortable ride, you will also get durable treadwear to achieve countless miles with your car.
Fuel mileage/Low rolling resistance
90%
---
Table of Contents
Quick highlights
| | |
| --- | --- |
| Tire type | Touring All-Season Tire |
| Price range | $155-$472 |
| Run-flat | No |
| Vehicles type | Crossovers, CUVs, SUVs, and Trucks |
| Driving conditions | Dry, Wet, Snow, and Mud |
Michelin is one of the top tire manufacturers in the tire industry, however not every tire they manufacture is at the same level as this Michelin Defender LTX M/S. This tire is one of the few tires that are old and still in demand in 2023. The reason behind that is that not many tires still after 8 years perform as well as this Michelin tire.
As most light trucks and tow trucks have to carry weight on their highway routes, that is why the Michelin Defender LTX M/S has high load index versions which you can choose depending on your requirement. With that, the speed index is also good for this tire which can give a high-speed comfortable ride, while carrying a heavy load.
Not only that, after so many years and that much competition in the touring tire category, this tire is among very few tires in 2023, that delivers as comfortable and quiet ride, with the versatility of driving in any road conditions. The new all-season and all-weather tires lack mud or snow performance, however, this Michelin tire delivers strong performance on off-terrain and a smooth ride on the street and pavement highways. 
Pros
Driveable in any road conditions, whether it is mud terrains or hot summer tracks
A durable tire tread with a strong compound that comes with a 70K miles treadwear warranty
Low rolling resistance tire for improving the fuel mileage of your vehicle
Excellent traction, grip, and brakes on dry, wet, and snow conditions
A comfortable and quiet ride all year round
3PMSF certified for extreme winter conditions
Cons
Not so absorbent to sharp materials and rocks
Not the most spirited steering response
---
Tread design and improvements
Instead of using an all-season compound, Michelin uses the EverTread compound in this tire which is stronger and capable of handling off-road conditions. The symmetrical tread pattern of Michelin Defender LTX M/S features an independent tread block that consists of 3D sipes which are crucial for bringing traction and grip in dry and wet conditions. The MaxTouch profile construction makes it a durable tire by wearing off evenly and contacting the ground evenly for proper steering response. With 4 circumferential grooves, this tire also resists hydroplaning, and with low weight, it is also a low rolling resistance tire for better fuel mileage.
Durability and road life
With comfort and noiseless rides, this Michelin Defender LTX M/S tire is also a durable tire for many years. With its durable treadwear backed by MaxTouch technology, there are very few chances of early wear off, no matter whichever condition you drive your vehicle. even though the tread is durable, against sharp material and rock, the tire gets damaged due to the low weight tire the shoulder is not as robust as mud terrains or off-terrain tires.
Specifications & Features
| | |
| --- | --- |
| Speed rating | T-H(118-130)mph |
| Load Index | 95(1521 lbs) – 129(4079 lbs) |
| Origin of | United States |
| Wheel diameter | 15-22" |
| Ply rating | 4 ply rated |
| Treadwear, Traction, Temperature | 720- 800, A, A |
| Noise Reduction | Yes |
Performance of Michelin Defender LTX M/S
Dry Performance
On dry roads in summer or tracks during the hot season, this tire achieves great performance on these terrains. The comfort is really good, without making too much noise even at fast tracks. The brakes, steering response, traction, and grip all work fine on dry terrains. Also, for fast-speed drivers, the cornering is also smooth, without losing the response on steering.
Wet Performance
On wet or slippery roads, this tire is also good for that. With 4 circumferential grooves, this tire tackles the situation properly, without losing grip and traction. However compared to dry track performance, wet performance is not as good, still compared to other touring tires, this tire is good for both wet and dry track performance. With hydroplaning resistance and a confident ride, you can safely ride your way.
Snow Performance
For snow terrain, this Michelin Defender LTX M/S is 3PMSF certified, which is why it will not be something that breaks on snow. With internal temperature control technology, the tire won't lose its tread even when the temperature is below 32 degrees Fahrenheit. Also, the 3D sipes and tread blocks provide biting edges for extreme winter snow.
Mud Terrain Performance
The credential in this tire name M/S means it is a tire for mud and snow, so no matter which conditions you have to tackle you will be delighted with this tire's performance in any conditions. The individual blocks don't let mud stick to their tread block with the help of a symmetrical tread design. It also provides smooth and confident rides off terrains, however, don't get involved in off terrains too much, due to its average shoulder width, it could get damaged against sharp materials.
Highways Performance
This tire also comes into the category of highway tires, which are good on paved roads while carrying the load. And this Michelin Defender LTX M/S is good in both of these things. As it is a durable tire, it carries load throughout its life, without wearing off weirdly, which is why most pickups trucks drivers preferred this tire still in 2023.
Treadwear Performance
This tire has one of the most durable treadwear even if you compare it with new all-season tires. Not only it is durable, but its performance in different conditions is also smooth with a comfortable and quiet tread performance.
Comparison with Michelin CrossClimate 2
The Michelin CrossClimate 2 is very similar to this when it comes to durability and versatile comfortable performance. However, both of these tires have some better features compared to each other.
The Michelin CrossClimate 2 is a grand touring tire for luxurious and premium cars. This is the best tire if you are looking for the most comfortable tread and quietest rides even Michelin Defender LTX M/S will sound noisy in front of these tires. Also, it has durable tread, smooth handling, and a confident ride all year round.
Even though the tread comfort and noise of Michelin Defender LTX M/S are not as good as CrossClimate2, however, when it comes to load-carrying rides, this tire is far superior. Also, this tire is more durable compared to CrossCliamte 2, while providing better fuel mileage. So choose your tire depending on your vehicle, conditions, and the type of performance you preferred from your tires.
When Michelin Defender LTX M/S Is Not Prefered
If you drive on one season most of the time, then instead of going with this all-season tire, choose the specific category tire, that is made for that situation. For example, if you only drive on snow, then instead of choosing this tire, choose winter performance tires, although this Michelin Defender LTX M/S will perform fair on winter terrains, however, the winter tires' performance will be far ahead of this tire.
Final words
The Michelin Defender LTX M/S is an excellent tire for the drivers of light or pickup trucks and SUVs and CUVs drivers. Because it is good in every condition, it is preferred by different conditions drivers. Also, its comfortable performance on road and robust performance in off terrains make it a proper tire for every driver who faces different conditions in a year.