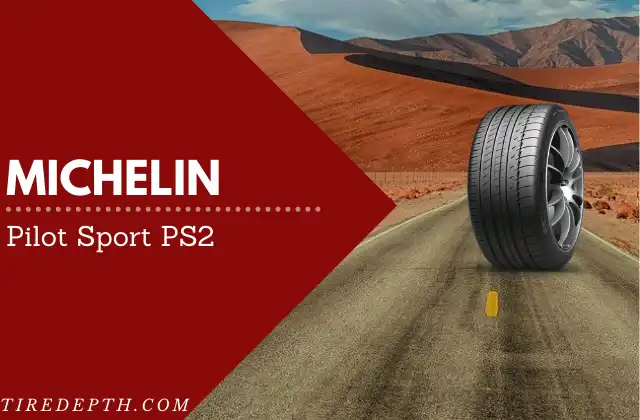 ---
The driver of a sport-oriented sedan or coupe, looking for max performacne tires then this Michelin Pilot Sport PS2 will be the tire that you should try for summer tracks. This tire delivers the most prestigious ride, with the joy of seizing your vehicle at the height of its performance.
Table of Contents
---
Quick highlights
| | |
| --- | --- |
| Tire type | Max Performance Summer Tire |
| Price range | $216-$540 |
| Run-flat | No |
| Vehicles type | Sedans and Coupes |
| Driving conditions | Dry and Wet |
Not many tires stick that much longer in the tire market. This Michelin Pilot Sport PS2 is a tire that was launched more than a decade ago, and still, in 2023, performance-oriented drivers are purchasing this tire for their sporty cars. The reason why Michelin is still manufacturing this tire is that there are not many tires that compete with this tire in the low-profile sports car tire market.
This tire used to come as an original equipment tire for most of the brand's sports cars including McLaren, Porsche, and BMW., and still, drivers of sports cars buy this due to its excellent performance on dry tracks. For supreme performance, with tires, drivers have to compromise on durability, as it is only driveable for 20k miles. However, the performance of this tire is so loved and desired, that buyers are happy to change sets of this expensive tire after every 3-4 years
The best thing that we can say after our experience is its sterling response. It is so hard to find that type of steering response in this market. Another reason why sports car drivers buy this tire is due to its dry track cornering, which is also at the very best level.
Pros
Excellent summer tire for the pure joy of track race and city road drive
Confident traction and grip in dry and wet conditions
Responsive handling with quick acceleration and brakes for achieving maximum performance with sporty cars
20K miles treadwear warranty which is not very common with summer performance tires
Even at high speed, cornering is exceptional without losing grip on the road and on steering
Cons
Early wear off with low treadwear warranty
Noisy tires, even on slow drives
Cant be driven on snow terrain or below 44 Fahrenheit
---
Tread design and improvements
The main purpose of summer performance tires is to deliver proper handling, brakes, and acceleration with confident traction and grip, and for that, not a comfortable all-season compound or EverTread compound is needed. Most summer tires are only equipped with low silica compound or carbon black compound, which have explicit performance on dry, however, lacks on wet roads.
That is why this Michelin Pilot Sport PS2 is equipped with the hybrid/carbon black compound and also with high silica compound, that is the reason why this tire performs as well in wet as it does on dry tracks. With racing slick styled shoulders, the tire delivers phenomenal cornering on dry tracks. For wet roads, the tread features three wide circumferential grooves and lateral notches on the shoulder to resist hydroplaning and deliver confident traction and grip in the rain.
Durability and road life
As most summer tires have very low treadwear rating and rarely do any max-performance or Ultra high-performance summer tires comes with a tread warranty. For improving performance a tread compound has to be slick, with low weight compound, that is why summer tires are so good in performance but not so good in durability.
This Michelin Pilot Sport PS2 comes with a 20K miles treadwear warranty, which is good for the average driver to run their cars for 4-5 years before replacing tires. One of the reasons for its low durable treadwear warranty is the absenteeism of sipes on the tread which improves tire contact on the groud, however, makes the tire slow and reduces steering response as well. One of the benefits of the low-weight tire is that they improve fuel mileage because of their low rolling resistance tread.
Specifications & Features
| | |
| --- | --- |
| Speed rating | Y(186)mph |
| Load Index | 87(1201 lbs) – 110(2337 lbs) |
| Origin of | France and the United States |
| Wheel diameter | 17-20" |
| Ply rating | 4 ply rated |
| Treadwear, Traction, Temperature | 220, AA, A |
| Noise Reduction | No |
Performance of Michelin Pilot Sport PS2
Dry Track Performance
The performance of Michelin Pilot Sport PS2 on dry tracks is the biggest reason why drivers of low-profile cars, still buy this tire. It delivers the finest steering response with very edgy cornering, even at fast speed. The acceleration and brakes on dry tracks are phenomenal of this tire. With low rolling resistance, this tire is one of the best tires available for summer tracks in 2023.
Wet Track Performance
Not as good as dry track performance, however, compared to other max-performance summer tires, it is still ahead. The tire handles the hydroplaning so smoothly while delivering quick brakes and acceleration on wet tracks as well. The asymmetric tread design helps this tire to achieve confident traction and grip on wet tracks, without losing speed or handling control.
Both of these tires come in a category of max performance summer tires, and both are available in sizes to fit low-profile sports cars. However, both of these Michelin tires are different in their features.
The Michelin Pilot Sport 5 is a new tire and it is the successor of one of the most famous Michelin Pilot Sport 4s. So if you want a better tire that is a better performer in dry and wet terrains, then this tire will be better in our opinion.
However, for sportier steering response and cornering on dry tracks, the Michelin Pilot Sport PS2 will be better, even though this tire won't give you as comfortable performance nor, it will be as durable as Michelin Pilot Sport 5, but when it comes to the quick and smooth steering feel this tire will get ahead of the Michelin Pilot Sport 5.
When Michelin Defender LTX M/S Is Not Prefered
There are so many conditions, even every other condition or terrain than summer tracks, at this tire is not preferred. If you took this Michelin Pilot Sport PS2 tire in winter, mud, or any extreme conditions, the tire tread will get totally removed after a few miles. That is why it is never recommended to drive the summer Max performance tires on any other condition than summer hot roads or tracks. If you want some versatility and different conditions to handle with one trie, then check out all-season or all terrains tires.
Final words
The max performance summer tire Michelin Pilot Sport PS2 is a perfect tire for sports car drivers who are looking for the most lively handling response. With its great traction, grip, and cornering on wet and dry tracks, this tire will be a helping hand in any track racing. Along with that, with quick acceleration and brakes, the tire is safe to drive while thrilling every bit with your sporty vehicles on summer roads.