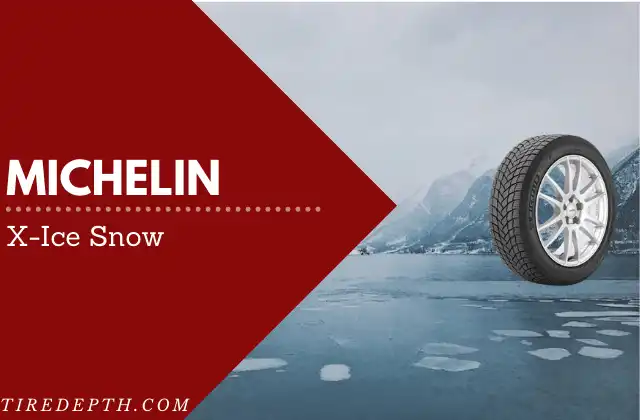 ---
If you live in a cold area where there is usually snow, then this Michelin X-Ice Snow will be the perfect tire for your passenger cars and SUVs. the reason for that is this tire not only perform in winter harsh conditions but is also great in wet and dry road conditions as well.
Table of Contents
Quick highlights
| | |
| --- | --- |
| Tire type | Snow/ Winter Terrain Tire |
| Price range | $107-$524 |
| Run-flat | No |
| Vehicles type | Sedans, Coupes, SUVs, and Light Trucks |
| Driving conditions | Dry, Wet, and Snow |
Michelin X-ice Snow is a new tire launched back in 2021. With so many winter tires already in the market by michelin, the purpose of manufacturing this tire is to provide a winter tire with durable treadwear as well. As you can see in the market, there are not many winter performance tires, that are good in snow performance while also having durable treadwear.
Similarly, this tire is not only durable tire, but it is also good on winter terrains. It delivers excellent traction and grip on normal height snows, and superb performance on frozen ice, which is more slippery. Along with that, this michelin X-Ice Snow is also superb for wet and dry roads, where it delivers a comfortable and quiet ride as well.
This Michelin X-Ice Snow comes in two variants, in passenger car sizes, and as Michelin X-Ice Snow SUV, for light trucks, and sport utility vehicles. The performance of both these tires is absolutely the same, and both of them are excellent for achieving reliable, comfortable, and confident rides in snow, dry, and wet terrain conditions.
Pros
Excellent winter tire for snow terrains, as well as, proper performance in dry and wet seasons
Comes with a treadwear warranty of 40k miles, unlink other winter tires, that do not come with any warranty
Confident traction, grip, and brakes on dry, wet, snow, and ice roads
For extreme winter conditions, the 3D sipes are available, with the certificate of 3PMSF for assurance
Comes in both passenger car and SUV variants to deliver comfortable and quiet rides in all-season conditions
Cons
Not the best winter tire for deepest snow terrains
Gets noisy with the height of the snow
---
Tread design and improvements
The requirement of good winter tires is that it has high silica compound for winter and wet terrain performance. With that, the tire should have 3D sipes for extra biting edges on snow, and lastly, a robust shoulder for dealing with the harsh conditions of the winter terrains, and fortunately this Michelin X-Ice Snow tire has all these things.
Its 3D sipes are printed on tread blocks, and shoulder blocks, which improves its traction and grip in wet and snowy conditions. With that, the high silica compound features michelin fleX-Ice technology that improves its flexibility on ice and snow as well. Along with that, the X pattern of tread features circumferential and lateral grooves which provide better channeling of slush, ice, and water while also resisting hydroplaning on wet roads.
Durability and road life
If you have been searching for winter tires for few times, then you must have noticed that most winter tires do not come with a treadwear warranty, the reason for that, is due to the unreliable technology and tread compound. Unlike them, this Michelin X-Ice Snow tire comes with a really durable tread, which is backed by a 40K miles treadwear warranty.
The high silica compound, with a directional tread pattern and deep tread area, all together make this tire a durability beast in the winter terrain tires category. All of these features not only improve its durability and reliability, but also improve safety and extreme performance on wet, dry, and snow terrains.
Specifications & Features
| | |
| --- | --- |
| Speed rating | T – H(118-130)MPH |
| Load Index | 86(1168 lbs) – 116(2756 lbs) |
| Origin of | Canada, Germany, and Poland |
| Wheel diameter | 14-22" |
| Ply rating | 4 ply rated |
| Treadwear, Traction, Temperature | N/A |
| Noise Reduction | No |
Performance of Michelin X-Ice Snow
Winter Terrain Performance
A winter/snow terrain tire has to be good in the winter season, even if it is not so good in other conditions. This michelin X-Ice Snow is great for winter and ice-covered roads. It delivers confident traction and grip with proper handling and quick brakes on snow. However compared to other winter tires, its performance in extreme winter conditions, around above 6 inches of snow, it loses grip, however with slow driving, it does a great job. But other winter tires are not as durable as this tire, while making compromises in extreme conditions, you can drive far longer with one set of tires.
Wet Roads Performance
This tire along with winter terrains is good in wet conditions as well. The circumferential and lateral grooves play an important role when it comes to wet terrain performance, they channel the water and improve hydroplaning resistance which makes this tire non-slippy without losing handling response on wet terrains and on the rainy seasons.
Dry Roads Performance
The major complaint of most winter terrain tires is that they do not perform on dry terrains, as winter does not always last for a whole year, and even northern areas have to face summer as well. For that, this winter tire is great, because it has durable treadwear that can last for years, and with its winter performance it is exceptional on dry terrains even being a winter tire. It delivers proper grip and traction on dry roads, due to the different sipes on tread and shoulder blocks, which also improves its handling response and brakes on hot summer roads.
Comparison with Michelin X-Ice XI3
The Michelin X-Ice XI3 is a predecessor tire of this Michelin X-Ice Snow. and in comparison to the previous version of the tire, this newer tire has more durable tread, a more comfortable ride, and better performance on snow, wet, and dry terrains. By just improving the technology, and a little shape of tread design and compound this Michelin X-Ice Snow has improved a lot from its predecessor tire.
Comparison with Bridgestone Blizzak WS90
The Bridgestone Blizzak WS90 is a winter tire for passenger cars, and it comes under the same category as Michelin X-Ice Snow. the main difference between both of these tires is that one performs really well in extremely harsh conditions, and the other has more durable treadwear.
The Michelin X-Ice snow more durable treadwear delivers proper performance not exceeding any limit on snow conditions, however, Bridgestone Blizzak WS90 is better with dry, wet, and snow terrain traction and grip with extreme performance on snow above 6 inches as well. The one con of this tire is that it does not provide as durable and comfortable and quiet ride as michelin tire, so choose based on your preference whether it is comfort and durability, or better performance on roads.
When Michelin X-Ice Snow Is Not Prefered
This winter tire is not preferred in any other conditions other than snow terrains. For a shorter period of time, it is fine on dry terrains, however, even for a longer period on dry terrains, it is not so great and might wear off early. Instead of that, for driving in most seasons, choose all-season tires which are also good in winter conditions. Also if you take this tire on mud, pavement, and off-road conditions, this tire won't last long enough as well, all-terrain or off-road tires will be a better option in these conditions.
Final words
Michelin X-Ice Snow compared to other winter tires in 2023, is one of the most durable winter tires. Not only that, its performance in winter, dry, and wet conditions are also exceptional while delivering a quiet and comfortable ride as well. Compared to a few top tires, the performance is not on the same level, however for someone who wants smooth performance and not looking for extreme performance tires, and also wants more durable tires, then this is the best option for their cars, SUVs, and light trucks.