Last updated on May 6th, 2023 at 01:06 pm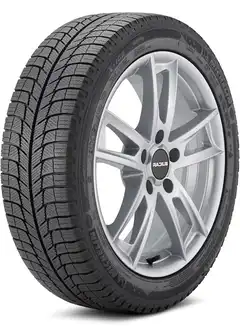 X-Ice XI3
Winter Tire
Don't just cross the snow with panic; enjoy your ride in winter with this Michelin X-ice Xi3 tire. It is everything you need to get a comfortable drive with improved traction, grip, and handling even in the harshest snow conditions. Along with performance, X-ice Xi3 also improves fuel economy with durable tread life.
---
Table of Contents
Michelin X-ice Xi3 quick highlights
| | |
| --- | --- |
| Tire type | Touring Tire |
| Price range | $86-$248 |
| Run-flat | Yes |
| Ply rating | 4 ply rated |
| Vehicles type | Coupes, Sedans, Crossovers |
| Terrain support | Snow, Wet, and Dry |
Michelin is one of the top snow tire manufacturers in the world, over time they have launched 3 tires under X-ice for different vehicle types. X-ice Xi3 is a passenger car touring tire for small crossovers, sedans, and coupes. It is the pioneer tire of the X series and also one of the most popular among other tires manufactured by them. Michelin X-ice Xi3 is an excellent tire for harsh winter conditions; that will provide smooth handling, traction, grip, and brakes in snow, wet, and dry conditions.
The durable and strong sidewalls keep the tire exactly the same as new for more than 40000 miles. it is recommended not to drive this tire above the temperature of 45F/7C to get a longer and better tread life. 
---
Michelin X-ice Xi3 Features
Not all snow tires have distinctive features that provide the best snow traction while being driveable in dry and wet conditions. This Michelin X-ice Xi3 is the top performer in the harshest conditions of winter while providing better fuel consumption and a quiet and comfortable drive. All the features related to the rating include; indexing, warranty, and specification will be discussed below in the article. So, stick till the end to learn all about Michelin X-ice Xi3. 
Basic characteristics of Michelin X-ice Xi3
The reason for being so pricey is that it gives more satisfaction to buyers than any other tire cannot give. Not only this Michelin tire is great in winter performance, but it is one of the most durable tires in this category; with strong sidewalls, it can defend against heavy storms without any problems.
With run-flat technology, there is no stopping even if the tire has a puncture or bad valve. Also, run-flat tires provide relief from the unpredictable burst of a tire. It is also a great performer in rain and wet condition; due to the micro pumps, it provides hydroplaning resistance that is important for wet conditions rides. With all these features combines it is a proper winter touring tire for all-year performance.     
Tread pattern and design
The tread pattern is also important to notice in the winter tires; because as deep the grooves would be the better tires will perform in harsh winter conditions. The Michelin X-ice Xi3 has an excellent and advanced tread design to tackle the most difficult situations of winter terrains. A directional tread block with cross Z sipes on the shoulder provides excellent traction and grip in winter and wet conditions. 
Something is required to clean the tread pattern from snow so that it can keep providing traction for the complete ride. The micropumps qualify to deal with that situation while also providing extra biting edges for a better snow drive.
Assurance and warranty
Most winter tires do not provide any warranty due to the harsh conditions of winter terrain, things could get messy sometimes without any warning. But due to advanced technology and years of research, Michelin X-ice Xi3 comforts its buyers with 40000 treads and 6 years of replacement warranty. It means that you will have these tires for more than 6 years which is far more than any cheap winter tire could offer. The best way to improve its tread life and durable performance by avoid driving this tire in the summer season due to the less cooling function, it might blow out if the weather is too hot.
Michelin X-ice Xi3 Specification
The tread rating and other ratings related to speed and load play an important role when deciding if that tire will certainly fulfill your driving demands. This Michelin tire is A and B rated in treadwear and temperature along with H rated in speed which means that it can reach a maximum speed of 130Mph/210Kph with a 4-ply rating to handle harsh conditions. it will also be great with weight even on high-speed terrains. All of these ratings are graded after the tests set up by the government to rank the tires in different positions. 
Michelin X-ice Xi3 Performance
Each tire is different and performs differently in every other situation, one tire can not be perfect in every condition. This Michelin X-ice Xi3 provides excellent performance in winter conditions with thousands of biting edges and cross Z sipes that clean up tire treads while also providing brilliant traction and grip in harsh snow terrains.
When it comes to wet and rain rides it is likewise phenomenal in the water, with the micro-pumps and deep grooves, it provides hydroplaning resistance with impressive handling and brakes along with traction and grip in these wet conditions.
It may not be the best performer in dry conditions but you can get all the essential performance that any dry conditions require. also, It provides moderate traction and grip in dry conditions while lacking a little in cornering and handling in hot highway conditions. It is better not to drive this tire above the temperature of 45F/7C for longer winter performance.
When Michelin X-ice Xi3 Is Not Good
It is important to know when should you avoid these tires; as we mentioned above not every tire can outperform in all driving conditions. So, if you drive only on dry roads or highways then there are many other touring all-season tires that you can get in less than this price range with more warranty and longer performance.  
Similarly, it won't provide any better performance in mud terrain or off-road drive; off-road driving required some deepest grooves with the strongest built to tackle the harshness of the unbalance terrains. So if you have habits of hitting off-roads; then we would recommend not going with these Michelin X-ice Xi3 tires. Although it is best to buy for winter or wet driving conditions, for some other terrain and seasons it lacks in its performance. 
Final words
Michelin X-ice Xi3 is by far the best winter tire for passenger car drivers demanding better performance compared to their old winter tires. Due to the advanced technology and improvised tread patterns; it can handle any winter condition without damaging treadwear and keep providing excellence for a longer period.
These are some of the important information that you may require before making any decision regarding its purchase. If you want to learn anything about this tire you can always ask us in the comment section, or if you are using this tire then also share your experience, it will be helpful for other buyers.