Last updated on May 16th, 2023 at 11:21 am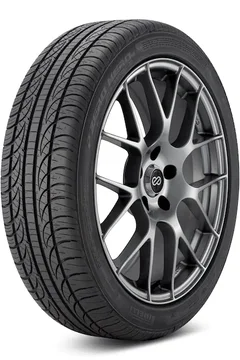 P Zero Nero All Season
Max Performance All-season Tire
Give your sporty sedan and crossovers a chance to show their full potential with this max-performance Pirelli P Zero Nero all-season tire. Made just for drivers looking for maximum speed, cornering, and grip in wet and dry conditions with a quiet and comfortable ride.
---
Table of Contents
Pirelli P Zero Nero quick highlights
| | |
| --- | --- |
| Tire category | Max Performance Tire |
| Price range | $186-$316 |
| Ply rating | 4 Ply |
| Run-flat tire | Yes |
| Terrain support | Wet, Dry, and Snow |
Pirelli p zero Nero all-season tire is one of the most popular tires in the max performance category. It is also used as an original equipment tire with the cars like Maserati and Jaguar. The appearance of this tire is enough to know that it is one of those tires people use for speed driving. It will give you a comfortable ride along with dry and wet traction, grip, and cornering. It is also a durable tire with a run-flat tube that keeps your car running for more than 50 miles even after a rapid loss of air pressure. 
---
Pirelli P Zero Nero all-season Features
When it comes to performance and speed comparison, other tires can come close to the performance but no one can beat this Pirelli p zero Nero all-season tire. The asymmetrical tread design and strong sidewalls make it even more durable than any other max-performance tire. It will provide long-lasting performance in wet, dry, and highway terrains without reducing tread life. There are several other features that are worth noticing about this tire that we will discuss in the following headings. 
Basic characteristics of Pirelli P Zero Nero all-season
Tires that are exceptionally well in performance sometimes cost much higher than ordinary tires. That is the one trade-off between max performance and premium tires. But you can not question the quality and comfort they provide once invested. Similarly, Pirelli P Zero Nero all-season tire is superb in the quality ride and performance desired by sports and luxury car drivers. 
Its run-flat feature improves its worth even more because not every other tire has a run-flat tube that can be driven after the puncture. It doesn't only perform on dry roads with cornering and grip. Instead, it is extraordinary on wet roads and provides great traction and hydroplaning resistance too.
Tread pattern and design
The pattern and design of the tire's tread are important when it comes to all-season performance tires. Because all-season tires have to deal with wet, dry, and light snow terrains, that is not easy for one tire. The Pirelli P Zero Nero all-season tire has an asymmetrical tread design which is good for all-season performance while providing great acceleration brakes and handling in the dry season.
Siped, continuous, and center ribs improve the contact patch of the tire that evenly distributes the tread to the ground. Also, the silica-enhanced tread compound and shoulder blocks improve the tire's traction and grip in the dry season with hydroplaning resistance in the wet season. It is a tire for an all-season drive with the ability to handle the light snow with the help of a silica and nylon cap which makes it stronger and more durable for all-season rides. 
Assurance and warranty
Tires without a warranty create questions about their assurance and durability. That is why people don't buy tires that have no warranty at all. max-performance. Contrary to that Pirelli P Zero Nero all-season has 45000 miles of treadwear warranty which is enough for any performance tire. Usually, performance tires have less life than touring tires. Still, they are great for sports and luxury vehicles because max-performance tires are great in the dry and wet seasons and provide excellent cornering and grip even at high speed. Also, the tire internally has a polyester cord body which is layered with twin steel belts that provide strength and improve the tire's durability in the long run. 
Pirelli P Zero Nero all-season Specification
If you are buying a max performance tire for speed and comfortable drive, which is also what most people are buying this tire for, then you gotta know about its speed, load treadwear indexing, and range. Because these are the factors that differentiate the max performance tire from common performance tires. 
The Pirelli P Zero Nero all-season has a speed and load index of 186 Mph speed and 106 load indexes. Along with that, the load range of XL is equivalent to the 4-ply rated. With a strong sidewall and shoulder, it is rated AA in tread life, and A in temperature, both of these ratings are the highest any tire can get. 
Pirelli P Zero Nero all-season Performance
The tires' performance is measured by their ability to handle the terrain it is meant to drive on. As Pirelli P Zero Nero is an all-season tire, it has to be able to drive on any weather of the road without causing any trouble to the car or to the terrain.
If we talk about its performance in the dry and hot seasons, it is phenomenal. With the ability to keep itself calm due to the cooling technology, it performs superbly in the dry season. It provides excellent traction, grip, and cornering even at the highest speed. The rainy weather and wet roads are also not a problem for this tire; due to the asymmetrical tread design, it channels the water to avoid hydroplaning while providing proper traction and brakes on wet roads. 
The Pirelli P Zero Nero all-season is also capable of driving in light snow terrain but not good for severe snow conditions. Along with all-season performance, it provides a quiet, comfortable, and smooth ride in any road condition. 
Why you should not buy this tire
There is a reason for separating tires into different categories so that every buyer can buy tires according to their need and terrain. Similarly, if you only want to drive off terrains, then you should never buy this tire. It may be able to handle the light conditions of off-terrain, but going on heavy snow and mud terrain will damage its tread and reduce its life. 
Also, if you are only after comfortability and durability, then touring tires can also be helpful in your case. Touring tires may cost more or less depending on the brand, but one thing is certain, touring tires are more reliable and durable than performance tires. 
Final words
Not many brands have achieved that much in the max performance tires category as Pirelli. Because Pirelli is one of the oldest tire manufacturers for sports cars and their tires also appear on F1 and other racing platforms. Due to their experience and quality, they deliver one of the best tires for sports and luxury mid-sized vehicles. 
This review is based on online research, test results, and some customer reviews; so if you want to add anything, you can add it through the comment section and also if any one of you has experience with this tire, then you can also add your opinion so that other buyers can learn from it.