Last updated on September 22nd, 2023 at 07:48 am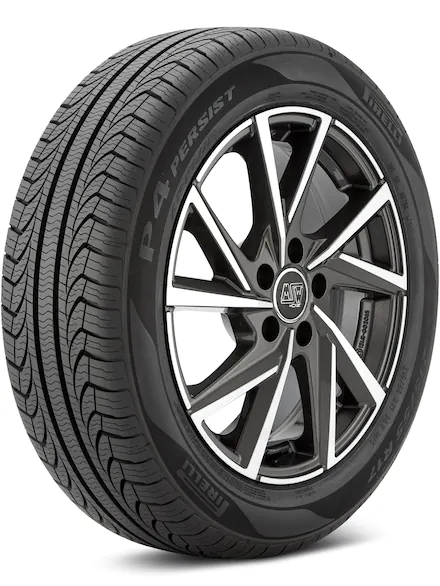 P4 Persist AS Plus
Standard touring tire
The new touring tire of Pirelli for all-season condition rides. This Pirelli P4 Persist AS Plus is a comfortable tire for sedans, coupes, and small crossovers. With 85K miles treadwear warranty, the tire can achieve the greatest miles with your car.
---
Table of Contents
Quick highlights
| | |
| --- | --- |
| Tire type | Standard touring tire |
| Price range | $136-$196 |
| Run-flat | No |
| Vehicles type | Sedan, minivan, and coupes |
| Driving conditions | Dry, wet, and snow |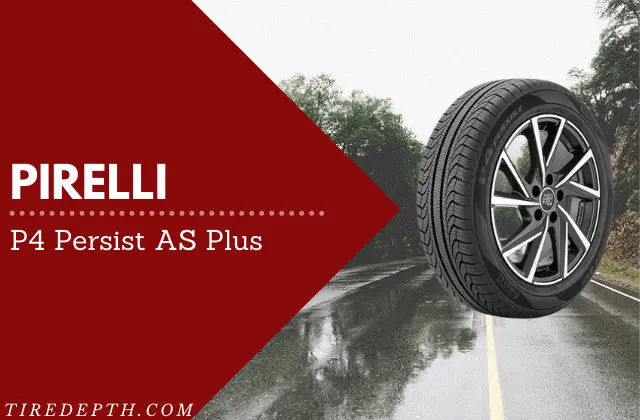 ---
Pirelli p4 Persist AS Plus is an improved version of Pirelli p4 Four Season Plus, as P4 Four Season Plus has some deficiencies when it comes to winter terrains. The P4 Persist AS Plus came up with these and other to improve all-season rides. Now this tire has become one of the finest touring tires to drive in 2023.
The tire was launched just a year ago, and it features 18 different components in its tread compound, which is one of the reasons the tire is so durable in all-season conditions. The advanced technology makes it also a comfortable and quiet tire to drive on the road in any weather conditions.
Alongside the tire durability, it delivers smooth performance in wet, dry, and in light snow conditions. The symmetric tread pattern keeps the contact intact while reducing rolling resistance for better mileage on each mile.
---
Tread design and improvements
Compared to its predecessor, the tread design and pattern has not changed at all. However, the internal construct and rubber compound have been improved, which is the reason this tire is better in performance. 18 different components have been utilized in this tire's tread compound, which improves the noise and reduces the fuel mileage.
Two circumferential grooves improve the ride in wet and wintery conditions. The center ribs improve the tire stability on road while providing a comfortable and smooth ride all year round.
Along with that, the tire performs better on dry and wet terrains, due to the updated rubber compound, however, the difference is not as big. As the previous tire has no problem in dealing with on-road all-season rides, that is why this P4 Persist AS Plus is good to drive all year round.
Durability and road life
This tire is good to drive for around 5-7 years. With 85000 miles treadwear warranty you can go any further depending on your driving routine. Along with that, the tread symmetrical design keeps the contact evenly with the ground for avoiding uneven wear. Although this tire has a 5k less tread warranty compared to P4 four-season Plus, this tire is more durable.
This tire is also capable of handling heavy weight while diving on highways or other fast tracks. The previous model wears off before the warranty terms, however, this P4 Persist AS plus will even go further from its warranty period.
Specifications & Features
| | |
| --- | --- |
| Speed rating | T-V (118-149)mph |
| Load Index | 91(1356 lbs) – 103(1929 lbs) |
| Origin of | Brazil |
| Wheel diameter | 16-17" |
| Ply rating | 4 ply rated |
| UTQG | 820AA |
| Noise Reduction | Yes |
The low rolling resistance, extra biting edges on snow, and comfortable treadwear are also among the basic features that this tire is equipped with. The traction is graded 820 which is very best and highest compared to other all-season tires. the treadwear and temperature are graded A and A, which is also perfect in the touring tires category. All of these ratings are far higher than the Pirelli P4 Four Season Plus tire which is why this tire is more preferred for all-season driving.
Comparison with Michelin defender T+H
The Pirelli P4 Persist AS Plus is a standard touring tire, and the Michelin Defender T+H is one of the most famous and most popular touring tires of the last decade. Compared to Defender T+H, the P4 Persist AS Plus have a better treadwear warranty with more durable treadwear. Along with that, the Pirelli tire has a better temperature rating of A compared to the B-rated Michelin tire.
As both of these tires are for sedans and coupes, the sizes of both tires are quite similar, however, the Pirelli tire comes with a higher speed rating of V, which is good for some drivers who are looking for fast tires. When it comes to dry and wet traction/grip, the Michelin tire has a little upper hand over P4 Persist AS Plus. Lastly, the price of both tires is exactly the same, so we would prefer a new and more durable tire over a 7-year-old tire.
Pirelli also has tires in the grand touring category for both small cars and SUVs, the recent tires of Pirelli including the Pirelli P4 Persist AS Plus, are excellent for everyday driving with durable tread for achieving maximum miles.
Performance of Pirelli P4 Persist AS Plus
Dry traction & grip
The dry road performance of the Pirelli P4 Persist A/S Plus is quite similar to its previous model. The tire delivers excellent traction and grip and on faster tracks, the cornering is also good due to shoulder and sidewalls. Along with that, the tire stays cool whilst not getting heated up on fast and long routes driving in warm weather.
Wet traction & grip
Just like dry conditions, this tire performs well in wet conditions. The tire delivers superb traction and grip, due to the circumferential grooves that channel water away from its tread. Along with that, the tire delivers a quiet and comfortable all-season ride for a long period of time.
Snow Performance
The snow performance of this tire is not the best, however for light snow conditions, the tire is more than enough. Due to sipes that deliver extra biting edges on snow, the tire grips the ground very well in snow and wet conditions. 
Handling & brakes
The handling and steering response of this tire is good, not as good as sports or performance tires, still, it is good compared to other touring tires. The tire keeps stable contact with the ground by which you get a stable and smooth ride in all-season conditions. The brakes of this tire are also good, for normal speed rides, the brakes will be more than good enough to deliver you a safe and sound driving experience.
Final words
The Pirelli P4 Persist AS Plus is a very good tire to buy in 2023. Not only because it is a new tire, but because it is an excellent touring tire for small passenger cars. The tire has advanced features, and perform great in all-season condition on the road. The noise reduction and comfortable tread are also positive points that appreciate this tire's worth. All of that comes with a durable tread, which will keep your car moving for a very long period of time.