Last updated on May 30th, 2023 at 01:04 pm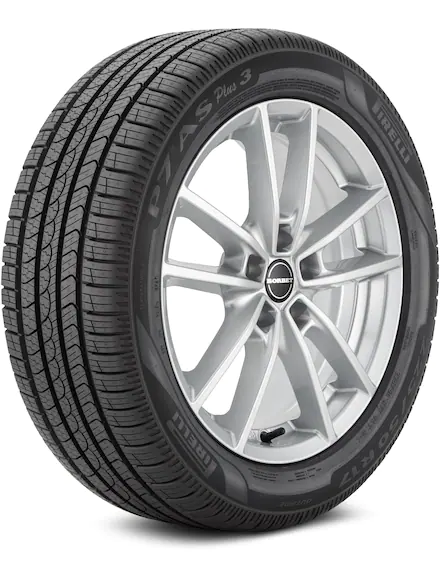 P7 AS Plus 3
Grand Touring All-season Tire
Feel the most comfortable ride of your sedan coupes and small SUVs with this new Pirelli P7 AS Plus 3 grand touring tire. This tire is the one-hand solution for all North America's driving conditions
---
Table of Contents
Quick Highlights
| | |
| --- | --- |
| Tire type | Grand touring |
| Price range | $157-$282 |
| Run-flat | No |
| Ply rating | 4-ply rated |
| Vehicles type | Sedans, Coupes, CUVs, SUVs |
| Terrain support | Dry, wet, and snow |
The Pirelli P7 AS plus 3 is a new tire launched by Pirelli in their grand touring category. It is made in sizes to fit sedans, coupes, and other medium-sized vehicles to tackle this section of the market. This is the last tire of AS Plus 3 series which was oriented to deliver the best touring tires for North American drivers who face different conditions all year long.
This tire is available in 17-20 inches of fitments along with different speed and load indexes. It is one of the few all-season touring tires that deliver a pleasing performance in wet and dry conditions of the terrains along with snow and winter performance.
The P7 AS Plus 3 provides excellent traction, comfort, grip, and cornering in any weather conditions, along with better fuel mileage and quiet rides. Along with that; the tire has more uniform stiffness which improves the contact of the tire to increase the durability and miles covered by the tire. At last, it is one of the best tires in 2023 to get the most comfortable and quiet rides with your sedan and coupes for many miles of all-season conditions.
---
Features and improvements
This new P7 AS plus 3 has gone through a complete redesign of its internal structure and external tread patterns. The reason for that is to improve the snow performance as its predecessor models were lacking in this section. The contact area has also improved to make equal contact with the road by engaging less energy for better fuel mileage.
Several improvements related to its rubber compound have been made for more durability and better performance in all-season conditions. Functionalized polymer inside of the tire along with 3D sipes technology combine to improve the road performance treadwear durability with snow traction and brakes; for better and more comfortable all-year-long rides.
Treadwear Durability and warranty
The tire has an asymmetrical tread pattern that can be seated in any direction. It features molded larger outboard shoulder blocks that improve stability while turning by providing proper handling and cornering on fast tracks. Along with that; the tire has a balanced and wider distribution of sipes on tread blocks and grooves for confident traction, grip, and hydroplaning resistance in all-season conditions. Deep zig zag sipes are helpful while rushing in snow conditions by giving proper handling and performance on winter terrains.
Along with performance; the tire has very durable treadwear that can be running for more than 100k miles if driven with care. The tire has functionalized polymer inside its treadwear that improves tire contact to improve the durability of the tire. This P7 AS plus 3 comes with a 30 days test drive and after that 70K miles treadwear warranty for a comfortable, quiet, and safe ride all year round.
Pirelli P7 AS Plus 3 Specification
This tire comes in a range of 17-20 inches and it is manufactured in Mexico. The tire has good speed and the load range lies between H-V on speed and 93-104 in load indexing. As it is neither a sports tire nor an all-terrain tire, it has average speed and load ranges. It has an excellent treadwear rating of 740; which is close to the highest rating of 800 of the Pirelli Scorpion AS Plus 3 in this category. P7 AS plus 3 also has good traction and a temperature rating of A, A which is perfect for attaining confident traction in a variety of temperature ranges.
Pirelli P7 AS plus 3 VS Pirelli scorpion AS plus 3
Both of these tires have launched last year, following their product line. Buyers get confused that why would they manufacture similar tires and launched them at the same time. The P7 AS Plus 3 is a tire with similar features, drive, and comfort and utilizes the same technology as the Scorpion AS Plus 3.
However, the big difference between these tires is that one is made for small and medium-sized vehicles; while the other is for big compact cars, SUVs, and light trucks.
Although the Pirelli Scorpion AS Plus 3 has a better treadwear rating, it comes with an exact miles warranty of 70k. Also, it has better load indexing due to its service with more heavy vehicles than P7 As Plus 3. The P7 AS Plus 3 is better with speed range and fuel mileage due to its low weight, other than that both have similar all-season performance with the same treadwear life for a durable ride all year long.
Pirelli P7 AS plus 3 performance
Dry road conditions
The warm and dry road conditions are one of the most common areas where all-season tires should perform. This P7 AS plus 3 provides excellent traction and grip on dry road conditions with proper handling, and stability with internal colling features to keep the tire cool if the temperature is going above the limit.
Overall the dry performance of this tire is excellent which allows you to enjoy comfortable rides, with durable tread life. Although the brakes and acceleration are not as quick compared to its competitive tires, you might not find that big of a change if you get that good of comfort while driving.
Wet road conditions
When it comes to wet conditions or rainy weather; due to its groove structure and sipes, the tire delivers excellent traction and grip while resisting hydroplaning for better control and safe rides. Along with that, it provides quick brakes and lower lap time compared to other grand touring tires. Due to even contact, the tire lasts longer while providing a comfortable ride in dry and wet conditions.
Snow Performance
Just like other touring tires, this P7 AS plus 3 is a good tire for light snow performance. Although it is not rated 3PMSF for severe winter performance, it delivers fair snow performance that can keep your car running on ice and snow while providing good traction and grip with a quiet and comfortable ride. Due to its circumferential grooves, the tire channels the snow away from its terrain for better winter rides.
Comparison With Bridgestone DriveGuard Plus
| | |
| --- | --- |
| Dry Conditions | Pirelli P7 AS Plus 3 |
| Steering Response & Feedback | 7.14% |
| Cornering Stability on Curves | 3.57% |
| Dry Traction & Grip | -1.06% |
| Shortest Dry Brakes | 3.70% |
| Results | 13.35% |
| | |
| Wet Conditions | |
| Steering Response & Feedback | -1.60% |
| Cornering Stability on Curves | -3.51% |
| Wet Traction & Grip | 0.00% |
| Shortest Wet Brakes | -17.53% |
| Results | -22.64% |
| | |
| Winter Conditions | |
| Deep Snow Traction | 5.06% |
| Light Snow Traction | 0.00% |
| Thick Ice Traction | 1.28% |
| Results | 6.35% |
| | |
| Ride Quality | |
| Cabin Comfort | 0.00% |
| Road Noise | 0.00% |
| Results | 0.00% |
| | |
| 175/65R15 (84H) | |
| Price | -2.08% |
The results are based on test results and subjective views, it could differ based on different cars, conditions, and driver's preferences.
As you can see, both of these tires are quite competitive one is better in one condition, while the other is better in another condition.
For us, Pirelli P7 AS Plus 3 is a better choice because it comes at lower prices, and has far more durable treadwear compared to Bridgestone DriveGuard Plus.
However, if you want a more secure tire, then the Bridgestone tire will make more sense, due to its run-flat rubber which keeps your vehicle moving even after a puncture.
Should you buy Pirelli P7 AS plus 3
If you are looking for a comfortable and quiet ride with your sedans, coupes, and other small/medium-sized vehicles; then this P7 AS Plus 3 tire is one of the best options that you can find in 2023. Also, if you are an everyday driver who has to get to work in his vehicle and looking for peaceful, safe, and economical rides; yet again this tire should surely be your priority due to its versatile all-season performance with durable treadwear and comfortable rides. 
On the hand, if you are looking for performance on fast tracks that provide more grip, speed, and quick brakes, with proper sporty handling; then this tire won't be a good choice for this type of performance. Tires like the Michelin pilot sport 5 will be a better option for your car. If you don't usually visit tracks and only drive there once a week or month, then this Pirelli will give you moderate track performance and you will be able to achieve both the on-terrain comfort and track aggressive performance with this P7 AS plus 3 tires.
---
Final words
Pirelli p7 AS plus 3 is one of the top grand touring tires competing with CrossClimate 2 of Michelin and Bridgestone Turanza QuietTrack. It is made by utilizing the most advanced technology with improved pattern/design for long-lasting performance in all seasons conditions. The snow performance and wet handling has been improved compared to its predecessor's tire. Overall it is a perfect tire to achieve the most comfortable, quiet, and smooth ride in dry, wet, and snow conditions with proper handling and brakes for safe, secure, and reliable rides all year round.