Last updated on May 5th, 2023 at 06:46 pm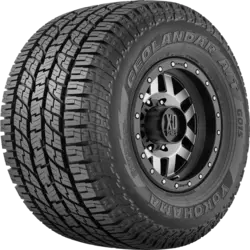 Geolandar A/T G015
All Terrain Tire
Handle the harsh conditions of off-terrain along with comfortable rides on roads. This Yokohama Geolandar A/T G015 all-terrain tire is a versatile tire to handle both worlds of on and off-terrains by providing quiet and smooth performance all year round.
On-Road traction/Grip
90%
Off-Road Traction/Grip
85%
---
Table of Contents
Quick Highlights
| | |
| --- | --- |
| Tire type | All Terrain |
| Price range | $157-$535 |
| Run-flat | No |
| Ply rating | 4-10 ply rated |
| Vehicles type | Light trucks and SUVs |
| Driving conditions | Dry, wet, snow, and mud |
---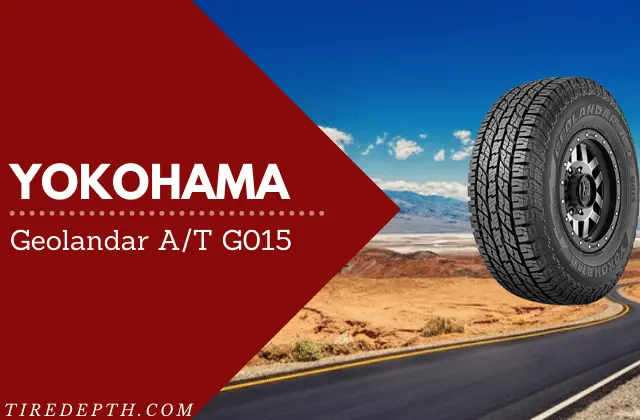 ---
Yokohama Geolandar A/T G015 is an economical all-terrain tire for on and off-road confident rides. It is 60% more toward on-road performance for heavy weight lifting on highways and with the remaining 40% toward off-terrains.
The thing that attracts the most in off-road rides is its comfort, quiet tread, and handling on the roads. Although the traction and grip are not as perfect as off-road tires you get the most out of the tire with that much all-terrain support at that price.
It might lose traction in moist conditions a little bit. Other than that it delivers excellent traction, grip, and cornering on wet, dry, and snow-covered road conditions. With responsive handling and bakes; the tire has one of the most durable treadwear in this category to keep giving you a comfortable ride all year long.
So if you are someone who wants a tire that provides a comfortable ride on and off-road with aggressive performance in off-terrain conditions; then this Yokohama Geolander A/T G015 will be a perfect choice for your light truck or SUV.
---
Treadwear design and durability
This symmetrical tread tire delivers excellent traction and grip in all weather conditions, due to its 3D sipes on each tread block along with circumferential grooves for wet handling and brakes. The edged grooves between tread blocks and circumferential grooves improvise the tire performance in snow and slippery conditions by providing confident traction and grip. For off-road rides; the tire feature Endurocore-construction for carrying heavy loads on highways and provides equal traction as other on-road tires. Optimized profile and multi-pitch tread make this tire a superb ride with even contact in unbalanced and mud terrains. The Yokohama Geolandar A/T G015 also provides a quiet and comfortable ride all year round. 
Most of the off-terrain tires are not backed by warranty while also not a good performer on roads. This all-terrain Yokohama Geolender A/T G015 is one of the most durable tires in the all-terrain tires category that allow you to achieve the heights of both worlds with 60k miles treadwear warranty. So whichever terrain and weather you drive; this Yokohama tire will provide an extremely quiet ride with the long life treadwear for driving many more miles. 
Tire specifications
As an all-terrain tire, it has a good weight-carrying ability. This Yokohama Geolandar A/T G015 can hold weight on each tire between 1521-3638 lbs dependent on the tire size. Because of a similar reason; the maximum speed of this tire is lower than all-season tires that lie between 106-130 MPH. Other than that, the tire has rated good in treadwear rating with a 640 index; which is good in an all-terrain category along with A and B rated in traction and temperature. Although the tire is manufactured in Thailand, the rubber compound is produced by utilizing quality materials for durable wear. 
Comparison with Discoverer AT3 4S and Wildpeak A/T Trail
Both of these competitor tires; Cooper Discoverer AT3 4S and Falken Wildpeak A/T Trail have better performance as compared to Yokohama Geolandar A/T G015. However, the pricing difference between these two and Yokohama tires is quite big. You can save around $100-150 by buying the same size tires.  
All three of these tires have similar treadwear ratings with 5k miles more warranty time compared to Yokohama. Another difference in the performance of these three tires is that Yokohama gives a slightly low performance in snow terrain while these top all-terrain tires have better performance in the snow with proper traction in high snow terrains.
When it comes to on-road and off-road comfort and treadwear noise; you should pick this Yokohama Geolandar A/T G015 compared to these tires due to its quiet treadwear performance that improves comfortability.
So if you want to save a big chunk of money and trade off a little with on and off-road traction and handling; then this Yokohama tire will give a similar performance for the same period of time with the quietest treadwear in the all-terrain tires category.
Performance in different conditions
Mud Terrain performance
As this Yokohama Geolandar A/T G015 appears to be more toward on-road performance, it provides good performance in muddy conditions of the off-terrains. It gets a little sloppy and loses traction in extreme conditions. Other than that it provides good traction and grip with proper handling and responsive brakes for safe and quiet rides. 
Winter terrain performance
The circumferential grooves with Edgetec grooves improve this tire's performance on snowy roads. It provides good traction and grip with confident brakes and handling on icy and high snow-covered roads. Similarly to mud terrains, it loses traction in harsh conditions of the winter; other than that it is an excellent tire to handle any off-terrain conditions with the proper comfort of a ride.
Dry conditions
In dry conditions of highways and city roads, the tire performs extremely well even with carrying weight. It provides excellent traction and grips along with comfortable and quiet rides on city roads. On highways, due to the even contact, the tire delivers more stable and smooth handling even if you are carrying a trailer back to your vehicle. 
Wet conditions
Compared to its competitive tires, this Yokohama tire has the quickest brakes with the shortest lap time in wet conditions. The reason for that is that it is more toward on-road rides, with its circumferential grooves and 3D sipes, the tire delivers excellent traction and grip by resisting hydroplaning in wet conditions. All of that comes with durable and comfortable rides.
Why should you buy this tire
If you are looking for a tire that gives you a ride to your work, or if you are someone who has to pick up some weight and roll around through different terrains; then this Yokohama Geolandar A/T G015 will be a good option for you. You will be able to get a comfortable and quiet ride from fast-speed highways to the slowest mud-terrain roads with excellent all-season performance. If there is durability and budget are under your consideration; then this tire will be the best fit for you.
On the other hand; if you don't care much about budget, and want more durable and better-performing tires for all-terrain rides; then you can either go with Falken Wildpeak A/T Trail or Cooper Discoverer AT3 4S. Both of these tires as mentioned above are expensive but provide better performance in off-terrain conditions. In on-road all weather conditions, all three of these tires have similar performance. So if you have on season preference then Yokohama tires will give similar performance as these expensive tires will.
it is all up to your driving conditions and preferences, whether you prefer these expensive tires or that quality performing less expensive tires. Whichever tire you choose just check its size and if it matches your wheel to avoid wasting your time and money in the future.
Final words
Yokohama Geolandar A/T G015 is an all-terrain tire for handling both on-road and off-terrain situations. Although this tire is more toward on-road performance, still its weight-carrying ability on highways and confident ride in mud terrain make it a proper tire to run with your light trucks and SUVs to achieve longer ride miles with a quiet and comfortable performance all year round.