Last updated on June 1st, 2023 at 09:10 am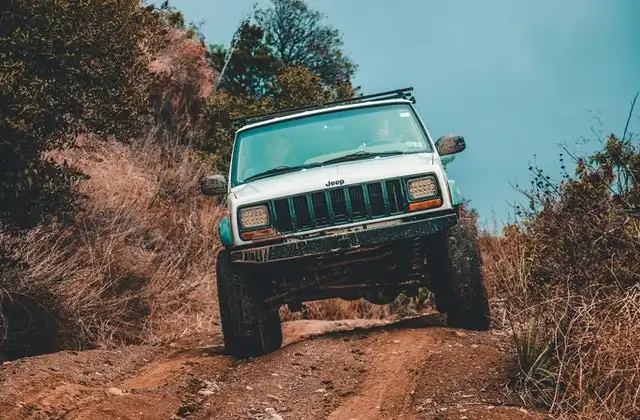 ---
Off-road enthusiast always keeps their car well maintained to tackle the roughness and bumpiness of the trails, and mud-terrain tires are one of the essential elements to keep an eye on because the only part of the car that touched the ground is the tire, so the whole process of smooth mud driving is dependent on tires.
The tires listed below are one of the best mud tires available in the market. all of these tire are new, durable, and delivers optimal performance compared to any other tires in the market.
This article will guide you about each tire listed in the article, its features, and the reason for choosing them. We will try to give every piece of information about these tires and let you decide which one is best suited for your ride because everyone prefers different features for their comfortable and smooth mud driving.
Table of Contents
1. Yokohama Geolandar M/T G003
If you are after maximum off-road performance along with durability, then this tire is the best option for you. The Yokohama Geolandar M/T G003 is a new tire for off-road driving with SUVs Pickup and light trucks.
This tire delivers smooth performance in mud and snow terrains, with quick brakes and responsive handling. The compound of this tire is chip and cut resistant which makes it more durable in off-road conditions. Internally, this tire consists of three polyester body ply for strong and robust performance
On the sidewalls, upper protection lugs are enforced to enhance traction and cornering in rough conditions. The block orientation and pitch variation on the center tread make this tire a proper tire to drive in mud, snow, dry, or wet unpredicted situations.
---
2. GENERAL GRABBER X3
This all-around tire is excellent for someone who wants to handle any off-road condition, whether it is snow, mud, dirt, or debris. The General Grabber X3 features an off-road compound with a symmetrical tread pattern that is good for both on and off-road driving. 
The durable tread compound features a three-ply body casing and twin belt steel belts to make your truck driven off any situation. The sidewall lug protection also exists in this tire, which is why these tires are the best performer and most durable in the market.
Evacuation channel stone bumpers clear the mud and stone from sticking into the tread. the full-depth sipes on the tread, improve this tire's performance in snow and wet conditions of the road. With a quiet and comfortable ride, this is an excellent tire for all your muddy road driving desires.
---
3. Bfgoodrich MUD-TERRAIN T/A KM3
If you are someone who wants a comfortable ride with responsive off-road handling, then this BFGoodrich mud-terrain T/A KM3 tire will be best for you. This tire is superb when it comes to off-road handling with a quiet and stable ride all year round. 
The internal tire consists of a krawl-tek compound which is great for tough roads. The three polyester casings with nylon caps and two steel belts make this tire strong and durable to handle the ruggedness of the off-terrain.
The self-cleaning tread and stone bumper keep the tire tread clean, for better traction and grip in on and off-road situations. With a symmetric tread pattern, the tire is great to enjoy mud drive without compromising on the comfort and durability of the tire.
---
4. Firestone DESTINATION M/T2
If the only target of your tires is to handle the harshest conditions of the mud, then this Firestone tire will be great for you. Firestone Destination M/T2 delivers the most aggressive performance in mud terrains, however, you have to compromise on the noise and less comfortable ride. 
As this tire is quite older than other tires, it features a little older technology. Unlike that, it is one of the best tires to drive in muddy and sandy conditions. Sidewall lugs, tread blocks in a symmetrical pattern, and sipes help to bring the perfect traction, and self-cleaning of mud and stones, with a proper ride off terrains.
---
5. COOPER DISCOVERER STT PRO
So after everything you want tires for mud terrains and also for on-road minimal drives, then this tire will be a better pick for you. The Cooper Discoverer STT Pro is a good tire however it is also a noisy tire as most mud-effective tires usually are.
The tire is built with three layers of polyester casing with a chip and tear-resistant compound. That is the reason for this tire's durability. Lug nuts on the sidewall improve the tire's traction and turn properly. With that, the deep tread depths and anti-stone retention ribs, provide extreme performance without stalling the mud and stone on the tread
---
6. TOYO OPEN COUNTRY M/T
If you want winter performance along with mud terrains, then this tire is the best option for you. This Toyo open country M/T tire is perfect for aggressive driving on mud and snow terrains, due to its rigid tread and built. 
It is one of the few tires that delivers smooth performance in both winter/snow terrains and off-road mud and sandy conditions. However, with this performance comes a setback of an uncomfortable ride with low treadwear life. So if you do not find these cons as important, then it will be the most aggressive ride for you in the wild.
---
7. KUMHO ROAD VENTURE MT71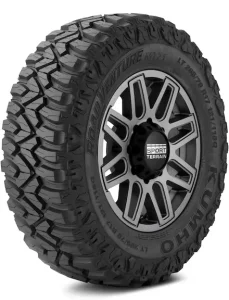 Perfect on and off-road duo for everyday drivers. If you are someone who wants a smooth ride on dry, wet, mud, or on snow roads, then this Kumho Road Venture MT71 is the right pick for you. The rugged build makes it an even more durable tire for extreme conditions.
The tire features a tri-blended tread compound for better off-road performance and durability to stand in rough conditions. The symmetrical tread pattern consists of a zig-zag high void tread block that keeps the tire performance stable while self-cleaning mud and stone from its rubber. With that biting edges improve the ride on high mud or snow terrain where edges are helpful to achieve maximum performance.
---
8. Nitto TRAIL GRAPPLER M/T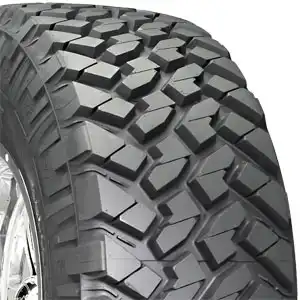 Besides the top 3 tires in this list, most tires have noisy tread. Although top tires also have noise, compared to other mud tires it is less. This Nitto Trail Grappler M/T is excellent on off-roads like safari, Forrest, mud, and snow-covered roads, however, it won't be a great choice for on-road rides. 
Shoulder lugs, shoulder grooves, and high void tread blocks improve tire performance along with its durability. The traction cornering and grip in extreme conditions is the best point of this tire.
---
9. FALKEN WILDPEAK M/T
The tire for on and off-road extreme rides. This Falken Wildpeak M/T is an excellent tire for someone looking for hybrid performance on harsh mud terrains, with average performance on the road. The strong build also makes it a durable tire for conquering thousands of miles without breaking the performance. 
High void tread pattern with self-cleaning design, improves traction on and off terrains. The three-pitch tread pattern also reduces the noise of the tire so that you can enjoy any terrain or seasons ride with a comfortable and smooth experience.
---
10. Hankook DYNAPRO MT2
If you want an on-road smooth ride with off-road extreme performance then this tire could be the right decision for you.
The symmetrical tread pattern features high void tread blocks with stone ejectors so nothing stays on the tread. With the help of these, you can achieve great traction on harsh conditions of the off terrain. The sidewall protection shield makes it a durable tire. And the tread to shoulder tread design brings smoother and more comfortable rides on the road. Whether you drive it on pavements, mud, snow, or wet conditions, this tire will not discomfort you anywhere.
---
Best Mud-Terrain Tires Buying Guides
It is good to know about the tires before buying them. This section will provide a brief guide about mud-terrain tires and things that are most important that you should know about mud-tires. Many people buy tires without knowing about the terrain and performance they provide on specific road conditions, keep in mind that every tire in each category provides a different type of performance on similar roads. That is why it is important to know about the category of tires that you are considering buying. 
Benefits Of Mud-terrain tires
The best thing about mud-terrain tires is that they have stronger sidewalls that are good against the harshest conditions of mud while also protecting against debris and sharp rocks. That is the reason mud-terrain tires last longer than other ordinary tires if driven in mud and off roads. Driving on mud with mud-terrain tires against driving with standard all-season tires provides a very clear difference in performance. Mud terrain tires have better grip, comfort, and durability in mud-terrain conditions as compared to any other category of tires. 
Features to consider while buying tires for mud-terrains
There are several things that everyone should look into regarding mud tires before buying them. First, the tires should have deeper treads that can handle the dry and wet mud. Secondly, the tire has good ratings in traction and treadwear because it is important to have stronger and better traction tires on mud terrains. Along with all that, the tire should have longer durability expected with an extended warranty. 
Warranty protection and life expectancy
Due to the uncertainty and less predictability of mud terrain, most mud-terrain tires are not backed by the manufacturer's warranty. That is why there is always a risk when looking for mud tires in the market. It is recommended that always buy tires with positive costumers reviews so that it would at least give the satisfaction of mind. The life expectancy of mud-terrain tires is also not so huge, the most you can get from mud tires is 5 years, and hardly any mud tire will be driveable after that period. On average 2-3 years is the most for any mud tires, so make sure you are aware of these circumstances before buying new mud tires. 
Mud Terrain Tires FAQs
Why do you need mud-terrain tires?
One of the biggest reasons for buying mud tires is to get a comfortable and smooth drive with confident handling and traction on mud terrains. Due to the strong build of mud tires, they perform 10x better than ordinary all-season and off-road tires. Along with that mud tires have higher expected life if driven on mud than all-season tires.
What is the difference between mud tires and other tires?
The biggest difference between mud tires and other category tires is that: mud tires are more suitable and comfortable in off-road and mud-terrain conditions while it has low expectancy life compared to other on-road and all-season tires. But mud tire compared to the on-road tire is a far better choice to take a drive with on mud terrains. 
How it will perform in other terrains
If it is a wet and icy road then mud tires might be struggling to drive your car with, due to the wider tread pattern the traction of wet roads is not achievable. But if it's a dry on-road or highway ride, then mud tires will provide a moderate performance with a little less comfortability however you might not need other all-season tires if you usually drive it on mud terrains.
---
Final words
Buying mud-terrain tires could be tricky because you would have to think about grip, wet traction, and tire protection. Off roads have unbalanced roads with sharp obstacles like stones and rocks, damaging the tire tread and killing the tire before its age. So it is crucial to keep these things in mind before choosing mud-terrain tires.
Performance and durability matters a lot, which low-branded tires can not provide. Although these tires are quite expensive, they will fulfill every detail of performance that you always desired. The tires listed above are very reliable tires with more than 90% positive customer reviews, so don't worry about their authority; all of them are professional tire brands.
Now, if you have made up your mind to buy mud-terrain tires, then let us know below which one attracts you the most and why you choose that one specifically. Also, please give us your feedback in the comment below to improve our blog. That will be very helpful for us.