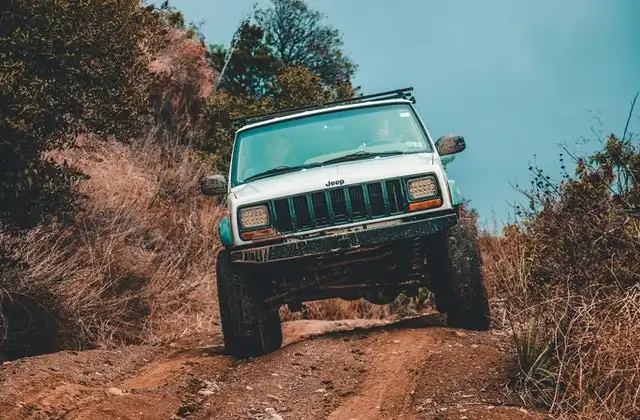 Off-road enthusiast always keeps their car well maintained to tackle the roughness and bumpiness of the trails, and mud-terrain tires are one of the essential elements to keep an eye on because the only part of the car that touched the ground is the tire, so the whole process of smooth mud driving is dependent on tires.
The standard tires available in the market by big brands are very costly, which creates a barrier between you and your off-road driving passion. That is why we research some of the best mud tires with satisfied customers that do not cost that much.
This article will guide you about each tire listed in the article, its features, and the reason for choosing them. I will try to give every piece of information about these tires and let you decide which one is best suited for your ride because everyone prefers different features for their comfortable and smooth mud driving.
Goodyear WRANGLER TRAILRUNNER AT
Goodyear tire is a professional tire manufacturer spread all over the world with millions of customers. Due to their enhancement in a tire, they consider one of the best tire manufacturers in the world. Their wrangler series of tires is one of the top-class series with advancements in technology each year.
Wrangler trail runner gives superb grip and traction on mud and snow due to the rugged stepped shoulder. Large interlocking tread blocks with Multi-angle sipes deliver strong durability with smooth on and off-road drive. Sawtooth block edges stop rocks and sharp obstacles from sitting in the tire tread to protect the tire from puncture and deflation. 
The tire design and tread pattern are engineered to make it the least noisy tire without affecting its durability and handling. At this price, you can get 55000 Miles treadwear warranty with brand assurance. Wrangler trail runner is one of the best all-season mud tires at a cheap price.
---
Forceum M/T 08 Plus Mud Tire
Forceum M/T 08 plus tire is an elite mud tire for light truck vehicles. It has the features of many high-priced tires with comparably low prices. These tires work great off-road, either if it's snow or rocky surface also, The tire design provides traction control drive on all-terrain lands.
Center rib located in tread pattern helps in stooping on wetlands and mud to sit between treads which keeps the tread clean throughout the journey to give smooth wet traction. The same goes with the snow; center ribs are the best part of this tire because not every low price tire has this feature.
The tread blocks have additional sipes on them, which give better traction than their previous models. It gives adequate traction on wet and dry surfaces, especially on mud driving. If you are a year-round truck driver, this tire is best for you because of its ability to control the hardness of off-road drive and provide a comfortable and smooth drive.
---
Accelera M/T-01 Mud-Terrain
Another budget-friendly tire, accelera M/T-01, is high quality, durable tire that costs less. The tire is perfect for keeping for mud terrain drives. Also, it has features to handle somewhat minimal snow. The rating of this tire is very satisfying and helps in deciding that you should buy them.
The deep tread grooves provide a smooth grip on mud terrain with traction control. Also, the self-cleaning tread function keeps the tread block clean from hardening mud and stones in the journey to give excellent traction off-road without any bumpiness and slipperiness.
The handling of a truck after using these tires is outclassed because the tread design keeps the tire constant on the road, which gives more responsive and stable handling. Also, tread design protects treads from irregular wear to keep them running for extra miles than the warranty life of 35000 miles.
---
Thunderer Trac Grip Mud Tire
Here comes the heavy boss-looking tire with excellent off-and-on-road traction. Thunderer Trac is a fine tire to keep when rushing on mud terrain due to the tread pattern and upper aesthetic sidewall, which is the demand of every off-road driver.
The extra chip-resistant rubber fight from sharp rocks and gravel roads also the traction bars protect the tire casing from the sharp obstacle that punctures other tires. All of these features protect tires from damaging tread and keep them running longer than their written life.
Thunderer trac tire provides excellent handling, grip, acceleration, and traction on all-season and all-terrain lands. The great heavy-looking tire is an excellent offer for that price. Because its competitors have much higher prices while having the same features. The tire also has 60000 miles treadwear company warranty.
---
Road One Cavalry M/T X Mud Tire
Road one cavalry M/T X is a premium quality, mud terrain tire for hard and robust off-road driving. The tire is very well known for its A-one quality that gives the perfect grip, control, and traction on all terrain, particularly on mud terrains.
The high void ratio, staggered tread blocks, and detailed upper sidewall pattern is included in the tread design, which gives the gripping ability on rocky and harsh off-road trails. Also, it protects the tire tread from sharp rocks and obstacles that could ruin and deform tire treads.
Aggressive treads optimized tread block placement to keep a constant connection with the terrain, making the steering handling stable for a comfortable and controlled drive. Also, the reinforced steel belt structure keeps the tire in the exact shape at off-terrain trails to carry the loads without excessive pressure.
There are many other features still left to cover to get the full view of this model ultimately. That is why the price is a little higher for this tire because of as many features included in the tire. The tire is perfect for its price compared to its competing brand, whose price started from $200.
---
Crosswind M/T Mud-Terrain
Crosswind M/T radial tire comes in a perfect and affordable bundle of tires; however, you can buy them separately, but it saves a lot in a bundle. The price mark is perfect for this tire because of driving in all seasons and on mud terrain.
The gripping ability of this tire is enhanced by the rugged directional tread pattern and wraparound shoulder design. Also, the open and deep tread design keeps the dirt and snow out of the tread and ejects rocks stuck between treads to maintain a clean footprint of the tire.
The tire is incredibly usable for mud terrain to face challenging rocky and sensitive roads. The tread pattern keeps the handling smooth and comfortable when driving off-road. No question is raised about the durability of these tires; it always works more than the written tread life.
---
Achilles Desert Hawk X-MT
Achilles Chinese brand known for its durable and affordable tires. Desert hawk X-MT could be a perfect option for mud terrain and all-season driving due to its tire design and tread pattern. It works very best at on and off-road terrains.
Aggressive tread patterns are installed to give the best wet and dry traction, better grip, with better braking. To make it durable X-protection sidewall design protects tires from puncturing obstacles like sharp cuts and rocks. It also gives sidewall traction on wet and dry roads.
Aggressive three-block design minimizes tread block when cornering and maximize grip and overall stability of the tire. Great design and quality with very affordable price to fit in most SUVs and light trucks. Durability and comfortable handling make it more valuable and desirable to drive.
---
Cooper Evolution M/T
Cooper tires is a very well reputed brand in the tire industry and has been in this business for many years. The high profile tire makers have customers all around the world who prefer nothing above cooper tires quality. Their customer service and advanced technology have made a very set place in the tire industry.
Now the cooper evolution MT tire is one of their best in the mud terrain category. The tire has an earth digger, mudslinger, trail grip sidewall, and stone barriers, all of them installed in the tire to give the best drive on mud terrains by cleaning treads from sticky mud with helping in strong resistance in rubbing on rocks. It also protects the tire from sharp lodges and stone rocks.
The tire is economically affordable because not many known brands provide as much value within this price. The quality and durability are out of doubt because of their relevancy and reputation in the market. But still, it comes with 45 days testing warranty. In case of a mind change, you can replace it in between a month and a half.
---
Crosswind M/T Mud Off-Road
The crosswind mud-terrain tires are specially designed for off-road driving. It performs well in every season with controlled traction and smooth handling. SUVs and light truck can use crosswind tires, but it is not installable in small passenger cars.
The tire design and tread pattern are plotted in the tires to give a better grip along with traction control for smooth and comfortable drive. Rugged directional tread pattern improves gripping ability on mud terrain with an open tread design to self-cleaning the tires when muds and rocks stick in treads.
The tire is very economical with long-life durability and a smooth driving. It is good to fit in your truck for a comfortable drive on and off roads. The tire is very likely to last for 4-5 years without wearing the tread off. It is a good bang for a bucks tire for a comfortable and durable ride.
---
Haida Puma HD818 Mud Off-Road
Haida puma HD818 mud terrain tire for smooth traction with better handling at off-road driving. The tread block placement improves traction in mud and snow with the self-cleaning footprints, which clean the tires from sticky muds and rock stone to protect the tire and grant trouble-free drive.
These tires come in a bundle of 4 to solve every need of tire requirement. But if you want to buy one tire, you can always go with that but buying in a bundle saves a lot of money. It is a very affordable tire with quality features.
The tire performs phenomenally on mud terrains due to its design and pattern, specially built to tackle the tough off roads obstacle and give smooth handling with comfortable and stable drive.
---
Best Mud Terrain Tires Buying Guides
It is good to know about the tires before buying them. This section will provide a brief guide about mud-terrain tires and things that are most important that you should know about mud tires. Many people buy tires without knowing about the terrain and performance they provide on specific road conditions, keep in mind that every tire in each category provides a different type of performance on similar roads. That is why it is important to know about the category of tires that you are considering buying. 
Benefits Of Mud terrain tires
The best thing about mud terrain tires is that they have stronger sidewalls that are good against the harshest conditions of mud while also protecting against debris and sharp rocks. That is the reason mud-terrain tires last longer than other ordinary tires if driven in mud and off roads. Driving on mud with mud terrain tires against driving with standard all-season tires provides a very clear difference in performance. Mud terrain tires have better grip, comfort, and durability in mud terrain conditions as compared to any other category of tires. 
Features to consider while buying tires for mud terrains
There are several things that everyone should look into mud tires before buying them, first, the tires should have deeper treads that can handle the dry and wet mud. Secondly, the tire has good ratings in traction and treadwear because it is important to have stronger and better traction tires on mud terrains. Along with all that, the tire should have longer durability expected with an extended warranty. 
Warranty protection and life expectancy
Due to the uncertainty and less predictability of mud terrain, most of mud-terrain tires are not backed by manufacturer's warranty. That is why there is always a risk when looking for mud tires in the market. It is recommended that always buy tires with positive costumers reviews so that it would at least give the satisfaction of mind. The life expectancy of mud terrain tires is also not so huge, the most you can get from mud tires is 5 years, and hardly any mud tire will be driveable after that period. On average 2-3 years is the most for any mud tires, so make sure you are aware of these circumstances before buying new mud tires. 
Mud Terrain Tires FAQs
Why do you need mud-terrain tires?
One of the biggest reasons for buying mud tires is to get a comfortable and smooth drive with confident handling and traction at mud terrains. Due to the strong build of mud tires, they perform 10x better than ordinary all-season and off-road tires. Along with that mud tires have higher expected life if driven on mud than all-season tires. 
What is the difference between mud tires and other tires?
The biggest difference between mud tires and other category tires is that: mud tires are more suitable and comfortable in off-road and mud-terrain conditions while it has low expectancy life compared to other on-road and all-season tires. But mud tire compared to the on-road tire is a far better choice to take a drive with on mud terrains. 
How it will perform in other terrains
If it is a wet and icy road then mud tires might be struggling to drive your car with, due to the wider tread pattern the traction of wet roads is not achievable. But if it's a dry on-road or highway ride, then mud tires will provide a moderate performance with a little less comfortability however you might not need other all-season tires if you usually drive it on mud terrains.
---
Final words
Buying mud tires could be tricky because you would have to think about grip, wet traction, and tire protection. Off roads have unbalanced roads with sharp obstacles like stones and rocks, damaging the tire tread and killing the tire before its age. So it is crucial to keep these things in mind before choosing mud-terrain tires.
Also, affordability matters a lot; no one would like to spend thousands of dollars just on tires for a trip. That is why we have come up with the most economical and high-standard tires available in the current market. The tires listed above all are very reliable tires with more than 90% positive customer reviews, so don't worry about their authority; all of them are professional tire brands.
Now, if you have made up your mind to buy mud-terrain tires, then let us know below which one attracts you the most and why you choose that one specifically. Also, please give us your feedback in the comment below to improve our blog. That will be very helpful for us.