Last updated on August 8th, 2023 at 07:34 am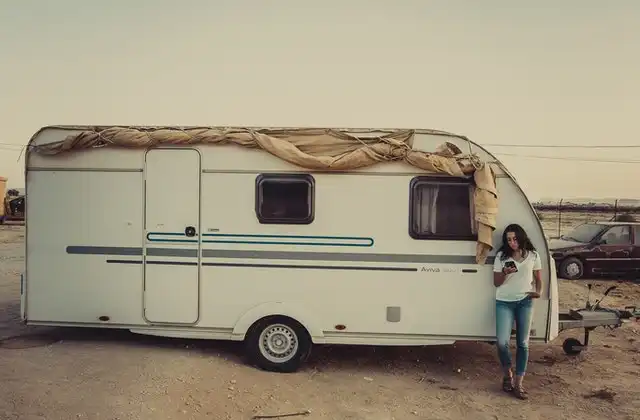 ---
In this article, we will give a brief overview of individual tires, their specifications, and features to help you choose between top RV trailer tires. Choose wisely according to the weight and size of a trailer to save yourself from disappointment.
Buying RV tires for trailers is a good decision compared to LT tires. Because ST tires are specially made for campers with the understanding of their ups and downs on the other hand LT tires are workable with Light trucks.
The weight a tire can carry matters a lot when installed on trailers because it affects driving style and sometimes causes accidents. Consider these things to get the best tire for your RV, which comes with comfort, satisfaction, and durability.
These are some of the most important points you should follow before buying RV tires. Now let's get into the best ST tires you should buy for your RVs to enjoy control and a safe drive all year round.
Table of Contents
Affordable Quality Tires
Carlisle Radial Trail HD
Great quality with advanced technology built-in tire; Carlisle is a very reputed brand in the tire industry; With customers worldwide, they introduced the best tires for trailers with durability and comfortability.
The quality is great and the price range is also great compared to other known brands. The tire is good to run on long routes carrying heavy loads all season without any worries of deflation because of its damage-resistant design.
It has more than 95% satisfied customers, and if you consider buying quality tires for RVs and trailers, it ranks high on the list. It is the strongest tire in this list with an E-rated load range and 10 plies with the ability to carry 1200 pounds.
Pros
Highest quality
Good for heavy load
Damage resistant design
New design with advanced technology
E-rated tire with 10 ply
All-season tire
---
Powerking TowMax Vanguard
Another great tire in the budget for RV drivers. The Powerking Towmax Vanguard is a great tire for budget-friendly drivers looking to carry maximum weight over their vehicles. This is the tire you need if you want a reliable, safe, and secure performance in highways and other driving conditions.
This all-season tire is great to drive in wet and dry road conditions, It is somewhat reliable in off-road, but not recommended with heavyweight either in mud terrain or in wintery seasons.
other than that, the tire achieves smooth and stable rides with quality rides low tread noise, and a comfortable experience. so if you can handle slow speed and want to save more than half on a set of tires, then this PowerKing tire will be a great choice for you.
Pros
All season great rides
Affordable tire for long rides
Reliable and safe tire to drive
Heavyweight carrying ability
On-road comfortable drive
Cons
not great for off-roads
slow speed
---
Free Country Trailer Tires
A free country brand is known for its involvement in trailer tire production. It always comes with advanced and new technology with durable parts to satisfy every customer who bought their tires. Now, these tires come in a set of 4 for complete trailer tire requirements; you can also buy them individually.
For manufacturing tires, it is not only necessary to keep all focus on design and traction but also to make it safe from rubber-damaging substances. This tire has a nylon cap ply which protects tires from bursting and from destroying tire treads.
The tire is designed for trailer use only, and the load range is C with a 6-ply-rated. The maximum speed is 75Mph, and it comes with a year warranty. These are some of the cheapest tires available in the market with that many features. If you buy a bundle, it will save a lot of bucks compared to buying a single one.
Pros
1-year warranty
Lowest price
A high-quality radial tire with safety insurance
Scuff guard and cap ply
Suitable for a long journey
---
Expensive High-Quality Tires
Goodyear Endurance
The best overall tire for RVs, not only because of its performance but also because it is durable and delivers comfortable and quiet rides.
Goodyear is a known brand and one of the top in the industry for passenger car tires, and because they manufacture high-quality tires, the price range of their tires is higher than other new and inexperienced brand tires. Similarly, this Goodyear Endurance is an example of that.
If you want tires that run for more than any other tires, deliver the best performance, and have a high budget, then this Goodyear tire will be a perfect choice for your trailers and RVs in 2023.
Pros
Best quality tire
Longer and durable tread life
Smooth and comfortable rides
Heavyweight carrying ability
Great in off and on-road situations
Cons
No treadwear warranty
Very expensive tire.
---
Hankook Ventra Trailer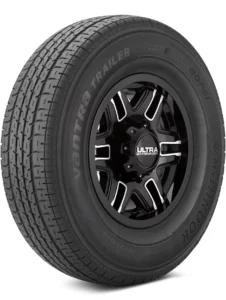 A newer tire with similar performance as Goodyear tire, the Hankook Ventra trailer tire is another great option for drivers looking for reliable and high-quality tires for their RVs. Compared to Goodyear tire it is less durable however performance is not that much different.
This Hankook tire is a little cheaper than Goodyear Endurance but far more expensive than the above-mentioned tires.
Overall this is another great option for achieving high-quality performance on and off roads with heavy weights. So if you want all these things and find the right size in any of these two tires, you should choose between these tires if you have a budget.
Pros
High-quality all-season ride
Durable tire for longer miles
Comfortable driving experience
Stable heavy-weight rides
On and off-road great performance
Cons
Very expensive tire
No Treadwear warranty
---
Maxxis M8008 Plus
Another great quality tire with a bit of a high price, Maxxis, is one of the top manufacturers of trailer tires. When buying trailer tires, most customers' first choice is Maxxis tires because of their reputation in the market and quality.
This tire is very good for heavy loading driving on highways without worrying about tire floating and deflation because of the double steel-belted construction that protects the tire. Also, advanced tread compounds improve fuel consumption and increase tread life.
The price of this tire is high but it is one of the best quality tires in the whole market. The benefit of this tire is that it will cost more one time, but it will work for a decade. The tire has made its mark in the industry by competing for over 10 years with nearly 95% satisfied customers. The quality speaks for itself that Maxxis 8008 is considered one of the best trailer tires after that many years.
Pros
Premium quality tire
Suitable for long and heavy load drives
Best tread life with protection
Brilliant fuel economy
10-ply radial tire for heavy loading
Good in all seasons
---
Buyer's Guide For Best RV Trailer Tires
Before buying the best RV trailer tires, you should know how to pick the right tire and if they are the right choice for your vehicle or not. That is why in this section we will try to explain everything that can be helpful for readers before buying new tires for their vehicles.
When to Buy RV Trailer Tires
It is recommended to drive trailers and RVs with ST tires, not because they are designed for these vehicles but because they support the vehicle properly and achieve better performance compared to passenger cars and truck tires. Even though you can drive your trailer with any tire of the right size, still ST tires achieve greater performance and more durable rides.
Things To Consider
The most important thing that you should look into before buying an RV tire is the weight it can carry on each tire. Because the tire with low weight carrying ability won't fulfill the job if you tow the trailer around your RVs. With that, you should also look into tire durability and all-season performance because these things also make a difference between low-quality and high-quality RV tires.
ST vs. LT Tires
ST metric tires are made for only special trucks and RVs, they are more suitable for RVs and perform to their fullest with ST tires. On the other hand, LT tires are made for light trucks, though they can be stuck with RVs but the performance might not be as great as ST tires, and low load index can be unsatisfactory for you.
The best RV Trailer Tire
Based on our research and experience, the Goodyear Endurance is the best option for ST trailers and RVs however due to the high price range some people avoid this tire. In reality, cheapo tires can not match the performance of this tire. However, if you are looking for affordable tires and do not care much about comfort and noise, then Carlisle Radial Trail HD can be the best option for you in 2023.
Conclusion
RV tires are different than regular tires, and they mostly work with trailers. Because of their capability to hold the weight some of the tires from known brands are expensive and hard to afford for a budgeted driver. That is why we came up with an article with the most reliable and trusted tires at a very affordable price in the current market.
Different components of tires attract different buyers. So choose which one is suited for you and go with that tire don't get confused by other features that you don't need. All of the listed tires are very positively reviewed by customers, so there is no need to worry about the tire's performance.
If you have decided which one suits you best for your trailer, then comment below to let us know what about that product attracts you the most. Also, give us feedback about the blog if you like it or if you want to see some improvements.