Last updated on June 18th, 2023 at 01:32 pm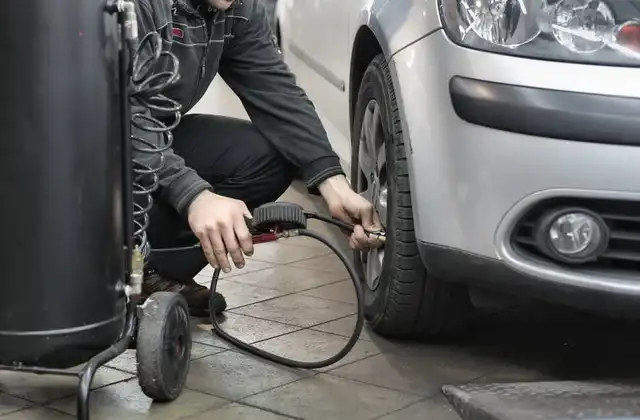 ---
If your inflator or compressor is not capable of fitting with other tire valves or there is a problem with your old chuck, then you should read this article to know about the best air chucks available in the market that are durable and affordable. After experiencing and researching different air chucks, we come up with these top 10 chucks that will provide long-term performance without breaking your budget.
Table of Contents
AstroAI Closed Flow Lock On Air Chuck
The best in the tire inflator and gauge market, Astro AI also delivers tire chucks for the compatibility and versatility of their products. The closed flow lock tire chuck grants relief and convenience with a straight and easy-to-use design. It is attachable with most of the inflators and compressors and attaches to all of the inflators of Astro AI. The package involves 2 chucks at the best price of the market along with the best quality work. With up to 250 PSI-rated brass, it is also useful for heavy vehicles inflation, and the lock allows it to stick with the valve stem during inflation.
---
LUMITECO 2 Way Connection Heavy Duty Air Chuck
One package for most of your air inflation worries. With a dual head air chuck, you will get one ball head air chuck, one tape, and one male quick plug fitting. With a maximum pressure of 150 PSI, it can inflate from small footballs to heavy trucks. And the size and design are helpful for strange valve-positioned vehicles with close-headed chucks. It is also a durable air chuck with strong looks, corrosion resistance, and wear resistance that keeps the chuck as it has for many years. All of that and many more features at a very affordable price, it is a great deal to have for your inflators to improve their performance by spending very little.
---
EPAUTO Air Chuck with Clip
Another cheap air chuck for any sort of tire inflator, EPAUTOair chuck, has a lockable design that will lock with the valve so that you don't have to hold it for the whole process. With a closed chuck, it will only blow air when connected with the valve stem, so you don't get annoyed. The package comes with 2 air chucks that can surpass high pressure for your trucks, also; If you want an open flow chuck, then you can also get one. It is a great deal to have for your air compressors to modifier their utility with very little investment.
---
Milton S986 Dual Head Chuck
The straight foot dual head tire chuck is for complicating places to reach. With a solid design and straight long body, it is good for any tire inflator that suffers when inflating badly placed valve stems. With 160 max PSI, it can also inflate trucks and heavy machinery. Also, the length of this Milton S986 tire chuck improves the performance of tire inflators. With a nylon indicator bar and plated brass tube, it is a great tool to have in case you need it in your emergency at a very affordable price.
---
Anxingo Store Air Chuck Twist-on
Pack of 2 Anxingo store air chuck for specific tire inflators of ¼ NPT fitting. A high-quality tire chuck for tire gauges and inflators to inflate any type of valve stems. Just screw it with air inflators and put it on top of the valve stem to get the quick and accurate PSI without any disturbance. It is also an affordable chuck with great quality and coating. However, it does not come with the lock that previous products have, so you have to hold it until you are done with the inflation.
---
Milton S-693-12 Dual Head Air Chuck
Another Milton tire air chuck with a huge length to reach the deepest valve stems of tires. Dual head with female pipe makes it attachable with most of the tire inflators and compressors. A little expensive than an ordinary tire chuck, but the thing that separates it from other tire chucks is its size, and that is why the price is a little bit more. Also, the lock is not included in this chuck, so you have to hold it; it can inflate the maximum pressure of 150 PSI which is enough for any heavy vehicle. With the great quality built and shape, it is another tool to have in your car for emergency use.
---
OEMTOOLS 24413 Dual Foot Air Chuck
The perfect tire chuck for heavy vehicles and awkwardly shaped tire valve stems, this OEMTOOLS 24413 dual foot air chuck is a superb choice for leak-free inflation, and also it can inflate the maximum of 150 PSI. Dual foot design makes it convenient and easy to use on typical valve stems with a comfortable screwdriver shape. However, the price of this chuck is high, but the value it provides related leak-free, comfortable, and 30-degree foot design inflation is quite good.
---
Amflo 150E-RET Hose and Air Chuck
Bayonet style Amflo tire chuck with hoose is perfect for awkwardly shaped valve stems; due to the flexible hose and looked-up chuck, it reaches the valve stem properly and inflates the tires accurately without leaking air out of the tire. this chuck is not as strong as the previous chuck we discussed above; it can only inflate the maximum of 90m PSI, which means it won't be enough for heavy vehicles. It is a good tool for household garages and small machinery to inflate air without compromising with leak air.
---
X AUTOHAUX Universal Hose with Locking Air Chuck
You won't see this type of air chucks that often in the market; with the advanced materials and technology, X AUTOHAUX tire chuck with flexible hoose is amazingly valuable. With polyurethane materials, it won't get wrecked for many years and reaches the strangest located valve stem of the tire and locked onto it to pump the air without leaking. It is also an affordable device with improved materials that will fastly blow your car tires and always come in handy in case of an emergency.
---
ARB ARB510L E-Z Tire Chuck And Guage
The most expensive but with the most advanced feature of measuring the air with the attached tire gauge. The ARB ARB510L E-Z tire chuck comes with the pressure gauge and the chuck that can attach with most of the inflators available in the market. The gauge reads the correct pressure of the tire, so in case you inflate more than your tire recommended, then you can watch it on the gauge.
The chuck has the ability to pump a maximum of 200 PSI on tires which is more than any other chuck on this article with the auto-shutoff blue led light to easily read the metrics. The only reason for putting it on last is that it's expensive, and it is not only an air chuck, but it also has a pressure gauge. 
---
Conclusion
Tire air chucks are necessary tools to have in your garage or car if you use inflators or compressors for your tires. Because sometimes valve stems are not reachable or go deep inside the wheel, so it is not possible to reach them with the inflators. Also, tire chucks improve the flow of the air and provide proper and leakage-free pumping to the tires.