Last updated on June 17th, 2023 at 10:18 am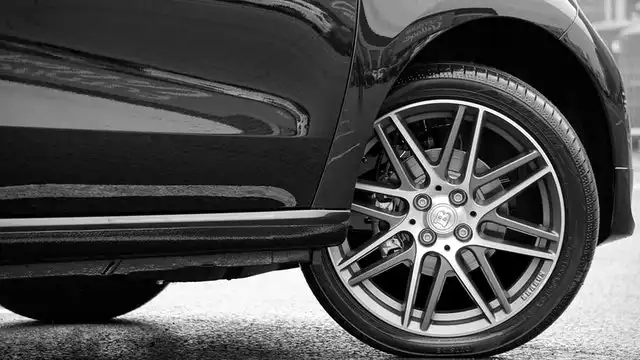 ---
Maintenance of cars along with car tires is a good exercise by using tire dressings frequently. Because, after some years of driving, tires lost their shine and look dull and dry. Not everyone is capable of changing tires every year; it is costly and unnecessary to change tires every year.
The best decision is to use tire dressings to bring back the clean dark look of tires. It will not only glow the rubber of tires but also protect against rays. Keeping a car well maintained increases the value of a vehicle and gives you self-satisfaction if you care about your car. 
we researched different tire dressings and come up with some of the best tire dressings in the current market. Some may attract your needs, and some won't so read this article to get every piece of information about them.
Table of Contents
1. TriNova Tire Shine Spray
Take control of the shine in your hands. Apply it less for a low finish and apply it more for a dark glossy finish. This water based formula contains liquid silicon to last longer than other products on the market.
Apply it on the applicator or microfiber and rub it all over your tires. It is recommended to let it dry for 10-15 minutes for better performance. If you are in a hurry, then use it with microfiber and rub it all over your tires. Doing this will not give the most value, but it will give shine to tires.
Give your tires a slick, glossy finish that will last longer than the other products because it is not a completely water based formula, silicon is also included in the ingredients. Also, it will protect against dust salts and other UV rays that make tires dry.
---
2. Chemical Guys VRP Protectant
Chemical Guys VRP Protectant is a water-based formula useful for dressing up any car's rubber, leather, vinyl, and plastic parts. The company has been known for its car care products and has been delighting its customer since 1968.
A few drops of this product will bring the natural look of tires, and it can also be applicable on dashboards, door panels, bumper trim, and side mirrors. Use an applicator pad to achieve the best performance of this product; cloth might absorb all the product.
Use according to your need for a matte finish; use it one time, and for a satin finish, apply one more layer of it. It will remove the dryness of tires and protect tires from solar rays that damage tires and make them look dull and dry.
---
3. Chemical Guys Silk Shine Protectant
Natural looking shine dressing can be accessible by using the chemical guy's silk shine protectant spray. Applicable on any rubber, vinyl, and plastic parts of your car. Spray it on the applicator and rub it all over the place to get a natural looking silky shine.
This non greasy water based formula is no harm to your tire wheels and rims; also, it will protect against solar rays that dry tires and other parts of a car. Water resistance will keep the dressing on even after the rains or after a car wash.
Very easy to use spray without catching any oil on your hands. Just apply on to the tires, and it will dry immediately. It is recommended to clean or wash your tires before applying it to get better results from this formula.
---
4. Meguiar's Ultimate Waterless
No need to buy tire cleaner separately. The Meguiar Ultimate is a two in one product. It will clean your tires by removing dust and road grime and also work as a dressing to bring glossy shine to tires.
Dry your tires before using dressing, then spray directly onto the tires; use microfiber for a normal glossy shine, and if required, dark glossy shine, then leave it without whipping with a cloth. Spray a little on wheels and more on tires for good performance.
It also cleans tire wheels and rims, so you don't need to worry about any mess. Just do not use it excessively; doing that can affect car brakes. Other than that, this product is getting very positive reviews from all around the world.
---
5. Chemical Guys Tire Kicker
For people who prefer a more glossy finish, this chemical Guy's tire kicker dressing is the best option. The water based formula will dry as it is applied and won't leave any greasy marks on the tires or other parts of your vehicle.
Same as the above product, it is also applicable to rubber, vinyl, and plastic parts of your car. Clean your tires from microfiber, spray it directly on an applicator pad, and then rub it all over the part. Protect tire wheels and rims from it.
It will not attract dust and other particles; also, it will protect tires from solar rays to keep them looking glossy for a long time. This product is one of the most highly rated products in the market, and it is recommended to try it once in your lifetime.
---
6. Aero Cosmetics Rubber Care
Aero cosmetics rubber care is not a good option for people looking for glossy wet shine. It will give a matte/low satin finish to your tires. This water-based product will also protect tires to fight against the dust and particles that make them look dry and dull.
It is a very high quality product and is mostly used in aircraft tires. That is why the price of this dressing is a little more expensive than other tire dressings. It can be applied to rubber and plastic parts of the vehicle to get a natural shine out of them.
Avoid using it on 2 wheels vehicles to avoid getting into trouble. Because tire dressing makes tires slippery and it is hard to find a balance with 2 wheel vehicles. For 4 wheels tires, use it directly on tires or use it with a pad, then let it dry for 30 minutes to get the natural looking shine.
---
7. Meguiar's Endurance Tire Gel
If you have never tried tire gel for dressing your tires, give this solvent based gel a try. Maguire Endurance will give a long lasting glossy finish to your tires to look like factory manufactured brand new tires.
With a few drops on the applicator pad, rub it all over the tire, let it dry for 10 – 15 minutes and get a glossy black shine. Clean your tires before using them for better and long lasting dressing. If you want a high shine, then use it one more time for a brighter shine.
Protect rims and wheels from this formula because solvent based formulas can damage certain types of rims, so it is better to clean rims if the gel gets onto them. Rather than that, this is one of the most usable products in the market; mostly, garage owners use this gel for a glossy finish on tires.
---
8. CAR GUYS Tire Shine
Water resistance, water based spray that gives control over your desired finish. Use it more for a glossy finish; use it less for a silky satin finish. Spray it on the applicator pad and rub it all over the tire to get the glossy shine.
It's very easy to use this product without having your hands dirty. The non greasy formula protects against UV rays and also damaging particles. One bottle is enough for a year to keep maintaining your tires shining.
Tire dressing comes with a pad which is not as useful, but it is better than not having one. Use it as you like the polymer included in the ingredients that will keep the dressing on even after a car wash. This product is a great value as compared to its price.
---
9. Meguiar's Detailer
If you are not the type of person to dress up your tires every day, then Maguire's Detailers all-season dressing is for you. This solvent based formula lasts longer than any other water based formula due to the chemicals involved in it.
Get a wet glossy shine immediately after applying that no need to wait for dryness. Last longer than other products due to the water resistance formula, it will not wipe off after rains or a car wash. Apply it one time, and it will last for months.
Now with this product, you have to be extra careful about your tire wheels and rims while applying this dressing. Because of the solvent formula, clean it before it gets to the rim to not create any big damage.
---
10. Adam's Graphene Tire Dressing
Clean from all the harmful chemicals. Adam's graphene tire dressings are solely water based formulas that are no danger for your tire wheels and rims. It last much longer than only water based formula due to the latest technology used for manufacturing this product.
A deep black satin finish will give a brand new shine to your tires without leaving any oil marks. Apply it directly on tires or use an applicator pad to get a more satin finish. It will dry as it is applied, so no need to wait for the dryness of the product.
Come in a small spray bottle, gallon, and some other packages. Visit the product page to get the idea. It is a new product with very high ratings on amazon. This product is completely trustworthy to buy for dressing your vehicle tires.
---
Conclusion
So these are some of the top tire dressings available in the current market. All of these products are high quality products from very known brands with more than 90% satisfied customers. Just read the article and choose which product would be best for you and you won't regret your decisions.
Most of the time customer gives bad reviews because they did not understand the purpose of the product. You can not aspect from every product to give a dark wet shiny look. Different products manufacture in different ways to serve different purposes.
So choosing the right product according to your desire is important otherwise, you will not get the results you were looking for. Now, if you have read this article, you are aware of your result and which product to go after.
Comment below the best tire dressings which attract you the most, and which ones are not fit for your tires.