Last updated on June 17th, 2023 at 10:13 am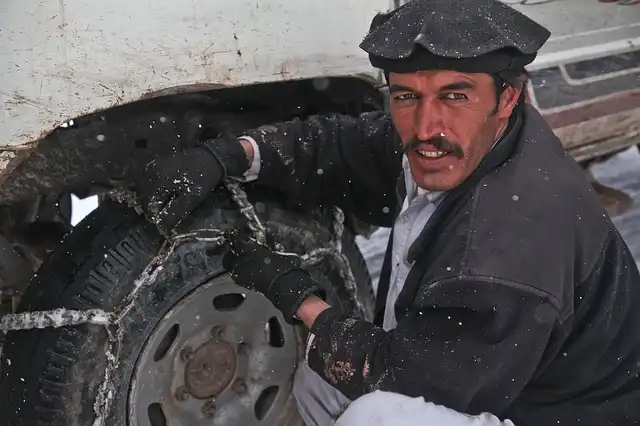 ---
Diving in snow and wetland has not always been fun. The road is always slippery, and cars and trucks wobble while driving. That is the reason most road accidents occur in the rain and the snow. To prevent daily accidents and improve control of cars, tire chains, and snow chains are very helpful.
Tire chains build with steel metal and rubber by putting them on tires; they provide grip on tires and improve a car's brakes. However, it may lower the speed of your car, but who needs speed while driving on heavy snow, the main point is protection.
It is better to remove tire chains when driving on dry, asphalt land. Because tire chains could damage roads and tire treads. So if you are going to find dry land on your journey, just drop off the tire chains from the tires.
If you drive in the snow area and looking to purchase tire chains or if you just looking to gain knowledge about snow chains; Read this article to get all the information about the best tire chains available in the market in 2023.
Table of Contents
Security Chain Company-Cable Tire Chain
Security Chain company is one of the best manufacturers of tire chains and snow chains. They launched different products in different shapes and materials. They produce in 2 different styles: cable and link chains with 3 different shapes: Diagonal cross member pattern, Alloy diamond pattern link, and Alloy ladder cross member pattern.
This product comes in different sizes, from small cars and heavy trucks. Easy installation saves time, and it is recommended to chain the tires on dry surfaces before visiting snow terrain because it took more labor and time on snow. Buy the perfect size for your tire then the rubber tightener will sit perfectly on the tire, and you do not need to retighten after installation.
Gives the best traction control on wet and snowy lands. Keep your speed between 20-30 Mph, and it will work perfectly without making too much noise and providing controlled traction. Going above this speed could damage chain cables and also start making noises.
This is one of the easy tire cables to use. No need to drive your car on chains; just fit properly on the tires when the vehicle is standing in one place. A rubber tensioner is helpful to fit chain cable on the tires that come with the security chain company's tire chain, along with gloves and nylon bags.
---
.
Peerless Auto-Trac Light Chain.
Manufactured by Peerless, but the parent brand is again Tire Chains Company. These tire chains come in different sizes to fit different types of vehicles like cars and trucks. The price is affected by the size of the tire. The wider the tire is, the higher the price will get.
It's straightforward to install this chain to adequately cover the tire with the chain and then connect the chains with the tensioner. Self-tightening ratchets are a good innovation; it keeps the chains on the tire when the car is moving, and you do not have to worry about unbalanced chains.
Diamond pattern smooth chain provides traction control when driving in snow or rain. To make it durable, do not exceed the speed above 30Mph it is too risky to get above this limit because the chain could break and might damage the tire wheels.
Easy to use, easy to remove, and easy to carry. With fast installation and removal. It is an excellent chain to keep in your trunk if you live in hilly areas where snowstorm comes without predictions. Because snow chains are beneficial and also protect tires from damage.
---
Security Chain Company SZ Chain.
Security chain company's super Z chain is a traction control chain that will perform great in winter and snow. It will give a smooth and comfortable drive without making noises and without damaging the car.
It is effortless to install and easy to remove. There is no need to drive a car on chains; just tighten up with a tensioner, and a rubber tightener keeps the chain attached to the tire as the car runs, so there is no need to retighten it after.
If there is a chance of snow on your journey, it is better to install the chains before leaving your house. Because it is easy to install chains on dry land than installing them on wetlands or snow. Also, it will only take 5 minutes to dry and 10-15 minutes on snow, so it is better to be prepared before hitting the snow.
Keep track of the speed limit because crossing the limit is not good, check the manual for max speed. If in case of breakage of a chain, there is a low chance of damaging the vehicle because of the materials used in manufacturing these chains.
---
KONIG CB-12 Snow chains
Konig Tires are one of the known brands in the automotive industry. CB-12 tire chain is a great value chain with a low price. Because of its affordability and quality, this chain is one of the most reliable chains to buy in the current market.
The chain has a 12mm tread clearance and a manual tensioner to keep the chains on the tires. Keep it in your trunk and install them before hitting the wet and snowy roads. Very easy to install and remove to save you time and energy.
Less energy requires installing it; watch the tutorial given on the product page to get an idea of installing them properly. Observe it is not damaging the chains, also don't cross the speed limit; this might hurt the chains.
This product comes in different sizes, confirm tire size from the company before buying the tire chains because it is common to mess up with the tire size if followed by the picture attached on the product page.
---
TireChain.com 3229 Cam Tire Chains
Recommended for heavy-duty trucks to get a smooth and traction control drive and to protect heavy tires. This will work with off-road vehicles, over-the-road vehicles, and semi-trucks. Just check the laws of your town before purchasing them.
Not as simple to install as previous chains were, it requires effort and time to install them, but once you have done with it, it will stay there for a long time, with no need to fix it every day. Just keep adjusting it to keep working correctly in the long run.
The price of these chains is relatively higher than other chains because it is built for heavy wheel tires and requires more chains to cover these long tires. Also, the quality of these chains is heavy metal because they serve to drive in off-road and hilly areas.
Zinc cam tools are included with the package for making the process of installing chains easy. This thick cross chain is 7.14mm, which is suitable for all heavy-duty trucks and semi-trucks. Just look for the required size of the tire chains.
---
Security Chain Company Super Z LT
Fast and very easy to install these security chain company tire traction chains. Just tight them up with a tensioner, then a rubber tightener will keep the chains stick to the tire as the car starts moving; no need to look after retightening them.
Comes in different sizes to fit on different sizes of tires. It is a good fit for most SUVs and light trucks. Just get the information about tire size and chains before purchasing because sometimes your required chain may not fit your tires.
An anti-lock brake gives comfortable drive along with traction control and other electronic monitoring systems. This product will give traction control for your car to run smoothly on the wetlands and snow.
Keep driving the car at the recommended speed limit; do not go above that speed because it can break tire chains. However, the breakage will not hurt your car because of the technology and material used to manufacture this tire chain.
---
Security Chain Company Z-571 Z-Chain
Security chain company has been in this industry for a very long period. Although most of their tire chains have similar quality and features, they are made for different markets with different customers to fulfill all of the user requirements.
Z-571 tire cable chain, by a security chain company, is easy and fast to install and remove tire cable; no need to move the vehicle just keep it in one place and tighten it up. Also, fit tires before actually using tire tensioners.
Manganese alloy cross members provide traction control, and durability and antilock brakes give a smooth drive while driving on wetlands. Also, meet SEA Class S clearance to give the most secure and reliable tire chain cables.
Avoid abusing tire cables by driving far off the limit because it is not suitable for tires and also for tire cables. In case of breakage, this product will not damage the car or wheel because of the technology. Fitment may differ, so it is better to contact the provider or the company for the most viable resources.
---
Quality Chain Cobra Cable Tire Chains
Quality chain Cobra cable is a very cheap product in price, but it is excellent in quality. Come in different sizes and provide traction control drive on snow. This S clearance cable is suitable for low-profile cars and SUVs but not for use on RV trailers.
Perfect cable to have in a car in case of any emergency. It is very easy to install and uninstall; just look at the tutorial, and you will quickly work this out. Suitable to use in the long term, and with this price, this cable is worth a shot.
However, you may not get other things that expensive tire chains have come with, like tensioners and rubber tighteners. You have to buy it from the market, and a tensioner is essential to have if you are using this cable chain.
So that is one of the set-offs of this product, but it will still cost you less to buy a tensioner separately. Other than that, it is outstanding quality, reliable, and traction control cable chain to have if you use to drive in wetlands and hilly roads.
---
TireChain Cable Tire Chains
These economical tire cable chains are good to go with truck tires and SUVs. Size information has been given on the product page. Relatively new product launched in 2019 it is performing very well in the current market.
It is the best choice for heavy vehicle tires because the cable is made with a rigid carbon steel spring roller which gives firm control over the tires and provides traction control to the car. It may be hard to install these chains, but a one-time effort will bring comfort for a long period.
Good to go on the hilly side with off-road vehicles and mini trucks. Just install this tire cable on the rear or front wheel, whichever is recommended and climb the mountains; it will protect the tire and provide grip to reach on top of the land.
The price and quality of this tire cable are very satisfying because of the value it brings. Just read the laws of your state before buying them. Use it according to the guidelines to keep it running for a longer period.
---
Glacier Passenger Cable Tire Chain
Very affordable glacier tire cable is good on its price. 2 sets of cable chains for 2 tires depend on you to install it either on the front or rear wheels. Also available in different models and sizes to fit all sizes of tires.
Easy installation, traction control, and more comfortable driving on a hillside road and snow. Just install it on tires and save yourself from slippery surfaces and your tires from broken roads. The grip comes after installation and is good for driving on mountains.
Meets all state requirements for cable traction devices that are suitable for tires and also for the road. It will not void the vehicle warranty in case of any problem caused to your tires, and it will not damage tires in case of breakage.
Compare to other tire chains and cables, this one is the cheapest of all. It may lack some of the features others have, but the price difference is also huge. However, the glacier tire cable has most of the qualities and features required to become a good tire chain.
---
benefits of tire chains
Chains come in handy when driving cars on wet surfaces and off roads. For wet surfaces or snow chains, provide comfortable drive with traction control and an anti-lock brake. Most of the time, cars get stuck in the snow; more than 2-3mm chains help drive the car smoothly without any excessive pressure on the engine.
For driving on mountains and off roads, tire chains give grip to the tires to climb on broken and damaged surfaces. It also protects tire treads from damage because of the dire conditions of roads in hilly areas.
How to put on tire chain
It is pretty easy to put chains on the tire. Although every tire chains have different methods to install them, the basics are the same. If you are using automatic tire chains, then unhook the bottom outside cable, put it under-connected part of the tire, and hock it again. Then spread the chain on the tire using a tightener or tensioner to keep the chains connected to the tires.
And if you have manual tire chains and cable, straighten up the tire chains, then put it on to the tires for the tread part and drive a car a little forward, so the tire rotates, then connect the chain altogether. Similarly, in this case, use a tightener to tighten up the chains.
Things to consider before buying tire chains
Things that I personally consider before buying any chains that are easy to use are traction control, automatic tighteners, noise and vibration, breakage damage, weight, and most importantly, the size of the chains. All of these things are important to consider while buying tire chains because if it lacks any one of these things, you will not get the best results from tire chains while driving on wet surfaces.
Alternatives of tire chains
There are many other alternatives that can be used instead of tire chains like tire socks and tire cables. Tire socks are more usable for low-profile tires, and it is not considered to be suitable for a long period. They might get ripped after a few millimeters. But these are very useful to get when your main focus is on traction control.
On the other hand, tire cables are a competitive alternative to tire chains. Because both have many familiar features and the same price. Although tire cables are not so good with traction control and durability. Also, tire cables mostly weigh more than tire chains. That is why many buyers still consider chains over cable.
Tire chains on drylands
Tire chains are usable and recommended to drive on wet roads and off roads. By using them on drylands, the car tires can get damaged by the heat that the chain will create, and also, it will damage the road by leaving scratches on the ground. In some states driving on a dry surface with a chain might charge you for breaking the law.
Maximum speed with tire chain
Almost all tire chains and cables have the same speed limit, which is 30 to 35 Mph. It may be different with the product you buy because some have a max 25Mph and others have 40 to 50 Mph too. So read the descriptions of the product before buying them. Although 30-35 Mph is more than enough to drive in snow.
How many tire chains to buy
Most of the chains come in pairs of 2, which many prefer, and most people use them on 2 tires. It depends on the vehicle you are driving because if your car runs by the rear wheel, then put it on the back tires, and if run by the front wheel, then put it on the front tires.
It is better and also recommended to drive with tire chains on all of the tires. Because it stabilizes the balance of the car and brings more grip and traction. For better performance, people use it on 4 tires, but the purpose of tire chains will be served by installing them only on 2 tires too.
Precautions for using tire chains
Be prepared before driving on snow. Chaining a tire is a lot easier on a dry surface.
Never drive above the recommended speed. Doing that could break the chains.
Do not use chains on drylands. It can damage tires and roads.
Fix tire chains with a tightener to keep the chains attached to a tire.
Remove the chains if it is getting too hot.
Check the laws regarding tire chains in your state. Because in some states using tire chains is not allowed.
Conclusion
Keeping a pair of tire chains in a car is helpful if you enjoy diving on hills and wet surfaces. It does not cost much compared to other parts of the cars, but using them carefully can save you a lot by protecting tires and engines.
Daily accidents occur on wet snow roads and off roads. It is better to install them when driving near these areas to protect yourself and others from any danger. Not only that but it is also protected tire treads when driving on broken roads.
Although tire chains are not for every season, use them wisely only when it is required. Install them on wetlands and avoid using them on dry land because drylands damage tire chains and tires too. Also, it is not a good act to ruin the roads by driving with chains on drylands.
Hope you like this article about the best tire chains in 2023, and that you learn more about the specifications and features of individual tire chains. Just comment below which one you are going to buy this winter and if you wanted to add something, feel free to share it with us. Also, if you do not agree with something, give us your feedback so we can improve. Thanks.