Last updated on October 19th, 2023 at 06:28 am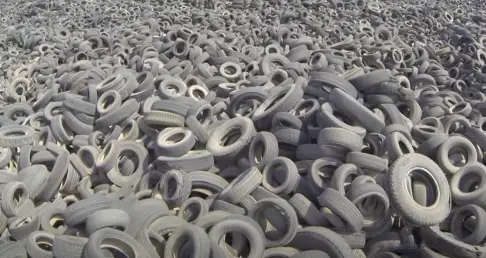 ---
In today's world, where we are already struggling with environmental and health crises, scraped tires stand out as a significant challenge. By dumping a staggering 1.5 billion used tires annually, we're unconsciously paving the roads to environmental degradation and health risks for ourselves and wildlife. However, many developed countries have devised innovative solutions to address this alarming situation head-on. Let's explore how these tire recycling initiatives steer the world toward sustainability.
Table of Contents
Importance of Tire Recycling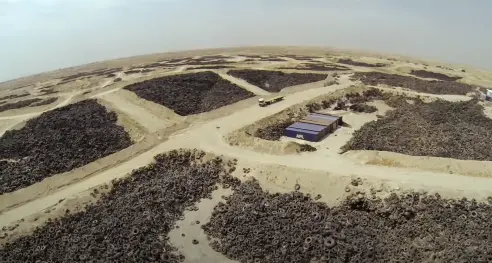 ---
With the increasing dependence of the world's population on vehicles, tire production and consumption have soared globally. This surge has led to an alarming accumulation of waste tires. For example, in Japan, 1 million tons of scrap tires are generated yearly, whereas India accumulates 112 million waste tires annually.
The United States, with a high number of approximately 280 million tires per year, accounts for one tire for every person in the United States.
Tires contain a variety of harmful chemicals. When landfilled or dumped, these chemicals can leach into soil and groundwater through continuous breakdown.
It contaminates drinking water supplies, impacting aquatic life and human health. Waste tires also serve as a breeding place for several pests, especially mosquitoes, causing vector-borne diseases such as West Nile Virus, Malaria, etc.
Additionally, tires are highly flammable and nearly difficult to extinguish once ignited. These fires release toxic fumes into the air, causing global warming and endangering nearby communities.
Remember the disastrous waste tire fire in Kuwait's tire graveyard of 2021 or the Somerset tire fire of 1986? These are the chilling examples of the destruction scrap tires can cause.
Hence, it is clear that landfills or incineration of waste tires are no longer the solution. The only responsible action we can take is to reuse scrap tires by embracing green tire recycling solutions.
Benefits of Tire Recycling
Eco-friendly recycling of tires has numerous advantages. For example:
By reusing material from discarded tires, we can conserve natural resources.
Diverting tires from landfills helps reduce waste, diminishing fire, diseases, water contamination, and global warming chances.
Tire recycling is energy-efficient. The process takes less energy than manufacturing new tires from raw materials.
Besides producing new tires, industries can use recycled tire rubber to manufacture various products. Examples include rubberized asphalt, athletic tracks, playgrounds, and acoustic flooring.
Repurposing discarded tires can be a green alternative to traditional fossil fuels.
Tire Recycling Initiatives Globally
Countries worldwide are implementing strategic initiatives to promote and support sustainable practices by realizing the benefits of tire recycling. Here's the breakdown of some prominent regions:
North America
North America is one of three continents to generate 90% of the total amount of discarded tires. However, it's also at the forefront of recycling tires to contribute to a sustainable environment, with the US, Canada, and Mexico playing a pivotal role. The following are some of the notable initiatives and developments in the continent:
EPA's Scrap Tire Management Program:
The project, started by the Environmental Protection Agency (EPA) U.S., provides technical and financial assistance to state and regional governments, helping them develop and implement scrap tire management programs. It aims to reduce the number of landfilled or illegally dumped scrap tires and promote sustainable waste tire recycling.
Rubber Manufacturers Association's (RMA) Tire Recycling Program:
It's another excellent initiative the Rubber Manufacturers Association (RMA) started to support tire recycling across the United States. Many renowned tire manufacturing brands, like Bridgestone, Continental, Goodyear, etc., are core members of this program. RMA has been crucial in ranking the U.S. on sustainable tire recycling efforts since its inception in 1990.
Stockpile Cleanup by U.S Tire Manufacturers Association (USTMA):
USTMA launched stockpile cleanup in 1990 by partnering with local governments, environmental organizations, and stakeholders to clean up waste tire stockpiles. Since then, this program has successfully eradicated 94% of discarded tire heaps all over the States.
Used Tire Recycling Program by DEQ:
The Department of Environmental Quality, Oklahoma, started this program in 1989 under the Oklahoma Used Tire Recycling Act. The program has strict rules to reduce the number of illegal tire disposal, clean existing landfills, and provide funds for tire recycling into valuable products and energy production. Last year, Oklahoma successfully recycled 12.1 million used tires and cleaned 900,000 illegal tire landfills, directing the state toward a green environment.
Like other states, California also has plans to reuse waste tires, decreasing the number of tire landfills. CalRecycle, a California Environmental Protection Agency department, started the Tire Management Program to reduce tire waste and promote recycling in California. The program collects fees at tire sales from retailers, dealers, and manufacturers to fund the recycling department. This program has recycled 283 million used tires into purposeful products and materials.
Canadian Tire Recycling Association (CTRA):
Besides the United States, Canada is also in the race to clean the landfills and, thus, the environment from waste tires. However, British Columbia was the first region to start a Waste Tire Management Program in 1991 in the country. Since then, various recycling initiatives have been launched under CTRA (Canadian Association of Tire Recycling Agencies). In 2019, these programs collected 421,000 tonnes of scrap tires for recycling and energy recovery.
Tire Management Program by NMED:
New Mexico Environment Department (NMED) started the Tire Management Program under the New Mexico Solid Waste Act and Recycling and Illegal Dumping Act to condemn illegal scrap tire dumping and promote tire reuse for practical purposes.
The initiative has set grants of up to $800K for municipalities, entities, tribes, and counties involved in scrap tire cleanup and recycling across Mexico. However, this grant will be available in the coming fiscal year, for which responsible candidates can submit applications till 31st March 2024.
Besides these government-led initiatives, several private companies in North America are launching eco-friendly tire recycling programs. Notable examples include Retire Your Tire by E360S and Liberty Tire Recycling Inc.
Europe
Major countries driving Europe toward sustainable tire production and disposal include the U.K. and Germany. These regions have started tire recycling programs under ETRA (European Tire Recycling Association), non-profit organizations, or private recycling companies. It includes the following:
Tyre Recovery Association (TRA):
By processing 40 million used tires annually, TRA significantly promotes sustainable tire disposal practices across the United Kingdom.
Used Tyre Recovery by BTMA:
British Tyre Manufacturers' Association launched the Used Tyre Recovery program to combat growing scrape tire landfills nationwide. The members of BTMA engage with government and other stakeholders to develop and implement sustainable tire production and reuse strategies.
Waste (End-of-Life) Tire Regulations:
U.K. police have also implemented initiatives to cope with illegal scrap tire dumping and landfills, imposing severe penalties.
Zertifizierte Altreifen Entsorger (ZARE):
By receiving funding from the Federal Ministry of Education and Research, German ZARE launched a new platform to support end-of-life tire recycling in the country. This platform is designed to help businesses landfill scrap tires properly so that recycling can be done effectively at a large scale by collaborating with recycling companies, waste disposal management, & industry researchers.
Allianz Zukunft Reifen (AZuR)
With over 50 qualified industry professionals, AZuR is committed to recycling and reusing 100% of discarded tires, reducing waste GHE, and thus protecting the ecosystem. The initiative is focused on retreading, recycling, & educating.
Asia
With China and Kuwait the primary producers and consumers of tires, recycling discarded tires is an essential concern in Asia. Countries around the continent are launching several recycling programs and schemes to cope with increasing tire landfilling or dumping. The prominent ones include:
China Tire Recycling Association
This organization works on several initiatives to discourage unlawful waste tire dumping and support green tire recycling. By recycling 13 million tonnes of waste tires annually, CTRA hopes to generate US$14.2 billion in industrial revenue.
Al-Salmi Tire Recycling Plant by EPSCO Globe, Kuwait:
Kuwait's government also started taking scrap recycling more seriously than ever. Hence, it decided to recycle the giant tire graveyard in the new recycling plant, "Al-Salmi," by partnering with EPSCO Global, a leading recycling company.
---
Giant Tire Manufacturers Contributing to Eco-friendly Recycling.
The world's prime tire manufacturers also contribute to a sustainable environment by planning many thoughtful strategies. For example, Bridgestone and Michelin announced the launch of a production plant where all tires would be made from 100% renewable, bio-sourced, or otherwise sustainable materials till 2050.
Moreover, by partnering with other associations, Bridgestone has also introduced several tire recycling solutions, such as Recycling and Reusing Used Tire, Ever Tire Initiative, Tires4Ward, and more.
Likewise, Goodyear strives to reduce the environmental impact of its production and operations by setting several sustainability goals. One such is to introduce 100% sustainable-material-tire in industry till 2030. The company has already successfully released tires with 70% sustainable content last year.
Modern Methods of Recycling
Here's a brief overview of the popular methods being used in the waste tire recycling industry.
Shredding/Grinding: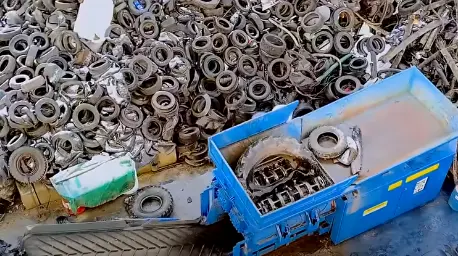 ---
It involves breaking down tires into smaller pieces with a shredder and separating functional elements for various industrial applications.
Pyrum-Thermolysis or Pyrolysis:
It's a thriving recycling method where whole or shredded tires are heated in a reactor without air/oxygen. The polymer breaks down upon melting into tiny molecules, leaving the reactor in gas form. This process can convert 60% of tires into fuel.
Cryogenic Freezing:
Freezing tires using liquid nitrogen to make them brittle is called Cryogenic. Crushed tires are then used to make various products.
Devulcanization: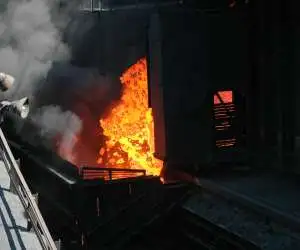 ---
This process reverses vulcanization, which involves mixing rubber with other compounds like sulfur in a heated reactor to make durable materials tires. Devulcanization isn't so common in the tire recycling industry.
---
Conclusion
With various innovative technologies and mindful strategies implemented by countries worldwide, tire recycling may pave the way for a more eco-conscious future. However, we must recognize the threats of landfilling/burning of discarded tires and the importance of tire repurposing at the individual level, besides international or state-level efforts.
We should support and participate in local recycling schemes, fund non-profit organizations for tire waste management, and make informed choices about our tire disposal. That way, we can turn the tide on tire waste, preparing a healthier planet for future generations.