Last updated on March 6th, 2023 at 02:20 pm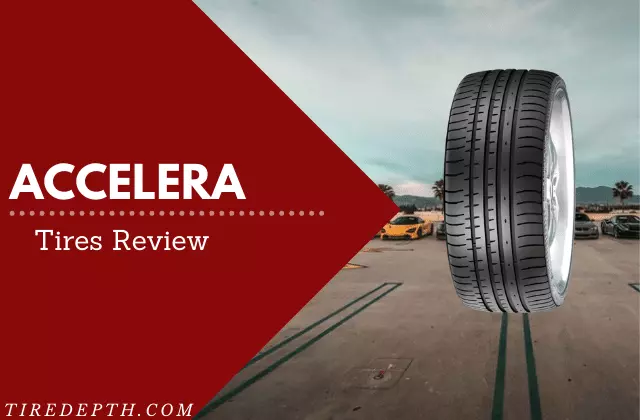 Accelera Tires are manufactured by their parent brand known as EPtyres. It is an Indonesian brand that also manufactures tires for forceum tires, which is also a subsidiary brand of theirs. Accelera tires are known for their all-season performance and winter tires that deliver excellent performance with durable treadwear for safe and confident long-run rides. The main reason why they become so famous is due to their cheap and affordable rates of tires. There is a difference of around $40-$80 compared to premium brand tires. Accelera tires are growing quickly in the united states tire market by delivering customers their modified and stylish tires that are also good for an all-year-round drive.
Accelera tires quick highlights
| | |
| --- | --- |
| Origin of Accelera tires | Indonesia |
| Started operations | In 1996 |
| Type of tire manufacture | Passenger, light trucks, ATV, and commercial tires |
| Tire categories | Summer, All-season, winter, all-terrain, and Mud Terrain tires |
| Price range | $52 – $440 |
| Ply ratings | 2-10 ply |
| Average distance covers | 30000-40000 Miles |
| Online retailers | Priority tires, Amazon And Walmart |
EPtyres manufactures tires for both of its subsidiary brands; Accelera tires have a better grip on the market with their high-performance summer and all-season tires. They export tires from Indonesia to 90 countries of American, European, and Asian markets. Also, they offer moderation in size and tire specs to give the best tires to their customers according to their very needs; that is the reason they are very famous in the US tire market; when it comes to affordable tires with high-quality drive.
Pros & Cons Of Accelera Tires
---
Accelera Tires Quality
The Accelera tire has a good image in the market when it comes to the quality of their tires. Although they are not as reliable and durable as premium brands like Michelin and Goodyear tires are; they are more than enough when you compare the price and the value it provides in this price range. On the other hand, Accelera performance and mud-terrain tires are better than some big brands' tires. And these are two categories that Accelera tires are very known for. Most of the rubber and other raw material for their tires are manufactured by themselves and sometimes outsourced to good manufacturers; so their tires stand strong and handle the different and hard conditions of the terrains.
Accelera Tires Pricing
The pricing strategy of Accelera tires is based on the low-profit cost strategy; they take a very low profit and try to improve their network by selling more tires each year. Also, they try to make the best quality tire that bears the least cost so that their tires can be accessible to everyone. Another reason for their low-cost manufacturing is that they manufacture tires in Indonesia which is a good country for manufacturing industrial products; due to the low-cost utilities and more labor power achievable at very low rates. After adding all taxes and duties, they come up with a final price that is still lower as compared to American-manufactured tires.
Accelera Tires performance
On-Road traction/Grip
85%
Off-Road Traction/Grip
85%
The two main categories that Accelera tires have made their name in are mud-terrain tires and all-season performance tires. And when it comes to both of these tire's performance, Accelera tires has accomplished something which is not possible in this price range. Their mud-terrain tires are compared with premium brand mud tires which are more than $100 expensive with the same features. However, the mud-terrain tires are not usually backed by treadwear warranty, and Accelera tires worn off a little earlier than those expensive tires. And when it comes to all-season rides; Accelera tires provide great wet, dry, and snow rides, with durable treadwear that gives a long-run comfortable ride at very economical rates.
Other than those two tires, like winter tires, they do not deliver the performance as you would expect; that is why it is better not to go with their winter tires without taking advice from a professional so that you won't regret it after a year or two. Because some of their winter tires are not suitable for harsh winter driving; and if you want to ride it in that snow terrain, then it is good to ask for assistance before buying new winter tires.
Accelera tire's positive points
Affordable rates
The very good and the most attractive feature of the Accelera tire is its price rates because no other tire has that good quality and comes at this affordable rate. Other Chinese brands who offer lower prices have always heard complaints about their wear and sidewall bursts, but the Accelera high-quality tires assured that it wouldn't happen with their tires.
Durable tires
Along with quality; Accelera tires have durable treadwear and sidewalls that do not wear off quickly and tackle the sharp materials of the terrain without bursting or puncturing the sidewalls. Most of their tires are backed by 45000 miles treadwear warranty which is good enough for driving comfortably for 4-5 years if you are a casual everyday driver.
Stable handling and brakes
The center ribs and sipes contact with the ground equally to enable stable and smooth handling on the highways and city roads. Along with that, the strong grip of treadwear allows drivers to achieve a faster brake to get a safe and confident ride, even on high-speed tracks.
Accelera tires negative points
Noisy tires
Due to the old technology, the Accelera tires are most of the time noisier than other premium tires. If they are not in the start, they start making treadwear noises after some time or when you will drive on a highway. The main reason for that is because they do not use sound deduction technology when preparing tires, which will increase the cost of tires; that is why their tires are sometimes noisy, which is not a comfortable factor for a luxurious drive.
Less comfortable tires
Compared to Michelin and Pirelli, Accelera tires are not as comfortable as their tires are. Because they premium brands use the finest quality of treadwear and rubber that decrease the noise and allow the most comfortable drive by improving the car suspensions so that you get the smoothest ride all year round.
Not good for snow
Another bad point of Accelera tires is that they are not as reliable on snow as other all-season tires are. One factor is that their all-season tires are not 3PMSF certified, which indicates that the tire is not safe for winter driving. Also, their treadwear does not allow extra biting edges, which is crucial for snow rides.
Frequently Asked Question About Accelera Tires
How good is the treadwear of this brand?
When it comes to durability, the treadwear and sidewalls of Accelera tire are of good quality because they use their own rubber and other parts to manufacture tires, which is less costly and satisfies their customers. And when it comes to treadwear comfort, they are not as good as they could be.
How comfortable and quiet are these tires?
As mentioned above, the treadwear comfort and sound of these Accelera tires are not that good because their tires are noisy on highways and fast tracks. Also, they start making sound after 15k Miles of drive, which is frustrating for some buyers. So if you want the most comfortable tires, then you should not go with Accelera tires.
Why are these tires cheap?
The main reason for their cheap tires is that they made their tires by using the least costly materials and do production in cheap countries. Because Indonesia supports industries; their tires are manufactured at a low cost; and on that basis, they sell at the very least price possible.
What is their competitive strategy?
They follow a cost-effective strategy to produce a tire at the very low cost possible so that their tires are achievable by every class of the world. With low cost, they also focus on bringing safe and secure tires so that their customers trust them and buy their tires again in the future.
Do we recommend buying these tires?
If you are a budget-oriented buyer and looking for a moderate, comfortable all-year-round drive, then we would highly recommend Accelera tires over Chinese brands to use with your vehicles. However, if you want the most comfortable ride for your luxurious vehicles, then the Accelera tire is still the option but not the best one for your car.
Final words
Accelera tires have gathered very much attention from car tire buyers looking for tires on a budget. Also, their high-quality rubber and treadwear also add points and satisfy users to come again buy tires from Accelera tires.
This is it from our side; if you want to learn more about tire and their accessories, you can check our blogs on that. Also, if you have any queries related to the topic, you can leave them in the comment, and we will answer you accordingly.