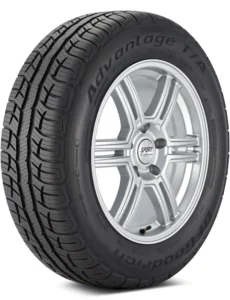 Advantage T/A Sport LT
All-season Tire
BFGoodrich Advantage T/A Sport LT is the touring tire for heavy weight lifting and stable ride in all-season conditions. With this tire, you can drive for many years and different seasons even on snow without replacing tires for more than 6 years.
Handling & Road Feedback

75%
---
Table of Contents
Quick highlights
| | |
| --- | --- |
| Tire type | Standard Touring All-Season |
| Price range | $147-$275 |
| Tread Warranty | 65000 Miles |
| Run-flat | No |
| Vehicles type | SUV and Light truck |
| Driving conditions | Dry, Wet, and Snow |
Unlike small passenger cars, light trucks and SUVs require a little different tire to fulfill the need of drivers. The crossover SUV tires come with big diameters and high load indexes to commute through highways while carrying heavy loads over the vehicle.
Keeping all these things in mind, BFGoodrich Tire come up with this tire. BFGoodrich Tire has been around since the very start of rubber radial tires, and they have been the top manufacturer of passenger car tires in this age.
This tire is an example of their greatness, it fulfills every desire of the driver, being durable and affordable as well.
Competing with big brands and premium tires is what BFGoodrich has been doing for years and this tire is also competing with this category's most loveable tires like Continental CrossContact LX25 and Pirelli Scorpion AS Plus 3.
With positive reviews, high demand, great price, and long life, why not this tire will be a perfect choice for your vehicle?
To find out read the complete review where you can find comparisons, performance results, and real-world experience to better decide whether it will be the right fit for your fleet in 2023.
Pros
Proper handling and response in all-season conditions
3PMSF certified for light and deep snow performance
All year-round tire with durability for many years worth of smooth rides
A safe and secure ride is achievable through quick brakes and stable contact
Hydroplaning resistance also makes it a safer tire to drive in all-season conditions
Comfort, brakes, response, and durability all in one tire for light trucks SUVs and CUVs
Cons
Very low traction especially as a speed goes up
Noise might be an issue for luxury car drivers
---
Tread design and improvements
All-season tread compound with symmetrical design for easy rotation and uniform wear by equal contact to the ground
Equal Tension Containment ETEC improves stability and responsive handling with the help of continuous center ribs
G-Wedge sidewall stabilizes for proper cornering traction in dry and wet conditions and makes it a damage-resistant tire for more durable miles.
Wide circumferential grooves and open shoulders transit water to resist hydroplaning and go through high-standing water safely
3D active sipe technology on tread and shoulder sipes increases biting edges on snow and wet conditions for proper gripping.
Specifications & Features
| | |
| --- | --- |
| Speed rating | T-V(118-149)MPH |
| Load Index | 99(1706 lbs) – 116(2756 lbs) |
| Manufactured in | United States |
| Wheel diameter | 15-22" |
| Ply rating | 4 ply rated |
| Treadwear, Traction, Temperature | 740, B, A |
| Noise Reduction | No |
The difference between standard touring tires and crossover/SUV touring tires is that they come with a high load index but most of them have low treadwear warranty.
But if someone wants to carry a heavy load then this tire will be a better choice, with 116 indexing, this tire can carry a good load on highways.
The B-rated traction is no surprise as this tire slips quite often at a high pace, that is why never go on track with this tire.
Other than that, the treadwear rating is great, speed ratings are fine as well. Overall all the specs except traction are aligned with the tire category and driver preferences.
Performance of Hankook Kinergy PT H737
Dry City Roads, Pitted Roads, and Pavements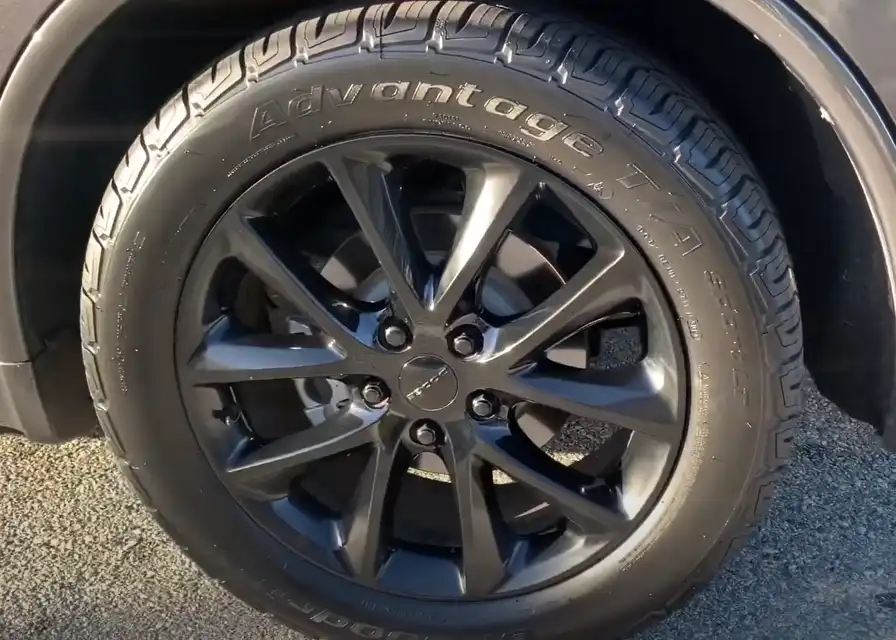 ---
Dry highways are the most frequent terrain where the light truck and SUV drivers go with all-season tires, and in my opinion, this tire works properly on dry city roads and highways.
Often with heavy load although traction misses sometimes, otherwise, it can handle a high pace on the highway as well. But seriously the loose grip sometimes feels so unsafe to drive this tire with.
With that, on gravels, the tire is just fine, no comfort, just good enough to pass through these damaging situations. No problem with damaging the tire as well.
On pitted roads and construction site drives, this tire is also great, it stabilizes very quickly without impacting too much on steering when in contact with potholes.
Overall in dry conditions, and weather the tire is good to drive with due to its durability and comfort, however going too fast can be dangerous as it loses grip in dry conditions sometimes.
Wet and Rain Experience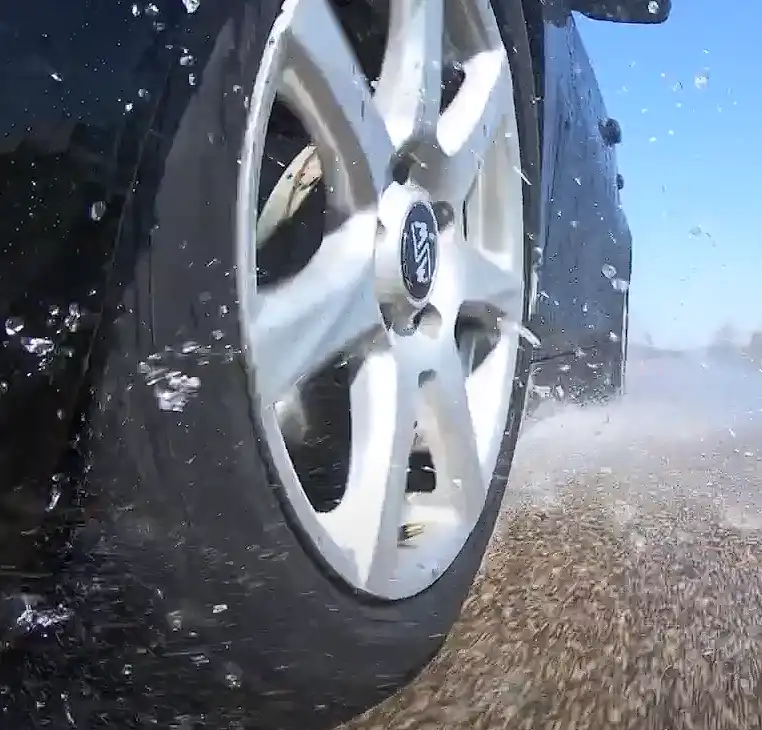 ---
Just like dry conditions, wet road driving is also disturbed by the low traction and grip at a fast pace. It loses balance and handling response on highways at above the normal speed, especially if the weight is on the tires.
In normal rainy situations, the tire is good, it can control wet terrain quite efficiently unless you hit the accelerator hard. It will provide a stable ride and proper traction in rains and storms.
On standing water, the hydroplaning is near to zero, it properly crosses deep water without losing control and balance. The reason for that is its 3D sipes and deep groovers.
If the tire is equipped with zig-zag sipes, the performance on wet and snow terrain flourishes more, and it will be able to handle high speed as well.
Overall wet terrain rides are quite good and if you face rain and storm quite often, then this tire will fit accordingly.
Light Snow, Deep Snow, and Ice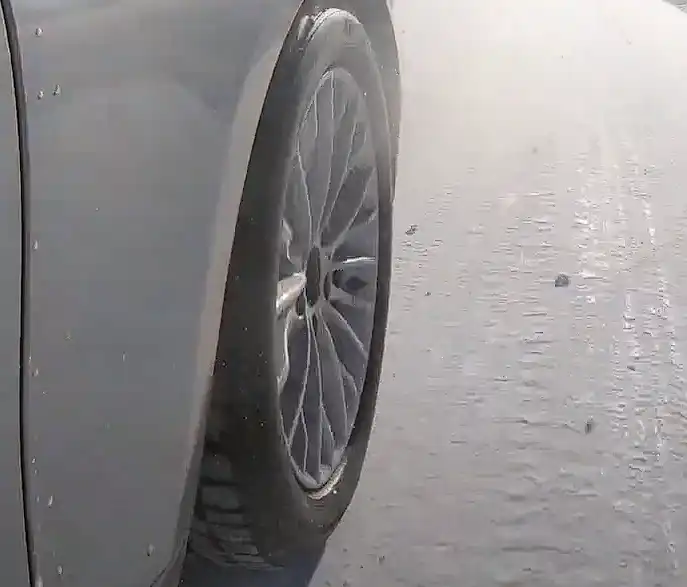 ---
The snow performance of this tire is the winning factor, as it has quite low all-season performance compared to top tires, which you can see in the below test results as well, however, it is comparatively better when it comes to winter terrains.
In light snow, it really impresses me, as it was bad in wet conditions, I thought it will be a failure on snow terrains, however, that was not the case, it provide better traction, grip, and response compared to wet performance.
One of the reasons could be because this is a 3PMSF-certified tire, and also the unique shoulder design with notches improves overall snow performance.
On deep snow, this tire is also fine, unlike other tires, that totally stop above 6 inches of snow, this tire can make you cross the terrain more easily. On the ice, it slips more often than deep snow, which is why it did not satisfy on ice for sure.
Overall winter performance is great, it will be a great overall tire if you live in northern states, where the snow is not so extreme but not so low, this tire will help you cross through every season all year round.
Durability and road life
Low performance in some areas of commute can be acceptable sometimes, but if the tire has bad treadwear performance, nobody would accept it. And this is not a problem with this tire.
It comes with a 65K miles treadwear warranty, however, we were amused by the fact that most drivers say that it runs more than the treadwear warranty, because there are not many tires that could even touch the warranty limits.
It keeps on moving through different conditions without impacting on wear, and surely the tread contact is the reason for that.
Durability is never in question with this tire, but the noise, traction, and handling might not fit your preferences.
Comfort and Responsiveness
Comfort on damaged roads, potholes, and highways is great, the problem with it is that it is quite louder compared to its competitive tires.
The low continuous noise might force you to turn on the radio to avoid any discomfort. otherwise, it is a great tire overall when it comes to comfortable all-season rides.
When it comes to handling and brakes, again, it is not the most suitable tire for these things, it lacks cornering, dos not have the shortest brakes, and the soft steering is not so enjoyable as well.
Unlike, this tire's name, it is not a sporty tire, it is great for everyday city rides, but a no-no on fast tracks.
Comparison with Continental CrossContact LX25
| | |
| --- | --- |
| Dry Conditions | Continental CrossContact LX25 |
| Steering Response & Feedback | 7.69% |
| Cornering Stability on Curves | 3.70% |
| Dry Traction & Grip | 2.15% |
| Shortest Dry Brakes | 3.57% |
| Results | 17.12% |
| | |
| Wet Conditions | |
| Steering Response & Feedback | 21.74% |
| Cornering Stability on Curves | 33.33% |
| Wet Traction & Grip | 6.98% |
| Shortest Wet Brakes | 33.33% |
| Results | 95.38% |
| | |
| Winter Conditions | |
| Deep Snow Traction | 3.70% |
| Light Snow Traction | 3.49% |
| Thick Ice Traction | 6.67% |
| Results | 13.86% |
| | |
| Ride Quality | |
| Cabin Comfort | 11.11% |
| Road Noise | 20.83% |
| Results | 31.94% |
| | |
| 175/65R15 (84H) | |
| Price | 15.48% |
The results are based on test results and subjective views, it could differ based on different cars, conditions, and driver's preferences.
As the test results show, this BFGoodrich Advantage T/A Sport LT loses very badly in almost every matric compared to Continental CrossContact LX25. The comfort, dry, and snow performance do not have that big of a margin, but when it comes to wet performance, it really loses the battle. 
So if you want a better performance tire, then obviously Continental CrossContact LX25 will only make sense. 
However, if you want to save some money and achieve a more durable ride with high weight carrying ability, then this BFGoodrich tire will make more sense out of these two.
When BFGoodrich Advantage T/A Sport LT Is Not Prefered
In my opinion, it will be a good tire for all-season rides, however, if you have to face more storms and rain in a year, then there are some better options for tires, in all season category. You can see the wet performance difference between Continental and this tire.
Similarly, it will not be a great option for performance rides, as it has very soft steering and sidewalls, this tire does not provide as sporty response as performance tires. So if you drive on fast tracks, again this is not the best fit for your vehicle.
---
Final words
BFGoodrich Advantage T/A Sport LT is a great all-season touring tire for light trucks and SUVs, it provides proper wet and dry performance with confident rides on winter terrains as well. The tire sometimes loses traction when going at a higher pace which could be dangerous for the drivers on the road. Other than that, it is a perfect tire that provides a comfortable and smooth ride all year round.