Last updated on March 21st, 2023 at 08:30 pm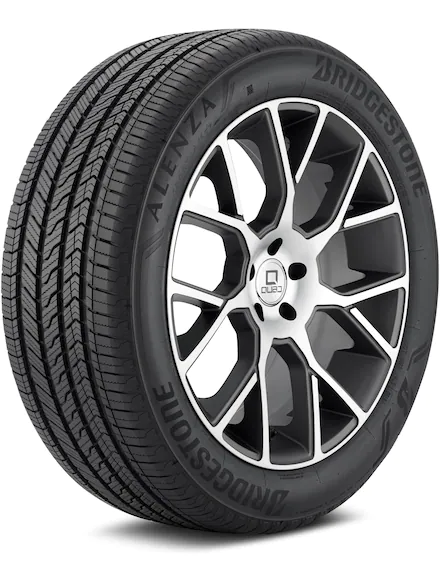 Bridgestone Alenza Sport A/S
The original equipment tires for large vehicles to handle the all-season conditions. Bridgestone Alenza Sport A/S provides a comfortable and quiet ride, with proper handling and grip in dry and wet conditions. If snow is not in your way, it is the perfect tire for your light trucks and crossovers.
---
Quick Highlights
| | |
| --- | --- |
| Tire type | Touring All-season |
| Price range | $200-$458 |
| Run-flat | Yes |
| Vehicles type | Light trucks, Crossovers, and SUVs |
| Driving conditions | Dry, wet, and snow |
The Alenza series is one of the most popular tire series of Bridgestone. They have manufactured tires in different categories. This Bridgestone Alenza Sport A/S is a touring all-season tire, despite the fact that the sport is written in its name. It is an OEM tire for some BMW and Toyota vehicles. The most common vehicles that buyers use this tire with are Toyota Highlander, Volvo XC50, Chevrolet Equinox, Volkswagen ID.4, Toyota Rav4, BMW X7, Lexus RX350, and Acura MDX.
Being a run-flat tire, it is considered an affordable option. Although the prices are high for this tire, compared to competitive run-flat tires, it is a much more economical option with better performance.
This all-season tire is great for driving in wet and dry conditions on the streets and highways. It delivers one of the finest rides due to the comfort and quiet tread, even at high speed. The treadwear sips contact with the ground evenly to promote a stable and durable ride all year long.
Overall the tire is good for dry and wet conditions ride, with confident performance and durable ride. Let's analyze some deeper factors of treadwear and driving results to identify if the tire is a good fit and whether you should buy it for your mid-sized vehicles.
---
Treadwear and design
The symmetrical tread pattern features separate tread blocks with lateral grooves, sipes, and center ribs to contact evenly with the ground and provide stable handling and confident rides all season. The shoulder sipes and lateral grooves improve the dry and wet traction and grip even on high-speed roads. Four circumferential grooves channel the water to resist hydroplaning for better wet and snow performance. The noise reduction technology keeps the noise of the tread minimal by providing a comfortable ride all year round. 
Warranty and durability
The treadwear rating of the Bridgestone Alenza Sport A/S is not as good as compared to other new touring tires. It offers a 40k miles treadwear warranty, which is quite good if the tire is run flat. It is a durable tire that not only reaches its expected miles but is sometimes also driveable for more than 10K miles after its warranty.  To achieve these results, care of tires is compulsory, rotating and tuning tires biannually is essential to maintain a good tread level for maximum miles. 
Specifications and features
| | |
| --- | --- |
| Speed rating | H (130) – V(149) |
| Load Index | 101(1819 lbs) – 113(2535 lbs) |
| Origin of | USA & Poland |
| Ply rating | 4 ply rated |
| Treadwear rating | 500 |
| Traction & Temperature | A & A |
Performance in different conditions
Dry conditions
The tire performs superbly on dry terrains, due to its tread pattern and sipes. The tire contact with the ground evenly promotes stability on roads while providing excellent grip and traction along with cornering on faster tracks. Its shoulder blocks improve the cornering and provide a comfortable and quiet ride all year round.
Wet or rainy conditions
For handling wet situations, the tire features circumferential grooves which are excellent for handling wet situations. They resist hydroplaning by channeling water from the tire's tread and improve the gripping and traction on water. The lateral grooves on shoulder blocks are also helpful in providing confident traction at a faster speed.
Snow rides
When it comes to snow rides, this Bridgestone Alenza Sport A/S tire is not even considered to drive in the winter seasons. Anything above 2 inches of snow is enough to totally stop this tire from performing. It losses traction and grip and it is not safe to drive on snow terrains. So only consider this tire if snow is not something that you face throughout your year-round rides. 
Highway and fast tracks ride
On highways and faster tracks, the tire delivers confident traction, grip, and cornering without losing its steering response. Along with superb performance, it also delivers a quiet and comfortable ride at a fast speed all year round.
Comparison with other tires
One of the competitors of this tire is Continental 4×4 Contact. It is a very similar tire with a run-flat tube and comes at a similar price range. It is also an OEM tire for some of the BMW and Toyota models. But this tire compared to Bridgestone Alenza Sport A/S lacks in performance, comfort, and drive. The reason for that is it is an older tire and utilizes old technology. The tire does not come with any warranty and its treadwear is not enough to even drive for 20k miles. So compare to that tire, Bridgestone Alenza Sport A/S is far better in every matric you test for. 
However, if you don't really want a run-flat tire, then there is a different competition. Pirelli scorpion A/S Plus 3 is also a touring all-season tire for SUVs, crossovers, and light trucks. Compared to Bridgestone Alenza Sport A/S this Pirelli tire is far better in every matric. It delivers better performance even in snow conditions, with more comfortable and more durable rides. Also, this tire comes at a quite lower rate. So if you are looking for a non-run-flat tire for your mid-sized vehicles, then this tire will be a better option for your vehicle. 
When should you buy this
If you drive your vehicle on city streets and highways in only dry and wet conditions and looking for a safe run-flat tire, then only you should consider buying this tire. As it provides bad performance in snow and the worst performance in mud terrains, it would not be a good choice for experiencing off-terrain. Also if you drive in rallies or in sports tracks, then it is also not the perfect tire to drive with. Sport and performance tires would be a better option in these conditions and they will provide better performance by saving a lot of bucks. 
Final words
The Bridgestone Alenza Sport A/S is a run-flat touring all-season tire for light trucks, crossovers, and SUVs, who want a low-profile tire and larger rim diameters. It delivers quiet and comfortable rides in dry and wet conditions on the street and highways. Being an OEM tire it seems expensive to some buyers but compared to its safe rides, durable treadwear, and comfortable and confident rides, it deserves every penny spend on it in the long run.