Last updated on May 30th, 2023 at 12:02 pm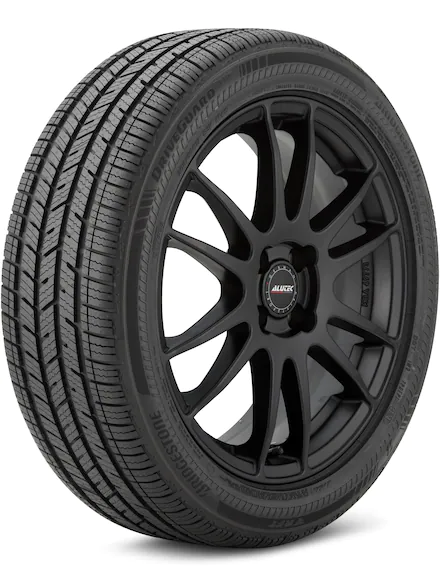 DriveGuard Plus
Run-Flat All-season Tire
Achieve comfort, safety, and durability all with this Bridgestone DriveGuard Plus tire. It is a tire for sedans, crossovers, and SUVs which provides a confident all-season ride, for a longer period, with a run-flat compound, which lets you drive for 50 miles even after a puncture.
Fuel Mileage/Low Rolling Resistance
75%
Handling & Road Feedback
70%
---
Table of Contents
Quick highlights
| | |
| --- | --- |
| Tire type | Grand Touring All-Season Tire |
| Price range | $223-$334 |
| Run-flat | Yes |
| Vehicles type | Sedans, Crossovers, and SUVs |
| Driving conditions | Dry, Wet, and Snow |
The Bridgestone DriveGuard Plus is an upgraded model of Bridgestone DriveGuard tire, the predecessor model was a huge success in run-flat tires and comes as an original equipment tire with most big brand cars. The successor tire, this Bridgestone DriveGuard Plus comes with an improved redesign tread, which improved all-season performance, increases durability, and delivers a more comfortable ride than the previous model.
The tire is great to drive in dry and wet conditions, it provides confident traction, grip, and cornering in these conditions. With that, the comfort of this tire is really good as well, the low-noise tread improves the driving experience even more. With that, the handling response, brakes, and acceleration all is great to achieve a smooth and stable ride all year round.
With all seasons, this tire is also great in winter and snow conditions, the dense sipes play an important role in improving winter terrain rides, which was not a thing with its previous model. Even though the tire is expensive, the run-flat technology is something that comes very helpful if you get a flat tire, because the tire can be driven after a puncture which is not something other grand touring tires provide. 
Pros
Runflat technology and noise reduction technology improve safety and comfortable experience
Proper traction, grip, and brakes in all-season conditions
A durable tire with open shoulder blocks for stable rides which is backed by a 65K miles treadwear warranty
Driveable in light snow conditions along with dry and wet
A directly replaceable tire with the TPMS-equipped vehicles
Cons
Not the best in winter conditions, due to the absence of a 3PMSF certificate
Not a low rolling resistance tire
Very expensive tire and less durable than cheap standard touring tire
---
Tread design and improvements
The previous Driveguard tire was a fail on winter terrains, it slips and provides a very uncomfortable ride in snow terrains. That is why the new model has redesigned its tread pattern. This Bridgestone DriveGuard Plus features all-season compound and asymmetrical tread patterns which have high dense sipes and deep tread blocks, which provide stability, proper cornering in all seasons, and biting edges on snow terrain to improve snow grip and traction. 
Along with that, the open shoulder design, and circumferential grooves are really helpful in resisting hydroplaning which creates proper traction and grip in wet rainy, and standing water conditions. The inboard sipes, notches, and a low high tread pitch all come together to improve comfort and move through potholes and imbalance roads while providing a comfortable and stable ride for longer tread life. 
Durability and road life
This is a durable tire backed by a 65K miles treadwear warranty, however, the treadwear warranty reduces by 50% if the size of the front and rear axles are different. The strong sidewall design and stiff blocks are the reason for its durability, the tire handles the harsh conditions and resists puncture as long as it can afford. 
However, the puncture is not as big of a problem as it is with normal grand touring tires, the run flat technology keeps the car moving as nothing happens even after a big puncture for 50 miles at a 50MPH speed. However, don't abuse this feature, if you have accessibility to repair a puncture, do it on the spot and just use this feature in case there is some emergency.
Specifications & Features
| | |
| --- | --- |
| Speed rating | H-W(130-168)MPH |
| Load Index | 88(1235 lbs) – 109(2271 lbs) |
| Origin of | United States, Japan, Mexico |
| Wheel diameter | 16-19" |
| Ply rating | 4 ply rated |
| Treadwear, Traction, Temperature | 640, A, A |
| Noise Reduction | Yes |
The US-manufactured tire has good specs whether it is speed range or load index. The tire can handle a good weight, as it is not for light trucks, no need to manufacture high-weight carrying tires than these. Similarly, it has a high-speed range compared to normal grand touring tires. The treadwear rating is fine as well, not as good as standard touring tires, however, the more comfortable ride will balance it. 
Performance of Bridgestone DriveGuard Plus
Dry Roads & Highways
This Bridgestone tire is perfect to drive in dry road conditions and summer weather. It delivers proper traction, grip, and cornering in these conditions. The tire is also good to drive for a longer period on highways, due to the all-season compound the tire can handle the high temperature without wearing off unevenly or early due to getting hot. Although it won't be as good as summer tires, it will satisfy you immensely in dry conditions
Wet Roads & Rainy conditions
Driving in wet conditions is quite similar to dry conditions, the tire is great in both of these conditions. Due to an open shoulder, dense sipes in tread blocks, and circumferential grooves, this tire handles the wet conditions properly, by reducing aquaplaning, improving grip, and stability in stormy and rainy conditions on the road.
Winter & Snow Terrains
The previous model of this tire was so bad in winter conditions, however, even though this tire is not a 3PMSF tire, still it delivers great performance in winter and snow conditions. The tire grip properly and provides a comfortable ride in snow terrain as well. However, it loses its grip in extreme winter conditions. The reason for its improved snow performance is the excessive sipes and deep tread blocks, which provide biting edges while channeling snow away from the tread.
Handling Response and Sporty Rides
The tire has not had as good a handling response as performance tires have. Sometimes, the tire feels unpredictable, especially in rough conditions, otherwise, the response is good. For spirited driving, we don't think this tire will be suitable for you because it is not something that delivers fast cornering very quick brakes, and proper road feedback, it is more toward comfort and durable tread life.
Comparison with Goodyear Assurance ComfortDrive
| | |
| --- | --- |
| Dry Conditions | Goodyear Assurance ComfortDrive |
| Steering Response & Feedback | -1.82% |
| Cornering Stability on Curves | 0.00% |
| Dry Traction & Grip | 2.17% |
| Shortest Dry Brakes | 0.00% |
| Results | 0.35% |
| | |
| Wet Conditions | |
| Steering Response & Feedback | 1.63% |
| Cornering Stability on Curves | 9.69% |
| Wet Traction & Grip | -1.10% |
| Shortest Wet Brakes | 14.08% |
| Results | 24.30% |
| | |
| Winter Conditions | |
| Deep Snow Traction | 16.18% |
| Light Snow Traction | 11.54% |
| Thick Ice Traction | 16.42% |
| Results | 44.13% |
| | |
| Ride Quality | |
| Cabin Comfort | 6.67% |
| Road Noise | 12.57% |
| Results | 19.24% |
| | |
| 175/65R15 (84H) | |
| Price | -18.30% |
The results are based on test results and subjective views, it could differ based on different cars, conditions, and driver's preferences.
Both these Bridgestone and Goodyear tires have launched recently, and also both of them lie in the same grand touring all-season tire category. The difference is one is a run-flat tire and the other is not a run-flat tire. So you would think why buy a non-run-flat tire if you can purchase a similar run-flat tire?
There are several reasons why you should do that, number one is that Goodyear Assurance ComfortDrive is far cheaper in price, covers more miles, perform better in all-season conditions, and have far more comfortable snow terrain rides.
This Goodyear Assurance ComfortDrive compared to Bridgestone DriveGurad Plus is a far better touring tire that keeps on providing stable and smooth rides all year round. however, if you want a run-flat tire, then this Bridgestone DriveGuard Plus is the best all-season tire among run-flat grand touring tires.
When Bridgestone DriveGuard Plus Is Not Prefered
There are many conditions where you should avoid this Bridgestone DriveGuard Plus tire, the number one situation is if you are not after the run-flat feature, because there are many grand touring tires, which will be more comfortable, better in snow, and cost less compared to this tires, with only disadvantage of the non-run-flat tire. So if you are not after run-flat tires then do not buy this tire it won't be as great.
Similarly, if you drive off-road and on-road as well, then rather than picking tires from this category you should look into all-terrain or off-road tires. Because these categories will be the ones that will be more suitable according to your conditions and fulfill your driving desire o different terrain rides. Pick the tire based on your driving conditions and preferences to avoid future discomfort.
Final words
The Bridgestone DriveGuard Plus is a recently launched tire for all-season comfortable rides, it delivers proper traction, grip, handling, cornering, and brakes, without compromising on tread life and durability. It is also good to drive in winter conditions, due to excessive sipes and tread blocks. With that, the run flat technology is something that makes this tire stand out from other touring tires, with this you can drive your sedans, crossovers, coupes, or SUVs for 50 miles even with a punctured tire. So pick this tire if the tire matches your driving conditions and if you think it will satisfy you in the future.