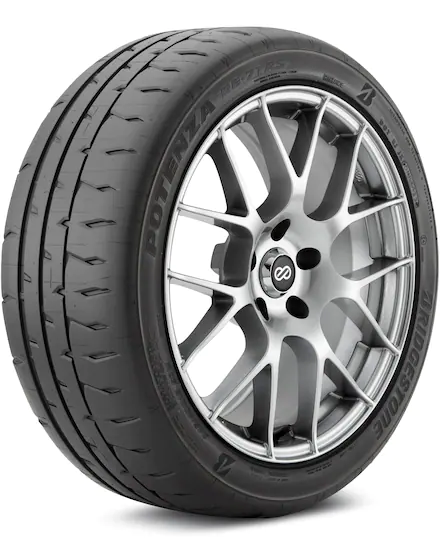 Potenza RE-71RS
Summer Tire
Enjoy track rides, and street rides with this Bridgestone Potenza RE-71RS extreme performance tire. The tire is developed to deliver a sporty ride to sports cars in summer seasons so the drivers can satisfy whether driving on everyday streets or fast tracks.
Handling & Road Feedback
95%
---
Table of Contents
Quick highlights
| | |
| --- | --- |
| Tire type | Extreme Performance Summer Tire |
| Price range | $182-$414 |
| Run-flat | No |
| Vehicles type | Sports Sedans and Coupes |
| Driving conditions | Dry and Wet |
The Bridgestone Potenza RE71RS has recently launched and replaced its predecessor Bridgestone Potenza RE-71-R. The previous model of this tire was great and achieved so much in the past, it used to be considered one of the best extreme-performance tires for summer tracks and streets. That is why, this new tire since its launch has taken over the market in sales.
The Bridgestone Potenza RE-71RS is a perfect tire to drive on streets, it delivers a smooth and stable ride, due to even contact, and optimized contract area, which wears uniformly. With that, the handling response on the slow streets and fast tracks are very predictable and a joy to ride. On summer tracks the tire performs further better, the tire grips very well at a fast pace on tracks, and on turns, the cornering grip is exceptional, it delivers safe rides. And with the help of quick brakes and acceleration, the tire is great to win races on tracks and streets as well.
As it is a summer tire, it is not good to drive on winter and snow terrains. With that being said, the Bridgestone Potenza RE-71RS is not only great in dry road conditions, but it is also perfect in wet conditions as well. The tread rib design and grooves are the critical deciders in its wet terrain rides. The tire grip well and provides a confident handling response and safe rides on wet street conditions and wet tracks.
Pros
Proper tread grip on wet and dry conditions on both slow streets and fast tracks
Quick brakes and acceleration for a safe and smooth ride in the summer season
Comfortable and quiet ride for everyday drivers
Continuous road feedback with proper handling response due to the contact area of the tire
Hydroplaning resistance and proper rides in wet conditions and in rainy situations
Cons
No treadwear warranty and low tread life
Expensive tire and not driveable in cold conditions
---
Tread design and improvements
The predecessor of this tire featured a symmetrical tread pattern, which was not great on the street smooth ride and track-aggressive rides. That is why Bridgestone has introduced the asymmetrical tread pattern in this tire which features race develop high grip compound that not only improves track performance, it also reduces the chance of uneven wear.
Bridgestone Potenza RE-71RS tread design has an optimized contact area to deliver even wear while avoiding acute heat generation areas and improving the stability of fast cornering. With that, the outboard low-angle grooves and circumferential grooves improve grip and cornering while reducing hydroplaning in wet conditions. The center ribs and circumferential ribs are designed to deliver traction and grip with the steering response that every sports-oriented driver requires.
Durability and road life
Every summer tire has low treadwear life, due to the heat and hot conditions of the terrain. Summer tires that are not sporty or non driveable on tracks have much higher treadwear life compared to track and street tires. That is why drivers who want comfort and not looking for spirited rides go with touring summer tires which also have higher treadwear durability.
Unlike that, this Bridgestone Potenza RE-71RS is less durable and also driveable in both track and street conditions. The tire has a low treadwear rating, with no treadwear warranty, which is why people hesitate to buy this tire. The tire can cover between 15-20K miles depending on the driving conditions and frequency on tracks and streets. The tire provides more durability when driven on streets compared to all track rides.
Specifications & Features
| | |
| --- | --- |
| Speed rating | V-W(149-168)MPH |
| Load Index | 84(1102 lbs) – 103(1929 lbs) |
| Origin of | Japan |
| Wheel diameter | 15-20" |
| Ply rating | 4 ply rated |
| Treadwear, Traction, Temperature | 200, A, A |
| Noise Reduction | No |
The max speed variant of this tire is not Y, which some drivers might not prefer, because some non-track tires nowadays come at this speed range. Because there are very low chances to reach this pace on the street and even on tracks. Other than that, the tire has good UTQG ratings considering it is a summer performance tire.
Performance of Bridgestone Potenza RE-71RS
Dry Conditions Performance
The tire is great in dry conditions, however, when it gets too hot it loses traction, like when you continuously take 25-30 rounds of tracks at a fast pace. Otherwise, it is perfect for dry and hot conditions. The tire grips properly, allow traction and reduce instability on street and track dry conditions. The contact area is great for this tire which prevents heat generation areas to get continuous performance on summer dry roads.
Wet Conditions Performance
The performance in wet conditions is just as good as on dry road roads. The tire grip and provide traction in rain and standing water. The extremely fast pace is not recommended on water because it's a non-sipes tire, which can lose grip sometimes. Other than that, the grooves and shoulder design is the reason why this tire achieve great performance in wet conditions
Track & Street Performance
On normal streets, at a normal pace, the driver can achieve a comfortable and quiet ride even on highways as well. This Bridgestone tire is a dynamic tire to drive on both streets and tracks, and it performs depending on the requirements of the tracks. On fast tracks, the tire provides a stable ride, proper traction, and grip with responsive brakes, cornering, and handling, which is why the track drivers really appreciate this tire.
Road Feedback & Steering Response
Both of these things are very important to achieve spirited track rides, and this Bridgestone Potenza RE-71RS is great in both of these things. The steering response is perfect on dry and wet conditions on tracks, with that the unparalleled steering provides complete road feedback, you just know what going on with your tires. This is why it is a safe tire to drive as well on streets and tracks.
Comparison with Hankook Ventus R-S4
The Hankook Ventus R-S4 is an extreme-performance summer tire just like Bridgestone Potenza RE-71RS. Even though Hankook's summer tire is quite older than Brigdesotne's tire, it is still a more durable tire to ride. The Hankook tire is quite cheaper compared to the Bridgestone tire as well. The difference of around $40-$50 on each tire.
However when it comes to performance and comfort, the Bridgestone tire is better as the price suggests, it is better in dry conditions and wet conditions as well. The track's performance ride of Bridgestone is better as well. So choose the tire based on your preferences and conditions, both of these tires are great in their area.
When Bridgestone Potenza RE-71RS Is Not Prefered
Summer tires of any brand or model are not preferred on cold and winter terrains. Other than that, if you are looking to drive only on tracks and very rarely on streets, and you want the most aggressive and spirited rides on fast routes, then rather than buying this tire you should go with Pirelli P Zero Trofeo R or Goodyear Eagle F1 Supercar 3. Both of these tires are street/track performance tires, which have less durable tread, however, the performance on tracks is not matchable.
Just like that, if you often drive on tracks or not at all, then UHP summer tires will be a better category to choose a tire from. This category of tire will be more durable, delivers more comfortable rides, and have low steering response and road feedback. If these things are not something that you understand then going with this category or the touring tire category will be a proper option for you.
Final words
The Bridgestone Potenza RE-71RS is an extreme-performance summer tire for sporty track rides and smooth street rides. The tire is great to drive in both of these conditions and satisfies the driver of sports sedans and coupes in both of these situations. Responsive steering, road feedback, and cornering are something that satisfies the track drivers, and comfort, proper traction, and low rolling resistance is something that is appreciated by street and highway drivers. So choose ethos tire if it matches your conditions and preferences for this 2023 summer season.