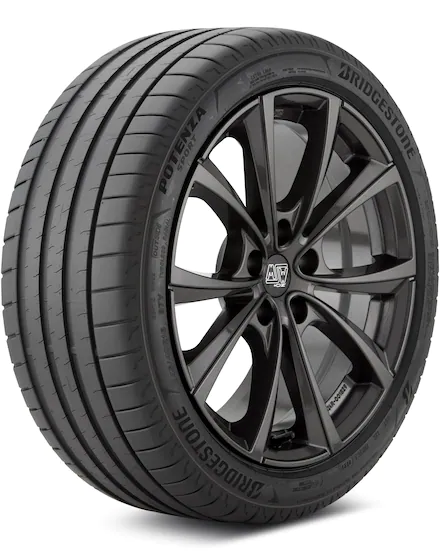 Potenza Sport
Max Performance Tire
Take your performance cars onto the next level with this Bridgestone Potenza Sport tire this summer season. It is a tire that is made to fulfill the desire of spirited drivers who loves to drive at a fast pace, with that, the comfortable tread will provide peaceful rides at normal or even at a fast speed.
Handling & Road Feedback
85%
---
Table of Contents
Quick highlights
| | |
| --- | --- |
| Tire type | Max Performance Summer Tire |
| Price range | $168-$545 |
| Run-flat | No |
| Vehicles type | Sports Sedans and Coupes |
| Driving conditions | Dry and Wet |
The Bridgestone Potenza Sport is a summer tire made for extreme performance on track and city roads. If you want to achieve maximum performance on tracks to win the races, then this is the tire that you should go after, it will deliver proper traction, grip, and high-speed cornering so you can win many races with this tire.
Other than track performance, on city streets, this tire is good as well. It will provide very responsive handling to your sports vehicles so that you can enjoy every moment of this tire ride. With that, compared to other max performance tires, it delivers comfortable and quiet rides, which is why this tire is a perfect duo of peaceful everyday rides and spirited max performance track rides.
Just like every summer tire it is not a tire to drive on snow or stored in cold weather, however, in wet conditions, this tire is just as good as it is in dry conditions. It provides the comfort of the ride, with proper traction and grip, handling response, and high-speed cornering. The tread design also reduces hydroplaning and keeps this tire's performance stable in any summer weather conditions.
Pros
Max performance tire for achieving greatness of tracks, by reaching the height of the sports cars
Excellent traction control, grip stability, and cornering at high-speed curves provide a proper driving experience and safe rides
Quick brakes and acceleration with comfortable and quiet rides on streets and tracks
Aquaplaning resistance and confident grip in rainy conditions or in standing water, even on tracks
Compared to other max performance tires, a durable treadwear to drive for longer periods.
Cons
No treadwear warranty and a very short tread life
Expensive tire compared to the miles it covers
---
Tread design and improvements
Most max-performance or even extreme-performance summer tires have a slick tread design with about 6/32-8/32 tread depth. The reason for that is due to the handling response and road feedback the driver desire from these tires. Similarly, this Bridgestone Potenza Sport has a slick tread of asymmetrical pattern which features high silica tread compound, that has a proper contact area, which reduces unstable rides and wears off evenly even on fast tracks.
With that, the tread features uninterrupted tread ribs that allow a stable ride, and outboard shoulders and center ribs improve cornering at high speed and a block stiffness for proper handling response and a stable ride even at fast tracks. For wet conditions, the circumferential grooves and tread design channel the water away for hydroplaning resistance while delivering proper grip and traction. Lastly, the tunned sequencing and lateral notches are the reason why this tire provides a comfortable ride on streets and fast tracks.
Durability and road life
As we mentioned above summer max performance tire has a very low depth of tread compared to the 11/32 tread depth of all-season tires. This tire has 8/32 tread depth which is the reason why this summer tire is very responsive and performs well on tracks, however, it has low tread life. This is why summer tires also get low treadwear ratings, due to their unpredictable tread wear.
Similarly, this tire has no treadwear warranty and a low treadwear rating, however, the reason for summer tires is not that high durability, but performance. This tire will most likely cover, 20-25K miles while providing stable performance on the street and tracks if rotation has been done properly, otherwise on continuous fast tracks and aggressive rides, this tire will not likely go above 10K miles.
Specifications & Features
| | |
| --- | --- |
| Speed rating | W-Y(168-186)MPH |
| Load Index | 88(1235 lbs) – 110(2337 lbs) |
| Origin of | Poland, Italy, and Hungary |
| Wheel diameter | 16-22" |
| Ply rating | 4 ply rated |
| Treadwear, Traction, Temperature | 300, AA, A |
| Noise Reduction | Tunned Sequencing |
The speed rating and load index are great for this tire. Most extreme performance tires hax a maximum speed range of W which is not the highest, however, this tire has the highest speed rating so you can carefreely reach the highest of your car's speed. With that, the treadwear rating is not the best, however, the 300 is the number where every other max performance summer tire lies. The traction double A rating is very impressive as well.
Performance of Bridgestone Potenza Sport
Dry Street & Track Performance
Performance in dry conditions is the real determinant of ranking summer tires because the summer weather is mostly dry conditions. This tire is made to handle the hot conditions, by balancing the temperature inside the tread compound, which is the reason why this tire doesn't get hot very quickly and keeps providing the performance a driver desire. In dry conditions, the cornering on fast curves and turns is very impressive, it does not lose grip and delivers a safer experience.
Wet Street & Track Performance
In wet conditions, the tire is just as good as in dry conditions, it does not lose grip due to grooves and tread design, with outboard shoulders that help in channeling water away from the tire tread. Even on the fast track, the tire is very responsive and delivers proper handling in rain and standing water. Still, you should avoid getting through water at a maximum pace especially if there is a lot of water on the road.
Handling Response & Road Feedback
The responsive handling is what makes the sporty tires enjoyable to drive, otherwise, there is no sense in buying max-performance tires. This Bridgestone Potenza Sport delivers very responsive handling, and a smooth grip on handling which allow you to analyze what happening or coming in front of your tires. This is the reason why this tire has very accurate road feedback, which satisfies the drivers and makes them buy this tire every other year.
Comfort & Stability
Although the tire is not as comfortable as touring tires and it gets lousy sometimes, especially on fast tracks when it comes to comfort. Still, it is one of the most comfortable max-performance summer tires that you can get in 2023. The sequenced tread is the reason for the low sound and comfort of this tire. On streets, the tire is the proper tire to drive and achieve comfortable and stable rides.
Comparison with Michelin Pilot Sport 4S
The Michelin Pilot Sport 4S is a little older tire compared to this Bridgestone Potenza Sport tire. Both of these are max-performance tires and have similar UTQG and speed ratings. Still being a newer tire, the Bridgestone tire is $30-$40 cheaper as compared to the 6-year-old Michelin tire.
The performance difference is there as well. The Michelin Pilot Sport 4S is the most valuable and famous tire in this category, and the performance of this tire properly aligns with its appreciation. The tire is better in wet and dry conditions, comfort, durability, and every other metric compared to this Bridgestone tire, the only advantage you would take by buying this Bridgestone Potenza Sport tire is a little saving on money and similar tread life, in every other aspect you will have to compromise if you choose Bridgestone tire over Michelin tire.
When Bridgestone Potenza Sport Is Not Prefered
This Brigdesont Potenza Sport is not preferred for any drivers who are not looking to drive fast on tracks or streets. As it is a max performance tire, it is made for spirited drivers who want to achieve enjoyable rides in summer weather. If you are not after something like that, then touring summer or all-season tires will be better for you. Because touring tires are less expensive, have more durable treadwear, and deliver more comfortable rides.
Similarly, if you visit winter terrain or cold conditions, then again this tire won't be a good tire for your car. Because these tires are not driveable at all in winter conditions, for that, you should again go with touring all-season tires or specific winter terrain tires. You can have two sets of tires on for summer and one for winter terrains, however, it will be costly and not effective as compared to one all-season tire which has great performance in dry, wet, and snow conditions.
Final words
The Bridgestone Potenza Sport is a great tire for summer track and street rides, it is preferred by every driver looking for fast rides that deliver proper handling response with confident traction and cornering at fast speed. With track performance, the tire performs very well on street conditions, it provides a comfortable and quiet ride on dry and wet street conditions, which makes it a great tire to buy in 2023 for spirited and normal highway, street, and track rides.